Music Man, the company whose basses I play, put on an open house weekend event, with tour of the factory, round table discussion from their endorsees, and a concert.

Flying in for the event were guitarists John Petrucci, Steve Morse, Vinnie Moore and Steve Lukather. Bassist Dave Larue was there too, and, to back everyone up at the concert, drummer John Ferraro.

We stayed outside the town (San Luis Obispo) at a beachside hotel.
but there wasn't much time to swim (not to mention the daunting sign I spied!)

Soundcheck and rehearsing took up most of the afternoon...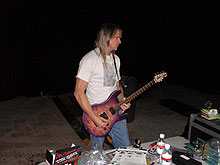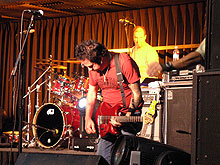 And then we went over to the factory, for a "round table" discussion and questions period,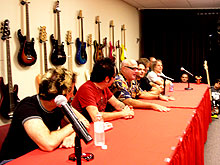 though the table wasn't round, and with the humor of Steve Lukather and Sterling Ball, who heads the company, there wasn't much need for questions!

Who was there? Members of the Ernie Ball online forum... so these folks knew all about the guitar and basses.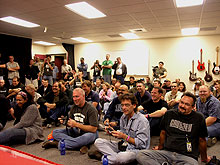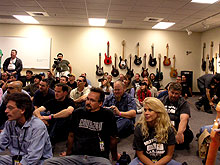 But still had some things to learn about some of the rarer instruments - like this one: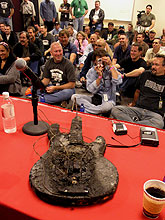 Sterling brought out the custom 3 string bass I'd once owned. Back in 1996, when a fire destroyed the bass, I had sent it to the company, in a new case with a note saying I was having some trouble with the neck!
Well, I see they still haven't fixed it, but it was a treat to see they've been keeping it, hung on a wall for all to see.

More soon.

Okay, here's some shots from the show: