The NAMM trade show is usually pretty gruelling to attend, but kind of fun in it's own way.

Of course, I bumped into a few friends. (Including Larry Coryell, whom I met up with in the coffee line - talked over when I briefly played in his band long ago, and he bought me an espresso!) Also Steve Ferrone, with whom I discussed whether we're still in the band Spin 1ne 2wo.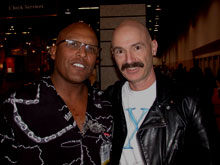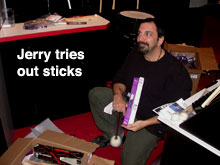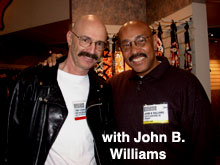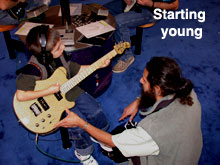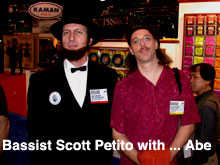 The Ernie Ball/Music Man booth is always the most amusing spot in the building, with the guys dressed in a different theme each year. (All Elvises had to be my favorite.) This time, all were U.S. presidents and related characters! Some pretty serious costumes, including makeup, had people staring more at the salesmen than at the basses.

(It was observed that designer Dudley Gimpel - inventor Dudley Gimpel, bears a very strong resemplence to Ben Franklin even without his costume!)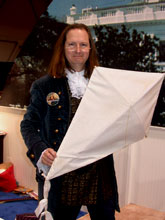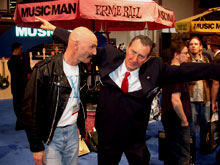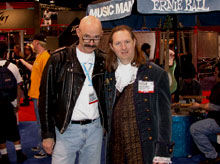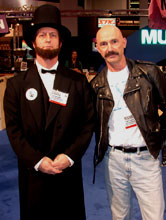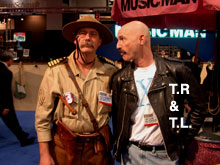 Then, there was just roaming the floor, seeing new stuff and visiting booths of products I know.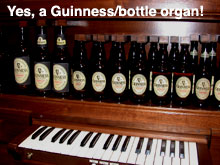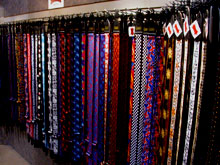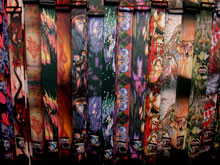 I tried out some acoustic guitars for the whole band to play on my upcoming tour,
visited the makers of the JDI direct box I've been using lately,
and just looked around.