A quick trip to England, to rehearse and play one show, with Peter Gabriel.

The show; a late night tv show out of Southhampton, England, called "Later, with Jools Holland".

The music; two songs from Peter's new CD release, Ovo. The songs were Father, Son and Ovo (The first a quiet ballad of Peters, the second a complicated song with many sections, different singers and orchestrations.)
(I shot a quicktime clip of part of Ovo at rehearsal -- click here to play it.)

Rehearsals were at the RealWorld Studios, in Box (scene of many tour rehearsals for Peter in the past.) Great to be back, of course -- memories of many croquet games on these lawns came flooding back to me. (Speaking of flooding, it rained pretty solidly the whole four days.)


The musicians; on drums, Domenic Greensmith (member of the band Reef.)
On keyboards, Charley May.
On guitars, David Rhodes and Richard Evans.
Then, there was a brass band(!) and string players too.

There were other singers than Peter - Elizabeth Fraser, singer from The Cocteau Twins, had sung on the cd version of Ovo and was here for the live version - as was Paul Buchanan, from a band very popular among musicians: The Blue Nile.

The tv show is quite a nice format; many bands all set up around a very large hall, with audience in between and behind them. It wasn't until I arrived at the show that I learned who some of the other bands were - Gabrielle, Moby, Eel, Billy Bragg.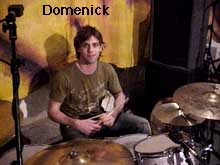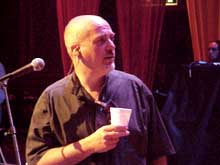 Just before the show went live on air, we were informed that a tradition there is to start with a jam among the bands assembled around the room, one band starting a groove, and passing it around to the others. Pretty surprising to try that in a huge, live hall, where it's hard even to hear your own band. However, I couldn't resist shooting an mpeg of the attempt - and, of course, it's here for you to see and hear if you like.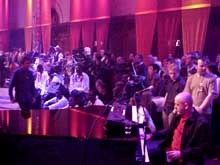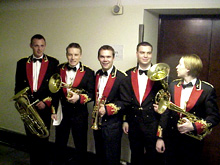 All in all, it was quite a fun experience. Tons of riding back and forth in vans to Bath, Box, and Southhampton... and much rehearsal for just one performance. But a good collection of excellent musicians having fun doing what they love to do.
And, of course, it's a thrill to be back playing with Peter, with whom I've had so many memorable experiences on stage. He doesn't appear to have the next cd done yet (!) so there's no fresh news on when the next full Peter Gabriel tour will be. Only thing I know for sure is that I'll put notice of it here on the web site when I do find out.