THE TOUR BUS
TONY'S own, self-designed page. Included here: Some info about our tour bus, photos of what goes on there, occasional bus diaries - fun useless stuff like that, all written in primitive html.

Last UPDATED: July 12th - with a new diary.

Return to Archives Page
And be reminded that when a pro designs the page, there aren't too many graphics, as are appearing here!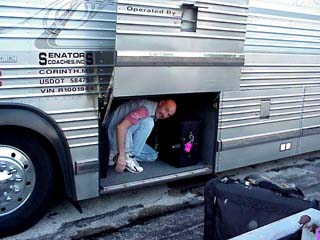 THE TOUR

THE BUS

It's the Seal "Human Being 1999" tour. For six weeks in May and June, the bus was home to this touring band. A lot of fun, tv watching, reading, pizza parties, cell phone calls home, and bumpy bunk nights were had - this is the page that's covered it all.

The Levin Bunk - with some company!

Built in 1994, the bus is 45 feet long, gleaming silver, with (unfortunately) brown interior. It's last tour was with the Stones, earlier this year. After leaving that tour, the driver/owner, Tim, had another two week stint, then joined us. Not much time off in this business!

Tim

THE BAND


The happy "residents" of the bus are:
Brian Blade-our drummer,
Gary Catona-vocal coach,
Mike Harvey-singer,
Michael Landau-guitarist,
Paul Mabin-singer,
David Sancious-keybds,
Tim- our driver...
Oh yes, and me-bass player and page designer(!)
Occasional added guests: my daughter Maggie, and my wife Andi.
*Special one-time guest: Sherlock, the dog.

SOME FAQ'S


(Fervently Avoided Questions:)
Q: Is it comfortable? A: Yes, very.
Q: Does the driver get sleepy? A: He sleeps in the day of the show, maybe sometimes during the show, to be awake later when he drives.
Q: Is there partying on the bus? A: Not particularly, with this group. Usually some music listening in the back lounge, channel surfing in the front lounge, and some really exciting sleeping in the bunks in between.
Q: Where is Seal? A: On another bus.
Q: Why do you keep spelling Paul Mabin's name "Mavin"? A: O.k, o.k, I fixed it.
Q: When do you get time to write this page? A: Between midnight and 6am - i.e. while bouncing along in this bbbbummmpy bbbus.
A little diary action: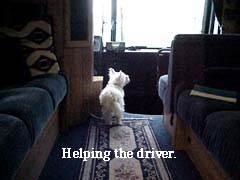 Tour's over for the bus and the band. Alas, the twists and turns of life as a touring musician. We found out, during our two week break, that we wouldn't be coming back out on tour! (It's possible that Seal will continue to do some dates with his old band - cutting down on production expenses with a band that sings (no background singers) and less production. Will there be less busses? I'm afraid I don't have any way to know.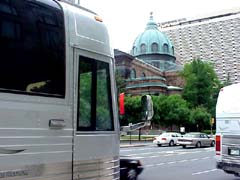 So this page stands, as is, as a memorial to the short six weeks we called the big silver bus our home. Lots of laughs, lots of books read, lots of html written(!), some bumpy sleepless nights, a whole lot of sharing Red Shift outer space scenarios between me and David Sancious, and some happy visits from various family members - not least of which was my dog Sherlock. I guess I'll be missing the bus quite a bit. I'm certainly going to miss being out on Seal's tour.
I'm not sure what should happen in this space in the coming weeks - likely I'll leave the current diary for a while, then the page should either morph into something else interesting, or be 'retired.' At least till the next bus tour!



Books read on the bus:

Endurance: Shackleton's Incredible Voyage (Alfred Lansing.) Not too well written, but an interesting story. I guess reading about a year on the Antarctic ice makes you feel better about the discomforts of a night on the bus.
My Sweet Untraceable You (Sandra Scoppetone.) The locale, Woodstock and Greenwich Villiage, attracted me when I leafed through this book in a Portland book store. The writer has a funny, New Yorkers view of the semi/hippie filled village I live in.
Catcher in the Rye (J.D. Salinger.) My daughter just read it for school and I felt ignorant not remembering what the book is about. Even better than I remembered.
Guys and Dolls (Damon Runyon.) Not the musical, but the short stories that show, and others, were fashioned from. Perfect for the bus - light and fun.
A Cup of Tea (Amy Ephron.) After a guy book like Damon Runyons, I thought I could use some feminine reading. Uck - bad choice.
The Count of Monte Cristo (Alexandre Dumas.) Talk about a guy book!
The Ugliest House in the World (Peter Ho Davies.) Eclectic short stories.
Top Secrets: Screenwriting (Jurgen Wolff and Kerry Cox.) Don't even know why I got this. In a Burbank bookstore with lots of movie scripts, I just kinda got interested. It has excerpts from good screenplays, as well as writing advice.
Hannibal (Thomas Harris.) Ouch! Creeeeepy.
HTML For Dummmies Though I haven't covered every tag yet, it's safe to say I've made it through the whole book.

---
This page written, pretty much for your amusement, and his,

by T.Levin 1999