May 16, 1996 - Woodstock, NY
Hi again. A week from now I'll be in the city of Bordeaux, rehearsing with King Crimson. Hopefully I'll be able to write weekly - never sure of logging on in Europe, though.
The Crimson tour will be starting in Bordeaux, at "Le Krakatoa" - whatever that is - which is why it's the best spot for us to practice. Word is that we'll be resurrecting some old classics - possibly "Schizoid Man" - we've tried rehearsing that before, but never found it worthy of performance - maybe this time. I know I've got a lot of practicing to do on it - the bass part is murder, and I'll be trying to play it with Funk Fingers. And then there's "Cage!"
I'm very pleased that the Crimson European tour will take us to Eastern Europe - I haven't played there much, and think it's a great opportunity for us. On a couple of breaks in the tour, I'll be joining Ivano Fossati on his Italian tour - should keep me very busy! Will be fun, though, because a couple of the songs we did for his album are just Stick and voice.
The Crimson Valet - touring cappucino roadcase - isn't finished yet - it's going to be a panic getting it done by Friday, when my equipment ships out. I'll try to grab a photo of it for the site. Lots to get frantic about here before hitting the road - trying to get the Funk Fingers sticks manufactured, with logo, to be more consistant. Also, we've decided to give them all rubber tips, and I'm trying to set that up before I leave town - I won't be here to dip them in the rubberizing chemical I found. Anyway, the fumes are making me dizzy! Also, I have to get my powerbook loaded for the road. Last tour it broke, and left me stranded computer-less for weeks. Unbearable!
I just finished some tracks with Jesse Cook, a flamenco guitarist from Toronto. I'm working this week in NYC with Paula Cole on her second album.
Trying to get the NS Upright bass adjusted for the tour, and my compressors, made locally by RetroSpec, adjusted. I'll be getting a new Music Man anniversary bass soon, but it won't QUITE make it here in time to ship out for the tour.
Bye for now.
---
May 28, 1996 - Bordeaux, France
Greetings from Bordeaux. King Crimson's THRaKaTTaK Tour is finally underway. We arrived last week, and have been rehearsing at Le Krakatoa - a small theater where our warmup show will be tonight. Our hotel is fortunately downtown, not in the outskirts where the theater is, so we've had access to morning cafe, Herald Trib, photo shops... the important stuff. Noon to 9pm, though, we've been working at the theater.
We've added 21st Century Schizoid Man (a very difficult Crimson piece from the '70's, before most of us were in the group) to our repertoire - don't know how it'll work out, but we'll try it tonight. Also resurrected Waiting Man, and came up with the beginnings of some new material.
I've seen the upcoming THRaKaTTaK CD, and found it not only has some of my photos of the burnt barn, but inside the booklet are the blueprints for the Crim Valet touring coffee station (speaking of which, it got a bit banged up in shipment here, but Michele, my bass tech, did the necessary repairs, and it's working superbly. The band is thrilled with it.)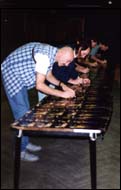 A difficult part of new releases is that the band is usually asked to autograph a few hundred (or more) CD's. In this case, there is a small poster included in the cd, and the clutter of signing them in the dressing room was terrible. We've moved them to long tables in the theater, but still haven't signed enough - I fear they'll be with us the whole tour!
I'm adjusting to the different life of being away from home. More time to write, but difficult connecting to Internet. (I don't have the phone connectors for each country.) Trying to spend mornings working on my book. Brought a sketch pad too. Tomorrow we'll fly to Madrid, and have our first day off.
Bye for now.
---
Jun 6, 1996 - Warsaw, Poland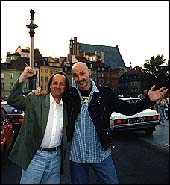 Hello from Warsaw. The tour is going quite well - shows in France, Spain and Germany were all well received. In Lyon we stayed in the Cour des Loges, at the center of the old city - very nice. As usual, we've had some small disasters within the show, most noteably in Dortmund when my setlist told me the final encore was "Vrooom Vrooom" but the rest of the band was playing "Vrooom" which is quite a different piece, for which I need a different bass. I stormed in in the wrong key, then fumbled along before deciding to switch basses midway through. Hopefully we'll save that tape for a future "Brown Album" of our worst mistakes.
Last night was a steaming show in a very hot tent in Berlin. Awoke this morning to find that the maid had locked me in my room - had to hunt for my key with reading glasses. At checkout, I told the hotel mgr. I don't think that's a great policy.
I'm not much into partying on my birthday, but with todays flight to Poland and then 5 phone interviews in the hotel room, I must admit this isn't a great way to celebrate. Arrived at hotel to find the last 5 min. of Bulls vs. Sonics on tv though. Interesting in German. The band will take me out to dinner tonight, and hopefully we'll have some fun.
Interesting card in room reads: "The Hotel is environmental friendly and is thanking you for your kind cooperation in saving nature from pollution through excessive laundry usage." Hmmm.
After dinner update: two of the interviewers never called. Later, the band had a quiet dinner in the heart of Warsaw, (good borscht) and went to a jazz club which was closed. They say it's wild being a rock band on the road. Not this rock band!
Bye for now.
---
Jun 19, 1996 - Budapest, Hungary
SoakFest in Budapest - just came off stage here in Budapest, finishing an outdoor show. It rained earlier this evening, soaking the enthuastic crowd - our opening act, the California Trio, had to skip their set. The rain finally stopped, though, and we had a rollicking show to end the East European part of our tour. Warsaw was nice, Prague an extraordinarily beautiful city. Chemnitz in Germany, and Presov in Slovak Rep. were ... well, the audiences were very enthusiastic - a pleasure to play for.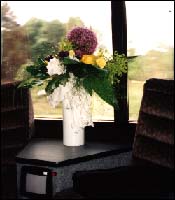 We're all excited about the upcoming week in Italy - I'm hoping I'll have an easier time getting online. And I'll certainly eat well.
Back in Hamburg, a lovely birthday bouquet arrived from P. Gabriel - it was too nice to leave in hotel, so I took it on the bus. Next day it spilled, permanently drenching one of the few seats in the bus lounge. For days whoever sat in that seat was reminded of Peter's kindness. I next noticed the bouquet in the catering room, (apparently Tony, our bus driver, had given it to the cooks) and the cooks were considering how THEY could transport it. Truly a gift that keeps on giving!
Bye for now
---
Jun 28, 1996 - As the band hustles to Brussels
The Italian tour is over now - it rained at every show (all outdoors) except the last, in Pisa. Really got soaked at the Lignano show - very windy soundcheck, then started to rain before show, came down heavier, then on the last encore, we abbreviated RED by visual cue as all our guitars got drenched. (Hotel name there was: Hotel Grief!) Mostly good shows, though - very appreciative audiences.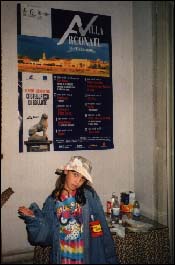 My wonderful daughter joined the tour in Milan, and it's been great seeing the Crimson tour throught the eyes of an 11 year old.
In Milan, the band hit what must be our all time favorite restaurant, La Tampa, (now called Tencitt). Waiter, now 23, remembers our coming in and eating dinner w. his family when he was 9. (1982)
Saw some unique traffic conditions in Naples (we counted 49 of 73 cars had dented or missing fenders) and it was a job getting our band bus out of there and into the center of Rome.
In Rome, stayed at piazza di spagna, near Caffe Antico Greco - the oldest cafe in Rome. Played gig at a clay tennis court - our first, to my memory.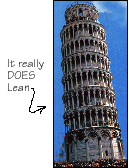 Best show for me was the town center in Pisa, with wonderful view and weather. I then left the tour for a day, to join Ivano Fossati for a special show at Villa Arconatti, in Bollate, outside Milan.
Back with the guys now to do the last four shows of the European tour. We're a bit tired from the travel, but still game for more.
Bye for now.
---
July 14, 1996 - Tour Break (what's that??)
Last shows of the Crimson Euro tour, in London, were great. We felt that Shepherd's Bush Empire was a much better venue for the band than the Albert Hall had been. Very enthusiastic audience. Calif. Guitar Trio sadly couldn't make the last gig, and Robert was the opening act, playing his soundscapes.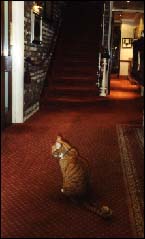 Hotel, the Pembridge, was my daughter's favorite - mainly because it's inhabited by two cats, Spencer (right) and Churchill, who think they own the place.
We found an Internet cafe in London, and finally checked out my page w. Netscape - whew, it's been grim without it.
Flight home a very bad one, circled Newark for hours, then landed JFK, sat 2 hours, then another hour to fly 30 miles to Newark. Total trip, 12 hours.
Did an Uncle Funk gig at home last week, checked out my new Stingray bass, which is excellent. Then I flew to Italy (2 hour delay leaving Newark - lightning storm) for 3 shows w. Ivano Fossati. They were great - very un-Crimson music, very good band. Parma show was in piazza del duomo in center of beautiful town. Likewise Ferarra was an outdoor show in town center. After the 3rd show, in Padova, I got a ride back across N. Italy to Milan so that I could leave early the next day. Arrived at hotel at 3 am, to find Michael Stipe, Tom Verlain, and the musicians from Patti Smith's band outside, looking for a cafe. They invited me to join, but I passed. Getting old, I guess - need a couple hours of sleep!
Flight home, amazingly no delay into Newark, though the hurricane had just arrived. Baggage, however, took 1 hr 15 minutes. I'm beginning to feel like Newark airport is my home. (I will go back in Sept. for more with Ivano, though.)
Bye for now.
---
Aug 6, 1996 - Hola from Mexico
Good to be back on the road w. Crimson after our break. We hit Las Vegas for our first show there ever - Hard Rock Hotel hardly a Crimson kind of place, (casino in lobby w. rock'n roll theme - slot machines have guitar necks to pull on) but the show went well. My room had Woodstock Festival photos on wall. Terrific heat there, then on to the cool fog of San Francisco. Greek theatres in Berkeley and L.A. are always fun. Good acoustics and nice crowds.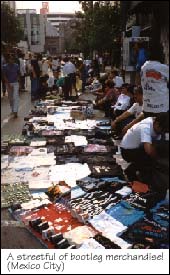 I went down to Mexico City a day before the rest of the band to hang out. Audiences here are very enthusiastic - I knew from playing here w. Peter Gabriel. This is Crimson's first trip ever to Mexico, and seemed to be eagerly awaited. We all visited the street-long row of merchandise bootleggers outside the theater - some funny t-shirts printed w. wrong itinerary of the tour (including Noblesville Indiana and Guadalajara Mexico.) I got some interesting King Crimson key chains and shot glasses and a t-shirt that says "THRaKa TaCK".
Adrian lost the sound on half his rig at the first Mexico City show. Then, in the third show there, he lost all of it for some time, and was only able to finish with his midi signals gone. We suspect the cause is voltage problems.
Monterrey was humming w. Dallas vs Kansas City football game the night we arrived. Football fans in our hotel partied in the lobby what seemed like all night. Very hot here today - I'm glad to be playing music, not football.
Update (August 8th) from Kansas City: We've joined the HORDE tour now - quite a difference for the band - only playing an hour set (often just our soundcheck is longer than that), and we go on at 5 pm. Also, it's for the festival audience - not just Crimson fans. At today's show I saw lots of stunned looks on faces that seemed to have never heard anything like Crimson. Some even seemed to like it! Backstage, lots of crews setting up - tons of equipment on double stage but one thing's for sure: we're the only band with a valet road case for our espresso machine!
Bye for now.
---
Aug 20, 1996 - More HORDE notes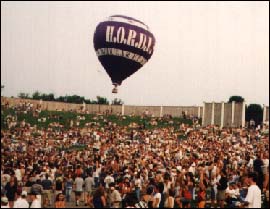 The shows are going well, but our start times have been changed on us quite a few days. In N.Y, I was called in the morning, told we'd go on at 5 pm, not 3:30 as had been scheduled. I arrived (early) at Randall's Island, to find that it was changed again, and we were going on at 3 pm! Stan, our road mgr, had been going nuts trying to reach me. Driving to Saratoga for the 5 pm show, I saw the band bus, pulled along side it, and Stan shouted that we had been re-scheduled to 3:50! Wonder where I'll find out the next time change! Wonder how many people showed up at the publicized time, to find we were done?
I'm enjoying my brother's site - reminds me we should resurrect our old band, the Clams.
For those in the Rochester area, I'm told that the seminar I'll be participating in at the Eastman School in Sept. is a public event. I'll be giving a very dry speech (!) on Sept. 27th.
Got so many photos from HORDE, I should start a page just for them.
Note; Bad hotel comment overheard in Boston: Horrible Old Refurbished
Downtown Environment.
Note; Bad weather comment overheard; Hostile Overhead Rainclouds Dampen Enthusiasm.
Note; some other definitions of HORDE have come in from readers, and we'll put them up on the H.O.R.D.E. acronym page.
Bye for now.
---
Aug 30, 1996 - Woodstock
Finished the '96 Crimson tour - the mood was good as we did our last few shows. The Merriweather Post show, in fact, was one of our best. We plan on gathering in small groups to write, through the Winter - not touring until at least next Summer.
In driving to the last few weeks of East Coast shows, I covered 2,329 miles. The car computer tells me I averaged 50mph overall, so I spent 46 hours driving to shows!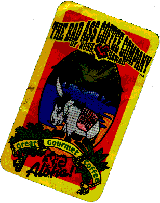 I keep a log in my computer of data about our Crimson tours - since re-forming in 1994, we've played 147 shows, for about 228,300 people. We've rehearsed for 57 days, recorded for 25 days, flown at least 34,581 miles (I still need to update some distances) and driven 9,327 miles.
Here are some events and quotes from that period:
The girls from the HORDE promotion office, having enjoyed the espresso from our "Cafe Crim," gave us a parting gift of a bag of "Badass Coffee Beans."
6/23/96 Diary entry: Naples. Very hectic drive from airport. Ade's computer fell on my head. Nuts taxi ride to band dinner, Robt. was not a happy puppy. After checking twice w. waiters that his pizza would be without meat, it came with both ham and sausage. Robt. tossed the ham out the restaurant window, in a classic example of pork defenestration.
6/22/96 diary: Lignano Italy. Long drive, bad hotel, very windy sndchk, rainy show, ending w. downpour onto stage during Red - which we shortened as our instruments got drenched.
6/19/96 Diary: Bus to Budapest. 4 interviews at hotel. 5 minutes in room. Bad rainstorm, show almost cancelled. Had to omit C. Guitar Trio. Backstage security guard was an old lady, knitting. I took her photo.
Prague, 6/17/96 diary entry; " During "B'boom" some of us leave stage, go to dressing room for a drink. Tonite, Adrian didn't appear back onstage for Thrak - said later that he got in elevator to return to first floor stage, and someone else got in and pushed fourth floor button!
6/13/96 Dortmund, Germany - diary: "Venue in large park, Bill and Ade being driven back to hotel after sndchk got lost in venue park, stoned driver had to ask directions 4 times. Took 45 min. for what would be 15 min. walk."
Diary, 6/4/96, Mannheim: "Sad to leave Lyon. Cab driver there made some of band listen to old Crimson album during drive to airpt. Flight to Frankfurt, 3 hours in airpt. hotel, then an hour drive to Mannheim. Last encore of the show was "Vrooom" but I had "Vrooom Vrooom" on my setlist, which made for quite a disaster."
Madrid review: "King Crimson is an irresistable electric blowtorch..."
From Daily Yomiuri? review, "A King Crimson show is a good chance for ... ordinary fans to say, 'How did they make that sound?'" "Adrian Belew, the greatest guitar gypsy of the last 15 years... Fripp is seated implacably ... looking like an irascible college professor impatiently awaiting the perfect soft-boiled egg."
4/29 /95 Time Out review of Thrak; "Starting out with seven minutes of portentous, turgid instrumental nonsense, 'Thrak' eventually settles into a spineless blend of vapid, overproduced, highfalutin' bombast.... all such hope or promise is quickly subsumed beneath their suffocatingly dreary miasmic muso meanderings."
From the Austin American Statesman Sept 28, 6 "bad" things of the week: "#4 'The Stick.' This new basslike instrument looks like something a band in the Flintstones would play."
Chicago Sun Times review; "..calling Levin and Gunn 'bassists' doesn't do justice to their electric tree stumps and gothic stick things."
Buenos Aires Herald review, 10/4/94, "...He also plays stick, a richly sounding 10-string instrument that looks 'as if a monster from outer space had put strings over his penis and tuned it at the utmost possible degree of erection. Most disgusting.'"
Montreal show review (in French) "...then he smiled. Yes, yes, smiled. Fripp never smiles."
R.Fripp, re the piece 'One Time,' "I don't feel like I've done anything on this, but I like what I haven't done."
Adrian, on when to start verse after Robert's solo, "I look at Robert and when he grimaces in a certain way... and his hands are at the top of the neck and there's no place else to go..."
Bill, at interview in Buenos Aires: "In the band, Pat and I are driving an arsenal..... without licenses."
Robert, to reporter at same interview; "You asked two questions. The answer to the second is no."
Bill to Pat, on boarding bus for 8 hour trip, "O.K. Pat, we're ready for our calisthenic workout. I've had a breakthrough on the para-triplet."
Robert, asked by two fans if they could take a photo, "Yes, as long as I'm not in it."
Argentina restaraunt menu: "Little legs in vinaigrette sauce .... smashed potatoes."
From Japanese cafe menu: "Captino - Italian coffee well harmonizing a fragrance of cinamon and coffee. Y6,000. Vienna Coffee - could enjoy three tastes in the stops and called gloriously and loved by everyone all over the world. Y8,000 "
From Hotel Cobra, Kosice, Slovensko brochure: "Even the most pretentious customer will be satisfied with the summer-terrace ... Kosice is also known for the metallurgical Industry. The VSZ joint-stock company (East Slovak Iron Works) is the largest Slovak enterprise."
From magazine at Grand Hotel Parkers, Naples, quotes on cooking pasta: "Always use spaghetti of medium thickness in preference to those double-bass strings which are fine for the stomachs of woodcutters."
From Mexico City Crowne Plaza Hotel room svc. menu: "Vegetarian sandwitch-avocado, alfalfa germs, smoked chicken, boiled egg ...."
Buenos Aires - man from poster company, asked us, while hanging band poster, "Which one is King?"
---
Oct 1, 1996 - Woodstock
Well, Crimson's done touring for quite a while - maybe some Euro dates next Summer, but we'll pretty much devote the time until then to writing. I'll join Trey Gunn soon to try to come up w. some duo stuff to inspire the band. We'll all probably have different variations of get-togethers and see what we can come up with.
Last week I gave my speech at the Eastman School in Rochester - the symposium involved future music school curriculum - rather dry for those not involved, (I'm not even sure how to spell it,) but I've put the 15 page talk on a page here in case anyone's interested in reading it. I found the public speaking to be quite a challenge, and it was very interesting being back at my alma mater. Another alumnus speaking there, Bob Ludwig, is perhaps the foremost record mastering engineer in the world. I mentioned to him that I'd love for him to do my upcoming cave recording when it's mixed. Surprisingly, he's already done some music from caves. And he loves our engineer, Tchad Blake, and his binaural recording technique.
Earlier, when I practiced the speech, I had found that my mild TMJ (a common jaw problem) made an hour of speaking almost impossible. My dentist, Buzzy, cured it, though, with acupuncture and little magnets I was to wear on my hands. Yes, little magnets. On my hands! Seemed silly, but no clicking jaw. Made a believer of me.
In a few weeks I'll begin recording with Peter Gabriel - of course I'm excited about that, but must admit I haven't spoken with him lately and don't have any idea what the music will be like, or how much there is. Should be lots of fun.

---
Oct 23, 1996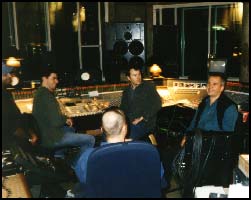 Greetings from RealWorld Studios. We're in the second week here recording Peter Gabriel's new album. Most of the excitement hasn't been about the tracks, which are very good, or about the espresso, which is also very good (because I brought my own machine - I've been trying to get RealWorld to get a good one for years, instead of their piddly Krupps. This time I thought bringing my own Saeco might embarrass them into action. Probably the ploy will work, since most of our session is gathered around it hourly, and folks from the other studios are starting to visit it too.)
Where was I? Oh yes, most of the excitement has revolved around our ping pong games! Peter and guitarist David Rhodes had been playing each other a lot while they recorded the demos, and they're both in very good form. So, when they challenged me and Manu Katche (our drummer) to a sort of permanent tournament of doubles, at first they were annihilating us. But we've slowly crept up to about their level - now, with the competition even, we're often compelled to take breaks from recording for a quick best-of-five series of games. Most interesting are after dinner, when both teams have tried to ply the other with that extra glass of wine to slow them down. Today a milestone: I snuck into Bath this morning and got a new paddle! Our team (the rhythm section) won tonight's games, and now I suspect it won't be long until their team (the mid-range section) despairs of playing with the old worn out paddles and runs into town for new ones. Stay tuned.
(Update: Generally, Manu and I have been winning the after dinner game, but Peter and David wipe us out in the later night one. Difficult to choose a champion team, especially for one as biased as me. Woody Harrelson was visiting for a few days, and among his other talents is a terrific return of serve.)
On the coffee front, we've been spoiled: Michele, my wonderful tech, brought three different espresso blends from Palermo, where he lives. (I love their brand name: Tonaca di Monaco, which refers to the color of the beans; Monk's Tunic.) I had brought a few pounds of my favorite local Woodstock organic beans, and D. Rhodes has his favorite blend from here in Bath. It's great having the variety, though I've got to admit, Michele's Sicilian "Aromatica" blend is clearly the best.
As always at RealWorld, there is an interesting blend of musician around, and they share a common dining room (and ping pong room.) One day, at lunch, Soriba Bouate serenaded us all on the Cora; his Senegalese harp-like instrument. I didn't ask what he was doing here - but he can sure play! I ventured over to the RealWorld multi-media building - a very impressive operation. Their web site has very good stuff (I'll put a link to it below) and they have two fascinating cd-roms in the works as well as a new P.Gabriel one coming out soon.
Tried to meet up with the U.K. Crimsons, but Robert's off to Argentina, and I'll hook up with Bill Bruford next week.
Update Nov. 4th: It's been going very well here - we must have done at least 20 songs! (although it's going to take a lot of sorting to arrange the good takes.) Only disaster was our running out of the good coffee beans! We then turned to the best blend we could find in Bath, but the shop soon ran out of it, and we've been ... subsisting ... on quite inferior beans! In last night's 'trophy' ping pong match, Manu and I won the grand prize: a giant 400 gram Cadbury's chocolate bar. (Though neither of us eat the stuff.)
Here in the virtual world, we've about got the sound playback working for the PapaBear page, and will soon have samples of some of the songs from World Diary, and a Funk Fingers sample for the F.F. page. Coming soon, a separate page for all the coffee stuff that's been piling up.

---
Nov 25, 1996 - Woodstock
Whew, back home again - P. Gabriel's music was very exciting, and lots of it! But now I'm focusing on my other projects and hoping he continues at the blistering pace we recorded the rhythm tracks at! (minus breaks for ping pong, of course) (and lunch and dinner breaks.) (and, of course, coffee breaks.) I'll try to keep tabs on the progress and post info about it.
I'm suffering ping pong withdrawal after leaving RealWorld - although when I dropped by a local company here for some mike cables (Markertek, of Saugerties NY) I found that they're ALL expert players there, and spend lunch breaks and after work competing. I was offered a match but wisely declined.
Engineer/producer Tchad Blake is here, and we're editing and compiling the tapes from my Cave project - it's sounding great, and very unusual. I think we'll finish this week, then it's up to me to kick PapaBear Records into action and get the cd out! I'll have the artwork done soon, since I'm doing my hand coloring of the photos as we listen down to the mixes -that way, hopefully, the music influences the art. I'm hoping for late Spring release. (my track record on releasing things on time isn't too good, though!) The group that recorded this project, Jerry Marotta, Steve Gorn and I, will play a concert or two at the NAMM show in Anaheim in January. (not in a cave, though.)
Also in January, it's likely I'll record with Andy Summers, in preparation for a tour this Summer as a trio with drummer Stuart Copeland. Interestingly, though I don't really play jazz, the current plan is to do Euro jazz festivals. Crimson will be writing together in May, and perhaps some live playing in October/Nov, so the Summer/Summers tour would fit in well for me. (As always with these plans, one is never too sure of a tour or album until it's being done, so I mention these 'plans' as likelihoods.)
We've added a Coffee Corner page for some of the espresso/related things that have been popping up a lot on this page. It's also got a RealAudio sample of one of the tracks from World Diary: "Espresso & the Bed of Nails" (naturally.) Come visit it if you've got any interest in the bean (or, if you need help designing a travelling espresso roadcase!)
Quicker than ever, the holiday season seems to be upon us, and I'd like to wish a happy and healthy season to Dan - my page designer, to Laurie - the one, invaluable employee of PapaBear Records, to Junichi and Keiko - who do our mirror site in Japan, and to you the readers of this page. It has been, and will continue to be a pleasure and honor for me to have you visit my site. Bye for now.

---

Jan 7, 1997 - Woodstock
Greetings, and Happy New Year. I'm late updating my letter - been busy writing at home, and grabbed a short vacation. Off to L.A. this week for Andy Summers album, Terry Bozio album, and the dreaded NAMM show!
For those who don't know of it, NAMM is a very big music trade show, w. exhibits of all instrument and amp makers - mostly for retail store buyers, but lots of musicians come too. For those who can browse, it's neat, though exhausting - but some musicians, like me, will be stationed at booths (Trace Elliot, in my case) sort of greeting people, and ... just being there. A little like the monkey in a zoo! By the weekend, the whole place is like a zoo - too crowded to move! Between hanging out at Trace, and visiting my friends at Music Man and the Stick booth, I won't get to see much else. Anyway, I'll play some shows there with Jerry Marotta and flutist Steve Gorn, for our friends at Taos Drums. I'm looking forward to those shows, and very much to the albums in L.A. which could come out great.
I've accessed the page stats of this site, and see that some of the ...subtle links we've put to my odd pages, haven't been seen at all. Perhaps I've been being too subtle - anyway, anyone with some time might want to click on some of the underlined punctuation in a few spots on this page and the funk finger page. (An interesting example is in the "Equipment" section below, clicking the period after 'Trace Elliot Amps', will give you the blueprint of an amp I designed and submitted to them some time ago. It won't be hard to see why they've been reluctant to put it into their line, but I'm still hoping they'll eventually relent!) I'll try to grab some photos at NAMM and put them up here.

---
Feb 3, 1997 - Woodstock
Been doing some really good music lately. Played on Andy Summers' jazz album a few weeks ago - it seemed like it came out quite well - they're mixing it now. Then I moved to another L.A. studio to record with Terry Bozzio and Steve Stevens - definitely not jazz. I tried my db meter on Steve's amp... it was off the meter! Did some exciting music there - including surprisingly some acoustic stuff. Hopefully it'll be out by Spring.
My tentative Summer tour w. Andy Summers and Stuart Copeland has been cancelled. (That's rock 'n roll!) Crimson will be writing in April/ May, but not touring until possibly Oct / Nov, and likely a minimal tour then. Hey, maybe I'll finally get some time in my garden.
I've been very pleased to see more bass players trying the Funk Fingers - can't wait to hear them on some albums. I visited Guitar Center in L.A. - considering selling them there, but I do kind of like keeping things small, and direct between me and those who get the funk fingers - so it's likely it'll remain mail order only.
Back home I'm trying to catch up with things (an old story) and put together the package for the "Cave" album. Bill Bruford's in town, recording with Ralph Towner - when he finishes we'll start on a project I've wanted to do with him for ages.
Tchad Blake, our engineer for the Cave album, now has his own site, devoted to binaural recording. Check it out.
I hear Paula Cole's album more and more on the radio. Nice to see someone so good getting popular!
---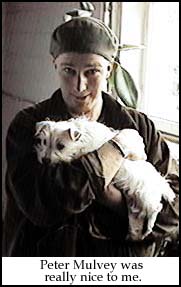 Feb 12, 1997 - Woodstock - Update
Have a new addition to my family: Sherlock, a lively, lovable Westie puppy. Monday I played on a track for Peter Mulvey in a studio down in Hackensack - had to bring Sherlock with me, and fortunately Peter and his band didn't mind. (see photo!) Also fortunately, Sherlock kept his bladder more in control than he does at home. Could be he's born to be a studio dog!
---
Mar 31, 1997 - Woodstock
I just spent a week in Boston, recording with Catie Curtis, a Boston based folk singer. The producer, Roy Bitten, had played piano briefly with Peter Gabriel, back in the '80's, and we hadn't worked together since then. We did basic tracks with just me and Catie playing. They went very well, and I think they'll have the cd out by Summer.
I spent the first few mornings combing Newbury St. for a good cafe (there are many, including FOUR Starbucks!) and finally settled into one called Caffe Royale, which had good espresso, and was quiet enough to read and write in.
The studio, Sound Techniques, has a few rooms, and mid-week I heard something familiar coming from studio B, the next room. It was a vocal group mixing their version of Peter Gabriel's Sledgehammer, a cappella, with only voices simulating the drums and my old bass line. I took the liberty of dropping in and visiting them. They're a vocal group from Tufts College, called the Tufts Beelzebubs ("The Bubs") and, not surprisingly, they have a web site! They tell me that they will sell their cd independently, and hope to have it finished quite soon.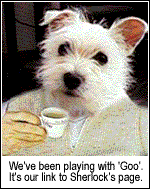 I had considered taking Sherlock, the puppy, to Boston for the week - I think he's up to spending that much time in the studio, but I was concerned about the hotel room - he's not very good at waiting to get outdoors! So Andi, my girlfriend, took Sherlock with her to New York for a merry week. I think it's time Sherlock had his own page, if only to free this page up from his photos!
I'm looking forward to getting together with Crimson later this month, to write. We'll discuss our plans for the rest of the year then, and hopefully advance on the material for our next album.
---
May 2, 1997 - Nashville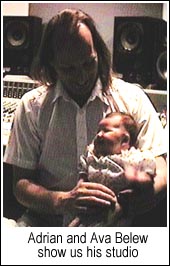 King Crimson's back together here, writing some new material for upcoming albums. It's going well so far - always interesting , but sometimes stressful when we get together - trying to find new directions isn't always a relaxing agenda.
Robert (Fripp) has some material written, and he and Adrian (Belew) and Trey (Gunn) have worked out some new methods of musically interreacting. We tape everything, and sometimes combine the drummers' experiments with cross rhythms with the 'front three' of Robt, Ade, and Trey dividing up linear ideas. Me, I'm free to make whatever low end noise I like!
We're working in a large rehearsal facility, and when I wander the halls there's country music coming from all the other rooms. I wonder what they think when they hear our attempts at polyrhythmic deconstruction! Well, they're nice enough to keep it to themselves!
I've rented a bicycle and, when the bad weather blows over, I'll be doing some riding in the mornings. Also, when not rehearsing, I've located a good coffee place ( the Owl's Nest) and a great bookstore (Elder's Book Shop). For years I've been keeping a computer log of Crimson tours and recordings, entering miles travelled, quotes of the day, hotel info -- got so into it last year that I added a fields for whether the hotel had a phone I could plug the computer into, and for how far to find good espresso. Perhaps one day I'll put up a list of "Crimson Cafe's" around the world. Anyway, I'm glad there's decent espresso because I didn't bring the "Cafe Crim" travelling machine.
Current plans are now for us to write and record next Fall, no touring until the following Spring. We'll see how long those plans last!
---
May 5, 1997 - Nashville - Update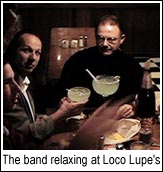 The rehearsals are going o.k. Sunday, band took the morning off, went to yard sale at Al Kooper's house - bought some mixers, but no guitars. Then we visited Adrian's home and studio - heard some of his upcoming cd and saw the beautiful baby. Capped the day off at "Loco Lupe's" where Robert had the biggest margarita I've ever seen. Won't know how useful the new material is until we've listened to the tapes some, but it seems to have been a productive week here. All in all, though, I'd rather be touring.
---
May 15, 1997- Boston - Update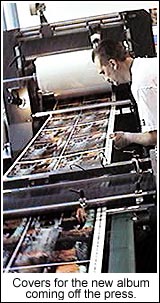 I went to Boston earlier this week to oversee the making of the cd package for the upcoming "Caves of the Iron Mountain." Amazing seeing the huge machines used in a big printing job - I was taking photos like a tourist! The cover came out very well, but there are still other parts that need to be printed for the entire package. Funny that the music on the cd is the easiest part.
---
June 8, 1997 - Woodstock
. I haven't updated the letter lately because I'm still buried in getting the Cave cd (and video) out, which is, let's face it, getting to be a BORING subject! (The inside booklets came out the wrong color - my fault, and not far from the right color, but wrong - so they're in my garage, and new ones are being done - pantone 167, not 72. Anybody want to see what 10,000 copies of a booklet in the wrong color looks like? Any suggestions on what I can do with them? Too much coating to burn. Too rough for toilet paper.)
I caught Paula Cole's NY show last week, which was great. Crimson is still planning on rehearsal/writing period in October. Bozzio Stevens Levin trio is considering a small tour of Japan in September. (the cd, Black Light Syndrome, is out now - see below.) Peter Gabriel is still finishing up his new tracks. I had planned to do some promo playing for the Cave cd this Summer, but Jerry (Marotta) is out all Summer with the Indigo Girls. And here I am, surrounded by wrong color/ insert books, trying to make sure everything in the cd package gets done right before it can come out. Once again, I'm learning that being a bass player is much more fun than being a record company!
My friends at Taos Drums made me a custom drum with their bear painting on it, but altered to look like Papa Bear. It's very cool.

---
July 1, 1997 - Woodstock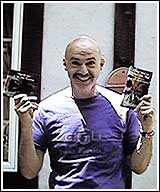 Yay! The "Cave" CD and video are finally ready. The booklets are the right color, the package is printed correctly and folded well, the artwork on the CD has been silk-screened correctly, the video package is the correct colors and the faceplate on the video finally got printed and put on, the posters have been printed -- the whole lot has been shipped here (with some assistance from my friends at Markertek, who's loading bay I borrowed,) and my assistant Laurie is ready to mail out orders. WHEW, that took a while!
It now looks like the Bozzio / Stevens / Levin trio will tour in Japan in September. There's been some confusion about the tour, and some U.S. dates had been added after that, but are now on hold. I don't think that CD, Black Light Syndrome, is in stores yet - there's a link below to the record company, who probably know, but I'll put an update here when it's out for sure.
Crimson is still scheduled for late Fall writing/rehearsing. There's to be a public event in London by DGM Records (Sept. 13) which will feature all of the Fall releases on that label - I'll be there because the "Caves" CD will be coming out on DGM for Europe in September. I know that Bill Bruford will be there doing press for his upcoming CD with Ralph Towner and Eddie Gomez. I'm not sure what the other releases will be. I'll notify.
---
Update - July 10
I spent a few days in NY with Eddie Jobson working on the upcoming U.K. project. (As before, John Wetton is singing in the band, and playing some bass, but they had me play some Stick and upright.) The material is a while from being finished, but sounds very good. Never played with a Bulgarian choir before! Interesting was that the studio, Back Pocket Studio in the W. 20's, has the best espresso machine I've ever seen in a studio, a Rancillio restaurant type. Over the two long days, I made countless coffees for myself and Tristan, the French asst. engineer who, being from Paris, appreciated a great espresso!
---
Update - July 21
I've been in Seattle, recording with pianist David Lanz. Studio is very unusual - built into the rock in a suburban neighborhood, it looks like a garage from the outside, but is voluminous inside. It's named after the owner, Bob Lang Studios. Being Seattle, there is, of course, coffee nearby (closest was in the local post office) and good. But a very special event for me was David taking me to the "Espresso Vivace" - surely the most serious espresso making place I've ever heard of. I met the owner, David Schomer, and purchased his book and videos on professional espresso making. Can't wait to get home and try some of the techniques I'm reading about - should be perfected by the next Crimson tour, and the guys will benefit from it all.
---
Aug 13, 1997
Sorry I haven't written an update in a while - I've been camping. (Did you know you can have pizza delivered to your campsite nowadays!) Now I'm gearing up for a Japan tour with Bozzio/Stevens/Levin. We'll play Blue Note clubs in Osaka and Fukuoka, and a Bottom Line club in Nagoya. Hopefully I can get online from Japan, and I'll bring the digital camera along to update the page. The "Caves" cd will be coming out in Japan in September, so I imagine I'll be doing some press over there. After Japan, I will go to London for a promotional event DGM (Discipline Global Mobile record co.) is putting on for their Fall releases (again, the "Caves" cd) - it's some kind of play-and-do interviews event on Sept. 13th, and rather than assemble a group, I want to try playing solo - probably the electric upright. It'll be the first time I've ever done that - should be a nice challenge! When I know who else is playing there, and whether it's public, I'll notify here.
---
Update - Aug 20
Yike, the Japanese tour is off. Many apologies to any readers who already had tickets to the shows there - I'm hoping that B.L.S. will tour later this year, possibly in the States, but I'm afraid that the short tour that was to start next week won't happen!
---
Sept. 13, 1997 - LONDON
I'm writing from an Internet cafe here in London, having just finished a DGM records playback event at the Intercontinental Hotel. It was quite a success I think. The event really began for me before I left NY, when I was told that my cd release (From the Caves of the Iron Mountain) was ready, but the covers hadn't been printed in time, so -- could I remove my cd's from a few hundred, and bring the covers! This I did, and when I got here to London, the cd's from here were put in them. The good news, great news really, was that they were able to put the video of the making of the cd (sold separately here as "Tales from the Widow Jane Mine") onto the cd, so it's now an "enhanced cd" which in most computers will play about 20 minutes of the video of the Cave project. All the European cd's will have this feature. The BAD news was that somehow the insert booklets got printed THE SAME WRONG COLOR AS THE US ONES DID! if only they had asked me, I could have given them my 10,000 copies - or better yet, got it redone the right color.
Anyway, on to the event: While the musicians did some early interviews, the public was admitted to the Grand Ballroom at the Intercontinental Hotel at about noon - shown through a room with coffee and cookies, with lots of new DGM merchandise available, as well as the new releases. And a couple of computers set up with views of the brand new Discipline web site, and my enhanced cd going. Tony Geballe played solo guitar in the main room as people came in there.
When all were seated (I guess about 600 people) a couple of tracks were played from Tony's new cd. Then, without introduction, I came to the stage, played about 10 minutes of unaccompanied bass, (what did I play? I made it up at the time.) and spoke a bit about the "Caves" cd, from which a couple of tracks were then played. (the London Bass Centre kindly located an NS Electric Upright for me - in Prague! Which they got into England in time to have it at this event.) Next came Bill Bruford, who gave a witty talk about many things, including his new release. (I'm sorry I don't have the titles of all these cds - they can be found, I'm sure, on the DGM site.) After Bill, John Wetton sang solo, a track from a new cd. then Robert Fripp spoke about the release of a live performance from the early lineup of king crimson. He also gave the listeners some hints of upcoming plans for Crimson, including some touring in smaller combinations of Crimson members, the first being titled Projekt One, planning a four night stand in a London club in early December (that will be Robert, Trey, Bill and myself.) with others to come.
Tracks having been played from the live recording mentioned before, the guests exited to a track from the current Crimson's last rehearsal period in Nashville - a rehearsal track, that is. They went back into the first room, where all musicians were lined up at tables to autograph whatever was presented. This activity lasted for hours, and it's my hope that everyone left feeling satisfied with the event.
In a few weeks I'll be going into the studio with two players from the group "Dream Theater," Mike Portnoy and John Petrucci. We'll be joined by an excellent keyboard player, Jordan Rudes - and I'm hoping the result will be something worthwhile. Other plans for the Fall include a bass clinic in NYC in November, (these things are not my cup of tea, but this one sounded interesting) and a show at the Montreal Drum Fest on November 8th, with the "Caves" lineup of Jerry Marotta, Steve Gorn and me.
---
Update - Sept. 16
I did a live radio interview today at our local NPR station: WAMC in Albany. I got to speak about the "Caves" cd, and play some tracks from it. Had some nice call-ins too, many from bass players. Most notable quote was the interviewer inadvertantly describing the project as "music from an abandoned mind somewhere in the Catskill Mountains." That's me!
---
Update - September 29
Well, we finished the rhythm tracks of the project currently titled "Millenium Project" - Mike Portnoy and John Petrucci of Dream Theater, Jordan Rudes of Dixie Dregs -- and me, trying to keep up! (Boy, these guys play FAST! ) Hopefully that cd will be ready for release by the end of the year (it'll be on Magna Carta Records, and I'll put up a note and link when it's ready.) We had some amusing moments, some of the riffs being so fast I must admit I had to punch in my bass parts bar by bar. (no shame!)
Much easier technically, but just as enjoyable, were some tracks I played on Jonell Mosser's upcoming cd, with John Hall producing. She's a great singer out of Nashville - again I don't know when that will be release date, but will notify.
I got some nice feedback from the hour interview I did on our local NPR station, WAMC. Especially the interviewer calling the cave project, "music from an abandoned mind.."
---
Oct 12, 1997 - Greetings from Vancouver
Here doing a wonderful album with Seal. The other muso's are Vinnie Calliuta on drums, Heitor Pereira and Michael Landau on guitars, David Sancious on kbds - no wonder it's so much fun. Seal's writing and guitar playing is super. (And, it doesn't hurt that the studio has a great Simonelli espresso machine, PLUS the asst. engineer, Paul, is an ex-Starbucks cappuccino slinger - so I'm picking up pointers.) Best quote of this week is the producer, Stu Levine, referring to the bass part, asking me to "keep it downstairs" - (as if I didn't play low anyway,) now I refer to him as K.I.D. Levine. I've had powerbook problems (as usual,) and spend my mornings trying to get the modem port working so I can get online - obviously I've been successful, at least for the present, and sent this update - but I'm afraid my modem and powerbook are on their last legs. (Aren't we all!)
---
Oct 17, 1997 - Vancouver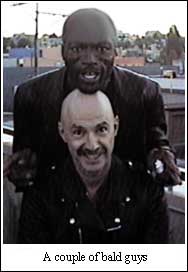 The Seal album I'm working on continues to be a joy, with excellent musicians making excellent music. Today, on a rare day off, I've been wandering around the city. Had already located an Internet cafe, health food, and some decent espresso near the hotel (not as urgent as usual, since we've got great coffee maker at the studio.)
I'm working a bit on organizing my upcoming bass clinic in NY - I usually avoid these things because to do a good job you need to pass on the relevent things about your playing that the other players want to know - and I never think about those things. So, trying to analyze my own playing so that I can talk about it isn't the thing I'd most like to be doing today -- maybe I'll break for some football games.
New on the page is a link to my old pal, drummer, Steve Gadd's site. Also links to a new site from Taos Drums, and to my brother's page about The Clams: a goofy band we had ages ago, which, coincidentally, included Steve Gadd. For those who haven't noticed it, I have a page of unused band names from years of musicians' discussions (link below) -- it's funny how you can never find the right name for a band when you need it.
I don't love those counters that tell a page visitor how many have come before him - but I do find fascinating the far flung places from which people take a peek at my page. Here's a list of some of the hits and locales from the last 30 days. (and a special welcome to those of you from these places.) 277 Croatia, 152 Estonia, 95 S. Korea, 70 Turkey, 49 Slovak Republic, 52 Macedonia, 19 Slovenia, 17 Quatar, 15 Boznia-Herzegovina, 14 Ukraine, 12 Peru.
---
Nov 24, 1997 - Woodstock
Full of hot-turkey, I head for London tomw. to do what will certainly be an interesting week - members of King Crimson live in a small venue, playing only totally improvised music. We'll be at the Jazz Cafe in London, Dec. 1 thru 4 - though we'll be "rehearsing" this Sunday, I'm told that we won't even play together, just make sure all equipment is working - to ensure that we'll be in total improvise mode. I'm looking forward to the surprises! (Lineup will be Fripp, Bruford, Gunn, Levin)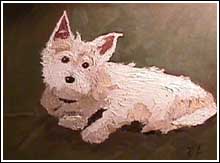 The last two weeks I've been working at painting the cover for Papa Bear Records' upcoming "Bruford Levin Upper Extremities" release. I'd say the results so far have been ... mixed. I did have some luck, though, painting my dog Sherlock.
I'll do my best to put up some photos from the London gigs - however I've just found that my old powerbook has surprised me yet again, and won't read the disks from my new dig. camera - hopefully I'll find an internet cafe with a computer that can.
---
Dec. 1, 1997 - London
Our "rehearsal" went well - of course, we weren't playing with each other, just setting up, so it couldn't have been too tough.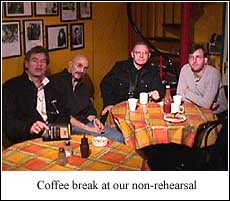 The rehearsal studio, "the Premesis" was a nice, funky setup, with a smoky cafe attached. I got a classic photo of the four of us over coffee. And tonight, the first gig. A lot of fun for me, not knowing where things would go. Biggest surprises: Robert playing a frettless bass (sound) solo on his midi guitar, Bill brought a xylophone and took us into parade land with that.
Big challenge for the audience - a whole night all improvised - they seemed to like it, at least nobody called out requests. More details tomw.
---
Update Dec. 4th: London - after midnight.
The four shows are finished now - they went very well. I especially liked the last set, and thought we caught some good energy. An interesting event occurred at the start of the first set tonight, when Robert Fripp strode onto the stage, and went to the mike - a very unusual occurance. (darn, it was the one set I didn't have my camera onstage.) I'm paraphrasing from memory, but he said something like this: "It has been thirteen and a half years since I've spoken to the audience in a King Crimson context. But tonight my legs have carried me across the stage like whipcords, and I have something to say to you. You are listening to ProjeKct One of King Crimson, and there has already been a ProjeKct Two..." (at this point, a camera flash went off from the audience, and Robert stopped mid sentence. He thought a second, frowned, and strode back across the stage to his seat - we then began the music. Will it be another thirteen and a half years till he finishes that sentence? I don't know.
---
Jan 10, 1998 - Woodstock
Unusual for me, I haven't been doing much playing lately, but am busy making some equipment changes, doing some preliminary Crimson writing with Pat Mastelotto, and keeping me the busiest is overseeing the printing of the upcoming "B.L.U.E." cd package. It's amazing how much attention these things need in order to come out right. I have much more respect for art departments of record companies since I started doing it all myself. For my Papa Bear Records packages, the cd, the package, and the booklet are all manufactured by different companies (assembled at the end, up in Maine, where the cd's are printed.) After I send disks of the finished artwork, each company has to send me a 'match print' to make sure theyíve got it all right. (almost never is it right the first time) Then, after that's gone back and forth and been okayed, the printouts are scheduled, and I need to go to the various printing plants (Boston area) to ensure that THOSE printouts aren't somehow different than the match print. (Then, the printing process for the art on the cd itself is a different process, silk screening, so it's impossible to get it to match exactly!) It's no wonder that the musician's idea for cover art usually comes out very different by the end - even with me having done the art myself, and breathing down the neck of each printer at each phase of the project, it can STILL get messed up if I blink.
On a different subject, an exhibition of my photographs will run in Switzerland, from Jan. 30th to March 1st. The place is called "Maison de Courten" in SIERRE, Switzerland. (For anyone who's interested, Sierre is 110 kilometers east of Lausanne, 180 km from Geneva and about 250 km south of Zurich. The local phone numbers are (0)27 456.26.88 or (0)27 452.02.31, and Iím told that the local food specialties are "raclette" and "fondue" but that the local pizzeria, CAPRI, is the best in Switzerland.)
Iíll be skipping the L.A. NAMM show this year (whew) both as a favor to myself, and to be on the case for this artwork printing. Weíre going to tour in April with the release of the ďBruford Levin Upper ExtremitiesĒ cd, but, beyond Japan, Iím not sure yet where the tour will go. More info when it comes in.
---
Feb 14, 1998 - Woodstock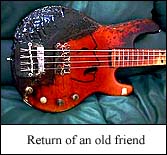 After quite a while of working on it, my friends at Music Man basses have repaired a custom bass of mine that somewhat survived a barn fire a few years ago. The white finish has turned to amber, and part of the body is charcoal - really a beautiful look! I'm torn between naming it "ToastBass" or "CharBass." Anyway I'm thrilled to have it back, and very grateful to MusicMan. Hope bassists don't start requesting this new color from them!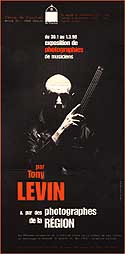 On a different subject, an exhibition of my photographs will run in Switzerland, from Jan. 30th to March 1st. The place is called "Maison de Courten" in SIERRE, Switzerland. (For anyone who's interested, Sierre is 110 kilometers east of Lausanne, 180 km from Geneva and about 250 km south of Zurich. The local phone numbers are (0)27 456.26.88 or (0)27 452.02.31, and I'm told that the local food specialties are "raclette" and "fondue" but that the local pizzeria, CAPRI, is the best in Switzerland.)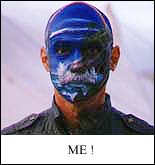 Came across this old photo of me at an English rock festival, just before a show w. P. Gabriel - seems I had come across a face painter who couldn't resist a challenge!
On the coffee front, Iíve made a great discovery. For some time my favorite beans for brewing at home (and on the road in the Crimson Espresso Valet) are a strong organic espresso blend I buy in a Woodstock market. I was very surprised to find recently, that itís actually roasted locally - no wonder it tastes fresh. I visited the source, of course, and found that Emma at Catskill Mtn Coffee has many blends - two espresso blends - (I prefer the one called simply "Peruvian",) only buys organic beans, roasts frequently in small batches, and sells by mail order - quite reasonably! ($7.50 per lb, or "Wholesale Club" rate of $5.80 per lb. for 5 lbs or more.) They (Catskill Mtn Coffee) can be reached at [email protected] or call 888 SAY-JAVA. (I hate those letter-numbers, donít you! Itís 888 729-5282).
My thanks for the suggestions sent of good cafes in NYC - Iím happily checking them all out!
Iíve been working in Woodstock on Ellis Paulís next cd, also some ongoing projects with local singer Bar Scott, and guitarist Matt Henderson. Travelling to Japan soon, to promote upcoming release there of Bruford Levin Upper Extremities. Iíve lined up the busy David Torn, Chris Botti, and Bill Bruford - and weíll tour Japan in April, and then squeeze in as many club dates in the U.S. as we can (before Bill Brufordís due back in Europe.) Currently looks like Washington, Philly, NYC, and Boston will be likely targets. Of course, Iíll list the dates here when theyíre booked.
---
Mar 3, 1998 - Los Angeles
I've stopped in the West Coast on the way back from Japan, to do some record sessions. Hoped to carve out some time to visit my friend Kai and see the newest graphics software, as well as hearing David Torn play in Santa Monica, but alas, work hasn't left the time for any visits. Weather here is sure great though - what's all this we keep hearing about rain?
Some small changes have just been made in the upcoming Bruford Levin Upper Extremities tour. New (and, I hope, final) itinerary is: April 13th New Haven - Toad's Place (yay, one of my favorite clubs) April 14th Philly - T.L.A. April 15th Washington - Birchmere April 17th Baltimore - Orion (2) April 18th NY City - Knitting Factory (2) April 19th Boston (Cambridge) House of Blues
(* Looks like there will be a live internet broadcast of the final show at House of Blues.)
Also a possible AOL live chat for me sometime before the U.S. tour starts. (I'd better speed up my typing!)
The band lineup will be the same as the upcoming cd; David Torn - guitar, Chris Botti - trumpet, and of course Bruford and me on drums & bass. There will be a hummer of a double bill in the Japan part of our tour: we're to share the show with Projekct Two: a Crimson offshoot consisting of Adrian Belew, Robert Fripp, Trey Gunn. No, there won't be an all Crim jam at the end of those shows, (anyway, Pat Mastelotto would be missing) but they should be a trip for Japanese Crimson fans, who will see lots of Crimson members, but hear no Crimson music!!
Back home at Papa Bear Records, we're getting very close to having the new cd's ready to ship - I can't wait to see if the world enjoys listening to the B.L.U.E. cd as much as I enjoyed making it.
---
Mar 27, 1998 - New York
Iíve been working my tail off, booking the upcoming U.S. tour of Bruford Levin Upper Extremities. You know, through all these years of playing gigs and tours, Iíve NEVER booked even one show on my own before - always just showed up after someone else did the paperwork. Itís TOUGH! I canít wait to pick up the bass again and PLAY! (gotta admit, I have been practicing though - some of this material isnít easy.)
As I said last week, Iím thrilled with the sound and look of the new cd - and weíve added an online order form here on the website. Like the earlier releases of my little record company, itís not distributed to stores, only sold online, and by phone and mail. However, Iíve arranged to have it in some stores near the venues of the tour - and Bill Bruford and I will be doing some instores there. Details below.
A note to those who would like to order the cd now, weíre thrilled to have some pre-release orders from the U.S. and Canada, but itís coming out in Europe in June, so we cannot take orders from there for now - anyway, youíll have it in local stores (we hope) in Europe this Summer. Likewise for Japan, itís in stores there, licensed by Pony Canyon Records.
Iíve been doing some interviews about the music, and was surprised to see a spot on MTV News about both the cd and the tour. Trouble is, it focused on one of our tracks, Cracking the Midnight Glass, sounding a lot like a Led Zeppelin song! Itís true, the bass riff (on upright, with bow) is like Kashmir, but Iím surprised anyone cares! I know Led Zeppelin doesnít. Anyway, since they mentioned all the tour dates on MTV, Iíve certainly got no complaints.
We rehearse next week, then off to Japan for a large press conference, and 4 shows. Then back here for the U.S. dates, starting on April 13th, in New Haven. Weíve put up a page of the tour schedule, to save room here. It now includes good coffee places near the venues - my thanks to those of you who helped with recommendations.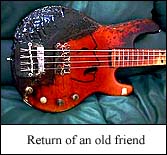 I think Iíll take the ďToast BassĒ on the tour (photo on right) - hope it holds up to the nightly funk fingers without falling apart - it is partly charcoal inside since it got burnt.
Not long now, till this is back to really being a ROAD letter, with photos to accompany.
---
Apr 5, 1998 - Tokyo
Arrived two days ago with Bill Bruford for our Japanese tour. David Torn and Chris Botti are arriving today, then after travelling tomorrow, we'll play our first show Tuesday in Nagoya. Very much looking forward to it. Rehearsals in New York were fun - our live versions of the music from the "B.L.U.E." cd will bear some resemblance to it, but they're going to be more stretched out. We'll also do a composition from David Torn's "Cloud About Mercury" cd. And improvise, of course.
Yesterday there was a press conference - Robert Fripp, Adrian Belew and Trey Gunn are also here, to promote their new "Projeckt Two" release. (on DGM Records) They and the Bruford Levin Upper Extremities group will be playing as a double bill here in Japan (only.) Should be very interesting. The "press conference" was also open to the public, (I thought I saw a PapaBear t-shirt out there, and even some funk fingers being waved. Maybe it was my imagination!) and was well attended. Each of us spoke about our respective cd releases, and tracks were played from them. Since the four members of the '80's King Crimson were all there, we also spoke to the press about the coming release of "Absent Lovers" which is a live recording from 1984 of the last show we did before the band broke up (for 10 years, that is - perhaps 'took a long break' is a better phrase.) (That cd release is coming this Summer, I believe, from DGM Records.)
As usual in Japan, I'm only sleeping a few hours a night for these first days. Spend much of the night trying to get my modem to work (perfect activity for the middle of the night!) It's having a bad hair day now, so I've logged onto Trey Gunn's account and computer to send this update to the page.) Today we'll do a couple of 'instores," which consist of the musicians being parked at a table in a record shop, and autographing their respective cd's for the public. It's a bit strange, but helpful to sales - I would like it more if there were time to talk to the people, but here in Tokyo it'll be too big a crowd. On the U.S. tour, Bill Bruford and I will do a few instores shortly before our soundchecks - the locations are below. Other than those, Papa Bear Records is just selling the B.L.U.E. cd over the web, and by 800 number. (and at the gigs, of course.)
There seem to be Starbucks in various parts of Tokyo, so decent espresso isn't far away anymore here. We've hit Japan at their lowest exchange rate in years - remarkably a cup of coffee costs about what it does in the U.S. A few years ago, it was up to $10 a cup here.
---
Blue Tour Diary
---
May 11,1998 - NYC
Just back from a trip around Europe, doing interviews to promote the June release of BLUE there. Itís to be released by DGM from England, and there are various distributors in different countries, who had set up press for me. With all the travel, I filled many pages in my personal journal. Here are some excerpts:
Monday, May 4: Munich.

This is truly a road week. Starting yesterday, flew Delta from New York to Milan w. frequent flyer miles. Was able to switch cattle car seat to an exit row (they always hold the exit row seats till about an hour before flight time) so the trip wasn't too uncomfortable. Left 6:15 pm, arrived Milan Malpensa 8am. Took bus to Stazione Centrale, then immediately caught another bus out to Linate airport - the one that services the interEurope flights. Killed a few hours till my 1:15 flight to Munich. Arrived at 2:30, was met at the airport by Bernie Jugel, DGM's representative here in Germany - took a train ride into the city, during which Bernie interviewed me on a tape deck he was carrying. ... whew! Between interviews, we visited a potential site for exhibition for my photos: named Virus - der Laden (very bad name if it were a computer store) - it's a combination deli and art gallery. Name means, "Virus - the shop" and somehow it serves food, but not being licensed as a restaurant it can't have tables and chairs, but there are "art works" that closely resemble chairs, and one big one, which laid on it side, curiously functions very well as a table!

Tuesday, May 5: Madrid.

Did more interviews today in Munich, then caught 5:30pm train back to the airport, flew Lufthansa to Madrid, arriving 10:30 pm. Met Bill Bruford at the airport, Bill having flown in from London to join me for interviews in Spain and France. Our contact, Fernando, from Sonifolk Spain, met us and, having had a "hotel crisis" and changed our hotel, got us rooms near the main Plaza de España. Around midnite, after having some drinks and discussing our schedule, I went out to find a bite to eat. Seems that Spain only eats pork late at night - the only spots open were named "Museum of Pork" and "Pork World" and other similar names. They featured both ham sandwiches and whole hams to go. Hardly the spot for a veggie! I passed on eating and called it a day.

Wednesday, May 6, Madrid.

Nine interviews today, most at the hotel. Fernando took us out for lunch to a nice place (which had food other than ham) - I had Gallician Hake! Some quotes from the menu there: in seafood, "Goose Barnacles" and, in the meat section: "Sir Loin." These dual interviews are more fun for me than solo ones - I get to listen to Bill's answers - and sometimes write them down myself. Some examples: "Making an album nowadays consists of this: fifteen months of phone calls, five days of recording, fifteen more months to get it released. (Then you wait another year to get paid.)" When asked what it's like playing drums in King Crimson, Bill made the analogy to lying on a bed of nails. Laughingly urged interviewer to look at the scars on his back. "I've spent a lot of time in the digital world and I prefer the analog world. It has to do with the work 'authorship.' I like to hear precisely when and how the player strikes the note on his instrument."

We drove out to Radio Nacional, where we were detained by the guards, exactly like the last time years ago, when we were here with Crimson. The radio show, "Discopolis" is a big supporter of World Music, both in Spain and in some South American countries.

Thursday May 7: Paris

Writing in my journal at a cafe on Blvd de Bonne Nouvelle. Now, THIS is the way to hang out in Europe. Flew to France this morning, and with only 4 or 5 interviews at the hotel here, there's time for a nice Parisian espresso (the only place I've found outside of Italy that usually gets it right,) and some relaxation in the evening. Sadly my pal Manu Katche isn't in town now. After the interviews, Bill flew home to England, and I'm free for dinner and a movie. Some of the interviews were very intelligent - I disovered from Herve Picard of "Best Magazine" that the word "Cerulean" (from the track off of BLUE, "Cerulean Sea") derives from the 'Caerula Sea' between Italy and Greece. (Herve used to teach Latin!) And that Sea, it turns out, was named after ... here he wrote some indistinguishable symbols... meaning the unique blue shade of 'the eye of Athena.' I begged him to write it in letters I could read, and he responded with "Glaucopis." Herve had assumed that I painted the cover of the cd and titled the track after the real "Sea." I sadly informed him of my total ignorance of it all - I just like the shade of blue named "Cerulean". Also did photos here in France for Bass Magazine and Guitar & Bass Magazine - Iíve met the interviewers many times before, so it's kind of like old friends getting together again. I was disappointed to find that the publications (and the DGM distributor here) had never heard about my release last year, "From the Caves." I'll have to check on whether it ever got there. Alas, the record biz!

Friday, May 8: plane to Milan.

A theme this week has been how much time I've spent at airports. Monday morning, having arrived at Milan's Malpensa airport at 8am, and my flight leaving at 1:30 pm from Linate, I had 3 1/2 hours hang-time in Linate. Leaving Munich on Tuesday was more normal, but still the train was very efficient and got me there in time for an 1 1/2 hour wait. In Madrid, Bill and I checked out very early from the hotel, fearing rush hour traffic to the airport. Evidently in Spain people don't go to work at 7am though, so the drive took far less than the predicted hour, and we were there by 7:15 for another 3 hour wait. Same thing in Paris - traffic can be terrible, but it turned out to be a holiday, and my cab arrived at the hotel early, so 3 more hours at an airport. Total so far, almost 11 hours hanging around in airports.

Sunday May 10, Rimini

Interviews went very well in Milan - again quite intelligent reviewers made it a good mind-expanding day for me. Then Saturday I took the Intercity train to Rimini to visit a music trade show (the Italian equivalent of NAMM) where my friends from Trace Elliot (amps) and Aramini (the Italian distributor of Trace) had invited me to come by, sign an autograph or two, and join them for dinner. Very hot here, and I wasn't dressed for what could have been a nice morning on the beach! Anyway, heading back to Milan again by train, slightly pooped from this week's running around.

Sunday evening, Milan.

Sitting at a cafe near the Duomo and the covered Arcade - it's a bit sad how jammed this area has become with sidewalk vendors and noisy shops - especially the beautiful arcade, where the usual cafes seem to have become bars or gelaterias, and at the center cross of the arcade, MacDonalds dominates, now with a 'media store' next door, with its inevitable disco blasting out from the door. Anyway, the Duomo area is still one of my favorite places to be in the world. I've found a quite place nearby, and am working on an essay about the nature of musicians as interviewees. Perhaps I'll include it in that bass method I've been working on for eons, but never seem to finish!
---
June 16, 1998 - NYC.
Whew, itís been a while since I updated the road diary - explanation is simple; at the end of May I got married! Then, after a small ceremony in Woodstock, my lovely bride, Andi and I went to Italy for a few weeks of travelling, eating, photos, journal writing, and lots of great espresso! Travelling without working is a new concept for me - I must say itís got its merits! I avoided doing any work in Italy, of course, but couldnít help hearing the new Vasco Rossi cd everywhere - itís one I played on a few months ago, titled ďCanzoni per meĒ and seems to be the number one record in Italy. The single, ďIo no...Ē has a Stick bass part - I had to laugh, as we drove through the beautiful Tuscany countryside, at hearing it on the radio - possibly the first Stick part Iíd played on a number one record.
Iím just back, and without much news about music or tours right now. There will be some King Crimson instore cd signings for the upcoming ďAbsent LoversĒ release - that cd isnít new material, itís from the live tapes of the last shows from the 1980ís lineup of Crimson, just before we ďbroke upĒ (i.e. suspended band activities until we ďre-formedĒ the band in the mid Ď90ís.) I havenít heard those tapes but Iím told that theyíre very good (by Bill Bruford, who did a lot of the mixing) - anyway, the instores will be in Boston Tower Records on June 27, Montreal on July 11, and possibly Quebec City on July 10. Weather permitting, I might Harley up to the Montreal one. The dates revolve around the ďProjeckt TwoĒ tour, so Robert Fripp and Adrian Belew will already be in these towns - Iím not sure whether Bill Bruford will be coming in for them to round out the quartet.
With nothing new to give graphics of, hereís a photo of the Ď80ís lineup of King Crimson. Itís from the exhibition of my photos thats in Danbury CT now, and itís from backstage in NYC in 1983.
---
June 27, 1998 - Boston

Instore at Boston's Tower records went fine. Present were Robt. Fripp, Adrian Belew, and Trey Gunn, who are all touring with Project Two, and me. Bill Bruford couldn't make it from England, though the instore was mainly for the new Absent Lovers cd, which he's on and Trey isn't. Some typical Crimson confusion there! It's very good to see the other Crim's, though it's an odd experience that the three of them are touring together, and I'm just visiting for the day. We discussed future Crimson plans a bit, and ... they're so confusing I'm not sure I've got them straight - but I do know that there will be more Crimson material from the past being released, and no new "Major Crimson Release" coming this year, sadly. It was fun greeting some folks who obviously keep up with this page - a few asked if I had rode the Harley down to Boston (hadn't!) I'm still hoping for good weather in July and I'll ride up to the one in Montreal. Another odd angle of this experience, in autographing a number of copies of the new cd, I was seeing it for the first time. When I had a few seconds, I'd open up the booklet before signing, and take a peek at the artwork, some of which was my photos of the band from the '80's. Of course, when it was done, there were no free copies of the cd to be had from the record store, so I went back on my way, still without a copy of the cd! (yes, I could have BOUGHT one.... )
DIARY ARCHIVE CONTINUED .......
---
---