Bill Bruford on drums, Tony Levin - bass,
David Torn - guitar, Chris Botti - trumpet.

Dec. 1 - Woodstock NY - Joyous Lake
Dec. 2 - Philadelphia PA - Theater of Living Arts
Dec. 3 - New York - Bottom Line
Dec. 4 - New York - Bottom Line
Dec. 5 - Cambridge MA - House of Blues
Dec. 6 - Cambridge MA - House of Blues
Dec. 8 - Pontiac MI - 7th House
Dec. 9 - Chicago IL - Park West

UPPER EXTREMITIES TOUR PHOTOS

UPPER EXTREMITIES TOUR DIARY

Woodstock NY, Nov. 30th - Day 0

Bill (Bruford) arrived from London last night, as did Chris (Botti) from New York. So we're assembled and ready to pick up where we left off last March. The Joyous Lake, here in Woodstock, has given us the club today to rehearse in before our show tomorrow. It's a rare treat to rehearse in the same place you'll play - much nicer not having to pack up at the end of the day and start soundcheck all over the next day. Robert Frazza will again be doing our sound, and Paul Schiavo the monitors. We won't be taking along my friend Mike, who did the merchandising last tour (and got us out of some hotel troubles) so we'll let each club sell our cd's or not, as they choose.

At rehearsal, surprisingly we all remembered our parts, and were able to study some tapes of the last tour (notably the Knitting Factory show, where our improv. was especially good) and remind ourselves of some of the improvs that had developed into pieces. It's great being back with the guys, and the mood is high for an exciting tour. I didn't do nearly as much publicity for the tour this time - which could explain why I'm not exhausted before the first show, the way I was last time (when I was doing interviews before the tour, during it, even in the car driving to the shows, and backstage before them.) It's different, of course, when the album's not newly released, and there's less urgency for the press to talk to you.

With both David (Torn) and me living here in the town of the first show, we've had to institute a "no guest passes" policy for tomorrow's show, or just about the whole audience would be non-paying. Kind of funny that my wife and daughter will have to pay to get in.

For dinner, I took the guys to "the Cafe," which is one of those great, small out of the way restaurants that the locals know about, but don't want the mass of visitors to town to discover, because then you won't be able to get a table. (So why am I mentioning it on the Internet?!)

I'll be shooting some video on this tour, because I envision a double live cd coming out someday, of the two tours, and I'd like it to be an "enhanced" one with video footage on it of the band backstage and travelling. So tonight, I'll be charging batteries for dig. camera, video camera, and maybe charging my own batteries for a busy nine days!

**********

Woodstock NY, Dec. 1 - Day 1

The first gig of a tour is always problematic. You may be rehearsed, but you're not in the groove yet - things will go wrong on stage with the sound, and you're not yet so used to the material that you can plow through unaffected. But it's fresh, and new ideas will emerge. That's what tonight's show was like. First of all, being a home town show for me and David, we knew about 2/3 of the audience (Bill mentioned it looking like the David Torn Christmas party.) Then, there's the venue: the Joyous Lake - I must have played there about 30 times. In the men's room, while you're using the toilet there's a poster on the wall you can't help but notice - it's got my picture, in a band playing there in the early '70s -- so long ago I had hair! Anyway, the Lake is a familiar venue, but not an easy one for stage sound. (half the band under a lower ceiling than the rest.) So we had the expected chaos when David's pedal board went evil on him. And when Chris wandered near me and my bass started feeding back in the mike attached to his trumpet. Nonetheless, the show was very good.

A high point was the piece, formerly an improv, that we've learned from a bootleg tape kindly sent to me of our last tour's Knitting Factory gig. That was one of those nights when things just went right - musically, that is - and when we went to hear the tapes we thought were being made, all ADAT machines were not working. At that time, I put out a request on the net for any tapes made that night, and was kindly sent a few. Currently we call that composition "Ba Boom Boom." Gotta think of a better name! My favorite part of the set was when we all stopped playing and David Torn took an extended solo on the electric oud! Hard to describe, but great. Anyway, tomorrow's a drive to Philly and a theater with very good sound. More soon.

**********

Philadelphia, PA, Dec. 2 - Day 2

Actually, the band is now calling itself "Upper Extremities" and I just refer to it as "BLUE" (which is from the album title, Bruford Levin Upper Extremities,) by habit. Anyway, we drove down from Woodstock to Philly, did a short and disorganized soundcheck, stopping to that Bill could be photographed with the new Bruford model snare drum that's in the works. The venue, Theater of Living Arts, has a MUCH bigger stage than the club back in Woodstock, so we were again adjusting to very different sound. We found the sound easier here, though, and played quite well. I'm too tired now to go into much detail (these letters will all have a tired sound if I continue writing them at 2am!) Tomorrow, off to New York for a two night stand at the Bottom Line.

We've added another story from the new book. This one involves, as do many of my stories, the Peter Gabriel Band. When I was telling (former bandmate) Larry Fast about the story ("The Great French Fry Race" - an odd event that occurred while we were recording long ago in London) he recalled having a photo of the event. So, while the book just features one of my line drawings of what went on, we've linked to Larry's site, which has a photo of the same. In a different matter, I'm told that tomorrow (Thursday) VH1 will begin showing the John Lennon "I'm Losing You" video, the balloon photos of which have been appearing here on the page. I wonder if the balloons made it to the final cut. (Wonder if I did too.)

**********

NY City, Dec. 3,4 - Day 3 and 4

Whew, last night I was finally too tired to update the tour journal. Drive from Philly to NYC was surprisingly easy. Then we had an intense soundcheck, trying to solve some sound problems that have been with us -- there was still some feedback at the show, so we'll have another stressful soundcheck today! I was so busy with other things before last night's show that I actually FORGOT TO TAKE PHOTOS! (That's not all I forgot - started the second piece, put on the Stick, and realized I'd left the strap in the dressing room. Started "Deeper Blue" w. trumpet, then when I entered on NS Upright, I had forgotton to switch my pedalboard from the Stick input - so it was silence from the bass player! Inadvertantly left fuzz tone on for "Cerulean Sea" and, being busy with funk fingers and singing, I couldn't get a break to turn it off!

The following gig review was sent to Papa Bear Records, and I found it charming. It's from a guy who brought his 10 year old girl to the show: "... Chris Botti must have seen her during the main set as at the beginning of the encore he came over and asked her what she was doing at the show. This made her evening...Her gig review was that a *really* cute guy in tight black slacks talked to *her*, and when he turned around you could see ... oooh. She didn't really like the music the long haired guy played, but it was kind of neat. She loved the way the bald guy in baggy pants played his bass. Not a word about Bill Bruford."

Well, after that review of the band, what more can I say!

**********

Boston, Dec. 4 - Day 5

Haven't played the show yet, but the high point of the gig at the Cambridge House of Blues came soon after we arrived for sound check. I'm speaking, of course, of the famed bread pudding they serve there. We were so taken with it last time we played this venue, that when the chance came up to return here, we began planning how we might fit in two servings (each) and still be able to play. (Or even to stand up!) Interestingly, last time here, David Torn went off to fix a guitar after we'd ordered the bread puddings - by the time he returned, his was... gone. Who had eaten it -- we weren't sure. Maybe each of the rest had taken a nibble. Anyway, there was, no more, so he has waited all these months to partake. I was nervous to find that the club has changed their recipe (who knows why, it was un-beatable) and added banana and white chocolate - but it's still a bread pudding to make a band's stay in Cambridge memorable.

The Friday night shows at Bottom Line in NY City were quite a triumph. Very full houses, we played our best, and except for those who couldn't take the crowded club, all enjoyed the event very much. (One of those who didn't like the crowded scene decided to get revenge, left, and called the NYC Fire Marshal to empty the house a bit -- the fire people arrived and luckily didn't stop the show, although quite a few people were denied entrance after that. Amazingly, the guy who made that call had been a guest of the band! Guess we won't invite HIM again.) Possibly the most fun of playing NY was performing the piece, now a composition, that began as an improvisation last tour, at the NY Knitting Factory show. It was the kindness of some who... er... taped the show without asking, and sent me the tape to learn, which enabled us to make a finished piece out of it. Current title: "Untitled"

**********

Detroit, Dec. 8 - Day 8

O.k, I've missed some days lately - it's not that there was nothing to write about, I just wanted to have a life! Second show in Cambridge was excellent, and the day after, our first 'day off' of the tour, three of us flew to Detroit - leaving Bill in the sunny 70 degree weather of Boston, great shopping to be had, great coffee in Harvard Square ... we suspected we should have stayed with him there for the day, but later that afternoon, as we waited outside Detroit's airport, in 38 degrees of wind, for a rental car bus that took ages to arrive... we KNEW we'd made the wrong travel decision. Never mind, my buddies Mark and Lee met us that evening for some nice Indian food and a good time on our night off. Then today, just as Bill arrived from Boston, the band went to WDET, an excellent public radion station here, where Martin Bandyke did a lengthy interview on air of all four of us. It's not every radio station that will even play our music, let alone interview us, so it was appreciated. (I got photos of each musician doing plugs for the next fund drive.)

Somewhere in our travels, David Torn, having heard me try to evade questions about our band, developed the following amusing (partly fictitious) dialog about Upper Extremities. Even though it's a dialog, it is the best explanation of the band I've seen.

"Are you guys a band?"
"Yes, but you haven't heard of us."
"What kind of music do you play?"
"It doesn't have a name yet."
"Do you have a cd out?"
"Yes, but you can't find it anywhere." "Are you playing here in town?"
"Yes, but the show is sold out."

The show in Pontiac, (which is near Detroit) was great, with a very enthusiastic audience. I was so busy before the show I forgot my camera onstage, and sadly have no photo of the crowd. (and in Boston, the battery was low and didn't flash strong enough -- too bad, I was heading for audience shots of the whole tour!) Anyway, the venue didn't turn the lights on after we finished our encore, and the crowd kept clapping. We had no more music to play, but with the lights still out, we felt we couldn't let it end that way, so the band took the stage again and did some improv that somehow let to Chris playing "Frosty the Snowman" on the trumpet while Torn's guitars howled, Bruford skittered around the drum kit, and I growled on the fuzz Stick. That's what we left the kind Detroit audience with; a kind of new industrial de- constructed Frosty - crushed pork pie hat, mangled carrot, burnt coal, and perhaps a bit of melted snow. I'll say one thing: it ended their clapping for more!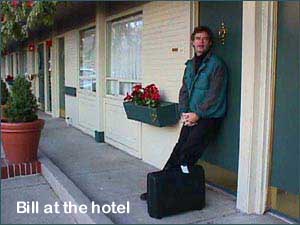 P.S. - Caroline Bruford is very new to computing and has taken to visiting this site from England, to check up on what her husband is up to. So, here's a picture of your man, Carolyn, to show he's healthy, doing well, and will be home in a few days!

**********

Chicago, Dec. 9 - Day 9, the last show

Gee, I'm kind of sad finishing both this small tour, and the daily (well, almost daily) web diary updates. I had a lot of feedback from people at the shows that they enjoyed the insight into what goes on with us in the band, and I've enjoyed having the vehicle to share the fun. Not surprising that the show here, at the Park West, was a good one - it's one of the best clubs anywhere. The crowd was great, and we set records for our cds sold at a show (though I'd just about run out of books, and only had 3 left to offer at the merchandising table.) We didn't try to repeat our "Frosty the Snowman" encore, just leaving it with the usual "Three Minutes of Entertainment" from Torn's "Cloud About Mercury" cd. I got goodbye shots from the whole band in the dressing room, and of my three band mates as they prepared to take the final bow onstage.

Now, (Thurs morning) it'll be off in different directions for each of us. Chris Botti's moving to L.A, so the former New Yorker will fly there instead of back East with David and me. Bill will head to London and prepare to come back to the States in January with his Earthworks band for a tour in the West. David's got some film scoring to do, and I'll enjoy a little break, practice for some upcoming Liquid Tension shows, and try to sort out getting my book into some stores! Though I may not be updating daily for a while, it won't be long till there's some more interesting stuff to share.