Lowell, Mass. Nov. 3

We're re-uniting this line-up, after quite a while without playing together. We (Jerry Marotta, Paul Richards, Bert Lams, Hideyo Moriya) had done some great shows at the Quebec Summer Festival the summer before last. Surprisingly, Jerry remembers the songs quite well, so there wasn't much rehearsal needed.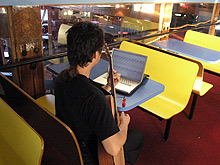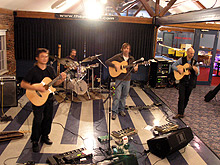 Tonight's show is in a brewery. (Getting to a common venue for me - recently I played in my local brewery, Keegan's Ales. But this time we're in a big room on the third floor, set up for concerts - not among the vats.)
This is the first show of three, and tonight there will be two opening acts: the New England Guitar Circle, and Stick player Tom Greisgraber (who's been opening for the Trio on all this month's shows.)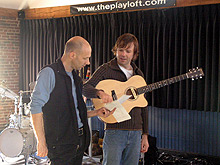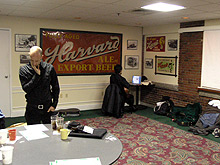 Before our set there was a raffle drawing! I don't know the prize, but I was brought onstage to do the selection of the winning ticket. Good chance to shoot some photos for me.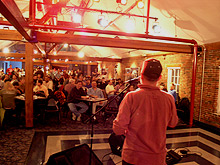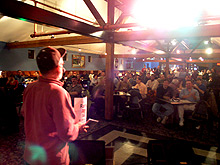 Fall River, Mass. Nov. 4

The second show of this week, not too far away in the south of Massachusetts. I managed to visit Cape Cod in the morning, and still had plenty of time at the artist gallery that's tonight's venue. Called the Narrows Art Center, it's right on the riverfront of Fall River, in the shadow of the big bridge.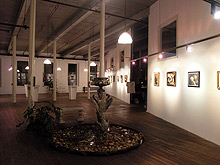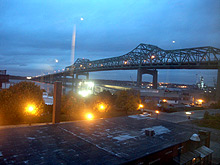 Another third floor show, and like yesterday, it's a walkup so we're lugging our equipment up flights of stairs. Good excersize on this tour - I think we should name it " the CGT Stairmaster Tour of Mass."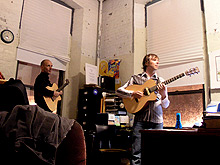 Pawling, NY

A well known club for many years, the Towne Crier is on a quiet highway in the small town of Pawling. My good friend and bandmate Larry Fast showed up for the show, as did a few other friends. One, Eric Wagner, took some photos of the whole band onstage, so I can finally show us all in one shot.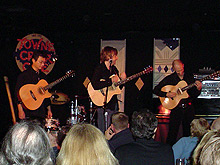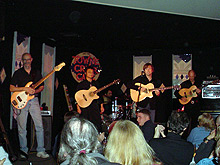 Stick player Tom Griesgraber not only played the opening set, but sat in with the band for a few songs each night. (That's him on the right - you can't see the Stick, but he's playing it!)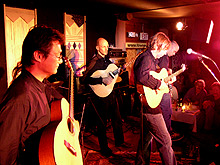 That's about all for this short tour - can't fill too many pages with a three day tour.
It was great fun, as always with the trio, and Jerry's being there lent a special aura to it. I hope it won't be long till I have the chance to play live with them again.