Annapolis, MD - Jan 26

A long drive down from upstate New York for me and Eric Wagner (our friend, sometimes promotor, from Albany, who's along on the tour to do the merch selling.) The others in the band are flying into Baltimore from various places.
There'll be two vans, and my car - a relatively big touring convoy!

Pat's drums didn't show up -- they're somewhere in the country, in transit... may not catch up with us for days, so this is the first of many days of Pat finding drums to borrow!
Show went fine anyway.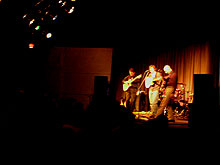 Morgantown, WV - Jan 27

Reasonable drive across Maryland into West Virginia. I've never been in this town, Morgantown, which is quite nice - big college is here, I believe.
There was a Spinal Tap moment for me at the show. After the first five songs, Pat and I leave the stage and the trio does a few pieces on their own. There was no proper dressing room to disappear to, just a hallway parallel to the venue, with locked door to the outside. Pat went off somewhere and I sat making a phone call. It was a bit loud, so I removed the chair propping open the door into the venue. Sometime during that call, I came to realize that the door was self locking, and there was now no way out of the room. Knocking on the door did no good - couldn't be heard with the volume of the show. I thought ahead to the setlist - it was a group improv that they expected me to return for - would they come looking for me, or think it was my improvisation to not appear? I thought, ah, I'll just the venue on my cell phone, to tell them to come unlock my door -- but, embarassingly, I couldn't remember the name of the city we were playing in! (I told you this was a Spinal Tap moment.)

Obviously, I'm not doing this web update from that room, so I was indeed rescued (choosing the right quiet moment in the music to knock loudly on the door was the trick!)





(Up early morning for a long drive to Pennsylvania, fog covered the town and smoke rose from chimneys. Wish I could stay longer.)

Coatsville, PA - Jan 28

Realizing I haven't been taking many photos, today I'll start taking more.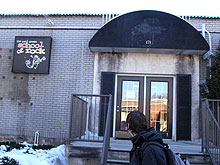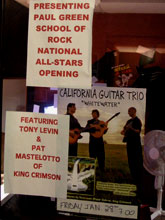 This is another town I hadn't been to before. And, in an industrial park, there is a "School of Rock" here, with some very nice and very talented kids.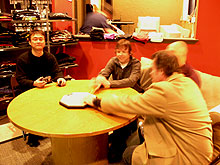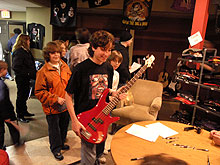 Incredibly, the opening act, consisting of 16 to 18 year olds from the school, played a set of King Crimson music - including 21st Century Schizoid Man and Elephant Talk!

I noticed today how Bert keeps track of his setlist - on his camera!)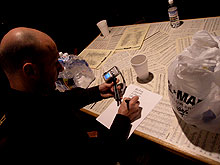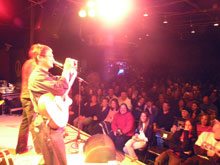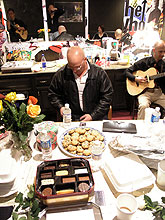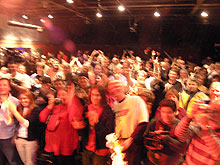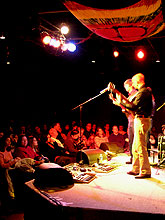 Kingston, NY - Jan 29

Only about four hours drive today, and it's to my home town, Kingston, NY, so the band will stay at my house!

And the show is at Keegan Ales - my favorite local brewery, which has become one of my favorite venues. (Great beer, happy people, what else do you need for a good gig!)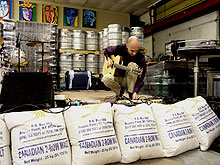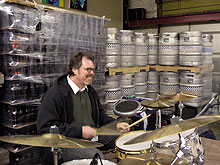 This isn't a brewery with a stage and viewing area... it's a brewery! Sacks of ale ingredients stacked infront of the stage, kegs stacked behind.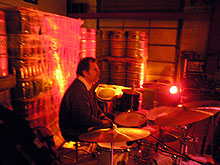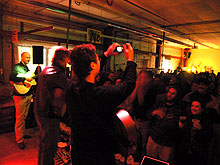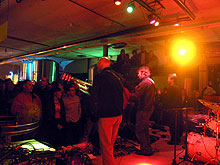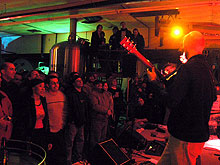 And to think that we almost took our first offer for today's gig -- in Mexico City! What a one day travel that would have been!
Hopefully we can do the Mexico show some other time, it'd be great. But Keegan's rocks!

Pawling, NY - Jan 30

Back at the friendly Towne Crier where we'd played last November. Again, a great crowd, and fun night.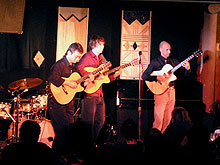 New York - Feb 2

Ah, a couple of days off. Now, it's two shows in one day. The first, just a short performance, at J&R Music Store, way downtown in Manhattan. We loaded in, set up, played, and signed cd's for a bit...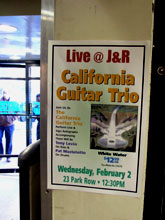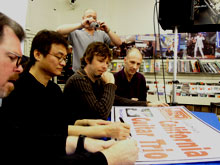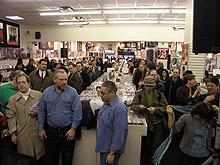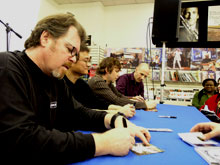 ...then loaded out, drove uptown to BB King's club, right in midtown, for soundcheck.

Alas, I didn't bring my camera to the show, so missed an extroardinary jam we did with Theramin player Pamelia Kurstin - but maybe I can get a shot of the theramin in Boston - I hear she'll be there when we play Somerville, and may sit in again.


Somerville, MA - Feb 3

Okay, here is what a theramin looks like. The functioning part is just the thin metal rod sticking up, and the curved rod. You play it, not by touching them, but putting your hands near them. Hard to describe, and hard to see the rods in the photo. And, for that matter, it's pretty wierd to watch, but Pamelia is certainly a great player.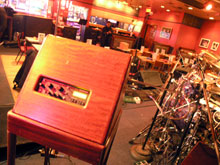 The show was at a club called Johnny D's. Like anyplace in Cambridge or Somerville, or most of Boston, it's very very hard to drive there if you're from out of town. So our first van got lost heading for soundcheck, and the 10 minute drive from the hotel in Medford took them an hour and a half. In the second van, with Hideyo directing by global positioning device, we got there fairly quickly, but had to go about a mile beyond the club in order to turn left and park at it... again, typical in Boston.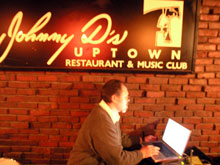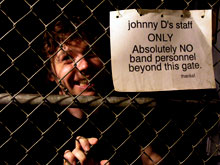 (That's Paul Richards, of the Trio, smiling at the door of a room in the basement of the club, that no band would ever want to go in!)

Got a couple of shots of Pamelia sitting in on the jam. No, she's not conducting us, just waving her hands to play the instrument! (She also joined in for a really unique version of Miserlou!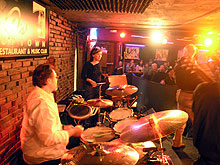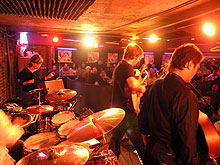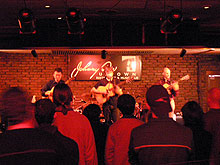 Hamden, CT - Feb 4

A relatively short drive to Hamden, to play at "The Space", a small venue dedicated to good music, and with a rockin' coffe bar.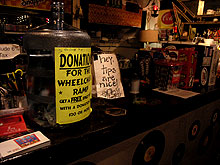 We had an excellent crowd there, and played a fine show.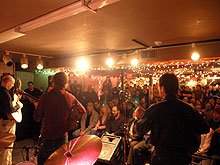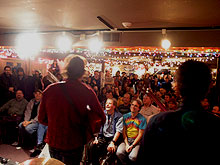 (I like that t-shirt from the front row!)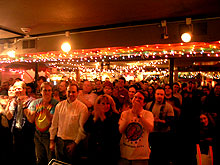 (Saw some interesting signs here:)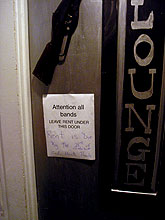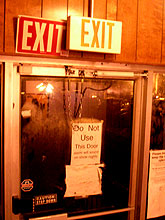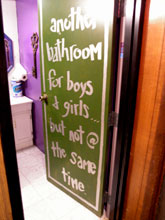 Waitsfield, VT - Feb 5

Driving up, on a sunny day, through Mass, and most of Vermont - it's really beautiful. I've taken my own car on this tour, and it's looking like I'll have clocked 2,000 miles when I get home.

We're staying in Burlington, because the show, a 45 minute drive from there, is in a small town with no hotel.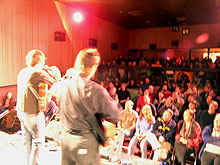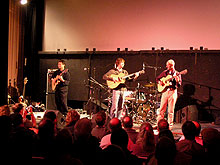 Here's what the view looks like to Tyler, our sound engineer: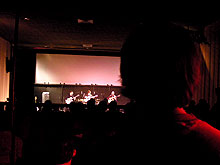 Wonderful audience here - quite a few of them knew I'd been up in Vermont, working with Trey Anastasio. That, and my Patriots hat, made me a popular guy!

A fitting end to this small tour, that's been really friendly, really fun, and, as always with the Trio, very special musically.