Mexico June 9th

Far behind in my updates, but it wasn't easy to get online in Mexico City.
Our Mexico City show was very good, as I'd expected, because the Mexican audience is passionate about music, and the CGTrio plays a great variety of music that's perfect for this audience. It was filmed too, so there might be a future DVD of that show.

But the weather was really hot, and there isn't air conditioning everywhere, so it ended up being quite a tiring few days. (We did a tv show taping, on the morning of show day, in a wonderful old church.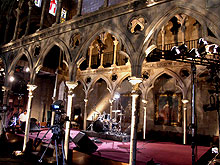 It went hours longer than planned, so we were running behind all day, only catching up late at night when we returned to our hotel after the show - alas, some of the rooms had lost their meager air conditioning, and it was a stuffy night.)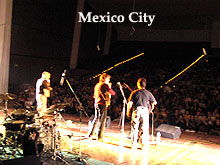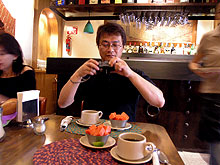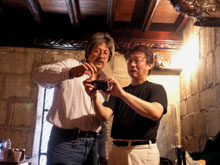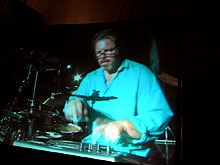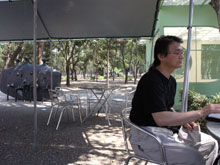 Onward to Ohio, (I'm hoping to return to Mexico City, with my own band, sometime in the coming year.) It took a day of flights, but that was easy.

Columbus June 12th

On arrival at the Columbus club, Little Brothers I recognized it as the scene of a memorable happening a few years ago. Back then, while playing there with my band, we performed Give Peace a Chance, and a fight broke out at the bar!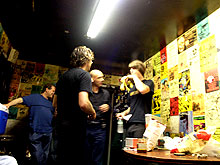 Well, the audience was well behaved this time (as I'm sure they are most of the time there) and we had a nice night.

It was the band's first night trying out in-ear monitors, which made it better onstage in some ways, but it's a big adjustment for those who haven't used them before.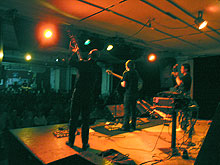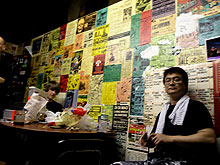 (A note about in-ear monitoring; most big rock bands use it nowadays - you've seen the wires coming out of their ears, and maybe occasional fiddling with the molded earpiece. I've used them for a long time, with Peter Gabriel and others, and it helps me a lot because the stage volume level goes way down when the band wears them, and the sound gets, potentially, a lot clearer. But it's a steep curve to get used to them. You become very dependent on the monitor mix, and even small imperfections are much more apparent with the album-like mix right in your ears. And you don't have your own amp blasting behind you, so if you're too soft, there's nowhere to go to hear yourself better. Another issue is that it removes you somewhat from the audience, because you're hearing the clarity of a record in your ears - no voices, yelling, generators, or even the band members talking to you - it takes some time to adjust your brain to separating what you hear from the other, more important, reality - the audience and the concert going on.

Oh, and then there's the battery issue. You do not want your "belt back" to run out of power during a song - the sound gets very bad indeed when that happens. If it's a Peter Gabriel show, a technician comes running out and kneels by the player, changing battery in seconds while the player keeps right on going. (In the last tour we each wore three belt packs - two transmitters and a receiver.) But, hey, this is the CGT&2 tour, and there are no techs to run onstage. And, to save money I had bought some extra batteries at a cheap store across the street from the club. Two for a dollar. I should have known better - the good ones are almost five dollars each! So of course there were some difficulties there, and I think most of the players got through the show with at least one earpiece pulled out. We'll buy some normal batteries today!

It's good to be back in Waffle House country. The band's favorite Hash Browns order, for those who are interested in these things, is "scattered, smothered, covered and peppered." (That means cooked spread out, with onions, cheese and jalapinos.) (But you probably knew that!)

My Detroit friends have come out to join us for a couple of days on the road, so, as usual with us, we're comparing our home-made pepper vodkas, and that makes for some late nights and slow mornings - far from the usual behaviour on a CGT tour. (Mine, we call Peplevska and the consensus is that it's too darn strong!) Between our vodka bouts, though, I've finished 1776, a book I bought in the airport a few days ago. Like all of David McCoulagh's historical books, it was great - I just wish it'd been longer, since I was hoping to still be immersed in it for the 6 hour drives coming up.

Another interesting aspect of this tour; our sound engineer, Tyler Trotter, has become a coffee roaster in his home town of Louisville. And he's brought along many bags of his freshly roasted coffee beans, each a different blend. Alas, no espresso machine along on this tour, but we managed to get a grinder yesterday, and were brewing potfulls on the small coffee machine our hotel rooms have. I don't think these machines were intended for such heavy use, but now we've added coffee taste-testings to the vodka ones.


Columbus, June 12th

A big part of touring is The Pack. It's the daily activity of fitting more into your car or van than it was ever meant to hold, and the big ones are the first day of a tour, when you don't really know if it will all fit.

Myself, I refrain from helping - I'm just not good at it. Actually, I think it's a DNA thing - some people have the packing gene, and I just don't - if I put my basses and suitcase in first, they'd just have to take them out and start over.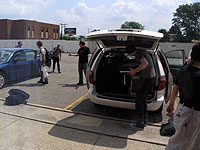 So I just took photos, while all the others managed to make it fit - three guitars, two basses, 7 suitcases, seven people, all in a minivan and a sedan.

We're ready to roll - hello Cleveland!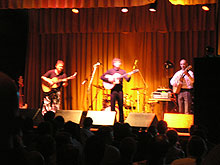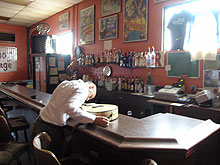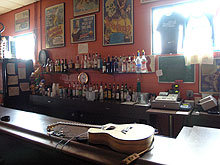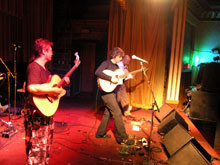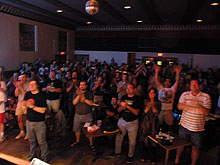 Indianapolis June 13th