For this bass player, a stay in Los Angeles has to start out with a visit to old friend Rick Marotta's house. Not to jam (though Rick's drumming is super) but for some Rick-made pasta. He tells me that I took photos of him for the web site last visit, but that doesn't stop me from doing it again. When your cooking's this good, you have to let your guest share it with the world!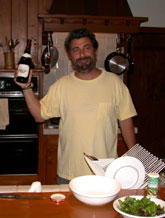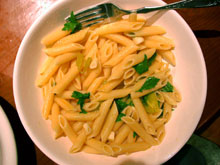 I didn't find out until I arrived in L.A. that King Crimson was doing a show here this week (opening for Tool, at the Wiltern Theater.) I was in the studio that night and couldn't get to the show, but I was able to meet the guys, (current touring lineup: Adrian Belew, Robert Fripp, Trey Gunn and Pat Mastelotto) for breakfast the following morning. They look very good, and the tour seems to be quite successful. Of course, it's pretty odd visiting a band that you're supposedly in, but not touring with, but we're all at ease about that. I was assured that I am "the fifth man" of the group, and though I'm not sure what that means,it sounds good, and I like the ring of it!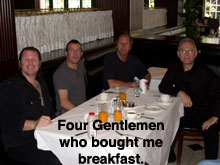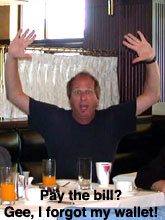 Adrian told me that the Kevin Max album (which he produced part of and I played on) is about to be released. Good news for me because I really liked the music. I'll link to it when I've got time to hunt around the web to see if it's out.


First full day here, I began sessions for singer Jack Russell's upcoming solo cd. Players on the tracks were Bob Kulik on guitar (I've put his photo up before - there's a striking resemblance to me, so I have to carefully label them!) (And, someday, I'll check on the correct spelling of Bob's last name.)
Vinnie Colaiuta is the drummer - as great a rhythm machine as you could want to play bass with. He and I last played together on tracks for Seal a few years ago.
Billy Sherwood, former member of Yes, was doing the engineering, and co-writing some songs with Jack and Bob. I, of course, managed to take quite a few photos between playing the bass parts.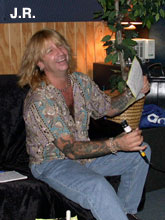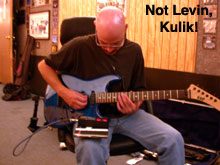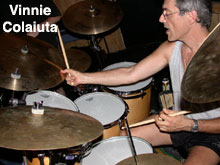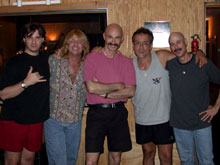 A free concert, with the California Guitar Trio, was the main reason for my trip to L.A. this week. It was at the Skirball Cultural Center, which is a lovely setting for a show like this one. Good seeing the guys in the trio, of course, and we'll be embarking on a tour next week, accompanied by drummer Pat Mastelotto. (Those dates are on my main diary page.)
The trio has been writing material (for our upcoming recording with Pat, in September) but I didn't join in on the new stuff. The audience was more of a mixed group than usual, but as always the trio has some music for everyone and Bohemian Rhapsody was the best received (second, maybe, to a group improv in which we swung into Turkey in the Straw!)