How long since Peter Gabriel had performed live in the U.S? I'm not sure, but it was 1994 when I last played here with him (that was the Woodstock Festival) so it was a huge treat for band and audience to have Peter back.

The Weekend was mostly spent rehearsing. We hadn't played some of Peters old material in ... well in quite a while! And though David Rhodes, Peter's long time guitarist, was there, Manu Katche couldn't come and English drummer Ged Lynch was doing the percussion. And James McNally, keyboardist with Afro Celt Sound System, was there to play on some of the songs.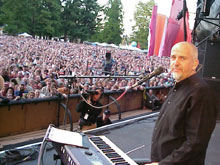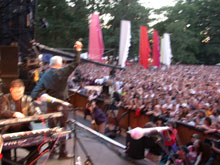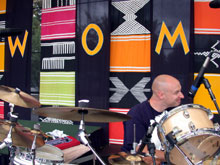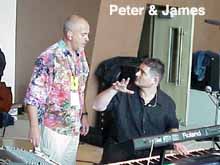 We only first got to the festival on Saturday night, just as the Neville Brothers Band was finishing their set on the main stage. The great fun of these festivals is the chance to mingle with other musicians. The shared backstage area is a musical journey around the world.

But this wan't the night for it. Not long after I'd chatted with some guys from the Neville Brothers Band, and Steel Pulse, we had to catch one of the van rides back to our hotel (it's a bad idea to leave a large festival just after the last act finishes and get stuck in the traffic) without having seen much.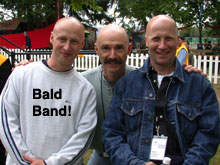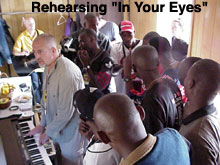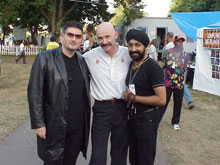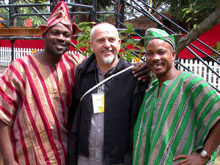 Sunday morning began with a surprise concert. We had a 9am soundcheck on the main stage, scheduled to end when the doors were open. But when the many campers heard Peter Gabriel's music from their nearby tents, they quickly came over and we continued through the whole set, giving a wonderful "pre-concert" for the few folks assembled there. It was very special for them and for us in the band.

Later, in the band trailer, we rehearsed In Your Eyes with Imbizo, a band from Zimbabwe who had played earlier in the day. Then, at the performance, they entered along with some members of Afro Celt Sound System, dancing and singing along with the piece. A magical moment to cap a very special day.
Some short Mpegs of the rehearsal in the trailer and Peter at the show.