ON TOUR
Nov. 20, Cleveland

Not much time for the crew to set up the stage for this show, with the drive from Philadelphia. But they got everything up and running well, just in time for the show. Our tour mgr Juliette's birthday has been cause for a number of parties lately - the GOOD party photos are on other cameras than mine, but I hope to get them soon!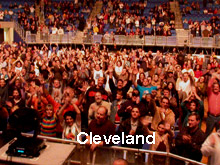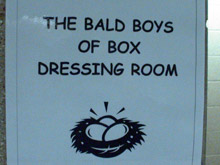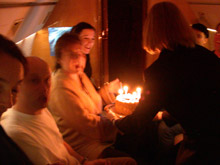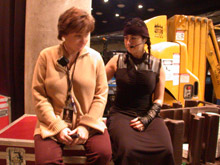 Nov. 18, Philadelphia

Philly, always a great town for Peter - with a large turnout and very raucus reception. No exception this time. (Photo above is Peter onstage at the Philly show.)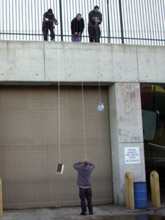 First we were greeted by some autograph seekers with a unique approach to reaching Peter.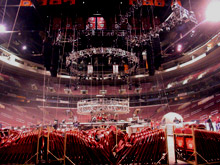 With less time for setting up the stage, the crew is working very hard. We found the stage still not quite erected when we arrived for soundcheck.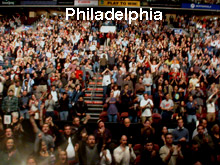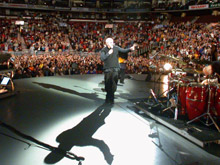 Before the encore, a technical problem with the piano brought out engineer Dickie Chappel, to fix it. Peter asked the audience to join in what seemed to be Dickie prayer that it would work!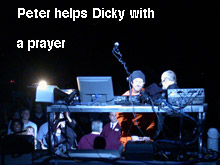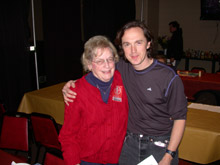 A treasured visit from keyboard tech Jeff's mom!

Nov. 17, New Jersey

Excellent show at the Continental Arena. Some old Gabriel Band alumni showed up: guitarist Sid McGinnis, and Larry Fast.
No more technical problems - so we're smooth sailing with the production. (Hey, a few more days, and I can show photos of the production without worrying about spoiling the show for people.)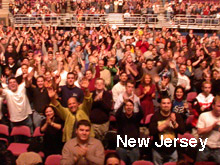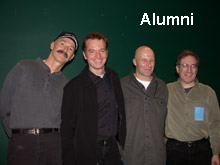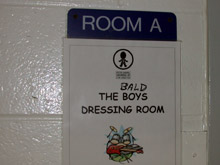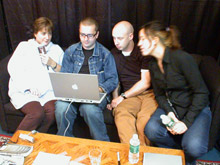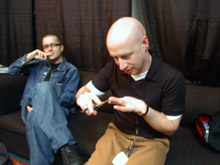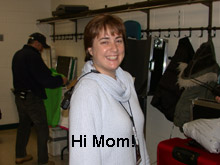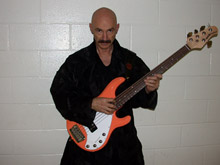 Nov. 15 - Minneapolis

This show, while good musically, had some technical problems. Hey, it had LOTS of technical problems - the P.A. went out, leaving us in silence - that's what I call considerable technical problems!!
But Peter saved the day, talking to the audience, and starting an acoustic jam, by joining Ged on the drums (see photo.)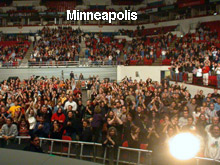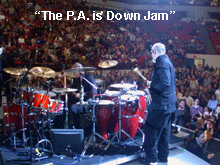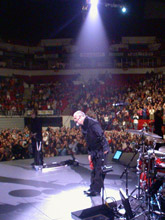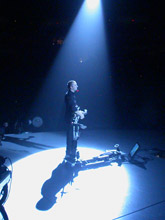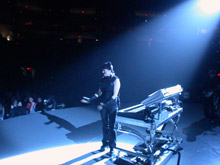 Backstage - the usual adventures!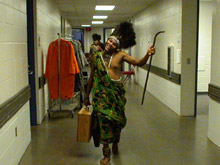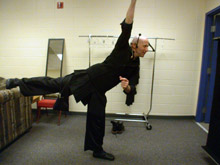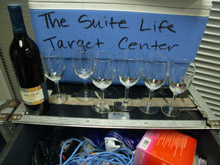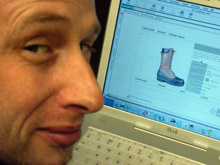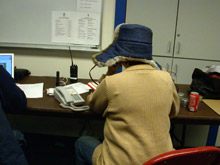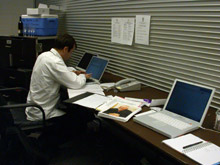 Nov. 14 - Chicago

The second show here at the United Center was better than the first. Not that the Nov 12 show was bad - but a show like this, with a lot of production elements, and an unusual stage format (it's round, and we mostly face inward) takes some getting used to - the musicians need to adapt and find ways to project to the audience, rather than just watch the amazing stage effects. So we improved a lot at that on the second show - and I'm hoping it'll get even better.

The second show also added the presence of Hukwe and Charles Zawose - RealWorld Records artists from Tanzinia, who play an opening set, as do the Blind Boys of Alabama, and then sit in with Peter on a couple of songs. So it's becoming quite an eclectic evening, with lots of fun for all.

I tried to explain to the British band members the significance of being in the United Center, where Michael Jordan's Bulls reigned in basketball for so many years. There really seems to still be a special aura in the place, probably do to that.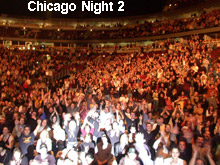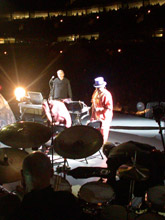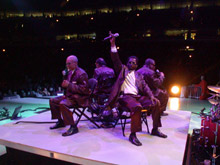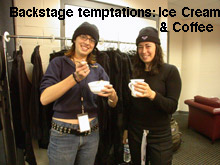 Nov. 12 - Chicago

Hooray - the tour starts! With a show in Chicago's United Center, the full production tour got underway tonight. The Blind Boys of Alabama were the opening act, and sat in on a couple of Peter's songs, making it quite a night.
As before, there are no shots of the stage production (for another week or so) because I don't want to spoil it for those who are coming to see the show.

We only had a short time to rehearse with the Blind Boys of Alabama.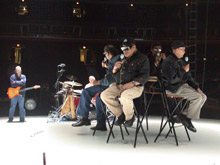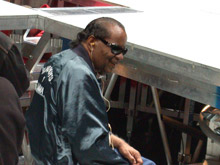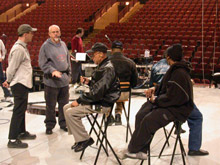 And, the usual odd sights backstage of band "preparing" for the show!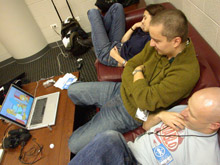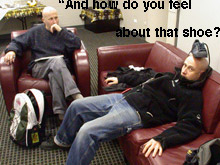 We love our costumes!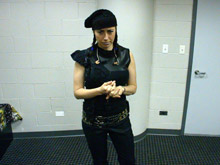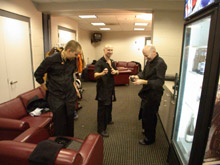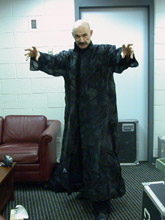 Is this closer, I'm wondering, to Gandalf, or Professor Snape?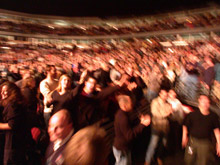 And, guess where we went on our night off ---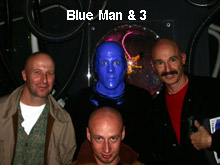 To the great Blue Man Group show. Stick, drums and electric zither -- how could anyone resist!