ON TOUR
Uncasville, CT / Nov. 26

The Mohegan Sun Casino - not the usual kind of place this tour is playing! But, beneath the casino, a normal size arena, which had room for our huge stage setup. The crowd wasn't bad, but far from the usual audience - I think, among the Gabriel fans, there were a number of casino patrons who, for one reason or another, found themselves watching a pretty unusual rock show!!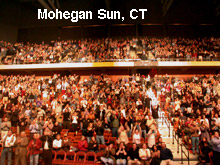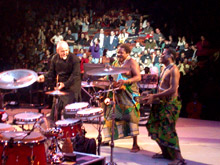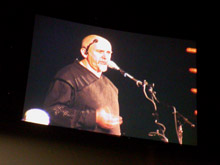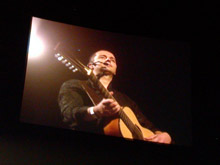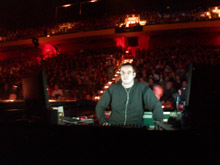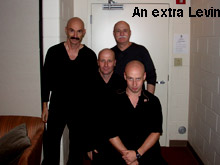 Boston / Nov. 25

Always special for me to come back to the city I'm from. This time, staying in downtown Boston, I'm tempted to go looking for the apartment I spent my first two years in - never have been back there, since we moved to a suburb when I was two.

The Fleet Center has the vibe of the old Boston Garden (being home of the Celtics and Bruins) but I didn't get to see the famous parquet floor that I have heard they moved over from the Garden.
We had the dreaded late load-in, so no soundcheck, and the audience had to wait a bit to come in. Show went very well, though - maybe that means we don't NEED soundcheck! As usual with these days, though, murderous work for the crew, with little sleep. Hopefully, the next show being in nearby Connecticut, they can get some rest.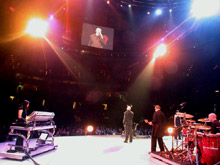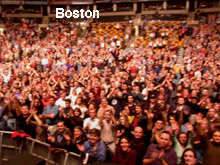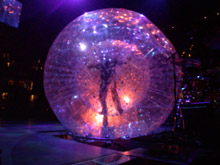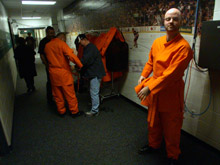 Have I explained our espresso situation out here on the road? As in tours past, I've been able to bring the "Crimson Valet" along - it's a road case with espresso machine and drawers for cups, beans, and the many small items needed for cappucino and espresso!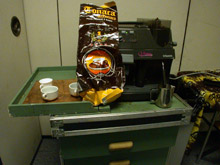 And the beans? To get us started in these first weeks of the tour, Michele Russotto (the bass tech on this tour and many others I've done) has brought a VERY large bag from his home in Palermo.
It's a wonderful blend - my favorite - named Tonaca di Monaco (which refers, I think, to the color of monks' tunics, and of course, the coffee.)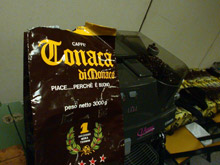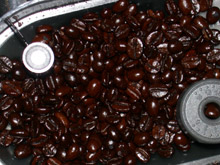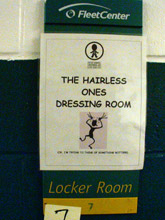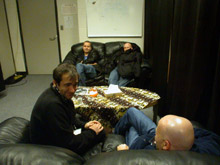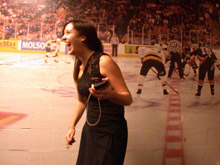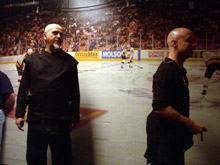 Washington / Nov. 24
Another excellent show - great audience, lots of fun. It was the best "downside up" performance, with Peter and Mel perfectly balanced (you'd have to see the show to appreciate it) and things are generally gelling better than earlier in the tour. Also, Ged and I were discussing how we've reached that point in the tour where we can open up a bit on the playing of some pieces - knowing they're secure and taking them in a slightly different direction.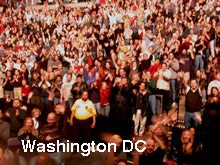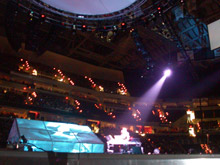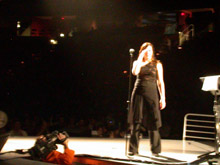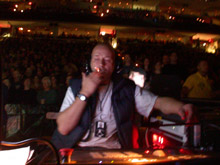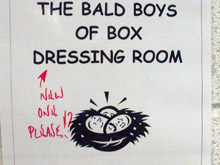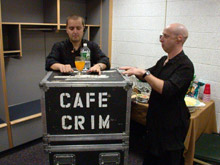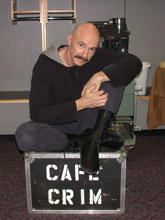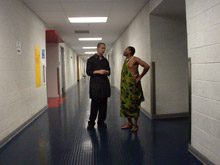 New York / Nov 21
It's always special playing at Madison Square Garden. There are the Rangers' hockey nets backstage, Knicks basketball gear laying around, lots of friends and family show up, for those of us who live locally. And Peter was really on at this show, so it was a very good one.