WE'RE BACK!!

Out on the road with the " GROWING UP" TOUR
May 1 - Germany - Oberhausen

We didn't stay overnight in Oberhausen, so my travelogue can't include photos of the city. But it was a good show - the audience braved some very bad German traffic problems to get there. Among the guests were Pete Walsh, our great engineer from the "Secret World Tour", and an old friend of mine, Kai, who travelled quite a distance to get to the show, and filled me in about how bad the highways were.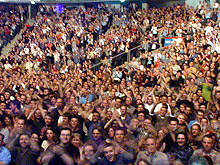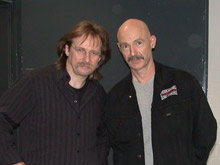 Afterwards we drove to Amsterdam to stay. Don't know exactly why, since the next show is in Rotterdam. But it certainly makes for good travelogue photos!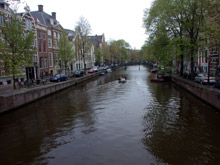 This page is getting far too full - I'll have to start another with the next day's travel and show.

April 30 - Germany - Leipzig

Another train trip took us to the pretty city of Leipzig, and we had time for a short wander before soundcheck. (Bach museum... maybe go there tomw. morning.)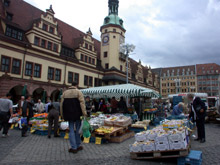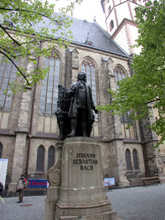 Another full arena. I've been enjoying the opening act, Severa, who are from Uzbekistan. I tried getting some photos of their show, but my camera was having a bad day. Will do better tomorrow. I was lucky, though, during Peter's set, and got some nice shots.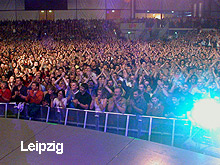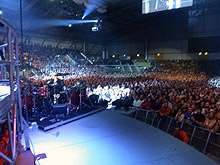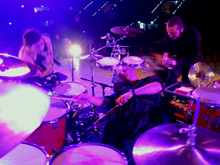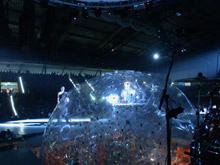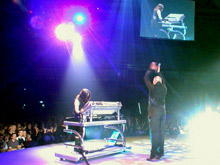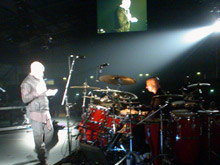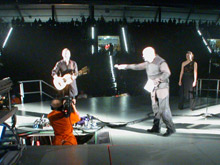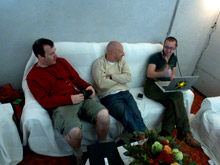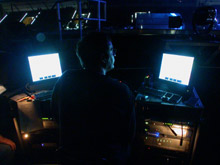 April 28 - Germany - Berlin

Train to Berlin was fun. Then right to the Velodrom venue for soundcheck. Again we had a packed arena for Peter's show, which is a thrill for the band. Production went smoothly this time (even Sledgehammer!) so I guess we've ironed out all the complications now.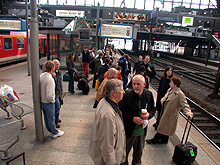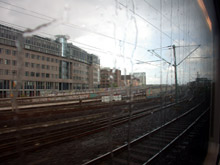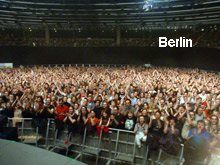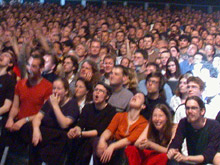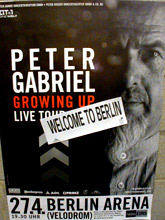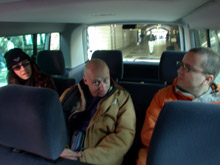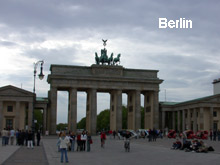 April 26 - Germany - Hamburg

We flew to Hamburg, caught the last of the good weather as it began to rain during tonight's show at the packed Colorline Arena. Peter did " Here Comes the Flood," and all of the between song talking, in German.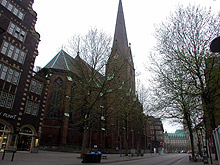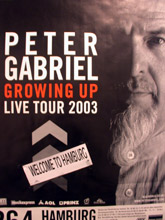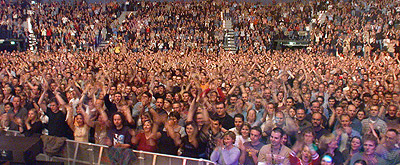 There were some interesting moments during the show, including a sort of traffic jam during "Sledgehammer" when the crew needs to come onstage to guide the many cables as the outer perimeter rotates.
Sledge is a pretty simple song to listen to, but actually there's a lot in it for the players. First, it's in Eb, an unusual key. And it starts with a particular keyboard sample, and our keyboardist Rachel cannot tell, from up on stage, whether the sample has been loaded when Peter cues the start.
Tonight it hadn't been!

Then there are background vocals, and some choreographed moves (high kicks, dance steps, even David Rhodes and I bumping heads at one point.) For me, there are a few bass effects that need to be correctly kicked in on my pedal board - all this as part of the stage is rotating with our pedals and some of the instruments on it.
The band is spread around the stage, some with cables of their own, and Peter, of course, is wearing an electric coat which requires someone to follow him as he dances around, guiding the power cable to his coat and keeping it untangled.

At tonight's show, I think a keyboard was misplaced, causing loomed cables to cross - the result was something like Tokyo Station at rush hour - more and more crew coming onstage, pulling at cables, pushing the drum riser around, as we played, danced, and everything and everybody was moving. I heard later that the my bass tech, Michele, had to quickly break by hand one of the lead cable going to my pedal board or the board would have been dragged through the drum kit.
I just looked for a safe place to stay out of the way of crew and moving cables. But tonight there wasn't any. So playing, singing, dancing, and jumping cables, we all had a great time with the piece. I'd love to see a slow motion film of tonight's rendition.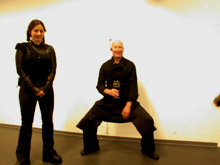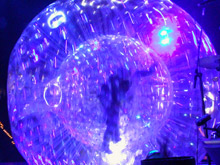 April 25 - Sweden - Stockholm

Stockholm is a beautiful city, and the weather was perfect this week as we set up for the first show of the Europe tour. Clean clear air and lots of harbors and waterways distinguish the city, with a lot of cultural action too (aside from the National Theater, there was a Neil Young solo concert which some of the band attended.)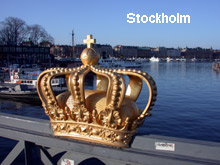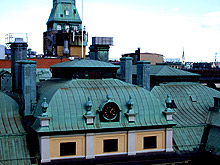 The Globe Arena was a fitting venue for this production - the building's spherical design mirrors the ball that Peter rides around the stage in. (I tried Photoshopping Peter into a photo of the venue, not even close to believable, so I gave up on that.)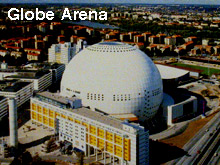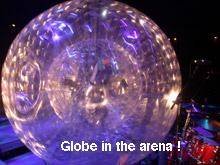 Rehearsal went well - not much time to remember all the moves and production elements, but musically we were right back in the groove. Quite a few of the crew, though, are new, and there's a lot to work out to get the production perfect. (Midway through the first runthrough, the big ball descended at the wrong time, let loose from it's cable, and just sat there in the middle of the stage, challenging us to try to continue with it there!)

After the show here, we'll move on to Hamburg, then Berlin. Those back to back shows should get us fully up and back in the swing of things.