Peter Gabriel Tour
Festivals
NIMES, July 23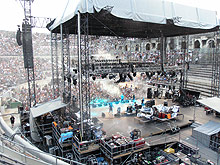 Nimes is quite different than Nice. We'd played once before, quite a few years ago, in this old colleseum in the center of town.

Joining us for tonight was an old friend, Levon Minassian. He is a remarkable player of the duduk, a reed instrument heard on some of Peter's earlier albums, and a lot on the Passion album. (As well as on a couple of duets with me on my first solo CD, World Diary.)

As in the old days, Levon began the show with his haunting melodies.