June 8, London

You can see from the above that we tried assembling everyone for a tour photo - most of the folks were there, but not all.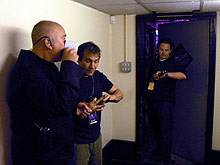 In the show, there were some firsts, of course. One for me is that, with Peter and Mel going higher than usual in Downside Up I was able to get a shot actually looking up at Peter.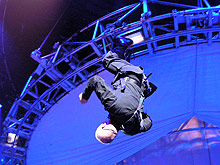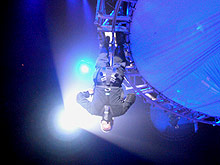 We were awaiting possible crew pranks, this being the final show of the production tour - and when the ball descended a song early, during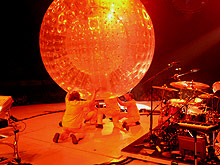 Digging we thought - what's this! But it turned out that it just needed air, and that was the only way to blow it up - so the crew hovering around it weren't pumping it full of laughing gas or anything like that - just getting it ready for Growing Up.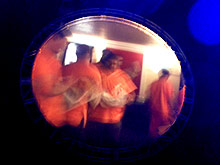 But later, during the crew introduction, the overhead screens showed them all lined up, reading want ads in the paper!

And, in In Your Eyes during Rachel's 16 bar solo, instead of the band hovering around her dancing, it was the crew, emerging quickly from understage.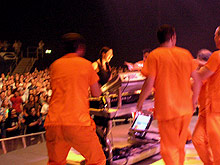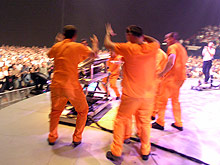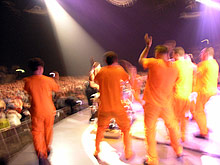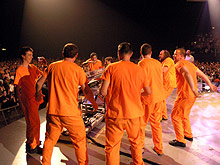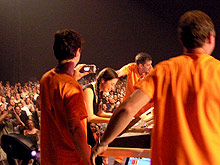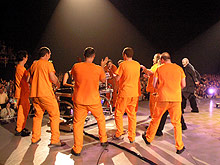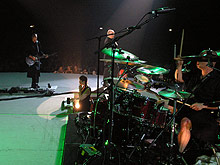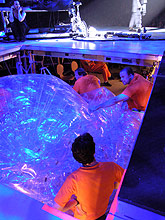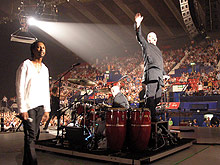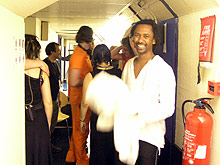 And so, just like that, the Still Growing Up tour has ended - we're saying goodbye to much of the crew, the catering people, the truck drivers, carpenters, the video and lights technicians, our wardrobe mistress...

all walking off...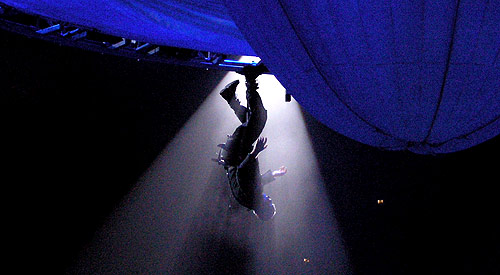 in different directions (most to other tours) as we move to our series of festival shows.