Let's go through this day as it unfolded:

10am: Met with the guys in my band, to discuss tonight's show. (We hadn't played a show together since last March, and no time to rehearse, so just talked through the show.)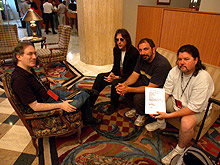 11am: Next stop, over to today's venue: the Plains of Abraham, for soundcheck with the California Guitar Trio.

There are two stages set up there. The CGT show, a "surprise extra performance", will be on the smaller stage, at 11:00 tonight.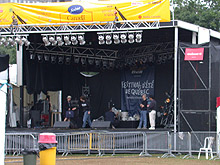 1pm: The main act tonight is Kevin Parent, an immensely popular performer here in Quebec. I sometime play in his band, and will be with him tonight, on the main stage at the Plains of Abraham.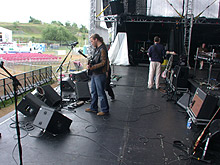 Soundcheck was pretty complex, with a large band, even two bass players - Mario, Kevin's usual bassist, was there to play too, and helped me with the new parts.


2:30pm: And next, soundcheck for the Tony Levin Band, which will open tonight's performance.
At about this time, the skies let loose with a huge downpour.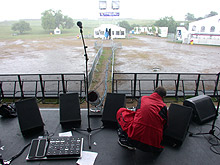 Kind of reminded me of the Woodstock Festival in 1994. Fortunately it eased up to a drizzle, so we could continue setting up.

4:30pm: Finished our soundcheck - back to the hotel for a bite to eat and at 6pm a quick meeting with Kevin about his set.

7:15pm: Back to the venue to get ready for the show. Rain has let up and the clouds are parting - could be a lovely evening!

8pm: Tony Levin Band show.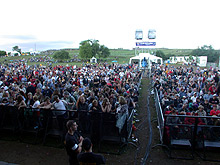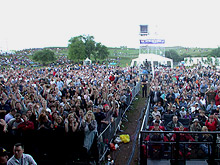 The Plains of Abraham is a huge area - and at start of the show there were lots of people, but hardly enough to fill it up.

As we played, and the evening sky deepened, more and more people arrived.
Many held red lights, that twinkled as we looked from the stage - hard to get a photo of that, but of course I tried.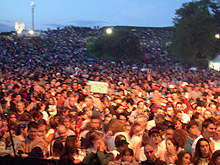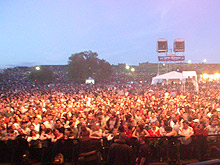 Didn't have time to take any other photos during the show, as you might imagine. But some friends of mine attended and we'll get their photos of the performance up on a different page.


9:30pm: The Kevin Parent show.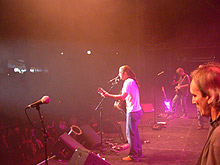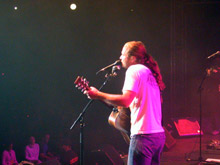 As Kevin performed, a hugh full moon rose into view.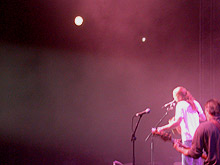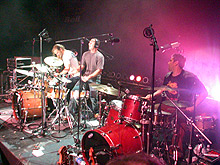 A great show - the audience were in heaven. Luckily, the weather got even better, and there was no hint of more rain.

11pm: End of Kevin's show, but... a surprise announcement (at least for the audience) that, on stage two, the California Guitar Trio was starting an hour's set.
They began immediately after Kevin's last note, and, running over to the other stage with my bass, I was able to join in by the middle of the first song.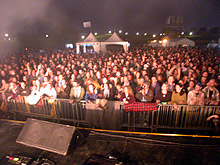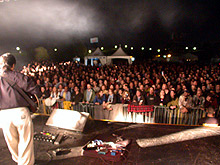 Just a note about smoke on stage. Ever notice how many shows have smoke machines pumping out some fog onto stage. It's to enhance the light effects, of course. But sometimes it's overdone, and makes playing in it pretty messy. Tonight was an example of way too much smoke for the musicians (okay, maybe I was a bit tired and fussy) for my taste.

Here's a shot I took of Jerry, just to show what it was like: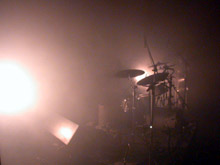 Yeah... no Jerry. And I was only about 10 feet away from him.

I will admit that often the smoke cleared enough that I could see him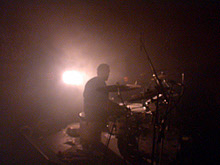 and, having seen my friends' photos of the show, I do appreciate how dramatic it makes the lights look.

Anyway, near the end of the show, a rousing job of singing along to Bohemian Rhapsody from the crowd. Some of them could actually sing it!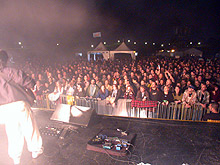 12:15am: End of the show. Quite a day, eh. But wait, not quite done!

A cd signing had been arranged, at another tent onsite - so the trio and Jerry and I trotted over there to sign and meet people. It went about a half hour, but I have no photos from the signing - I was toast!

All in all it was a memorable day for me - so much good music, great musicians, great audience participation.
Long drive home tomorrow from Quebec, but then I'll catch some much needed rest.

Or maybe do some web updating! And get my friends' photos of these shows up on a separate page.