October 18, we arrive in Hamburg for a day of rehearsal.

Our new Stick Men album, DEEP is due to come out soon, and we want to play most or all of this new material on tour, because it's some new territory for us musically, and playing it live will be lots of fun.

Learning it, for live performance, is quite another thing! We've had some discussion about how to divide up the parts, and last August we grabbed a couple of days in Kingston to rehearse a bit. But now, with the first show tomorrow, we've got to get it right - so we're putting in a pretty long day rehearsing.

I'm totally jet lagged, but okay as long as I don't sit in a comfortable chair... if I do that, I'm out in a minute.

Mercifully, I'm not taking photos today, and I notice the other guys are equally tired, except Markus, who came in from Austria.


I should acquaint you with the people on the tour - the band members are Pat Mastelotto, Markus Reuter, and myself. Robert Frazza, our sound engineer, flew in with me from Newark. Francesco Grieco, from Rome, is the critical man in making all this happen. He's our agent, who's booked the tour, and he'll be driving us around Europe, in his van.

October 19, Show day. From the left, Pat, Markus, Francesco and Robert, ready to leave the hotel for the club, called Logo, where we'll play tonight.




Our trusty van -- and we're examining posters while trying to find out how to load into the club.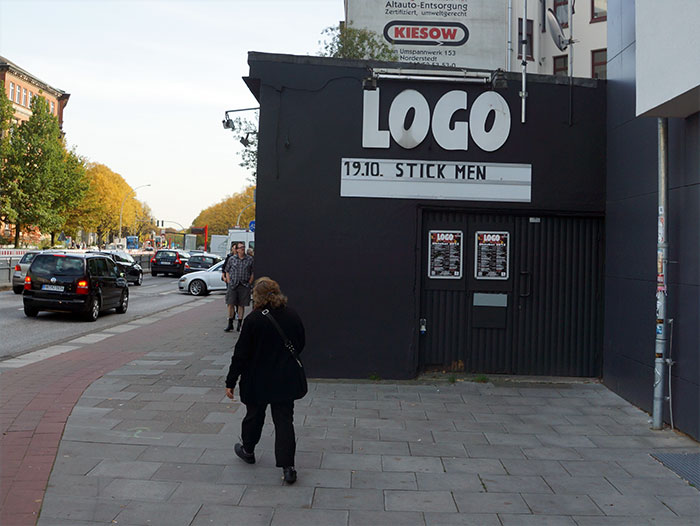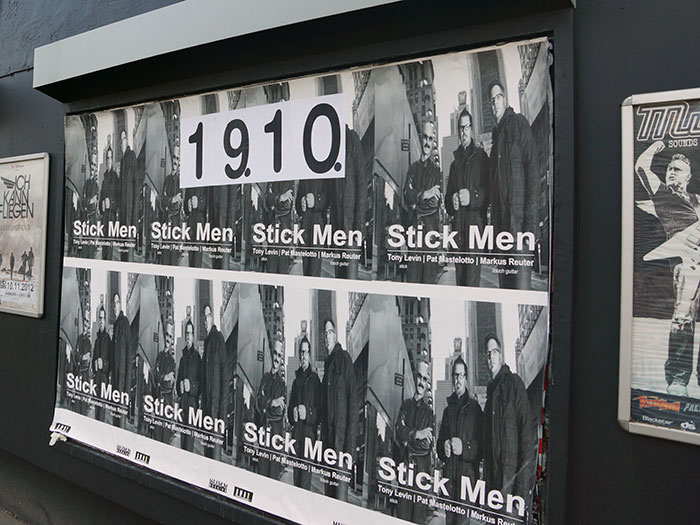 At soundcheck, I realize I forgot to bring my cello bow (a necessary part of the Firebird arrangement) and, quite amazingly, there is a cello store only a few blocks away!

I bought a children size bow, wanting the cheapest one available(!)... my scratching on the one outside string of the Stick doesn't warrant a super quality bow, and frankly they get beat up, dropped, and sometimes lost, here on the road.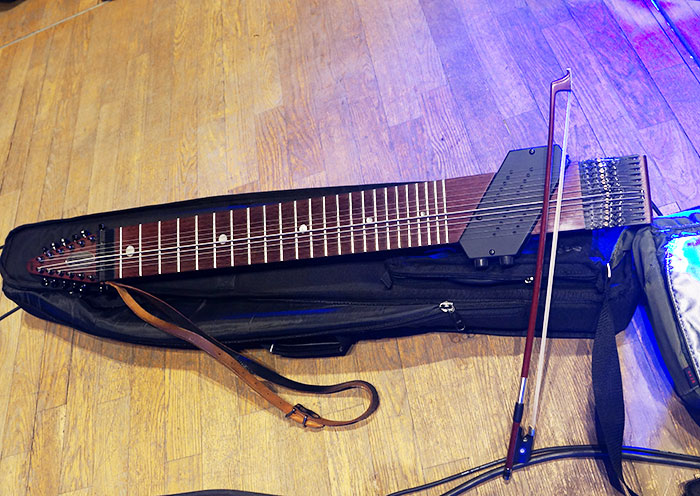 Soundcheck: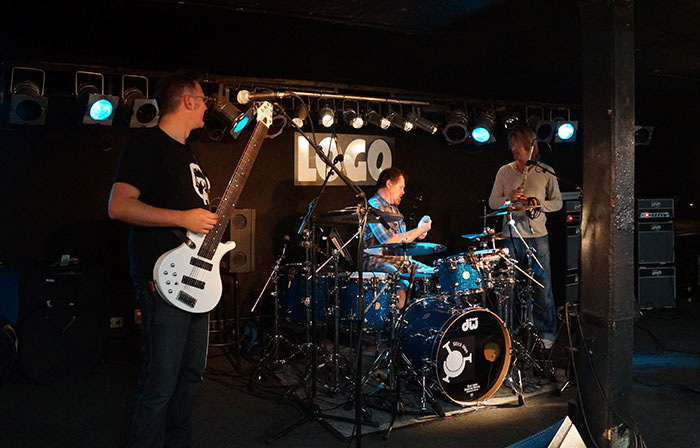 It's a small stage - a small club - and won't be sold out either.

A question I'll be asked a lot on this tour is, what's it like to play clubs and small stages right after the Peter Gabriel tour that had 10,000 people or so each night and a huge production.
The answer is, it's still fun. We musicians do this; forming bands, rehearsing, writing, recording and playing gigs... we do it for the music, and, at least most of us, for the experience of playing our music live, for people who like it. It doesn't really matter so much what the format is, or even how many people. Of course there is a financial aspect - but it's not at the top of our list of concerns.

Especially today, when our concern is how well we remember the sections of the new pieces. Usually my setlist is just the names of the pieces -- tonight it's got keys, patch numbers, and one piece requires a whole page of notes: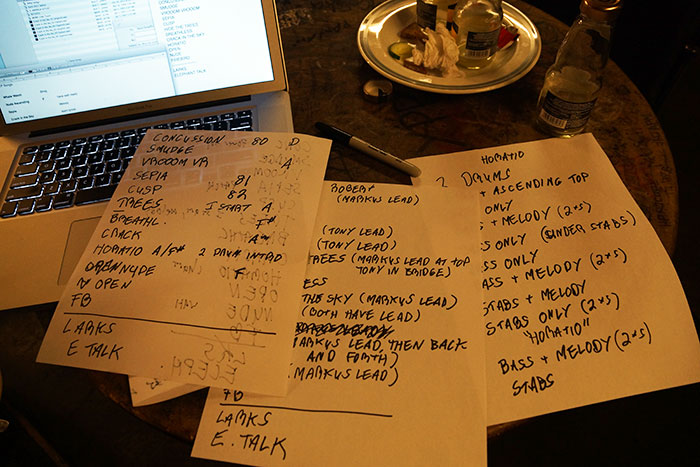 The accomodations are not quite what they were on Peter's tour either...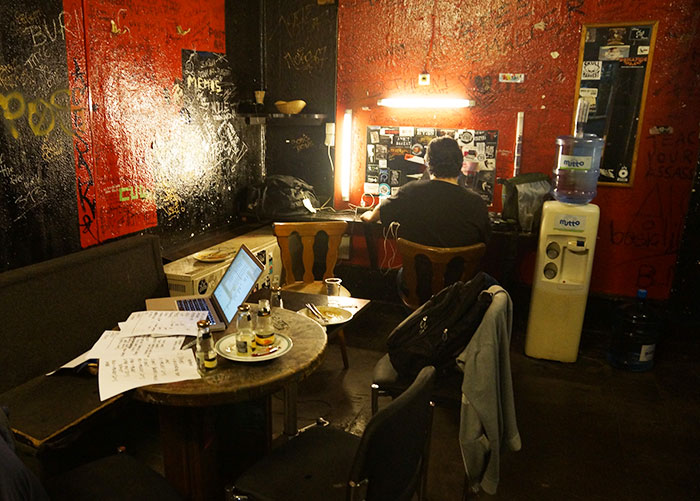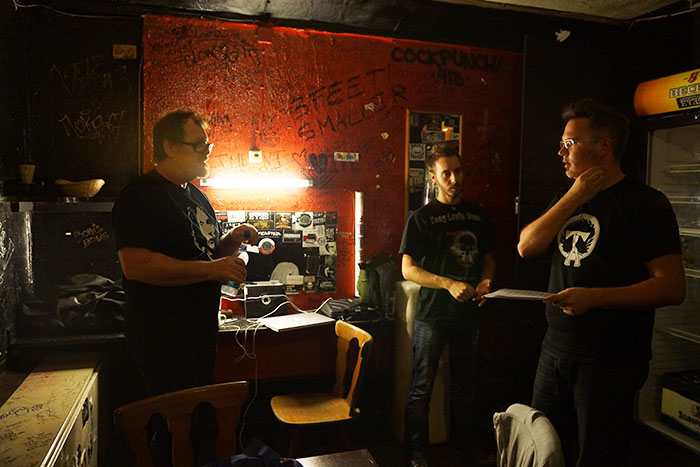 But that matters little, as we head onto stage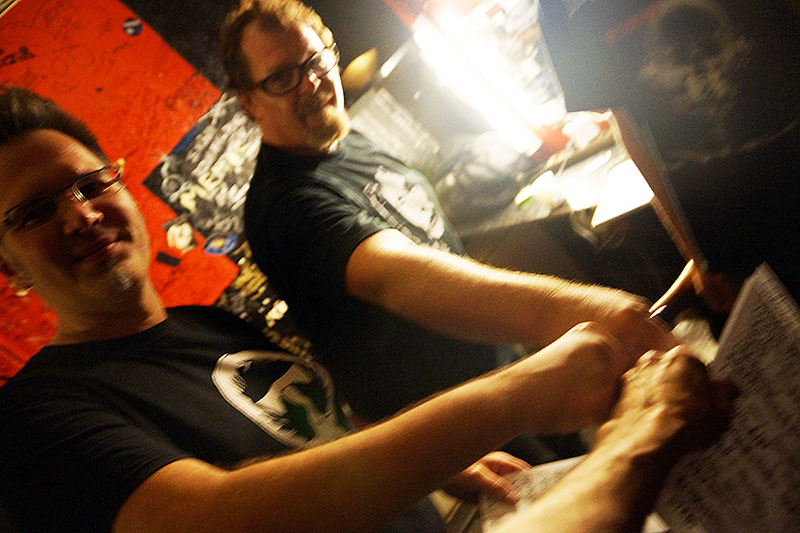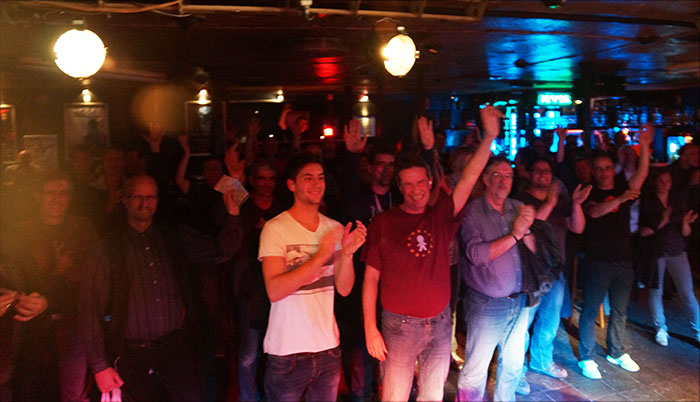 For our Germany shows, Markus is doing most of the speaking... gives me a chance to organize (and take some photos, of course!)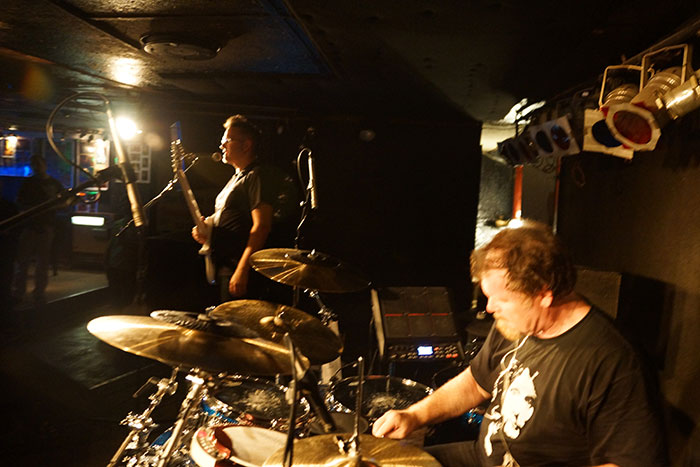 Our group bow somewhat compromised... Pat found himself right in front of a pole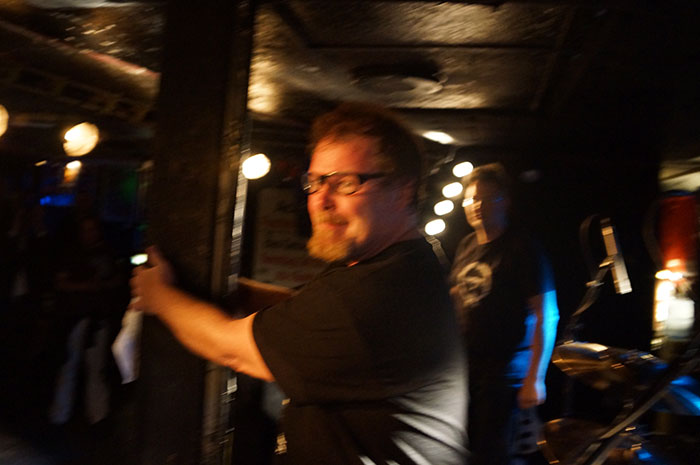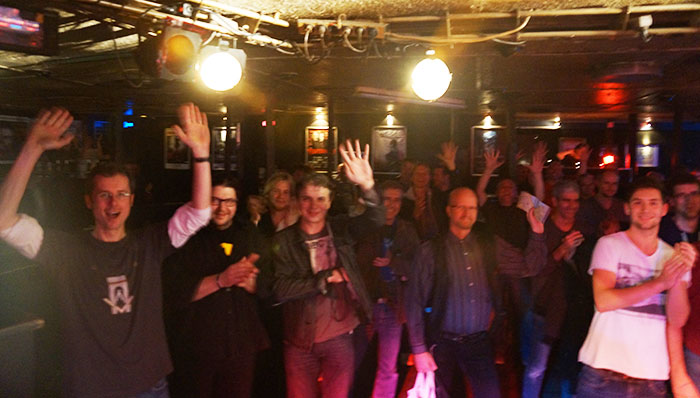 The new pieces went fairly well. I'd say we each had our share of "moments", and there is lots of room for improvement.

But the music was special, and powerful. In fact the feeling in the band was that on this tour Stick Men will finally reach a point with enough breadth of material of our own that we don't need to play Crimson pieces in the show any more. (We will do them, but that's different than having to do them.)

There are still a couple of new pieces, including the multi-section Whale Watch, that we didn't try yet. We'll take a week of soundchecks to get those going.


October 20 Drive to Berlin, and do our show there, in a club called Crystal

This will be a common sight on the tour...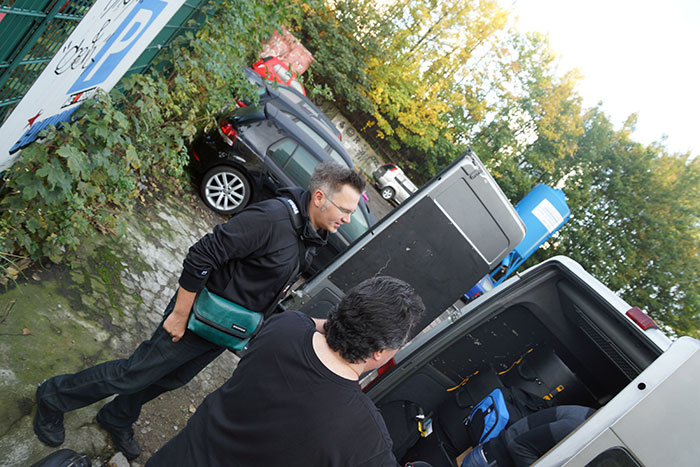 Not a bad drive, and we find our way backstage to load into the club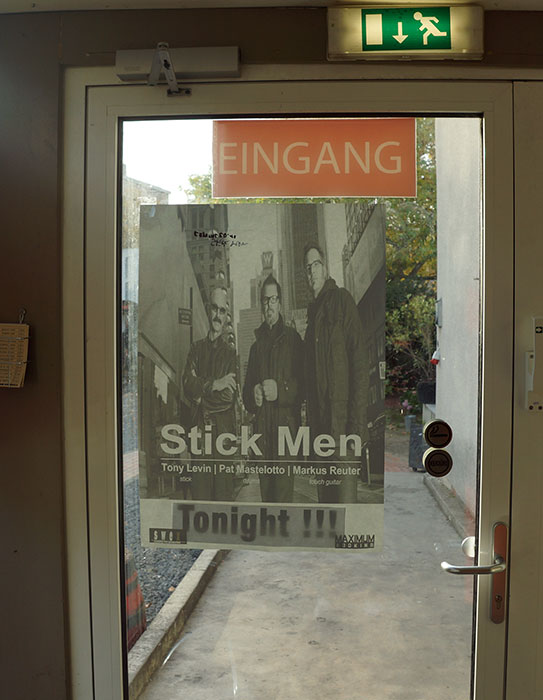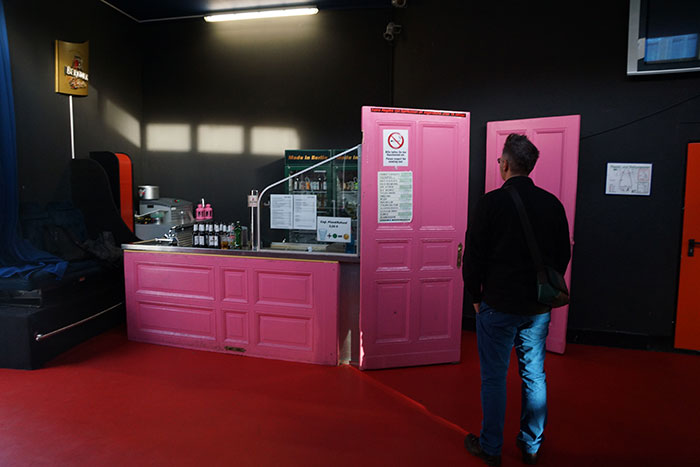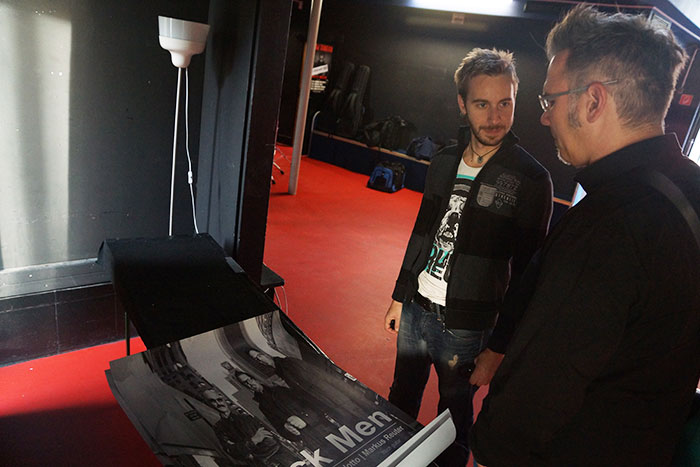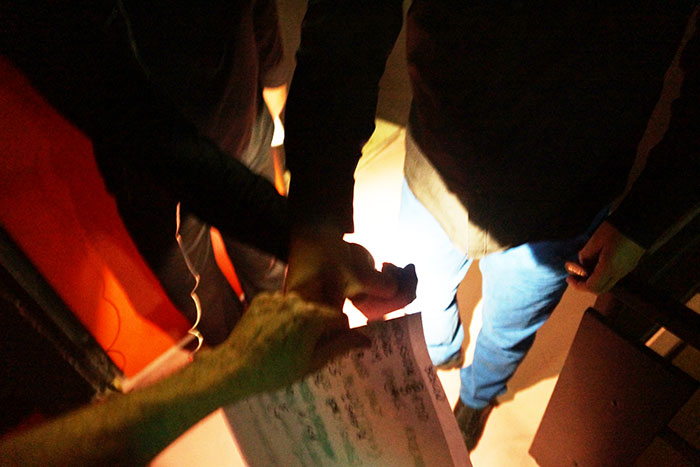 What a nice t-shirt view to greet us as we come onstage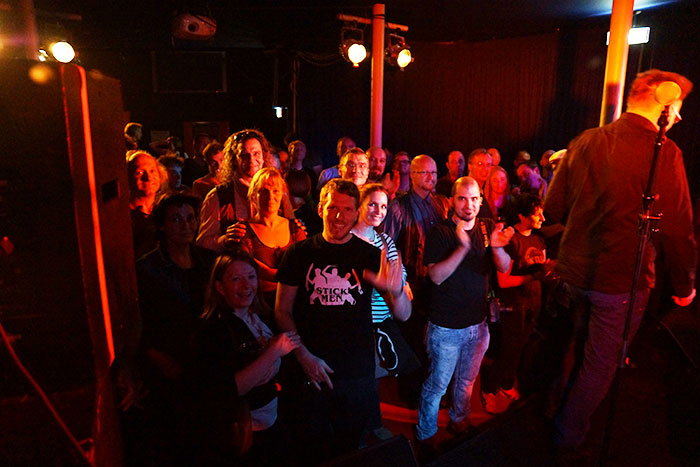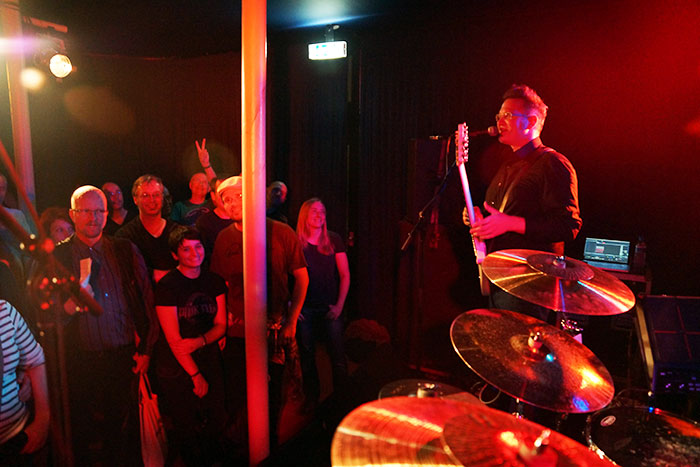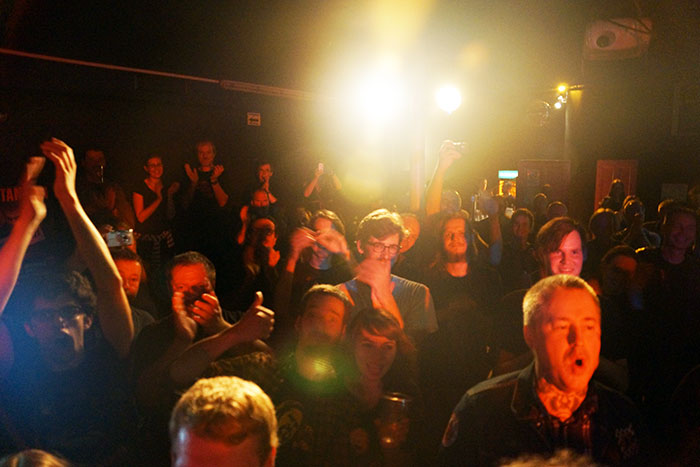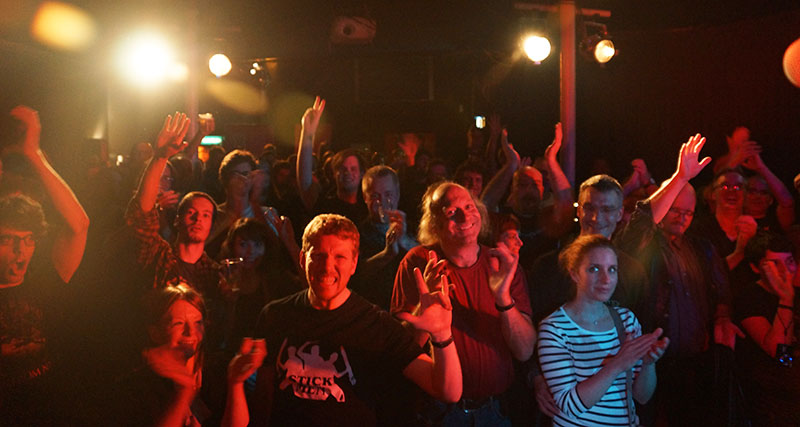 Aftershow, a bald moment with fellow musician Sasha Pushkin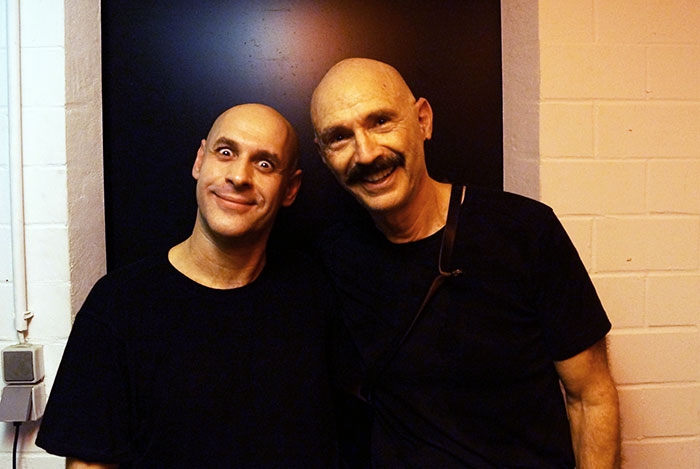 I prefer this shot, where Pat seems to be Photshopping our heads in real time!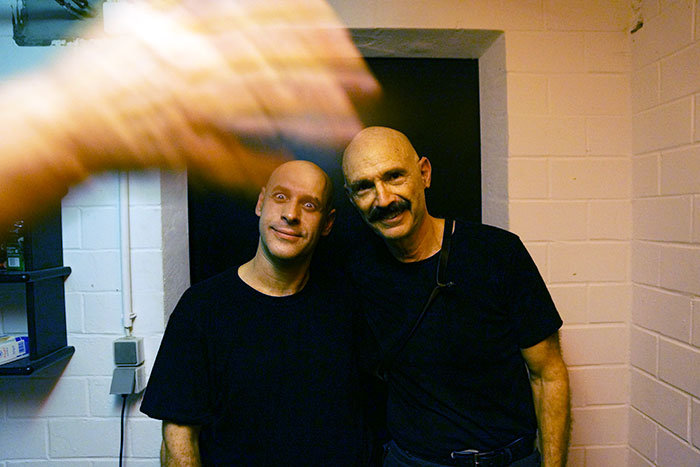 Tomorrow a long-ish drive to Opole, Poland, where, for their drum festival, we'll be sharing the stage with Terry Bozzio!

Should be wild! More soon.