ON TOUR

January 6,7...
Unusual for me, I didn't take many photos on this tour.
A bit too busy, and having too much fun. Add in some camera issues (darn thing doesn't always focus when I want it to) and the fact that I'd just taken hundreds of shots on the Gabriel tour -- so I eased up a bit.

Things started outside Washington DC. We drove down on the 6th, a day before our show, to be sure to get there in time for the always difficult first soundcheck. Turned out the snow eased up, so the drive was easy.

Morning of the show I was awakened by a call from Narada Records that one of my CD tracks had just been nominated for a Grammy. A bit groggy, I thanked them, but didn't think much of it. But by later in the morning I was starting to see the short term meaning of the honor, since within hours I had 2 more interviews added to the one already scheduled before todays show. And more coming in for each day.
I've yet to learn all that the nomination will mean in the long term, but it's certainly helped right away in bringing word of our tour to the public.
(The nomination was in the Rock Instrumental Performance category, for the track Apollo from the Pieces of the Sun CD. The awards ceremony will be in late February, and I'll certainly report on that here on the site!)

The show, at JAXX, was great - (I'm going to stop saying that, because they were all great on this tour!) a nice crowd, really fun for us in the band to be playing together again, and JAXX has a very nice chef who grills us some swordfish after the show!
The food was appreciated because we after signing cd's and packing up, we drove up to Philadelphia, arriving at about 4:30am.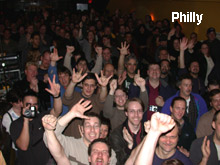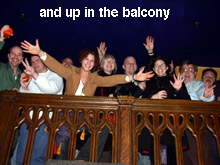 January 8, on to Rochester...
Playing Rochester is always a high point for me. Having lived there for 6 years, I've got lots of friends I like to see, and spots I like to visit.
Had only a few free minutes to run over to Java Joe's near my old school, for an espresso. And it started snowing just as we arrived, which had some effect on the turnout at the show. But lots of people did make it, including old friends Michael McGinnis, Steve, Carol and Eddie Gadd, Gap Mangione (it was with Gap that I did my first studio session way back when.. and on a later album recorded the Stick for my first time.)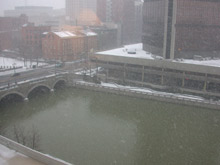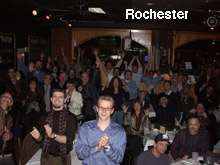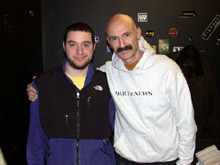 And on to New York, Albany, Cleveland...
A LONG drive down to New York for a night of two shows at the Bottom Line. Me doing some phone interviews in the back of the van, and the guys sharing driving.. we knew this would be a tough day because of the drive, two shows, and then another drive, upstate to home, to save on the expense of New York hotels.
Fun at the shows, though - lots of family there, and we had plenty of energy even at the late show.

Then, on the next day, the 11th, two shows at the Van Dyke, in Schenectady. Not far from home, so less driving, thank goodness. But after reaching home late that night, we were all very glad for a few days off!

Cleveland, at the Beachland Ballroom, was another family area for the band, Jerry having been born there, and Jesse having close friends (who usually bring us food from their Deli... VERY welcome while out on the road!)

The music retailers trade show (NAMM) is this weekend, and I had a surprise package from Music Man basses. They're famed for all dressing in, shall we say, colorful costumes at the NAMM show (previous ones I recall: hippies, US Presidents, Elvises) Anyway this year it seems to be football players, and thinking I might have attended the show, they had made me a genuine Levin football shirt. Couldn't resist wearing it for the show here in Cleveland. You can't tell in the photo, but the shoulder logo is Ernie Ball/ Music Man.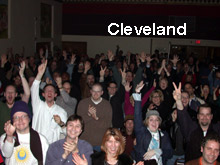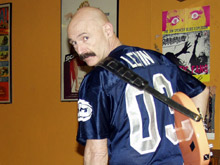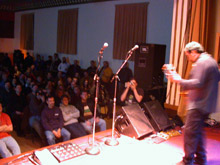 Buffalo...
A relatively short drive for this tour, Cleveland to Buffalo. But the snow was catching up with us. The Tralf is another welcome spot on these club tours, with a great audience every time.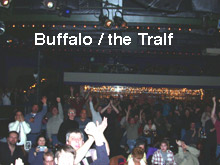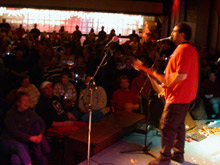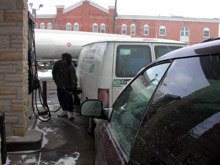 Over the border and thru the wilds, to Toronto we go...
The stop at immigration wasn't nearly as bad as it sometimes is. You never know, when you're crossing into Canada with instruments, how long it may take to clear customs and get the work permits in order.
Snowing and very cold now (some Arctic weather conditions coming in from the north) as we came into Toronto for our show. A club we hadn't played before, called the Horseshoe, proved to be very accomodating, and we were thrilled to see a lot of people jammed in for the show.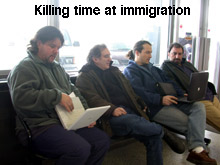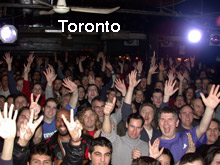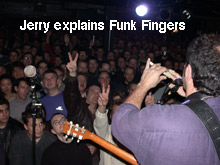 Did I mention it was cold?...
Except for inside the club during the show, Toronto was almost unbearably cold. So, early next morning, back into the vans to drive the windswept highway into Quebec and Montreal, and weather just as cold. Instruments have been close to frozen when we unpack them for soundcheck - need to thaw slowly before even being played!

I had a nice on camera interview for Much Music in Montreal before the soundcheck. Then, it was amazing to see people lined up down the street in that cold, for our show. With 550 attending at the Cafe Campus, it was the biggest crowd I can remember ever coming for a Tony Levin Band show.

Very nice way to end this tour leg that's seen cold weather but warm hearts. Lots of driving, but very good luck with the weather, and the big reward of getting to play our music for appreciative audiences.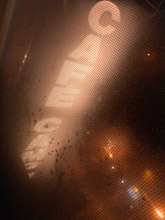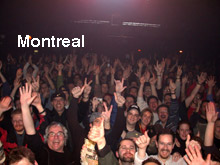 What's next? We're trying to book more shows in March. Not sure what territory the agent will go for (likely the West Coast) but wherever it is, we're hoping it's as much fun as this "Snowtires Tour" was.