ON TOUR

March 19 - Cincinnati
Well, we're back on the road. Glad to be hitting some cities on this tour (mostly of the MidWest) that we haven't played before with this lineup. Started here in Cincinnati on a rainy day that cleared up just for our show!

The theater (named 20th Century) is a really nice one - and attracted a really nice group of people for the show. Lots of musicians there.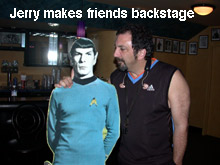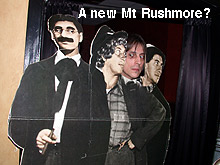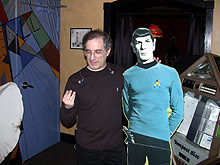 Detroit's Magic Bag...
is hardly the beautiful theater that 20th Century was. But a good tradition of music there (and I've played the venue with Bruford Levin Upper Extremities as well as with this band before.) The folks who come out to our shows here are very good fans.
I've got good friends in Detroit, who always come to the shows and hang out afterward. (Party in Tony's room - pretty unusual nowadays!)
And I introduced one song, "Geronimo", explaining that the name came from a dog my wife had when she lived in Detroit, who was named Geronimo, or Mo, after trying a leap out of 2nd story window.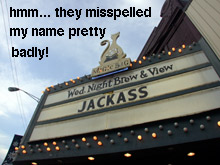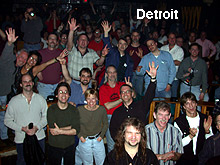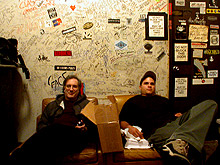 We have a new member of our touring party - Manuel Quintano, who's come along to help with selling merch, but his being a drummer, we've got him sitting in on Tequila so Jerry can play sax.
He's shown here, with Larry Fast, in the... colorful backstage.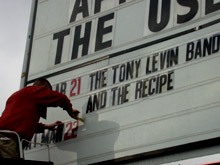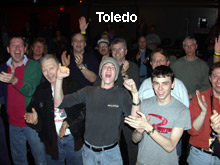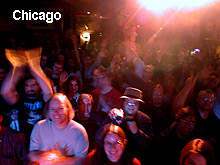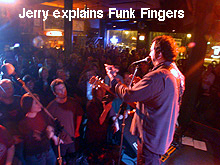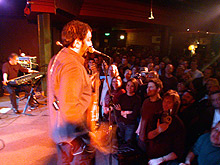 March 23 - Madison
In Madison I had a big surprise - Marvin Rabin, the wonderful conductor of the Greater Boston Youth Symphony Orchestra (my first orchestra) came to the show. At 86, he said he was attending his first rock show!
Backstage, we discussed old times - the trip to the Kennedy White House to play a concert on the lawn, (hear the JFK speech from that on my archives page,) the great composer John Adams, who was playing clarinet in the orchestra then, and a few of the countless classical musicians Dr. Rabin has mentored since the 60's when we first met.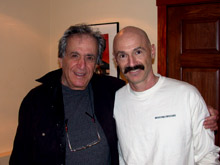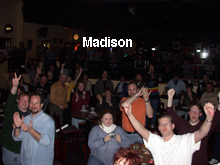 Also at the show was the youngest music fan I've seen at a Tony Levin Band show. And she (her name is Jade) gave me a very sweet note and drawing afterwards. Interesting how the young can easily produce such a precious gift for someone, while we older folks struggle, even with some cash on hand, to find a meaningful holiday or birthday present.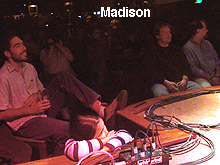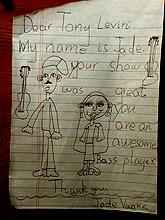 Now, we've got our first day off of the week - a travel day, really. Going to Indianapolis where, hopefully, we can dig into the real glamor of rock touring, and do our laundry!!