Day 14: Oct. 19 - Trip to Moscow

In an already exciting tour, this has to be one of the big days for us. As much as we've all travelled around the world, none of the band has ever been to Russia.
The trip out of Budapest airport was easy, though we're sleepy a lot of time, from the short nights and early departures. Bought some more Unicum in the airport... that should help the trip! (It's a Hungarian liquor, quite similar to my favorite, Fernet Branca.)

Customs and immigration in Moscow were surprisingly easy. Quite a feat getting our equipment and us into one van, but it was managed, and soon we were driving through this huge city, gaping at the sights. Our first impression (and it lasted) was how large everything is ... the brightly lit section of Moscow (something like Times Square, Sunset Blve, and the Las Vegas Strip all put together) lasts for miles, in fact spreading out seemingly endlessly. And at our hotel, even the seasoned travellers that we (think we) are, we stopped to stare and photograph the giant hotel... no telling how many rooms it holds,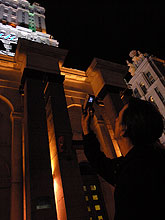 but we quickly predicted (correctly) that it would be a very long walk to the room, and for some, the dreaded "key doesn't work" walk back to lobby for another room key.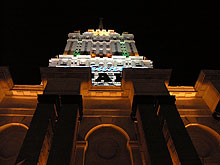 Our hosts took us out to a great Ukrainian dinner (Pete and I tried some of the dishes we remembered our grandmothers making,) and then, getting late,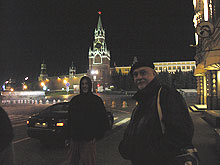 but still well worth doing, we went to Red Square to look around that amazing place.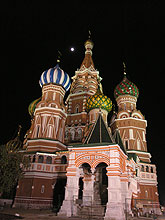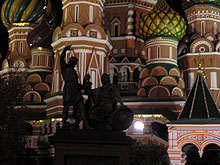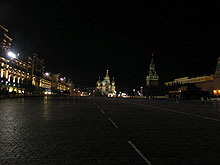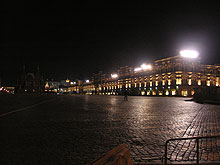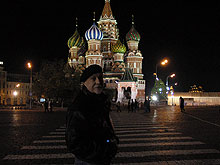 Night wasn't over yet - our promoter, Sasha, took me to the apartment of some friends, who shared ideas, drinks, and artistic visions, late into the night. I learned a lot, and had a great time - this is what I imagined Russian inteligensia did every night, but only in my imagination would I be able to be part of it... what a day!


Day 15: Oct. 20 - Moscow show

The club, called B2, is pretty central in the city - what a hoot to see my band's name, and photo hovering in a main Moscow street.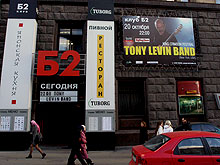 (Call me a beginner... I just had to run out to grab a photo of it!)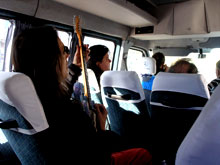 In the van, Jesse had ran us through Jam Back at the House in cased we needed extra encores (we hadn't played it in years) and I had a sense that the Moscow audience would want a lot more than the 90 minute show we've been doing.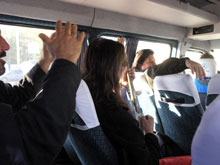 We'd expected some voltage issues at soundcheck, and there were some (a few moments when we feared Larry's rig had gone up in smoke...) But all was fixed, and the club filled up quite quickly (start time kept being pushed back, eventually we started at 11pm.)

Nikita helped us through everything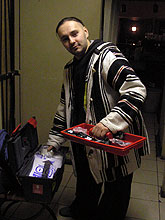 But it was "Big" who did the load in work!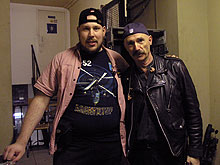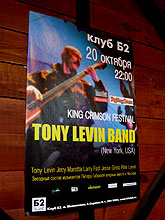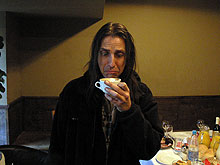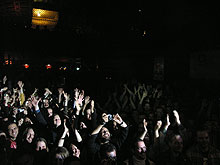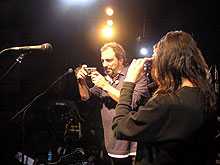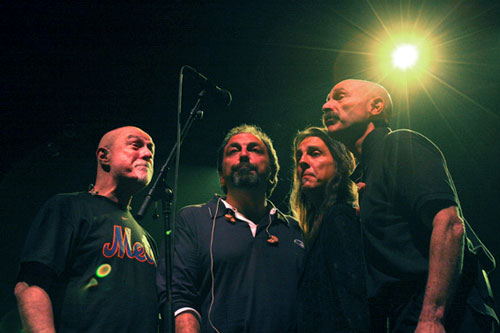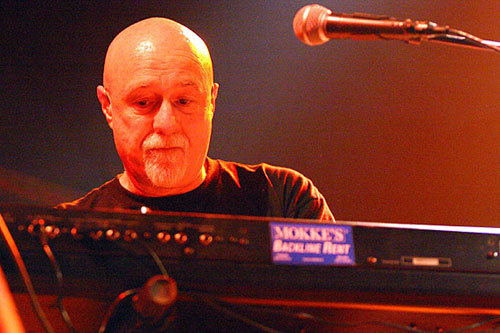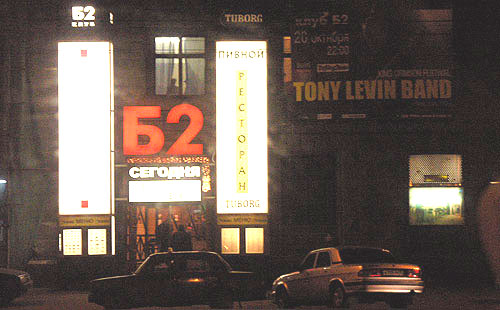 This was one special night, among all the nights and shows I've played - the passion of the audience, the newness to us in the band, of playing for a Russian audience, but they know our music so well, the new experience for me, of it being my name up on the marquee... I'm almost overwhelmed, but all I can say is, we will be back and do it again!!