Day 18: Oct. 23 - Travel home

This is beginning on the 22nd, actually - after a sleepy day in St Petersburg, we are catching the midnight train to Moscow. Then, when arriving in the morning, we'll travel to the airport for flight to NYC. All this would be a piece of cake if we didn't have 14 big bags and about 7 carryon bags, among just the four of us. (Jesse and Larry left this morning, flew to Moscow and on to New York.)
And let's not forget that giant vodka bottle I was given - I'm not going to leave that behind!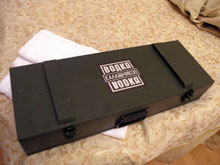 In the St. Petersburg station, Jerry with our wonderful host, Sasha - he and his partner, also named Sasha, were our promoters here in Russia.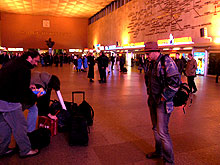 Getting all the gear onto the train, and into our two small compartments was a considerable feat - really we watched as the train porter, knowing all the crannies of the compartment, did the work.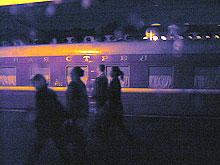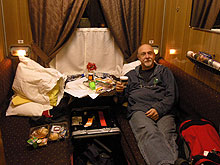 We were expecting to rough it on the trip, but found a little lunch box for each of us in the compartment ... and is that caviar in it? Yeah, with a piece of cheese and some salami. Not bad, not bad!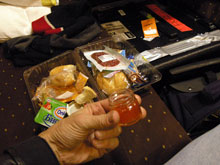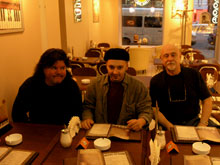 Eight hours later, the other Sasha and the trusty Nikita were there to meet us, help us with the bags, and we even had time for an early dawn coffee on the way to the airport.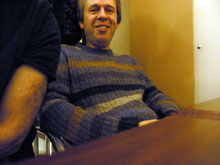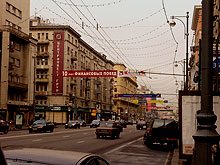 So, goodbye Nikita, goodbye Moscow, and Russia. Sad, of course to be finishing this tour - it was tiring at times, but great fun.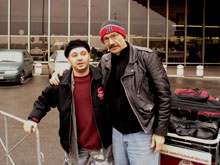 We've got great memories, and owe a lot of thanks to those who made the tour possible - to Robert Frazza, our sound engineer and much more. To Sasha and Sasha in Moscow, and the St Petersburg promoters as well. In Hungary, Egor and Bogdan who not only got us a good venue, but introduced us to Unicum. In Switzerland, Roger and Matthieu, and Dave from Case-a-choc. In Italy, Lino Vairetti, Marco De Persio, Maurizio Storai, Claudio Canova and the wonderful 6 of Schio, and especially to the heroic Marco Parisi, who is most responsible for the whole tour happening.