Day 10: Oct. 14 - Schio show day

Another early morning hotel checkout - heading for Schio, up north in Italy.
We arrived, to the house of one of the promoters, where they had laid out a fabulous lunch for us. The promoters of this show are 6 friends who share a love of music, and are experts on the history of Peter Gabriel and Genesis. They've done a great job putting this together in a nice theater, and I'm told the show is sold out.


A great show - our equipment finally gave us a break, and we could hear well on stage. The audience was wonderful. And I'm finally comfortable with doing the show in Italian. (Hah... it came together just at the end of the Italian tour - we're heading for Switzerland after this, and won't be back until next year.)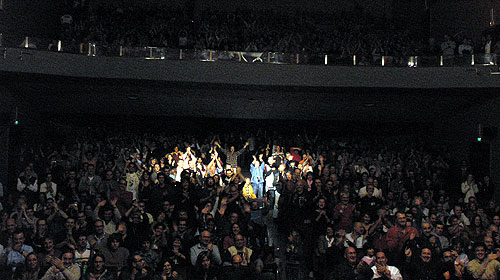 Day 11: Oct. 15 - Over the Alps, show in Neuchatel

Thrill of the show last night is nice, but at 7am, in hotel lobby, what we were facing is a long day of travel to the gig in Neuchatel. Got a late start, but smiles returned when we hit the alps and some beautiful views out the van windows.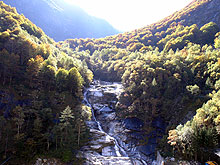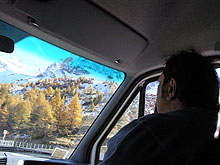 The Neuchatel hotel has internet access - yay! But pretty quickly, it's time for soundcheck.
This venue, a club called Case a Choc, has organized a photo exhibit in a side room bofore the show, of the flower closeup photos I'd taken while on the road with Peter Gabriel. The setup is beautiful, with real flowers so spectacular they almost out-do the photos.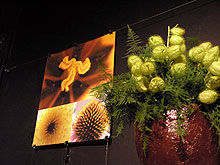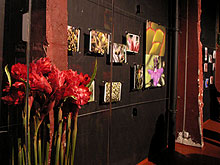 I was pretty busy before the show, but managed to visit a few times (and of course, take photos people with my photos!)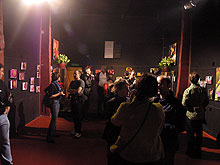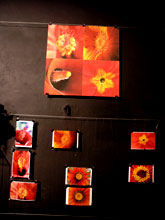 More to come...