June 5 / Atlanta

From the start, this was one of "those" days. Arriving at noonish to our Atlanta hotel, we found the bus couldn't park on the street of the hotel - only around the corner. Trudging through the rain with our luggage, we were told the rooms weren't ready.
When I did get in the room I wondered why I had recommended this hotel for the band. The closet door knob came off in my hand. The hot water tap spun around with no water resulting. The air conditioning howled like a northeastern storm. No time to bother with that stuff - I had to prepare for an afternoon appearance on radio, where I was to play along with the bass-less mix of Utopia, one of my songs I'd never tried this with. I dug out all the gear needed - bass, small pedal board, mixer, cd player and cd, power strip, cables to and from the pedal board, xlr cables for the radio station, extenders for them... put it all thru a tiny practice amp and tried playing along. A maintenance man knocked on the door -- he'd been told the refridgerator needed repair. I sent him away - if they started repairing this room, I'd be here a week.
Packed up the gear and headed, with Mike N, to WKLS, where Chris Rude was awaiting my arrival. I'd spoken onair with Chris before - he's very knowledgable about music, and a pleasure to be with. Between on-air times, he played me three of the tracks from the new Crimson cd - (the one I'm not on, and hadn't heard.) I liked them a lot, especially Prozac Blues and the new Larks Tongues opus. I know the guys are touring in Europe, and will congratulate them when I see them.
Played Utopia with no problems, arrived at sound check a bit late, and started the band rehearsing Back in New York City, which we'd like to perform sometime on this tour (it'll be a few weeks first, because it's a hard piece and we've got very little rehearsal time.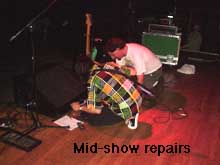 After an easy soundcheck, the show began with technical difficulties - roaring feedback, no place to put my bow, and especially Jesse's guitar pedals and amp going badly wrong. After a few pieces we stopped to let Jesse and the monitor man try to fix things. They persisted - this was just going to be one of those nights.
But Jerry became EmCee on the mic, and brought a humorous turn to the show (the audience photo reveals a table full of popcorn - Jerry had already, on the walk-in with drums, drummed on the guy's popcorn bag, spouting the popcorn up in the air - on the beat.) We quite enjoyed the audience, the acousitics of the Variety Playhouse theater, and especially the music - a lot of pieces really gelled. In spite of the guitar problems, I'd say it was close to our best show.

Afterwards we hit Cafe Intermezzo - a great place in Atlanta, open late, with an amazingly big espresso machine. We've got great coffee on the bus, though, so this trip was more for the pastry!!


June 6 / Nashville

Two special things today: first came on our drive from Atlanta to Nashville (a longer affair on this old bus than the 4 hours needed by a car - we slow WAY down on hills.)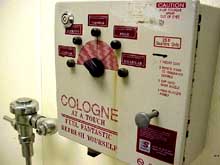 At the second truck stop we visited, in the mens room was a device I'd never seen before - a 25 cent cologne dispenser! I photographed it for the page (of course) but don't know if you can make out the flavors: Giorgio, Eternity, Lagerfeld, Polo, and Drakkar. Maybe it's just me, but the thought of putting in a quarter, pushing "the plunger firmly" and getting a handful of cologne doesn't seem high on the list of what you need when you're on the road and hitting a truck stop. Alas, maybe I just haven't got the hang of the road yet.

Anyway, the venue in Nashville, called 12th and Porter, was the scene of some recent King Crimson shows - and on our arrival there I was presented a huge cheesecake,(cherries and coffee beans included on the side) with a note saying "with love, King Crimson." What a treat - and, with the long drive to Kansas right after the show, we'll give our best shot at finishing the huge beast.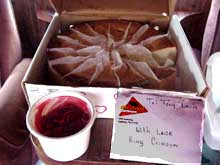 O.k, it was another fine (burp) show - the band is getting tighter as our (burp)tour progresses. I'm going to give some thought to getting a good recording of some shows near the end of June, in the hope I can release the live version someday.
Well, saying bye to the nice folks who stayed around after the show here -- there's still more (burp) cheesecake waiting for us on the bus - like a landmine that knows you're going to step on it. Well, whay fight it... I'm going for another slice.

June 7 / Lawrence, KS

Arrived at this nice town in late afternoon - alas, I had a clinic to do at the local music store, Mass. St. Music, so I had to get the bass and gear together and get over there. Clinic was fun - the store was very together about setting things up for it. I did more storytelling than playing, but nobody complained. (well, maybe only a little complaining, and then I played!
The band is all pretty tired, but we took advantage of the night off by having a lovely dinner together at Free State Brewery. (And, of course, a brew or two.) Seemed a good time to dispense the band tour jackets - always a mood improver!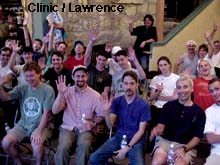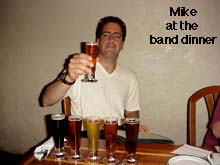 June 8 / Lawrence

Show day - I did a lot of biz - some by phone, and a couple of radio interviews in Lawrence. The show was fun - lively crowd (though my photo of them looks like ghosts - not enough light for the camera to focus) and afterwards, we disappeared like ghosts - back onto the bus for a loooong drive through Kansas to Boulder Colorado.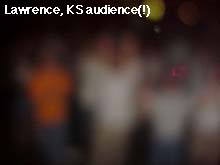 June 9 / Boulder, CO

Band woke up still on the bus, still in the flat lands of Kansas. Tom, our driver, is amazing - pushing through these long drives like... well, like a bus driver. Arrived in Boulder in time to rush off to KGNU (one of my favorite radio stations) for an appearance and playing a couplbe songs. (Have you noticed a pattern here? No days off, no time off -- good thing I like playing the bass!)
The show, in the elegant Boulder Theater, is an exciting one for us - a very large stage - comfortable seating for the audience - a concert like setting ... these are real treats for us on this tour.
Show was great - as usual on this tour, it was a treat for us and, from what I hear, for the audience.