Day 0 / April 10 / Chicago

I'm starting this diary (and writing a quick format for the page it's on) in the van on this, the first drive of the tour.
We met up this afternoon in Chicago - rehearsed at a friend's house. Much music to catch up on, and a lot of new stuff to learn (at least for me.) They've got me playing a few more trio tunes than I did on the last tour I did. And we're trying to learn a Mahavishnu Orch. piece and a couple of Crimson pieces.
The guys are looking well. Hideyo has quit smoking - they've got a bigger van to travel in on this tour than they usually use. (Of course I'm trying to forget the days when I travelled by plane!) There is an extra guy on the tour, Stephen Tilson, who will be helping with the merchandising and driving.
In the evening, we were joined by guitarist Richard Leo Johnson, who's going to be opening for the first part of this tour. (And, he'll be opening for some of the Waters of Eden shows in May.)
Packing all of us, and luggage and instruments, into the van was quite a chore. I don't know how we'll hold up (how I'LL hold up) with 6 people crammed into the 6 seats - thousands of miles to drive on this tour. Anyway, no complaints tonight - just a short drive to Milwaukee, where we'll start the tour tomorrow.
Snow falling as we pull up to the hotel - I'll upload this diary and get some sleep.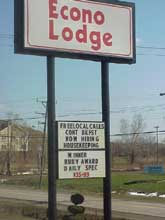 Day 1 April 11 / Milwaukee

Here's a day: Up at 6am -- 8am live tv show. Radio interviews at 10am and 11am. Meeting w. record company about the new release. Another tv show at 4pm, soundcheck at 5pm, record release party (at the venue, thank goodness) at 6:30.... and finally, at 8:30pm, the show (which, as I remember, is why we're here, after all!) After the show, signing a lot of cd's for the audience, out afterward for a bite to eat. I'm going to admit something to myself right now: I cannot do this for 26 days in a row!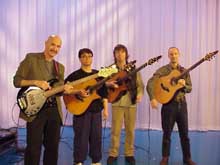 The show was great - there was that unexpected element that's usually there in the first shows of a tour. You haven't really rehearsed enough to be sure what's coming. (There were plenty of errors made, at least from me, but no disasters, and the crowd was great.) The trio has added some new elements since I toured with them last Fall - a few solo segments (I did mine to a mix of one track from Waters of Eden) - a surprise encore - a stroll out into the audience to play a piece there (I've got an acoustic bass for that bit) and their usual excellent playing.
It was announced just today that the June T-Lev tour will be coming back to this very club (Shank Hall - is that name from Spinal Tap?) on June 3rd. Such a great crowd tonight, I'll hope for more of the same in June.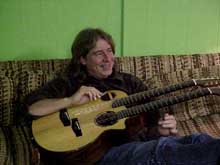 Day 2 / April 12 / Chicago

2am, writing fast to try to get some rest - it's a 6am leave! Late last night after a pretty tiring day in Milwaukee, we couldn't resist going out for a bite to eat. Hideo, of the trio, wasn't taking his usual food photos (!) but I was very impressed by his order - a huge banana split! Not many adults I know have the nerve to go for such a hefty desert at 1am. Bravo Hideo!
Today was a easier day than yesterday. A couple of hours drive to Chicago, and even a free hour before soundcheck. Before the show, Christine from Music News Network popped by the soundcheck for an interview with the trio. (And she showed me the upcoming interview of me in the new issue.)
At the show, some friends showed up, from last year's tour: Paul Mabin and Mike Harvey were the background singers on the Seal tour, where we shared bus space for quite a while. Didn't get to chat much before the show. What a show it was! Club was jam packed with what may be the most exhuberent audience ever! I caught a murky video clip of the whole audience singing along with the trio's instrumental version of Bohemian Rhapsody. Wow!
But for me, the most... hair raising point of the show came before that. There's a point where the trio leave the stage for me to play a solo. I like to play a track, Belle, from the Waters of Eden cd. Since it was a duet with my brother Pete, and he can't come to each gig(!) I've made a cd mix of just him -- the plan is for me to start the piece, then hit the cd play button when it's time for him to enter. In Milwaukee it went o.k, but I was nervous about hitting the wrong button. (It's not so easy to see small buttons onstage when there's a spotlight on you. Hey, I can't even see those things in the light, without my reading glasses!) Anyway, tonight disaster struck: I played nicely, leading to the high note, then pushed.... the off button! Had to stop -- then couldn't find the 'on' button. I gave up trying, and just explained to the audience that this was the kind of thing I wake up in the middle of the night having a nightmare about. Maybe it was good therapy - your worst fear coming true - but it sure was embarassing. Steven, our trusty merch man, appeared with a flashlight, shone it on the cd player while I (the master of hi tech) finally got it turned on and lined up to the right track - then started over!
Ah well - performance is like that - lots of surprises in store for both the audience, and us on the stage.
Tomorrow, no, in a few hours, we're off to Detroit, where we'll have an afternoon interview with Martin BanDyke at a great radio station there.
More news soon.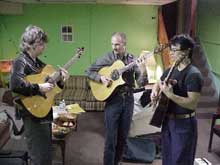 Backstage rehearsing - Paul using a magic marker as bottleneck.

Day 3 / April 13 / Detroit

6am, left Chicago for Detroit. (You GOTTA appreciate that I was updating this diary at 2am last night!) Went right to WDET for the Martin Bandyke show - it's one of the very best in the country for touring musicians, and we all love visiting there, even if it means a 6am drive. Reason is just that Martin knows his stuff, lets you play your stuff, and the station is very together about getting it out onair beautifully.
Detroit is always a good stop for me because I have good friends there. Mark, Lee, and Barry joined us at the radio station and stuck with the band for the whole day (Mark bringing his espresso machine to the club -- can't beat THAT!) (Mark and I have a longstanding theme about espresso makers - he got his on my recommendation (it's a Saeco) and I upgraded mine (one of mine) on his advice. Also, when they break down (yes, it happens) we call each other for advice - there was once a video made showing the breakdown of a coffee filter basket.
Speaking of treats like coffee, back in Chicago someone kindly gave the band a whole carrot cake (made with the recipe from my bass book!) which was a treat in the van.
Show in Detroit was actually in a suburb called Ferndale. I think the venue used to be a porn theater - though it's been... slightly.. refurbished. Dressing rooms were what you'd expect! But as on the first shows, a great audience and a great reception. We're now playing "Dance of Maya" - and early Mahavishn piece. My solo/with cd player went much better than in Chicago. (How could it go worse!) And the concert-goers are very kind and appreciative when we come out into the audience for an unplugged - very quiet - encore.
After the show, my Detroit fans and the trio re-visited an old tradition: taste testing vodka in the hotel room! Back in the 80's, Mark and Lee would visit towns where Crimson played and we'd compare various special brands of vodka - quite a fun little party to have, usually accompanied by Barry's homemade Nori rolls. It had been a long day, but a little partying was accomplished in a surprisingly civilised way.
Photos are scarce here because schedule's been so hectic I haven't had time to recharge the camera batteries. Will do tonite.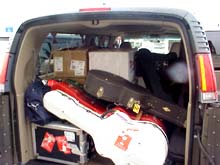 Day 4 / April 14 / Pittsburgh
Not too bad a drive, though we found there is no exit 6 off the route we were on in Pittsburgh - a lengthy U-turn in rush hour traffic reminded me of the Bruford Levin tour.
The promotor greeted me at our hotel with some espresso! (He must've been reading the web diaries.) Show at the University was very nice - the room, though small, was a round lecture hall, with very good acoustics. Seemed more of a concert than the club shows we've been doing. A late night excursion to eat found only limited places open - but we still managed to sample some local piroges. (Was that butter I saw dripping off them?)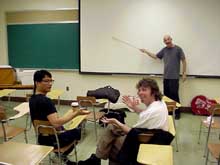 In Pittsb. (Univ.) backstage, I tried to give the guys a lecture on guitar playing. Hideo and Paul seemed not to be concentrating.


Day 5 / April 15 / Baltimore

O.k, the van drives are getting pretty long.Seems like they always last about an hour longer than we figured. Driving to Baltimore I've passed the thousand mile mark of the tour. (The others have gone 2500 miles, having driven from Salt Lake City to Chicago to start)
Today we had to go right to the venue, being too late to stop at the hotel. The venue, Orion Studios, is a unique one: just a large studio, but they've set up a small stage, and loyal music enthusiasts in the area crowd into the room to get real close to the performers they like.It's a venue we all enjoy playing.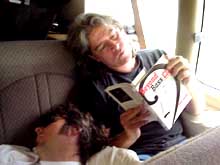 What we do in the van. Day 6 / April 16 / Charlotte

Longest drive yet (435 miles)- weather grew warm as we went further south. The venue was a blues club called Double Door. Pretty funny having an acoustic guitar group in a blues bar. Getting the audience to quiet down was a little hard, especially for the unplugged encore. But the audience was a good one, and seemed to really appreciate that we'd come so far to play there.

Day 7 / April 17 / Atlanta
On the drive down to Atlanta we pulled off the road for some breakfast and I called my wife Andi, to chat. Knowing the area as she does, she said "I'll bet you're at a Waffle House. She was right.
We got into town just in time for a radio appearance on WKLS. Then on to the hotel briefly, and the Variety Playhouse to set up. I found, just before the show, that I'll be playing the same venue with my own band, on June 6. Another excellent show - sadly the last one with Richard Leo Johnson opening for the CGT. I'll see him again in May, when he opens some shows for my tour.

Day 8 / April 18 / off, travel
Early appearance at the "Good Morning Atlanta" show for us. As the trio was carrying their guitars in, they ran into the famous announcer Ed McMahon, who asked them (jokingly, I think) if they were there to audition for Star Search!
As we have done before on local tv stations, we played a short version of Waters of Eden, and packed up quickly to hit the road. It's a massive drive to Lawrence Kansas, and for the first time on the tour, I bailed out on the van and took a flight!
Arrived at hotel in the evening, to find a package from my Crimson cohort Pat Mastelotto, with a new CD. Fantastic remixes of some live Crimson material. I haven't asked what's intended for this music, but I hope it gets out to the public. I'm writing this as I sit in the hotel, listening to recording of R. Fripp speaking with my bass and a drumbox beat behind him. For reading material, Pat included a pamphlet on the Fat Burning Bible Diet - How The Good Book can help you melt off 15 pounds in 30 days! Hmm.. Definitely more fun than driving in the van!

For once, instead of overloading this web page, I'm going to continue it elsewhere, on CGT Tour, page 2.