January 24 / Long Beach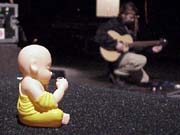 I've toured with the California Guitar Trio, as an added guest, quite a few times in the last two years. But this time, Pat Mastelotto, King Crimson's current drummer, is along on the tour, and it will be a lot of fun seeing the additional possibilities.
Pat has also played with the bands Mr. Mister, The Rembrandts, Cock Robin, Sylvian/Fripp, and others. (No, he's not playing on the theme to the tv show Friends because at the time the Rembrandts did that Pat was in Woodstock, writing with King Crimson!) (He did play on the record of that song, though.)

The whole band is staying at a friend's house while we rehearse. (That's a friend! He's Mark Perry, former head of Possible Productions, the U.S. branch of DGM, and Mark will be coming along on the tour to do merchandising.)
Fortunately, it's a big house - and this group is quite quiet, well behaved, and all the players keep to themselves a lot, even practicing in different rooms. I've had mornings free, and the town isn't bad - with a Gold's gym to keep me somewhat in shape for the tour. (It's interesting to me how, at the small hometown gym, the average people are in moderate shape, which makes you feel o.k. about your progress. At the Gold's gyms, being surrounded by very serious body builders makes you wonder what you're doing there with your puny body!)

Rehearsals are in a dreadful place about a half hour away (not counting traffic, which yesterday made the trip an hour long.) I'm told the hall has 100 rooms for bands! We had a productive afternoon there until about 6pm when all the rooms filled with bands. Loud bands! As time went by, they got louder, until we could hardly talk to each other in our room. We abandoned that rehearsal, and are now sticking to daytime hours for the remaining days.

Pat has learned all the repertoir very well, so rehearsing is pretty easy, except for the new piece for this tour: Yes's Heart of the Sunrise. That's a pretty tough piece all around, but hardest is learning to count the measures in the same time signature. (It works equally in a number of different ones, but that makes group counting difficult.) It should have been an easy piece for me because I played it many times on the road with Anderson Wakeman Bruford Howe, in 1990. But, alas, I and my funk fingers had forgotten it.


January 25 / Long Beach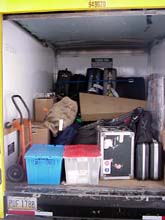 The CGT tours a lot on their own, but they've never done it like this. With Pat's drums along, more space is needed for equipment. And because drums are pretty loud, Pat needs monitors he can rely on, so we need to carry them too. I've added a bass amp and a few different instruments for this tour, (usually travelling with the trio I only use one bass, a Stick, and no amp.)
So instead of the one van travelling with guitars and everyone in it, this time there'll be a truck, a merch person, a sound engineer, and a five piece band. It's what Pat and I are used to with rock tours, but quite a new experience for the trio!

January 26 / Ventura

On the way up to Ventura we picked up Chris Murphy, just back from the MIDEM convention in France. He'll be doing sound on the tour (another first for the CGT, who usually travel without an engineer.)
Chris was engineer/produder on the recent Bozzio Levin Stevens CD, so we had a lot of catching up to do on what we liked, and what could be improved on, from that project (which is one of my favorites).

The Ventura Theater is a place I've been to a few times - most recently with King Crimson a few years ago. I remember it for having very difficult sound - it's large and ringy, with a long echo bouncing back at you on stage - makes hearing the music difficult. Soundcheck was scary, but Chris came through in the show, and we could tell from the audience reaction that they were hearing, and enjoying the music.

The show was a good one. We survived Heart of the Sunrise(!) and had some good moments in the two improvs. Our formerly acoustic version of Elephant Talk is much more exciting with the drums added, and Mahavishnu's Dance of Maya rocks!
Long drive tomorrow to San Jose - I wish the people next door at this motel would turn down their tv set!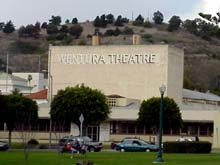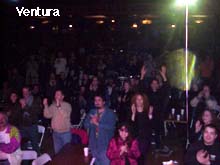 A word about the instruments I'm playing on this tour.
As before with the trio, I've got my Music Man fretless along. Music Man has also made me a new bass - kind of a custom combination of other elements they've had before. It's got awesome low end (much more than I need in these shows - I'm playing with half the gain and half the bass!) I can't wait to get this instrument into the studio.
I'm also trying out an Aria acoustic bass guitar that I happened upon in Japan last November. Useful for some of the trio's quieter pieces, and especially for the nights when they do an encore, unplugged, out in the audience.
My Stick is a pretty new one. I've been communicating a lot with Emmett Chapman lately, trying to get the ideal setup for a future solo Stick CD I'd like to make. Because I'm practicing the Stick now I've finally become aware of some of the subtleties of the top end of it, and with this Stick I have switched from the original Emmett Chapman pickup to the "Block" pickup that has been popular among other Stick players for years.

January 27 / San Jose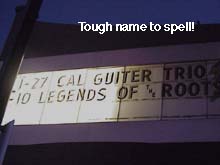 The drive was long, as we expected. Through some snow in the mountains. A bit late for soundcheck, but it didn't matter because it's a late show tonight.
(Written later, after the show:) Really good performance, and great audience though I didn't love the club (should have suspected trouble from marquis misspelling of band's name, and Pat presented as "Paul Mastelotto".) Actually, the venue was fine for the show, but began pounding disco music as soon as we finished, ignoring the customers who lined up to speak to us and have CD's signed. Packing up the gear in loud disco music isn't my favorite passtime either! But, wow, some good music was made by our little group - the audience sang along a bit in "Heart of the Sunrise" as I'd hoped they might.
Tomorrow we have a shorter drive, up north to Cotati, where I played last June with my own band.
(And, I hope somebody from San Jose is getting online late tonight, so they may appreciate how quickly I'm getting these gig updates up online, even using tonight's audience as the page wallpaper!)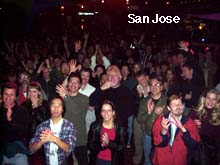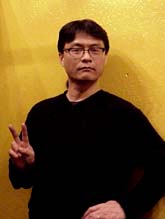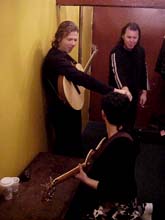 JJan 28 / Cotati, CA

We just arrived in Petaluma (to watch a half hour of the Superbowl before soundcheck) for tonight's gig at the Inn of the Beginning in Cotati. Last night's show in San Jose was really good. We're still adjusting to having drums in the ensemble and it was much easier with club sound than the previous night's ringing theater acoustics.
I got a kick out of the adjacent posters of CGT &Mastelotto&Levin, and the Rembrandts - which happens to be a group Pat played with before he joined Crimson. I recently asked him if he played on the theme they did to the tv show Friends. Pat informed me that when they recorded that song he was in Woodstock with King Crimson -- writing music for Thraak! Now, there's a career move that not everybody would make!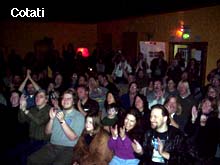 Jan 29 / San Francisco

The drive into San Francisco was very pretty so we left in the morning for what was to be the shortest drive yet on the tour.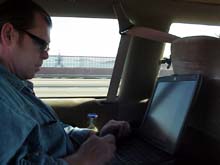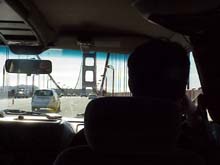 Our show is at the Great American Music Hall - scene of the live CD "Monday Night in S.F." with the trio and me, recorded last May. It's a beautiful old theater, with very good sound. Patricia Fripp (sister of the Crimson founder Robert) has been coming to the last shows, helping with merchandising and even giving a bit of a speech from the stage after the show.