Arrived in Pittsburgh on the day before the show, having rehearsal that day.

Some old friends in the backup band I hadn't seen in some time - our flights arrived at different times and slowly we assembled in the airport.
David Spinozza will be the guitarist, Chris Parker on drums. Bashiri Johnson on percussion, David Sancious on keyboards.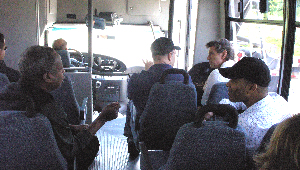 One of the featured artists we're to back up is saxophonist David Sanchez - so my first photo was in the bus from the airport, of something I couldn't resist: David Sancious talking to David Sanchez.



David Sanchez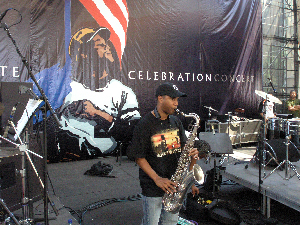 Chris Parker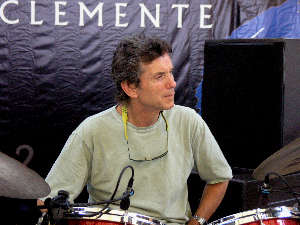 David Sancious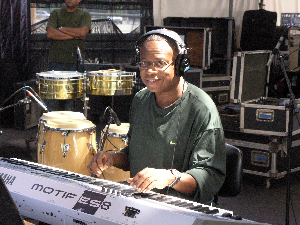 David Spinozza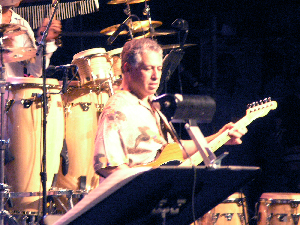 Phil Roy (talking with David)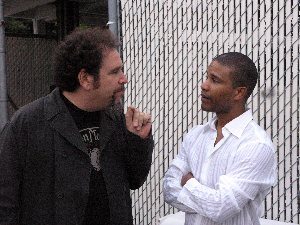 Bashiri Johnson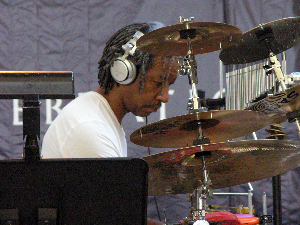 Mike Mills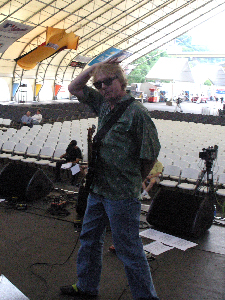 And, perhaps the most important folks on stage, The Clemente Brothers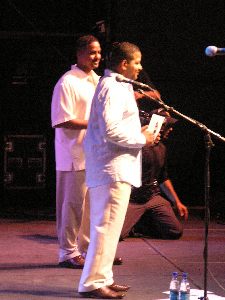 The venue, on the river, at sunset.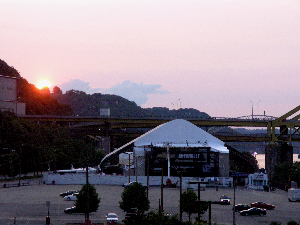 The show started out with Collective Soul taking the stage by themselves for a few songs.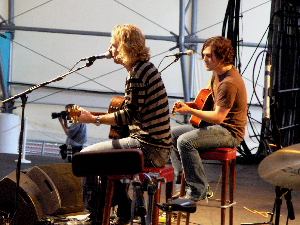 Then we, the house band, backed up the other artists - I was too busy to take photos from that point, with one big exception - after Mike Mills (bass player with REM) performed his new song, we were to do John Fogerty's Centerfield - at rehearsal I'd asked Mike if he could play bass on that, and so I had a ball photographing him with my distinctive 5 String Barbie.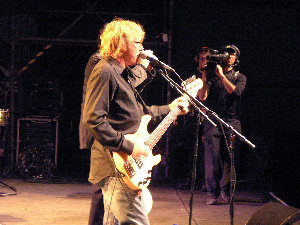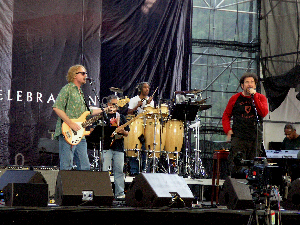 Yeah, he's a cool player, but that bass is WAY cool!

Okay, nothing left but to put in my diary excerpt, from the main page, about Pittsburgh ... rivers bridges and sandwiches.

When you travel like bands do you don't get to experience the real nature of a city no matter how often you go there - no time for sightseeing, no dinners at restaurants unless you have a night off there... but still you get a feeling of the flavor of the place after a few visits, and Pittsburgh is a good example of a city with it's own uniqueness.
First thing you'll find if you drive there is that you'll get lost on and off the bridges. They say there are three rivers and a bunch of bridges, but unless you live there it seems like about 50 bridges, and if you're not in the right lane after the bridge, you'll find yourself in a maze of spiralling crisscrossing roadways that seem more suitable for Tokyo.
I remember, with my band, thinking we knew the way back to our hotel after a show, and getting so lost we actually had to stop the van and flag down a passing car to find a route back to Pittsburgh (less than a mile away.)

This time, as one of the backup band for last night's show, I met the other musicians at the airport and there was a local bus to take us to our hotel - I was somehow pleased to find that the driver took the wrong bridge just like I would have, and we needed more river crossings to arrive. I guess even locals sometimes have problems with the bridges. (Yes, like us Bostonians get hoodwinked by our own maze of one way streets downtown.)

Far more fun than the bridges is the sandwiches at Primante's! In all my travels around the world I've not found another place that puts cole slaw and french fries inside the sandwich. Maybe it's not for everybody, only those with a big appetite, but something about the mixture of things all in one sandwich (the heat of the fries melts the cheese they're on top of)... something about it seems definitively Pittsburgh to me. You easily can picture Ben Rothlisberger eating one of these - not Tom Brady.

I didn't have time this trip to go by one of the Primante's to get a sandwich, and was hoping to get a photo of one to show here on the site... but in one of those road surprises, late night at the hotel bar after the show, a guy named Guy was a real... guy, and went out, got sandwiches for the whole band and brought them back to the bar.
Then came my camera crisis... it sometimes refuses to work (ever since it got kicked on stage during Peter Gabriel's Salsbury Hill one night...) and for an hour, while the others ate, drank and chatted, I kept fiddling with my camera, telling them I had to get a photo of the sandwich. They all thought I was nuts, but you, of course, appreciate how important it is to document these things for the website!

And, when the camera finally decided it would take a picture again... alas the sandwiches had been pretty much eaten!

That's my little essay about Pittsburgh - and, to end with, I have only this pathetic shot of the remnants of a sandwich at 3am in a hotel bar... I will try to get a decent shot from somebody of the real sandwich. But anyway the important thing is that you can tell what a great time we had, musically and otherwise, in Pittsburgh.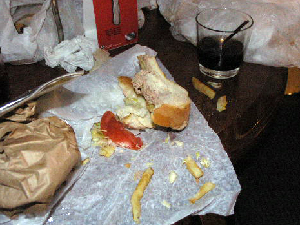 note: Okay, I've just done some research, and I totally mis-spelled the name of the restaurant. It's PRIMANTI'S, and as an apology, I've linked to their site!