After Kevin's performance at the Quebec Summer Festival, he has weekly shows scheduled at outdoor venues all over the province of Quebec.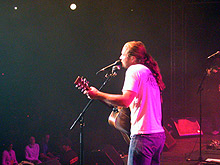 The first of them was in Cowansville. I didn't get many photos at the show, except for one period where Kevin, then the whole band, took over the drum set.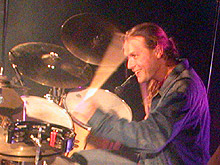 Next, on July 24, came the big Francofolies Festival right in downtown Montreal.

I'd played this festival with Kevin before, but the turnout was even bigger this year.
After a rainy soundcheck, the weather improved, and people started filling the streets around the many stages.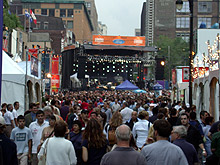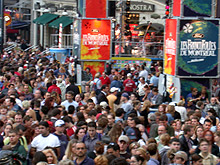 Then, more people came.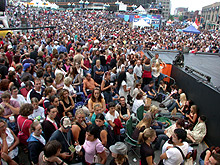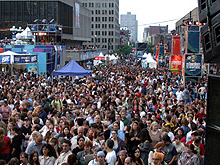 And more...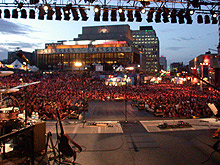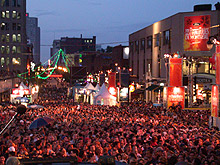 Papers the next day estimated more than 100,000 people on this one downtown street.

Featured at the show were not only Kevin, but two other very popular Quebec singers, Daniel Boucher and Eric Lapointe.

Eric is shown here arriving at the big stage after taking a shortcut from a distant stage by crowd surfing.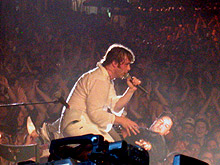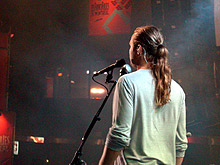 Next on the intinerary: Amos, Quebec. So far north we'll be flying there from Montreal.



July 26 - Heading back from Amos.

Well, I say "heading back", but we're still here as I write this. Were supposed to fly out last night after the show but bad weather kept us from leaving. Now, 8am, we're hoping the thunderstorms abate.

Yesterday's trip north was new territory to me.
First we had a chartered flight from Montreal.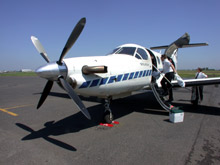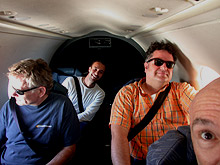 I hadn't been in a single propeller plane since... well, I never flew in one before.
It was pleasant inside, (no rubber band running down the length of the plane) and we arrived in Amos before the rain started.
Oh, the bus that greeted the band in Amos was... well, cute.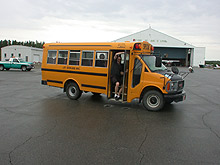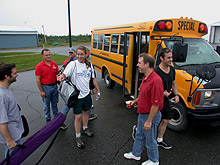 We saw the sights of Amos on the way to the show...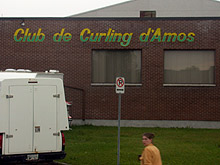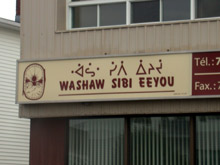 And at the show, were joined by some singers who are winners of a tv show called "Star Acadamie" - Canada's Star Search.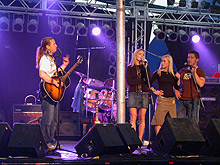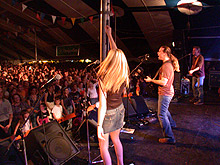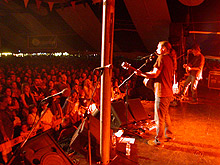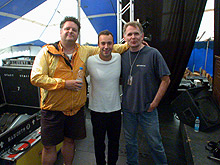 A nearby lightning flash brough soundcheck to a quick stop - blowing all the fuses, but soon things were up and running again, and okay for the show. Later at night the weather nearby got quite bad, so, instead of flying back to Montreal after the show, we stayed in Amos overnight - a memorable trip!