It's off on the Harley to Milwaukee.

What could be a better vacation than to attend the big blast on the 100th anniversary of Harley Davidson.

There's something about riding a big bike like this... I know many of the web visitors are from around the world, and they might find it interesting that, to me, riding a Harley on the "open road" is one of the most distinctly American experiences I know of. Not sure if it's the unique rumble of the engine, or the sheer size of the bike itself. Or the tradition and history it has, or the kind of great roads we have here, which go on and on, featuring different kinds of scenery. Maybe part of it is the comraderie among bikers.

Anyway, this year being the predicted biggest of the Harley Davidson rally's in Milwaukee, I've been looking forward for some time to going there and just experiencing being among all those bikes and bikers.
Getting there will take me across New York, Pennsylvania, Ohio, Indiana, and up through Illinois to Wisconsin.




My wife Andi will join me in Chicago, (hey, somebody in the family has to work!) - but at first I'm on my own.

Much of the trip will be by big highways, but I treated myself, on this first day, to a scenic ride across New York State. I drove through towns with names like Margaretville, Big Indian, Shinhopple...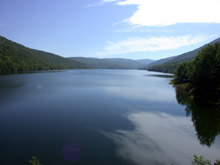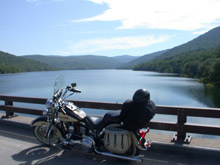 And it didn't let me down. (Above is the Pepactin Reservoir - ever hear of it? Neither had I!)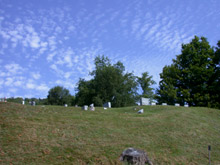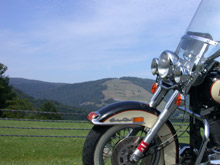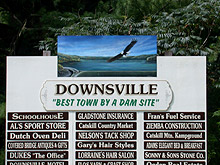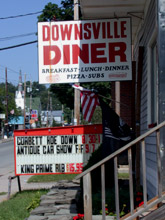 Surprisingly, I only saw a handful of motorcycles in the whole day of riding. With a huge attendance expected for the rally, I'd expected there would be bikes everywhere heading there. Maybe it was the obscure route I took, or maybe the fact that the event actually started today (Wednesday) and I'll be arriving, at the weekend, for the last days of it.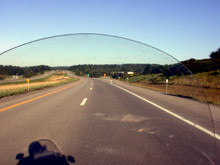 Second day, some riding in the very cool morning made for a nice change from the heat-of-the-day riding.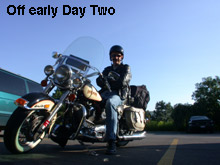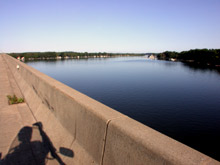 Into Pennsylvania, and, pretty quickly, into Ohio.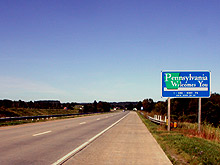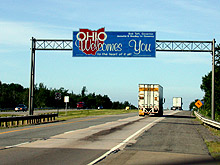 These states have some very cool scenery, but very hard to get a good view of it, let alone photograph it, because the place is so flat.
I keep seeing farmland and thinking, now if they'd put a nice hill right here, I could get a good shot from the top.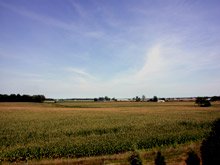 Seeing a few more motorcycles now, especially at the rest stop. Don't know how many are heading to Milwaukee, but I'll know in a day or so.


Friday - day 3 of the trip. Yesterday evening I used the golden sunset to grab a photo in my helmet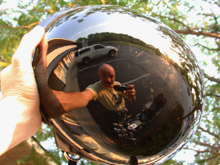 not realizing it would be the last sun I'd see in a while.

Shortly after starting out today, the rain began, and continued through Ohio into Indiana.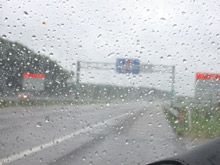 Oops, here's a better one...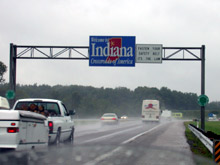 I'm seeing many more bikes now, and it's pretty interesting what a different approach to the rain they all have. Some are riding along as if there was no bad weather - some without even a hat or helmet. Then others, like me, look like they're going whaling in a nor'easter!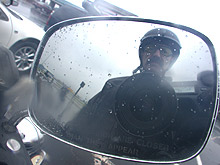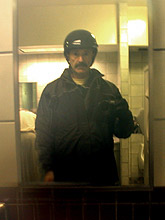 Anyway, after making more rest stops than usual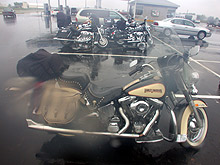 I entered Illinois, and some serious Chicago Friday rush hour traffic - didn't even get a photo when entering the state. The weather, still overcast, turned hot, and I finally pulled over to get that rain gear off.
Stopped overnight in Chicago to pick up Andi.

In the morning we left for Milwaukee!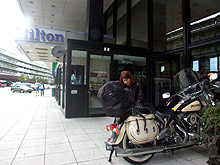 More on the next page.