It's bus time... and ferry time.

Leaving Compiegne, France by bus after our show, maybe at 2am or so, we headed to Calais and the ferry across the Channel.

Those of us who went to our bunks 'early' had to wake up at about 5am, to clear UK customs with the others who had stayed up.

Then, bus parked in the bowels of the ferry, we had the choice to stay on and sleep, or head upstairs to get a bite, or try to get online, or just sleep in a roomier area.

I was too sleepy to take pictures.. maybe next time!

In London, at Shepherds Bush, we're playing the famous Shepherds Bush Empire (also pictured above.)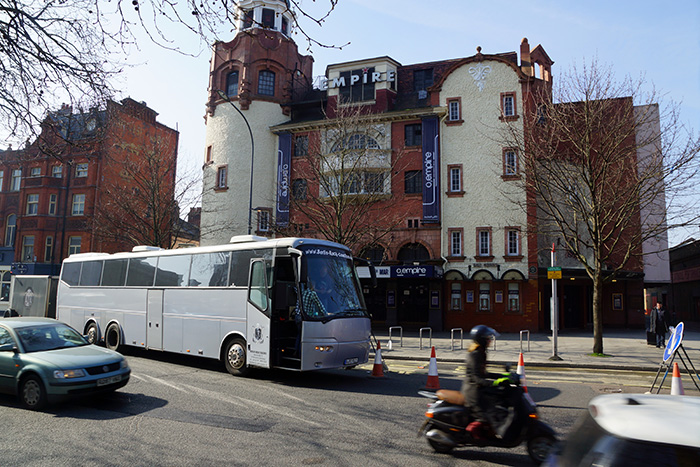 Stefano (our lighting director) and Andrea (our monitor mixer) are happy to see the end of our overnight bus trip - and a sunny day in England!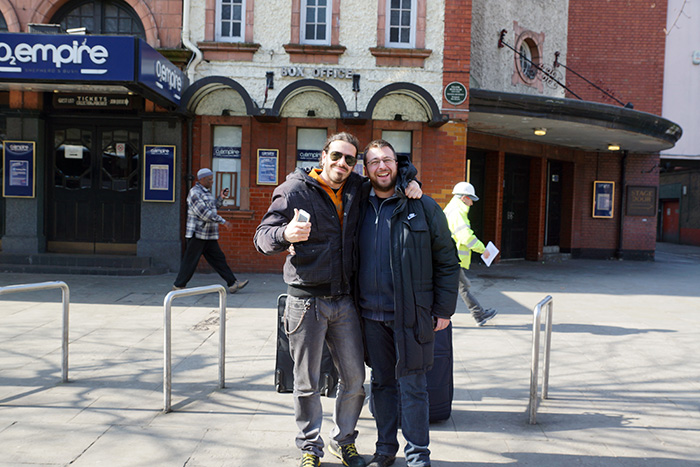 All the gear loads in, and luggage too, to the dressing room. We won't see our bus again until after the show.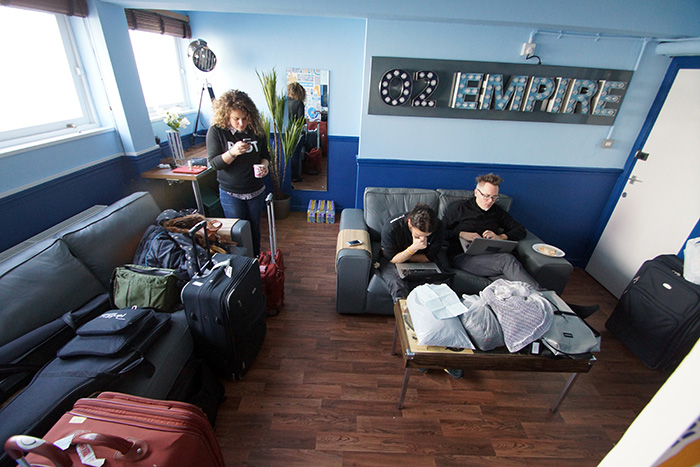 Erik (and I) found the food...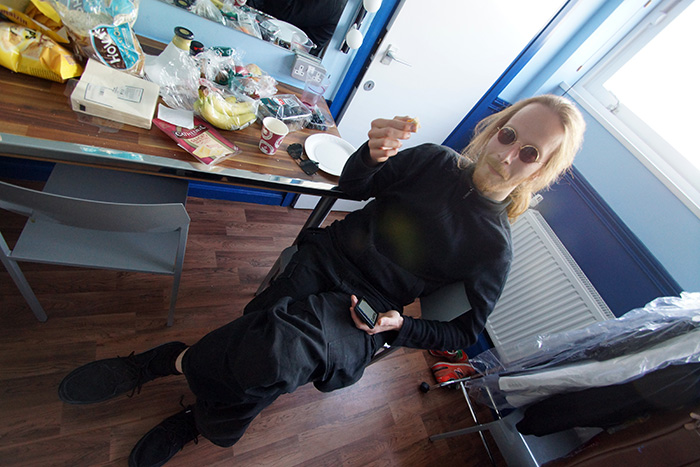 Beautiful hall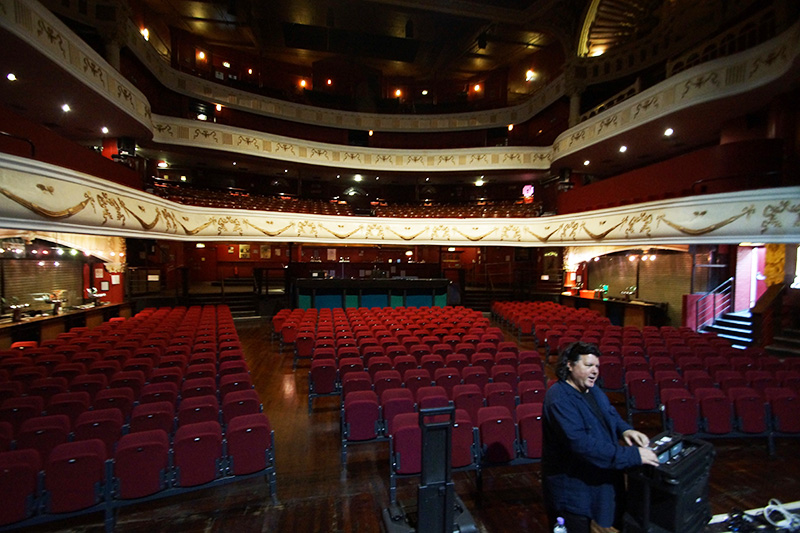 Soundcheck... like it or not, it's a daily part of our lives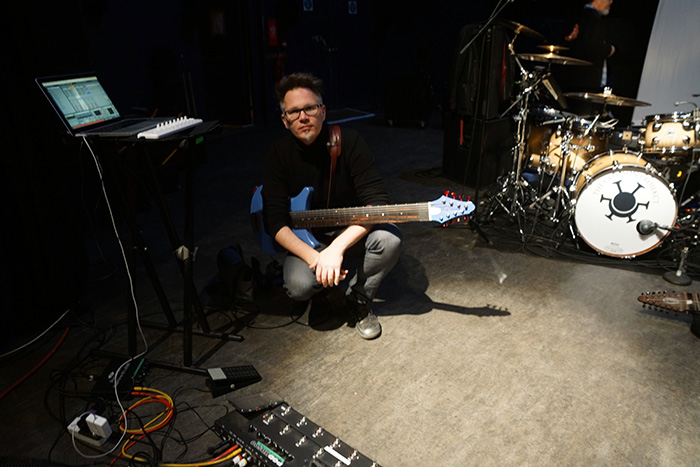 After soundcheck, a meet and greet with a few fans who had special tickets.

Usually some cd's and posters to sign, but I had never been shown the 45rpm record of one of my first groups, the Clams.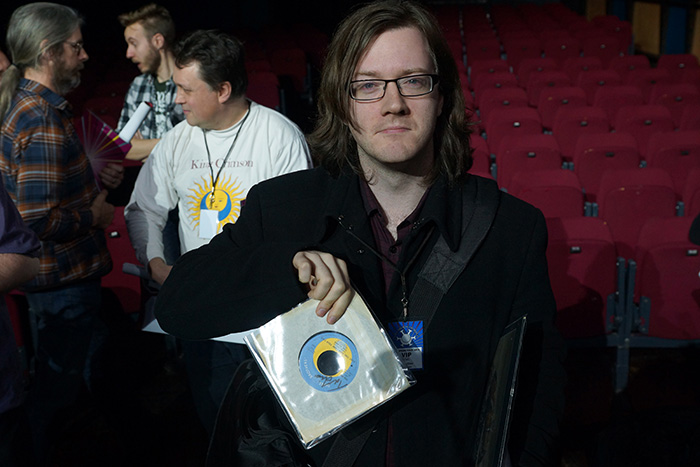 What kind of group was the Clams? Well... a comedy group - let's leave it at that!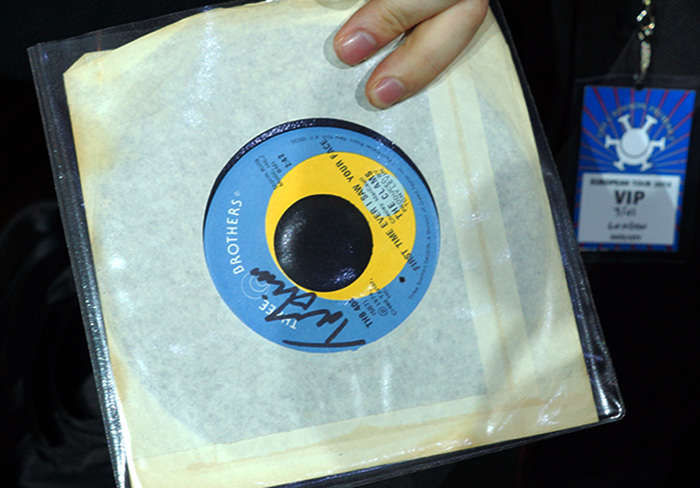 Practice time backstage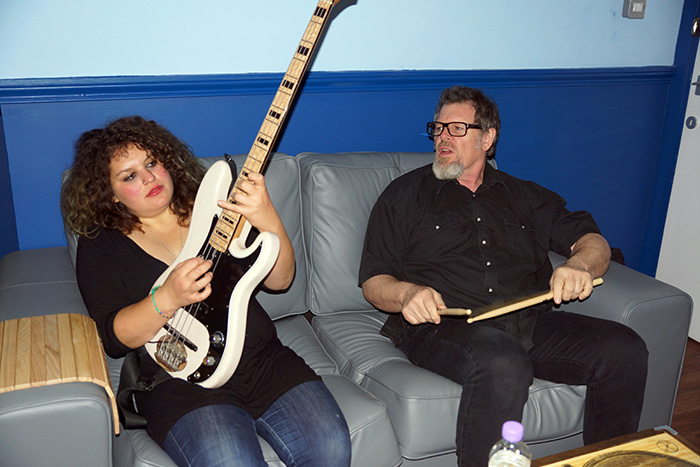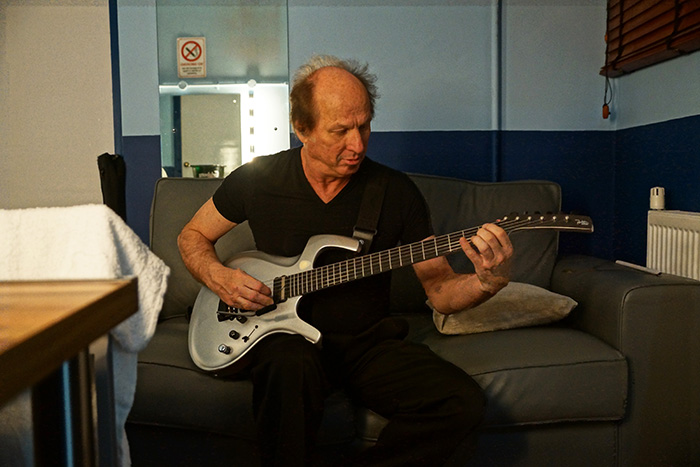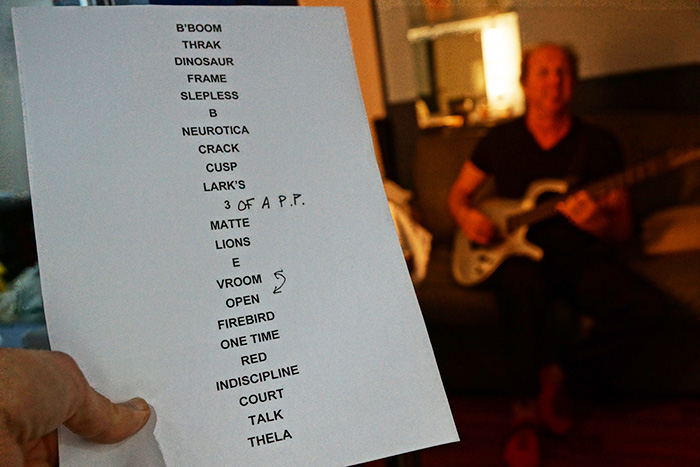 Going onstage, there's a unique small hallway, and I'm reminded how I've been at some other memorable shows here.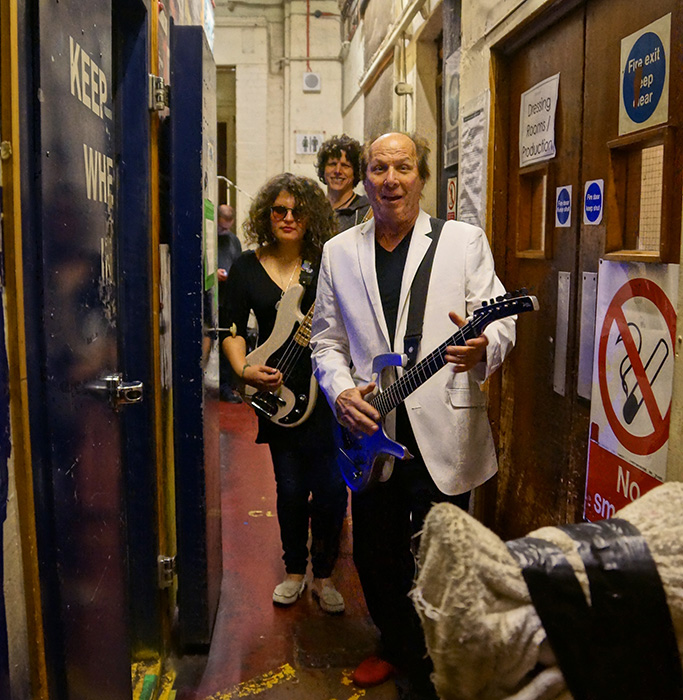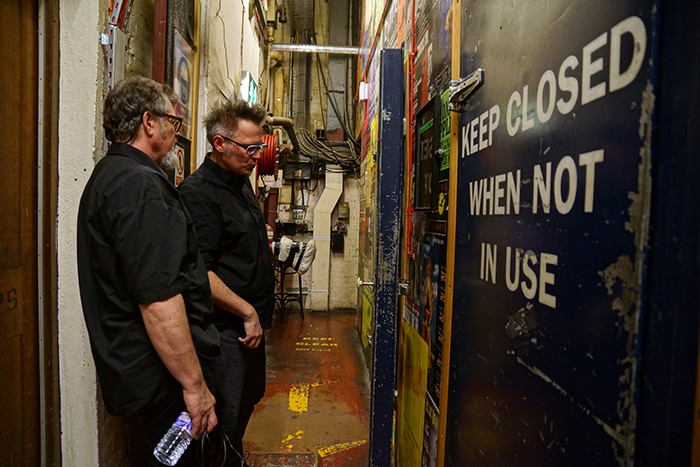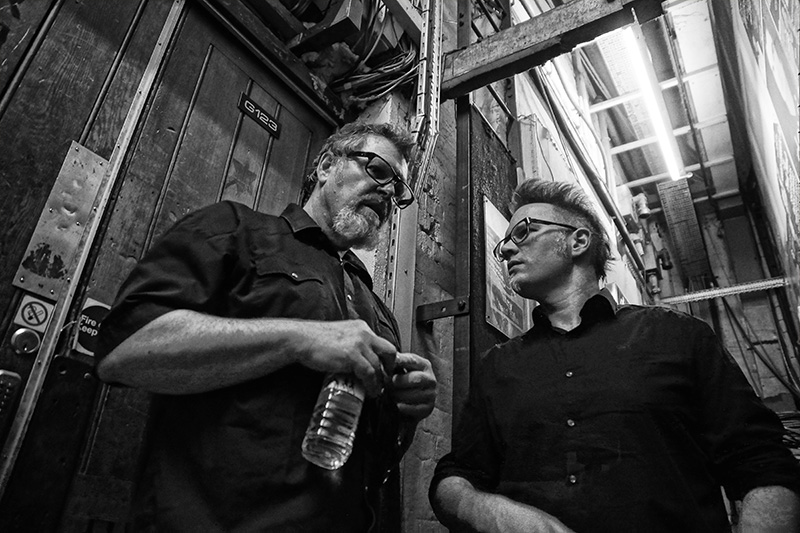 Here we go...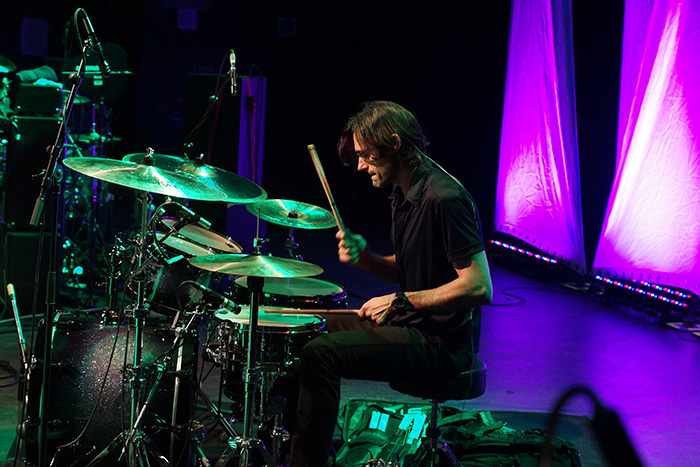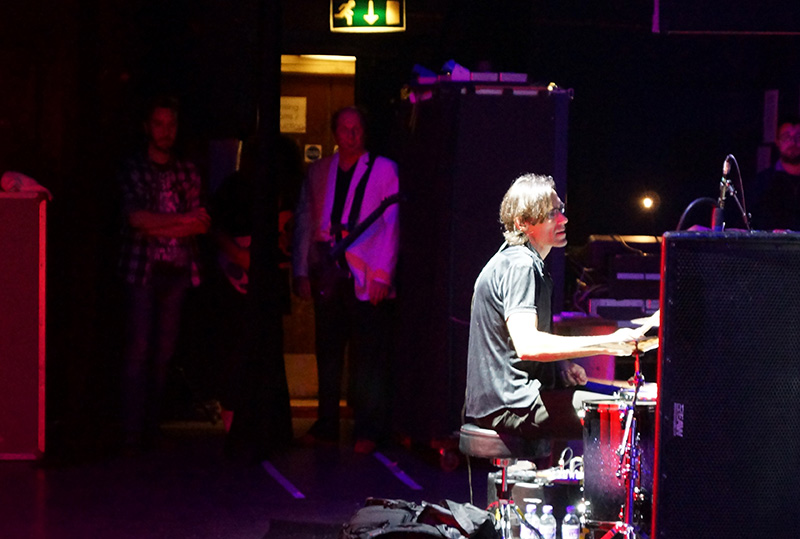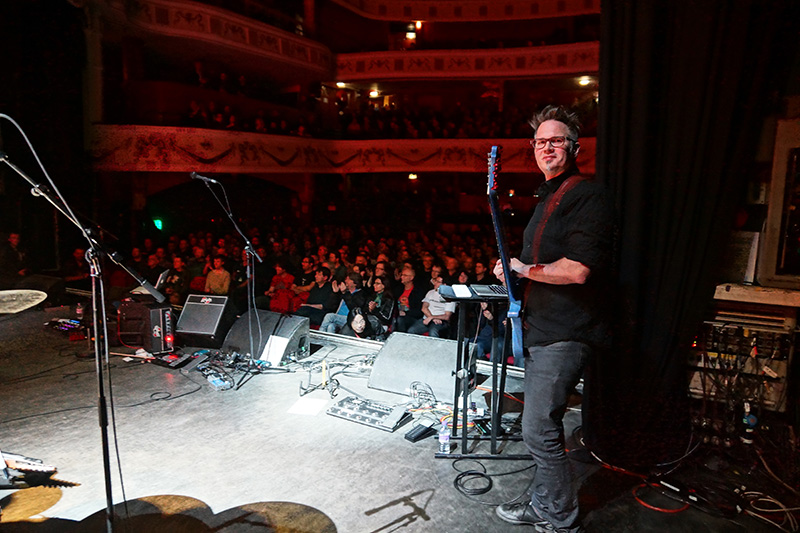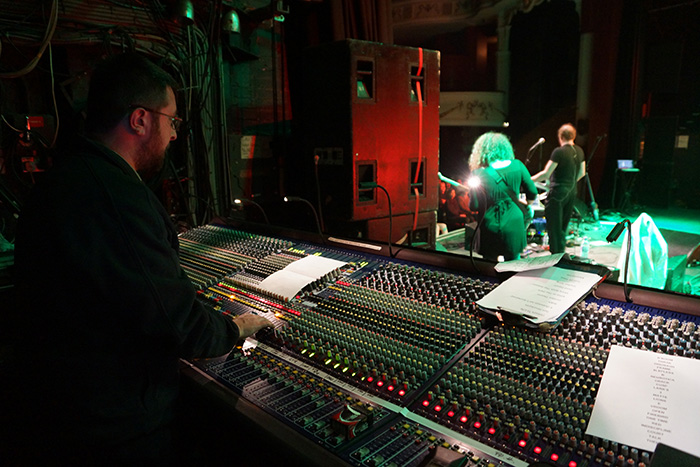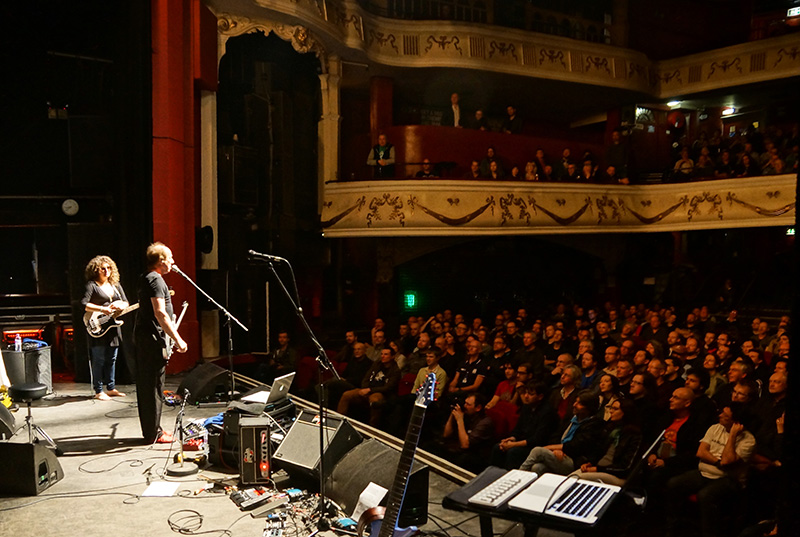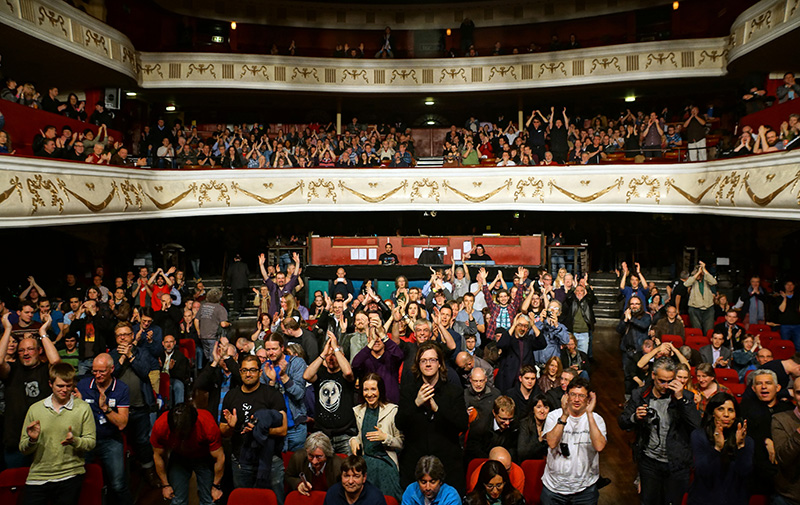 I found Stefano, running the lights from back of the audience, and put a (Photoshop) spotlight on him!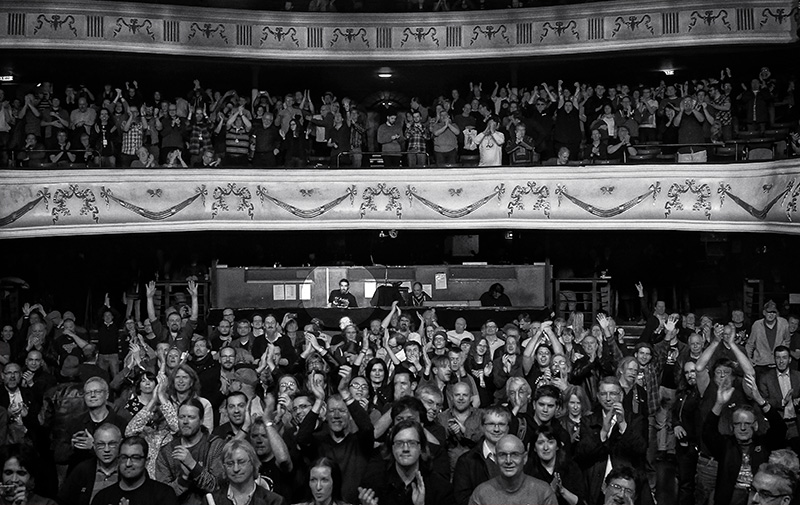 After the show, a few hours to meet friends, pack the gear, clean up, and then back on the bus, back to the ferry across the Channel, headed for tomorrow's show in Paris (pretty much where we just came from!)

This time I not only didn't take the camera up the top deck of the ferry, I stayed in my bunk, catching up on sleep (and loading in these pictures and diaries for uploading when we reach Paris.)

The club in Paris is called Trabendo, and it's located in a park.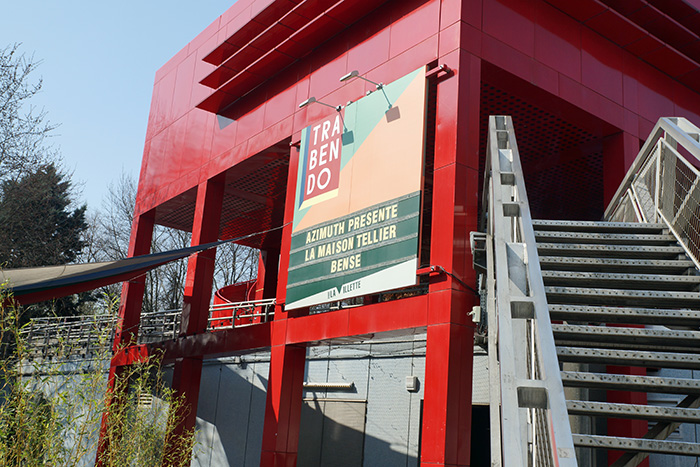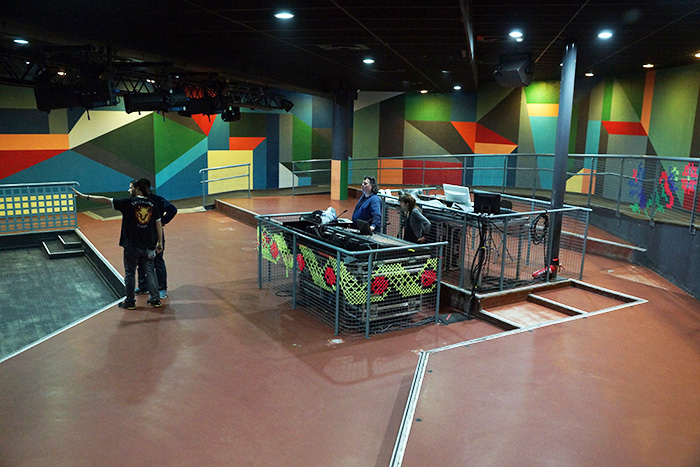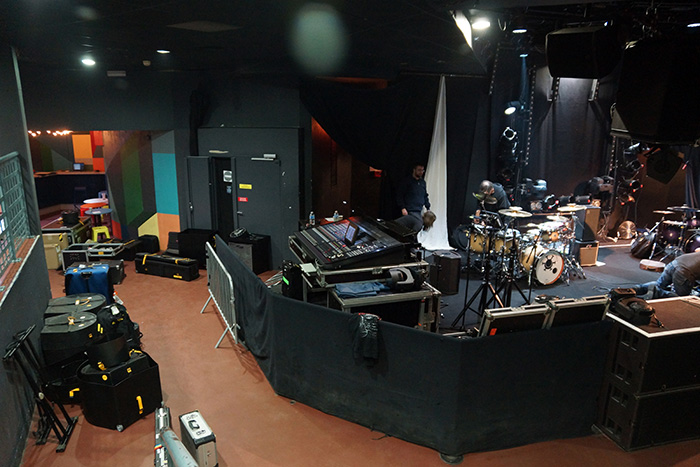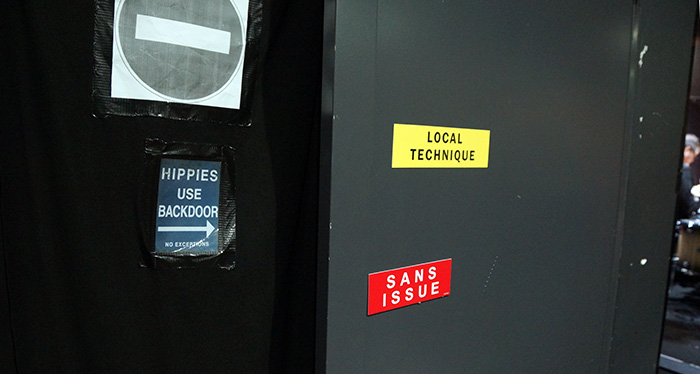 Some food laid out for us, a shower to share, then the crew loads our gear in, and here we are for the day.

Daniel, who's joined us as Adrian's guitar tech, and I don't think I got a good picture of him before in the diaries...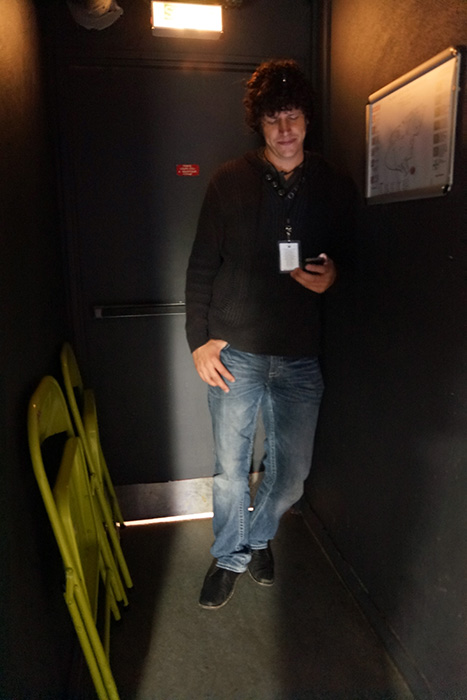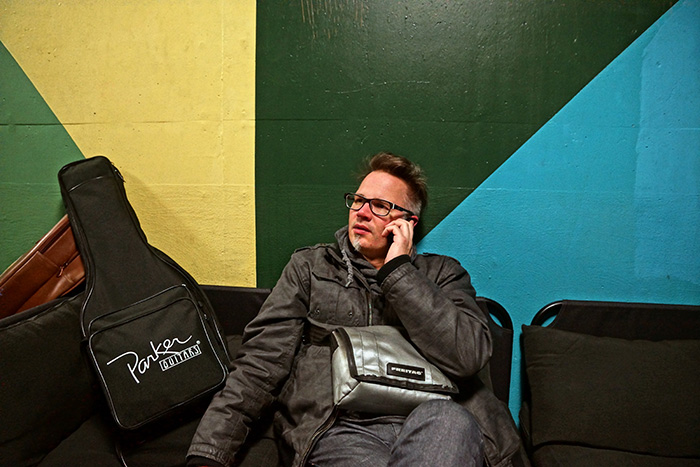 The drummers stretch before going on...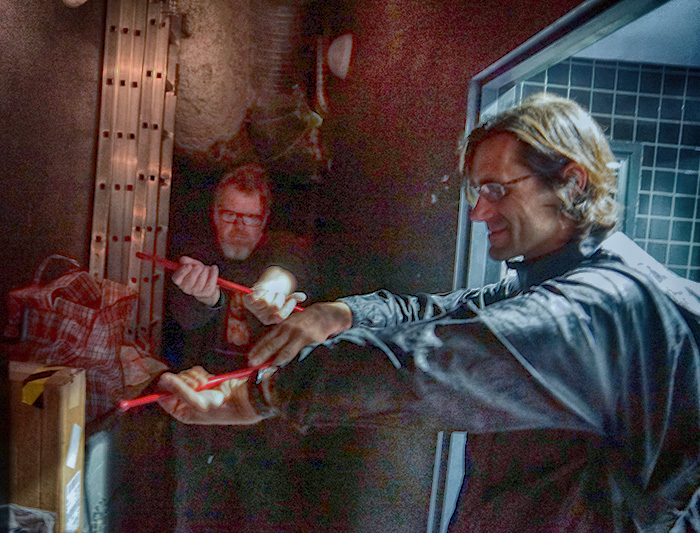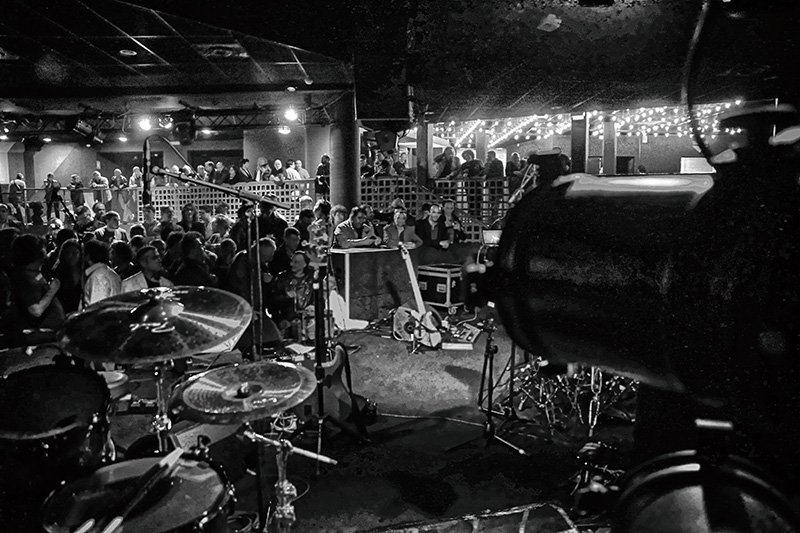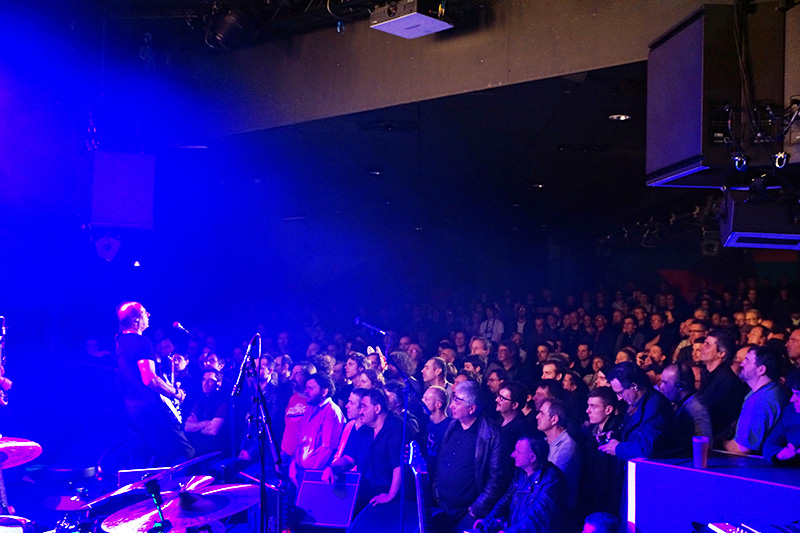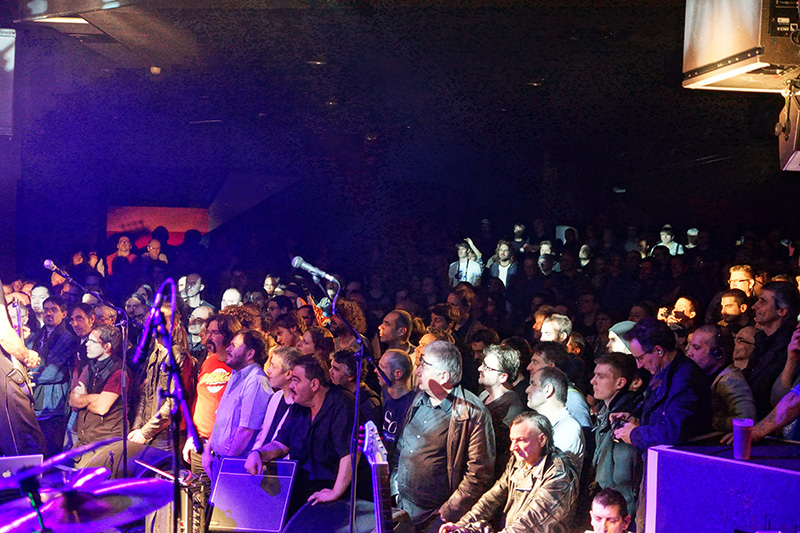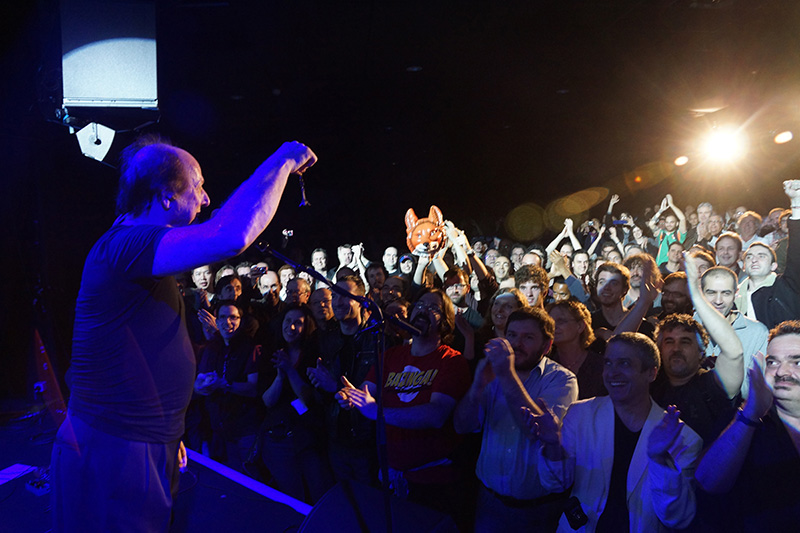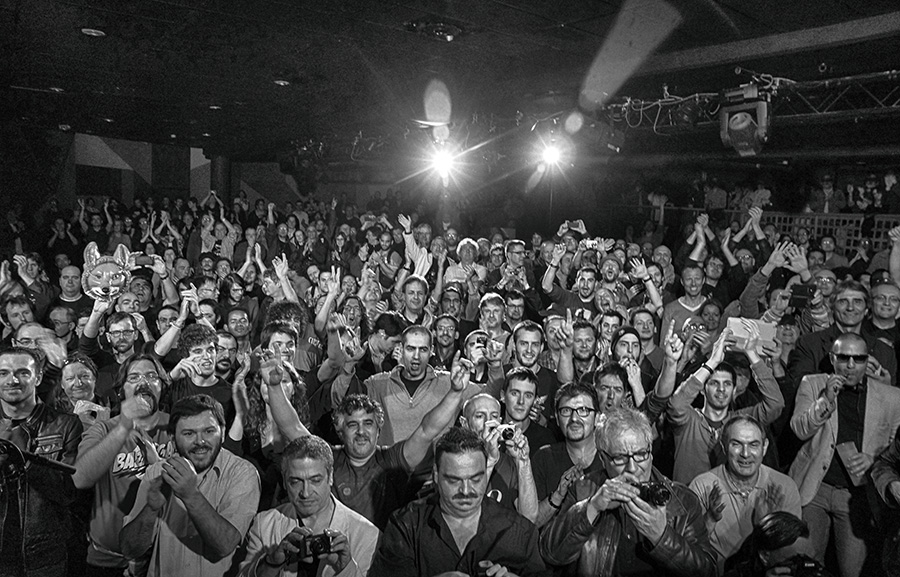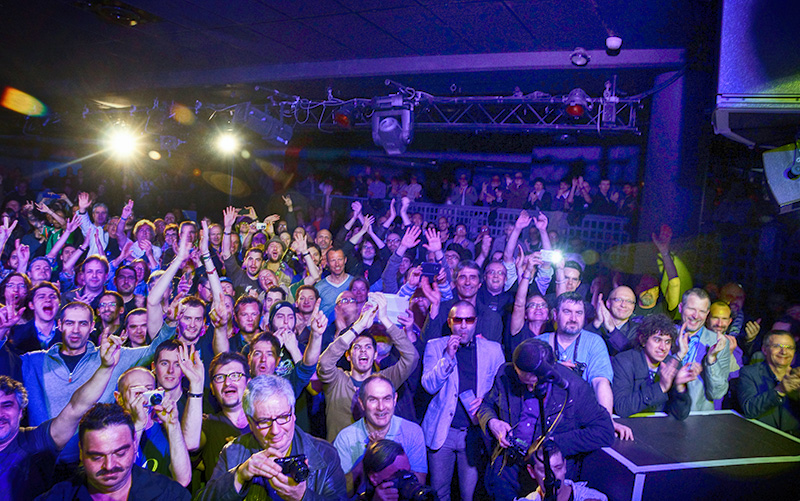 Adrian started the encores with solo Court of the Crimson King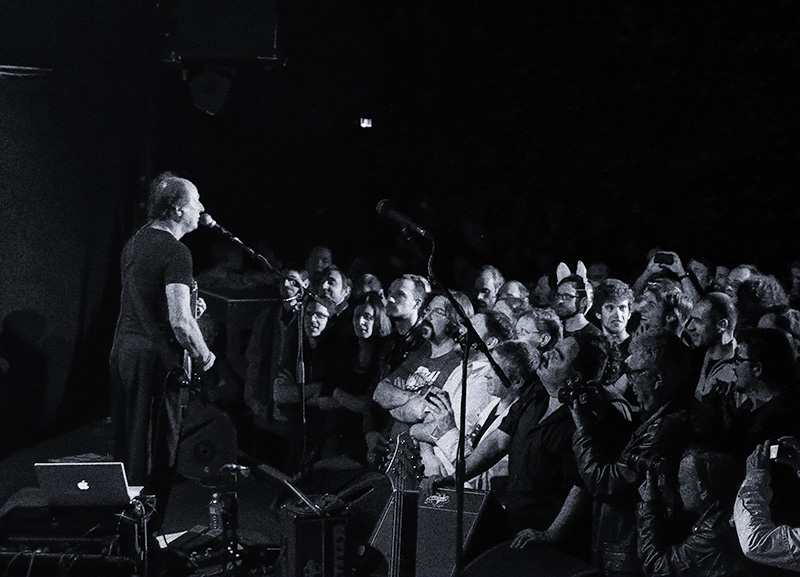 Another special show -- they've all been very good, but as we get used to the staging, and tweak the setlist, adjust the lighting, things get better, at least from our point of view on the stage.

Robert Frazza's doing a wonderful job mixing the sound - we get compliments on that every night.

For us, after the show, a bite to eat, then back on the bus for overnight drive to the Netherlands, and a familiar club, Borderij, in Zoetermeer.

More soon from there.