ON TOUR

Vancouver / Dec. 18

So many goodbyes today for us in the band and crew. First, our short afternoon flight from Seattle was on the chartered plane we've been using for much of the tour. The flight crew had become good friends, so it was a bit sad to be leaving them.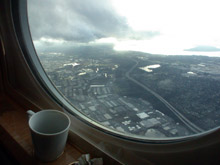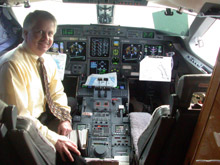 Though we weren't that well behaved - or was it some air turbulence that made so many of the towels go flying around the cabin? Odd how they all went toward management!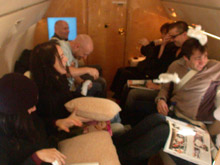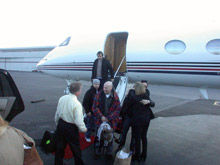 As we passed the air filled BC Place arena, we reminisced how Peter had performed there (on a bill with David Bowie) shortly after it was opened. This show was in GM Place - home of Vancouver's Canucks team.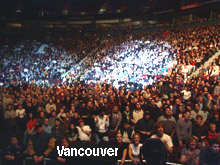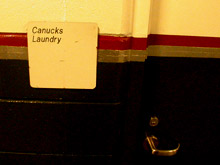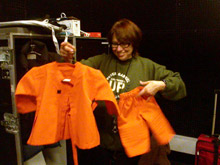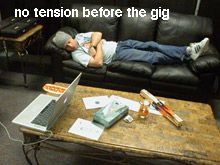 Are they recruiting smaller orange crew members, or are the stage costumes shrinking??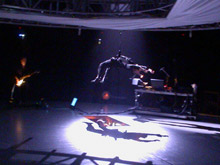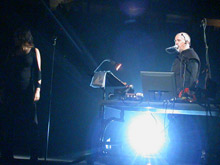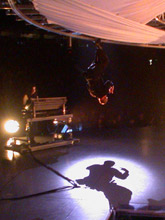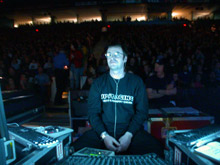 Peter did Barry with a Santa hat - maybe somebody thew it up on stage.
I also saw him with a camera in hand - perhaps couldn't resist after seeing me do it onstage so many times!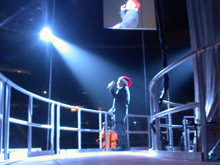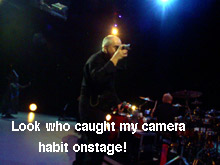 Gee, mixed feelings about the North American tour ending. We're all glad to head home for holidays, and see families, but it's been a wonderful tour, with great people thoughout the organization.
There is hope, of course, that we'll pick up and do another leg of touring - possibly in the Spring. But no definite news on that yet. You can be sure it'll be up on the site when there is.


Seattle / Dec. 17

Better weather, a day off, some time to visit friends in Seattle - topped off by another great audience for the show.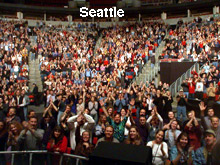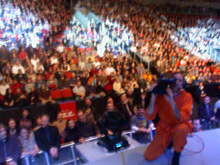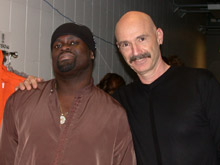 Me, with Trae Pierce, bassist with the Blind Boys.

Some slightly un-authorized "orange people" appeared, dancing, during In Your Eyes. We expect these things on the last show of a tour leg, but were a bit surprised to see it a day ahead of time. Hmmm... wonder what tomorrow will bring.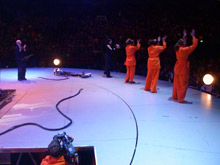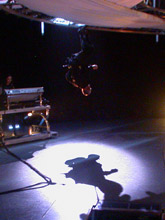 San Jose / Dec. 15

In the depths of the backstage area here at the HP Pavillion at San Jose, I came across a pretty large shark head! My guess it's something to do with the local hockey team, the Sharks.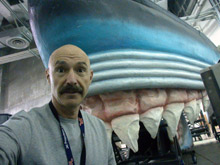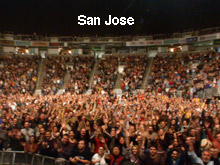 It's funny wandering inside these arenas - you're there for a rock show, but venue is pretty much there for the basketball and hockey teams that play there all the time - so you see spare equipment - baskets, goals, and such - lying around, and lots of locked off team workout and meeting rooms.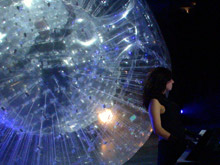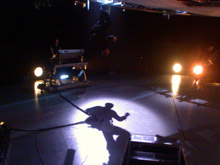 Lately I've been noticing how, when Peter and Mel walk upside down, sometimes their shadows are rightside up. Looks quite strange.

More bad weather and high winds, as we head on for Seattle, and the last few shows of the U.S. tour.

Oakland / Dec. 14

Ran into some nasty weather here in the Bay area. We flew in (right after the Phoenix show) in some high winds, but nothing compared to the wind and rain that hit San Francisco on Saturday.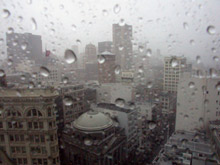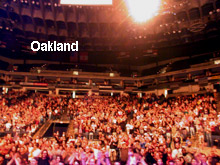 Ran into an old friend, Sammy Hagar, just before going onstage.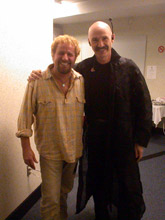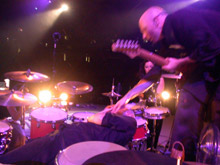 Phoenix / Dec. 12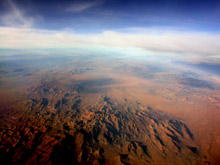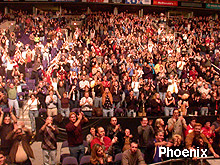 Hey, I'm like everyone else: can't resist those photos through the plane window!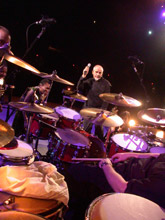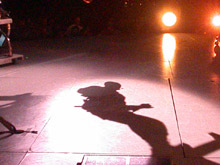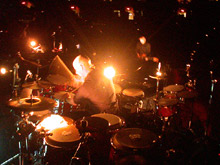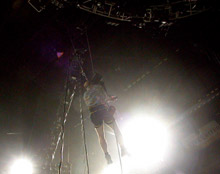 More of the Olsen family showed up here in Phoenix - Bryan has broken the record for family members attending shows!