ON TOUR
Detroit / Dec. 3

It's finally happened - the battery on my camera went dead just before the show here in Detroit, and I couldn't shoot any photos!
I'm pleased that I've got shots of every audience so far on the tour, but alas, there will now be this one missing show. (I do re-charge the battery often, of course - what happened is that the previous hotel had one of those outlets that doesn't really work, and I didn't notice when I used it.)

Tonight we added a new twist to the stage (to vary the positioning of the band) and, though it involved some very complicated crossing wires around the stage, nobody got tangled up, and it was quite effective - so I'm sure we'll keep that in as part of the show.
You know, in a show like this, even with many set production elements, the technicians and band keep making small adjustments and improvements that help the flow of things - that's one of the reasons you like the tour to go on for a long time - it's fun to get it really refined and polished.

Speaking of technicians, during soundchecks I've been enjoying watching the lighting technicians fly around (very much like Spiderman!) - rising up into the ceiling stage by chain links, and sometimes rappelling down from overhead to suddenly land beside us. Then they spend the whole show up there, running things. There's one photo over on the large photos page, that somewhat captures the sense of how high up they work.

Day off tomorrow, in Colorado. Then a show in Denver and on to the West Coast and some warm weather!


Toronto / Dec. 2

Weather cleared up today. Another fine show - we've added "Shock the Monkey" to the setlist, and it seems very popular with the audiences.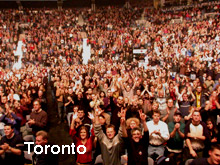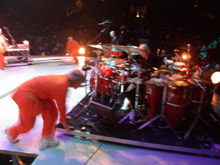 Rachel has sprained a finger, and when she noticed that the onstage camera, when on her, made the white cast look huge, she devised a nice costume revision for it.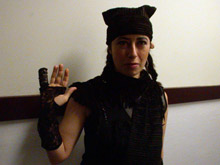 I received an e-mail complaining that the site doesn't have enough closeups of David Rhodes. While I'm not sure I agree, it seemed no problem to take a photo to remedy that.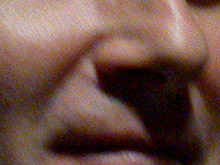 There... we aim to please!


Quebec / Nov. 30

Snow snow snow. Some of the band look like they're dressed to go mushing through the arctic. (Hey, they're English, and this must BE like the arctic to them!)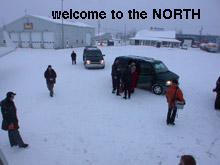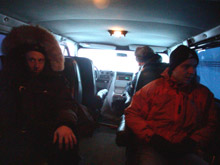 But the show was, in fact, the warmest one of the tour! Don't know why - we had done a performance before in the same venue - maybe the heat was up? More likely it's the many people who filled it up - but anyway it was sweaty, intense, and a lot of fun.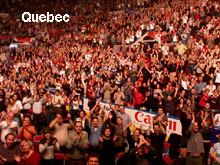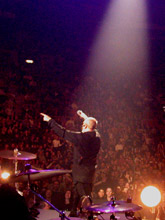 Robert LePage (co-designer of the show, with Peter) - enjoying his home town of Quebec City - made another appearance with us, and took a very well deserved bow onstage.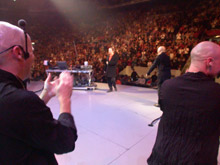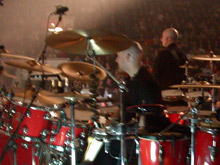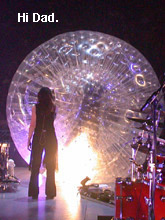 Backstage, the usual things going on...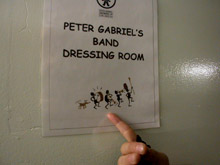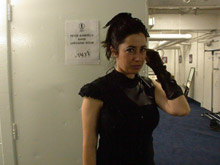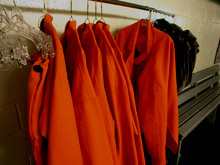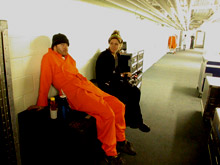 I'm still trying to capture the... flavor... of all the orange jumpsuited guys onstage and backstage. (Notice, Robert cleverly dressed to reflect BOTH the black of the band and the orange of the crew - that's class!)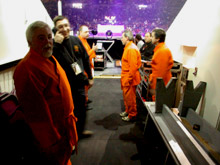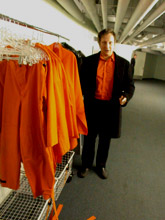 Montreal / Nov. 29

Another fun one.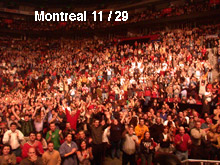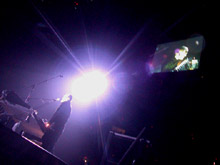 Robert LePage (who designed the production with Peter) came by, and got huge applause from the Montreal audience when he came onstage for a brief bow.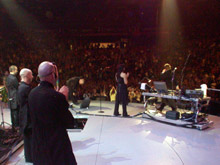 And, though I rarely have time to photograph them, I've been meaning to mention the crew, who - dressed in orange(!) - come onstage between most of the pieces, to move pedals and instruments. Peter has taken to introducing and thanking the "orange men" nightly.
Here's a shot, though as usual, they're a blur!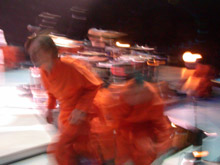 Montreal / Nov. 28

Maybe the best reception anywhere for Peter (and for most progressive rock) has historically been here in Quebec. And this time was no exception - with a large, very enthusiastic audience for the show.
It's one of the only cities on the tour where we will do two nights back to back - so it's a chance to enjoy the city, to have a more relaxed soundcheck the second day (and maybe learn some other songs!) and, because there is no travel for the crew, the band and crew went out to party after tonight's show!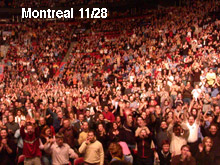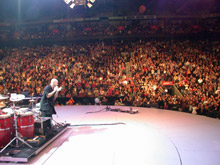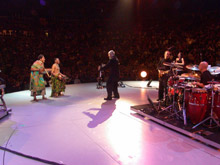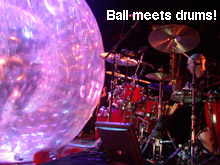 One photo in the photo montage outside our dressing room has led me to suspect that Bill Leabody, our production mgr, had a career as a singer that he's been keeping secret. You can compare these photos and see if you don't think it's Bill!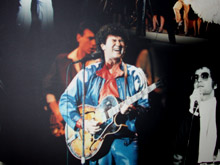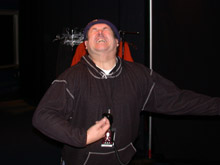 Rachel Z. did an instore appearance for her new CD at the Montreal HMV store. Though I'm not in her jazz trio, I joined her at the performance, as did Bobby Rae on drums. I took photos, of course, not minding that the crowd was slightly smaller than at the Bell Centre!