Peter Gabriel Tour
Festivals
SOFIA, June 21
Sofia is the capitol of Bulgaria. If you're not familiar with the city, I'm afraid I can't give you much insight because once again we flew in, went right to the venue, and flew out after the show.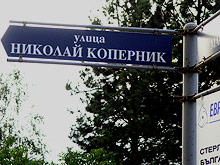 I caught a photo of a street sign -
that is about all the local flavor
I was able to see.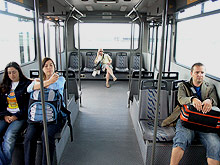 The trip in had been a bit subdued... don't worry about how depressed we look here - it's just that there's a tour break coming up after this show, and it always gets you distracted a bit with going home and what awaits you there.

But the show, at an outdoor stadium, was a really good one. Great audience.