For a slight change from the usual tour updates, I'm going to do this in diary form
(at least to start.)

APRIL 29 - GATWICK to ISCHGL

Having spent the night at a hotel near Gatwick airport, (hotel good points: none) we had an early flight to Innsbruck, Austria.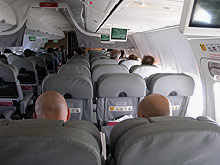 Coffee at the hotel was pretty lame, but we found some better brew at the airport.

On arrival, there was some fuss with the luggage and a longer van trip than we'd expected, along river, up into the mountains. So it was 4pm before we arrived in Ischgl.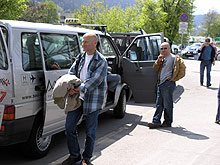 Hotel quite nice, with a big spa. (Hotel good point: bathroom light magically turns on when you walk in.) Everyone in this town but us is carrying skis and walking in heavy ski boots to or from the giant lift that goes up the mountain. Or they're sitting in one of the many pubs drinking beer. We stick out like... well, like a rock band at a ski resort!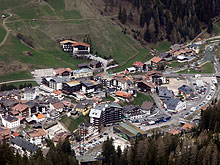 Little activity this evening, a band dinner, and fairly early to bed (if the pounding disco stops - seems to be a full time party going on all over the town). Anyway, some will ski tomorrow, others, like me, will just look around for things to do.




APRIL 30 - ISCHGL DAY OFF

Days off on the road are rare. And if you do have one, it's usually a travel day, with maybe the night free to go out.
Well we have one today. And, here in Ischgl, it's all about skiing and if you're not a skier... well, I guess you update your website!
I did take the lift up to the site of tomorrow's show (did I mention it's high up on the mountain?)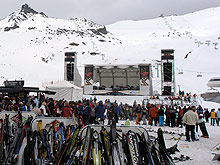 It's very high up on the mountain!
Beautiful views of the mountains, of course, (see photo at top) and lots and lots of skiers! Got windy and snowed a bit while I was there - should be very interesting if that happens during the show.
Should be interesting, no matter what, with the 15,000 skiers expected to attend.



Ended the day by finding a cafe (met Richard and Becky there)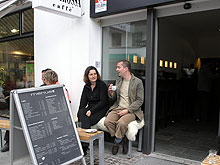 then returning to the hotel for some work on my photo book (now in graphic layout stage, communication with designer by e-mail), also some web work, and last chance to review the music we'll be playing at tomorrows concert.

Well, that wasn't quite the end of the day. There was a band-and-crew dinner at the hotel. Good fun - we don't often get to have nights off together.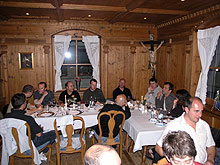 Show day tomorrow - that will be on another web page.