MAY 1 - ISCHGL SHOW

Up fairly early, we met in the hotel lobby, took a van to the gondola lift up the mountain. (Why a van, since it's only a few blocks away? When you're out with a band, you don't often ask why, you just follow the guy in front of you!)

Pretty excited about this first show. It'll be a "normal" stage show, in that there's no overhead stage or projections (no lights at all, of course, since it's at 1 in the afternoon.) Anyway this makes for more focus on the music and is good fun for the players.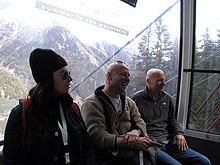 At the top of the gondola lift we were bustled out a special door and put onto a Caterpillar type vehicle - the kind they use to sweep the ski paths, or maybe rescue people.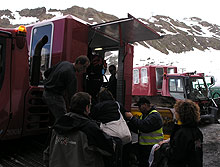 Again it would have been only a short walk to the stage anyway, but through snow this time.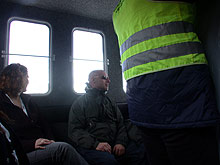 Up the mountain, it was warm in the sun, and very bright - but plenty cold when you went out of it. So soundcheck was a chilly affair.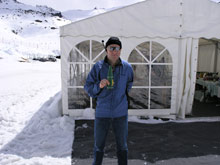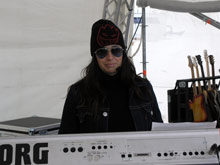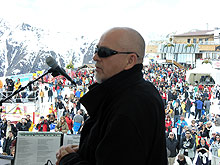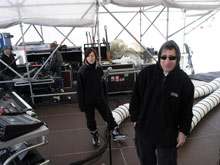 There were a few people watching as we began the soundcheck (lots more arriving by skis all the time.)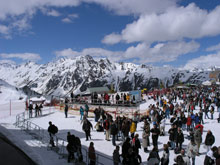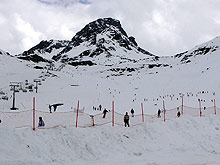 And by the time we'd run through San Jacinto, it seemed the area was packed.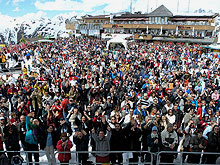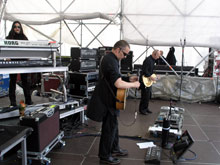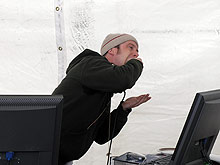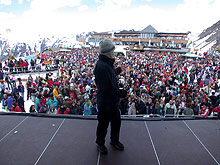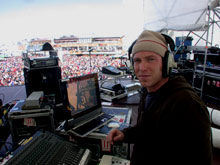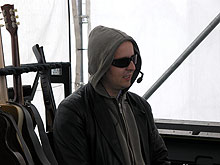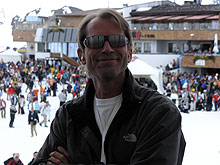 Some costuming in our (heated) dressing tent, (and me charging up my camera batteries) and we were ready to go on for the first show of the Spring / Summer tour!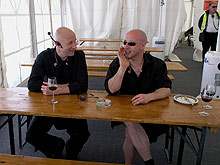 The show was a good one. It had, maybe, more than the usual amount of surprises for Peter and the band - the computers seemed to have their own ideas about introductions to Games Without Frontiers and Sledgehammer (we had to re-start both pieces!)
But the music was excellent, the setting superb. In fact, the view from stage of the brightly clothed skiers who had come, and the mountain vista behind them, was so spectacular, that I took, perhaps, too many photos!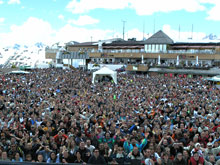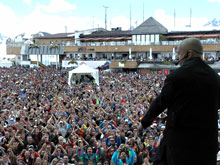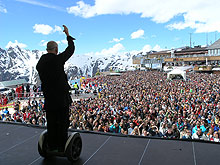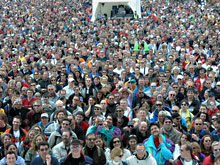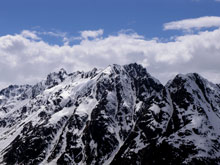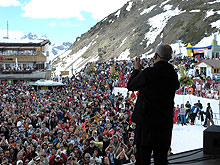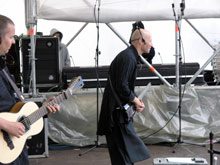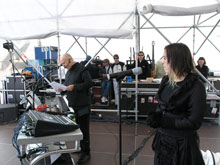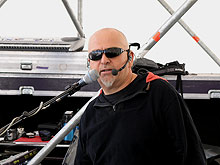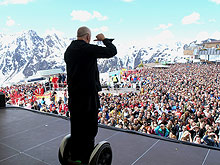 The final encore was Peter alone, doing Here Comes the Flood and, thinking I was done, I got out of my stage outfit. To my surprise, he called the band onstage for an extra bow - I made it only for the end of the bow, but I did catch a photo of both Peter starting Flood and the chaotic end of that bow.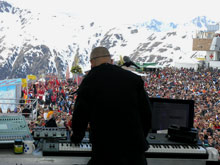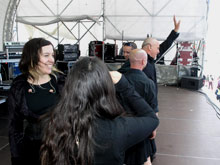 After the show, I watched one of those big tractor vehicles begin the equipment loadout (later the equipment would all have to go down the mountain in the gondola - along with thousands of people who would be leaving by late afternoon.)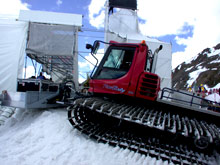 Then we went over to the mountain top restaurant and had a good time unwinding over lunch.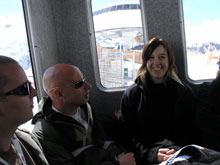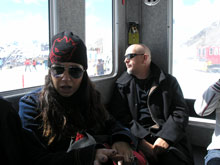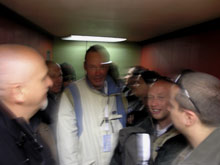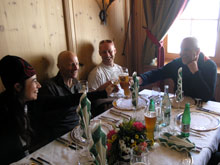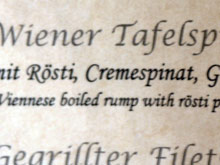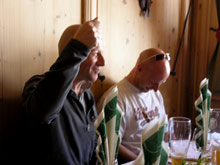 First show done. A great time had by all.
Now, it's on to Dortmund, Germany to rehearse the big production show.