It's been awhile since I did a set of tour pages in a diary format, but that will be fun this time.

As a prelude to the tour, let me say that it's an eagerly awaited one - I've been trying for a year to arrange to bring Stick Men to Latin America, where there is a great passion for music, and open minds for progressive music that's not quite like anything that's around.
So we're thrilled at the opportunity to share our music.

Our trio is Pat Mastelotto on drums, Michael Bernier and myself playing the Chapman Stick - and our engineer Robert Frazza is on the trip too.

March 1 - The trip to Mexico:

Our flights from New York had a change of plan in Dallas. At the gate there, I ran into an old friend, Larry Gowan, who was also connecting to Mexico, to perform with the band Styxx. By co-incidence, Larry had just received the early copies of an anniversary re-issue of his first album release, Strange Animal (which I played on)... so I was among the first to see it.

Getting off the plane in Mexico, I realize the other co-incidence of the bnad names, when a passenger asked me what kind of instrument I was carrying...
"It's called 'the Stick'"
"Oh, I saw the band 'Styxx' on the plane. You must be playing with them?"
"Er, no... I'm in the band Stick Men... I know that must be confusing."

(Meanwhile the customs people were opening the case to see how many strings it had...)

We found Styxx also staying at our hotel - and later in the evening, another band, REO Speedwagon, checked in - there was an old touring buddy, guitarist Dave Amato (we toured with Richie Samborra some years back) and rd mgr. Wally Version (toured together with Peter Frampton) ... so it's turned pretty much into a rock 'n roll hotel this week.

Right outside my hotel is the Teatro Nacional out my window ... I have a good view from my window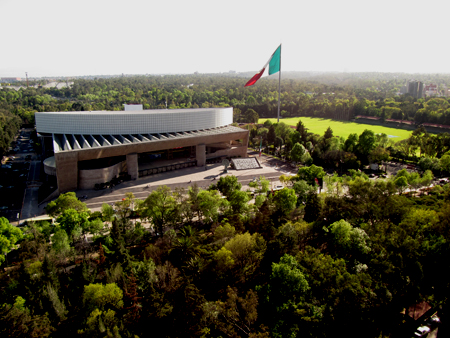 it's where the other bands will be playing in a couple of days - but we'll be in a club that's part of the same complex.

Woah,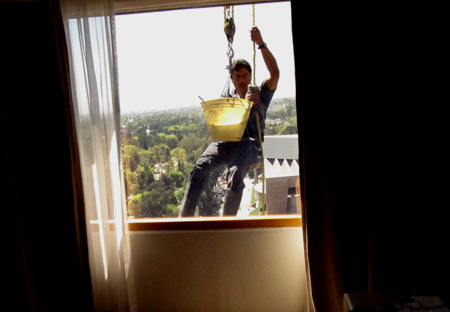 they don't tell you when window cleaners are going to appear outside your window -- I thought it was a ninja Stick player wanting to jam! (but he was impressed how quickly I got the camera out.)

Dinner with band and friends - it's great to be starting this tour!


March 2 - Mexico first show:

We're playing at a club called El Lunario. First day's setup is usually tough because there's new equipment - on this tour that's going to happen every few days, but today we're getting used to it.

We met our tour manager, Max, who has flown in from Argentina, and will be helping us on the whole tour.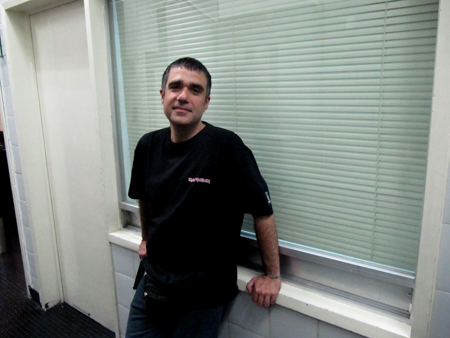 I've been studying Spanish a lot in the last month, hoping to run the show in Spanish so everyone will understand.
But right in the club in the first afternoon, I made the 'M' mistake. ('M' stands for 'Mujeres', 'H' for 'Hombres' ... enough said?)

Here's the dressing room.... what else do you need!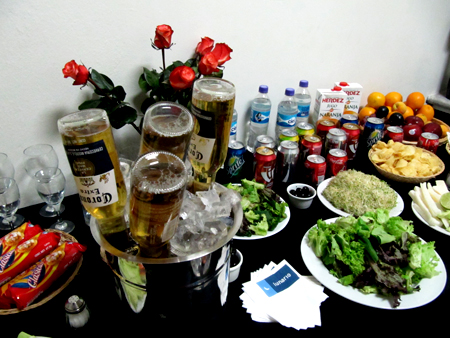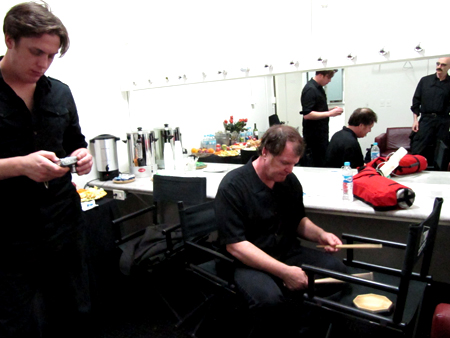 The first show: great fun, and I managed to speak Spanish without people laughing at the effort!
But, with that and the intense playing, I hardly took any photos - only of the audience.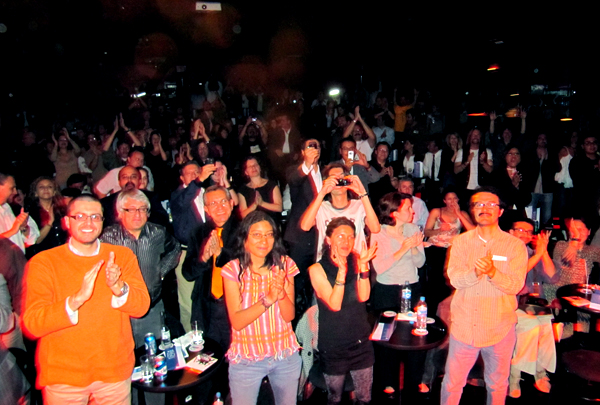 March 3 - Mexico second show:

An easy day on the road -- second show at the same club, so we don't have to travel or work setting up.

My friend Noel Schajris (a popular singer here) invited me over to see his new espresso machine ...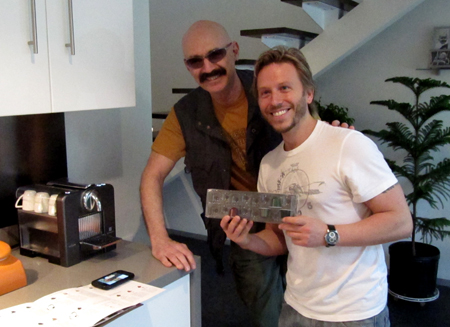 Far from being surprised about it, it turned out to be the one I have two of, and took on the road with King Crimson in 2008!

But it was good ... the picture looks like we're doing an ad for the thing!

Some distressing news, late in the morning - it's looking like we cannot get to Chile for our show Friday. The club is fine (for those reading this diary long after the event, there was an earthquake in Chile just last week. Santiago, where we are to play, wasn't the hardest hit, but flights in are sketchy, and we've just found our overnight from Mexico is cancelled until next week! - Max and the promoters are working to get us some other route to get there. I'd hate to miss it.)

Back to the club for a short soundcheck. It's a short ride back and forth with some of our gear in the back, but we're finding it quite bumpy.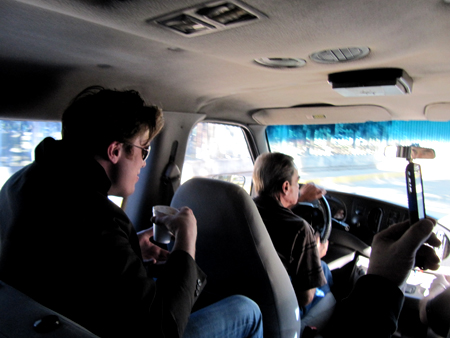 Michael, of course, opts to have a full cup of coffee with him for the ride, making it more of an adventure.

This show I was able to get a few more pictures from stage...
We're each doing a short solo segment in the show, of improv. Here's Michael...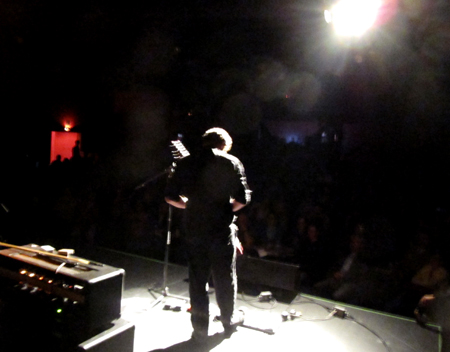 and from a video monitor backstage...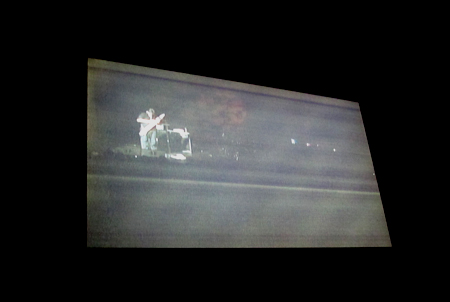 Pat's solo: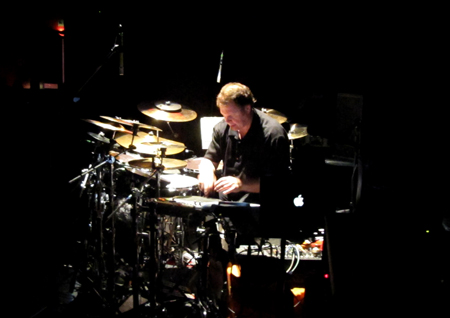 I'm still getting it together for the audience shots...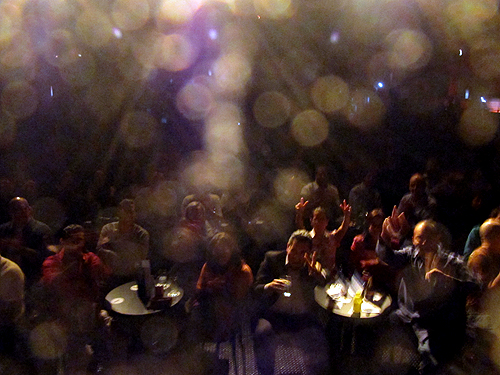 (not a lot of time to make camera adjustments while I'm struggling to think and speak in Spanish!)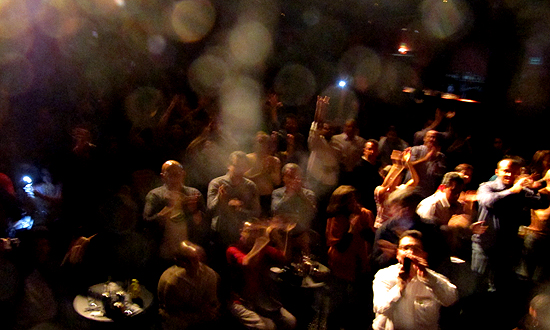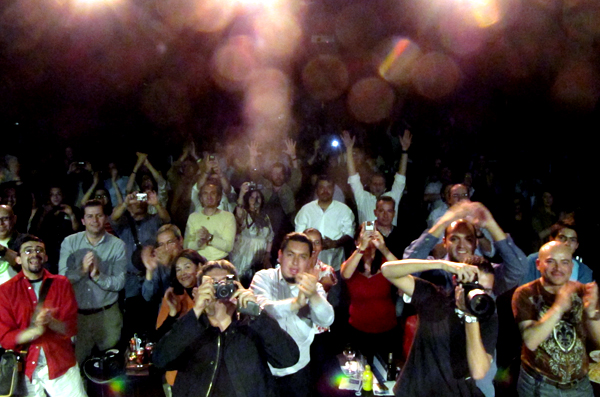 Just before the show, some great news; we've got a way to get to Chile, and the show will happen. (I've posted the news, with relief, on my FaceBook page - seems a lot of people with tickets were watching there for the status.)

We'll fly, leaving late afternoon, to Lima, Peru - arrive there at midnight, and wait in the aiport for a 5am flight to Santiago.

Might not be the most restful night we've ever had, but we're way happy we can get there and that the concert will happen.

March 4 - Travel to Chile:

Simple enough - we fly to Lima, (long flight) hang out in the airport a few hours, and fly the next morning to earthquake-struck Chile for a concert that night.

Sounds like a good plan - here we're at the Mexico City airport. Buy some tequila for the flight? Nah, bad idea.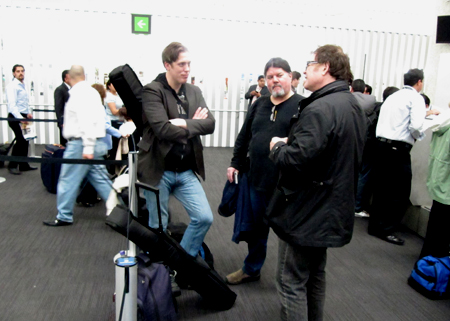 Michael grabbed a shot of me too!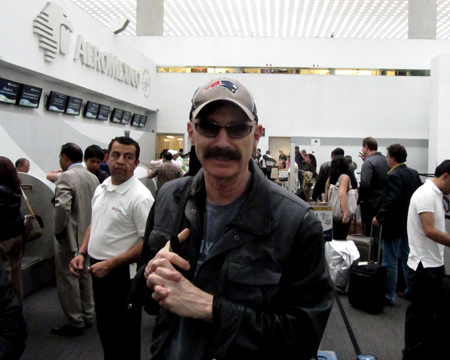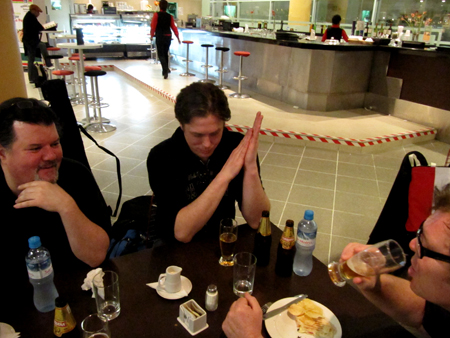 Midnight, Lima airport -- still cheery (so glad they keep the bar open all night!)

Max is on top of things...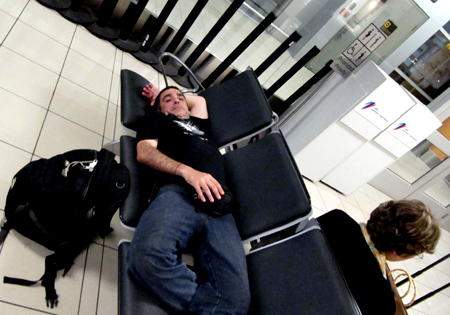 !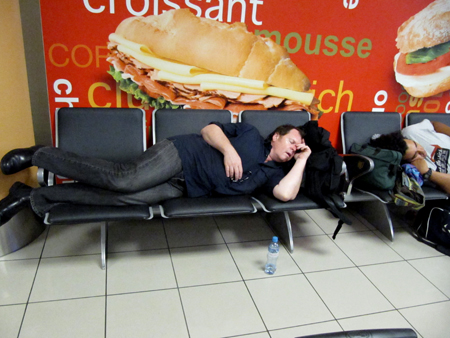 We all have our way to relax!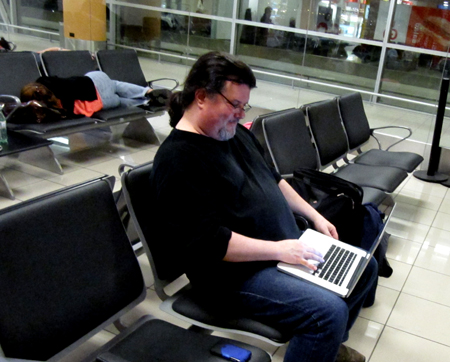 Time for a new page, I think. Soon... well, in a number of hours... we'll arrive in Chile!