March 5 - Santiago, Chile:

We arrived, somewhat groggy, at about 11am. The airport terminal itself wasn't open - they brought the luggage right out onto the tarmac.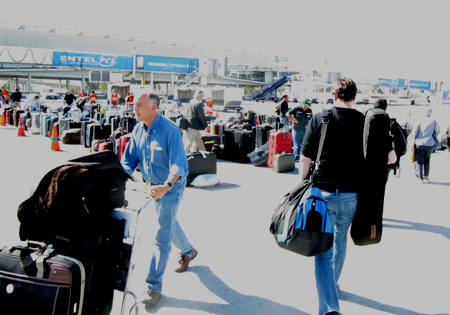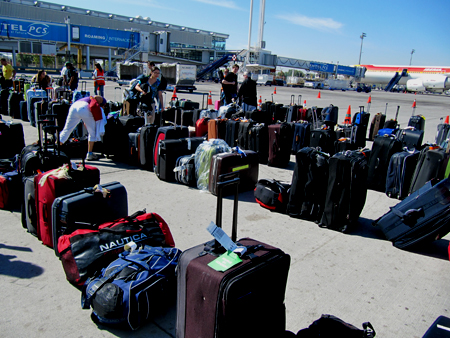 and customs and immigration occurred in tents right there - then simply a walk to where cars and vans could park - actually much simpler than a normal airport arrival.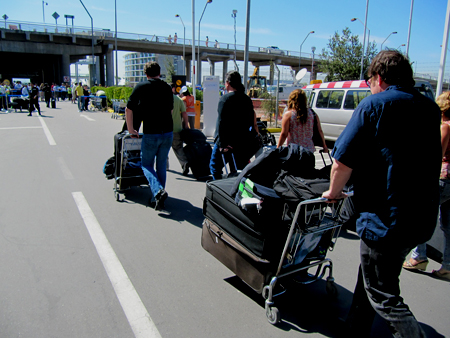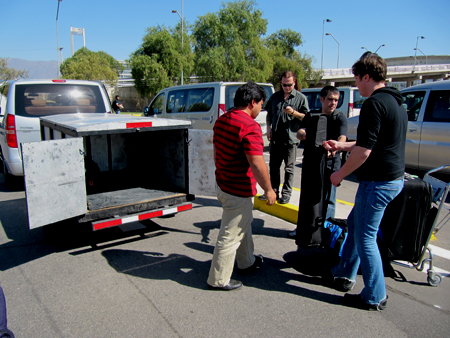 We went right to our hotel for a bit of rest before heading to soundcheck.
There was some damage to be seen on roadsides and bridges, but the buildings we passed were mostly okay.

I'm told the newer building codes made them more resistant to earthquake damage -- not so the older buildings like this church.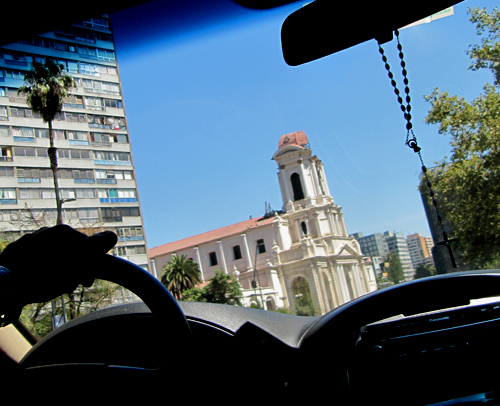 At the hotel, some cracks in the walls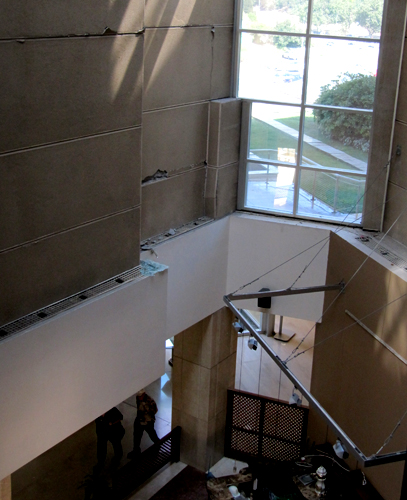 but things were functioning quite well.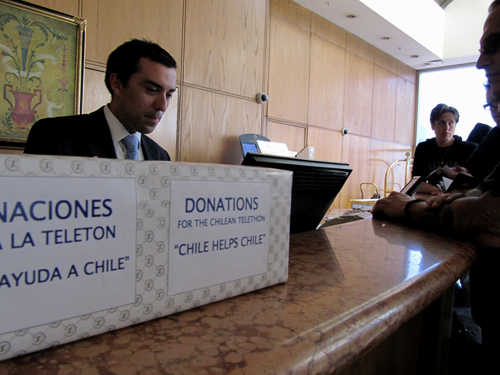 But the reason we're here is to play our show, and it's very special to have that opportunity right now.
With the urgent needs of some parts of the country, and uncertainty about things like flights, we're hearing that a lot of shows have been cancelled - we almost didn't make it here ourselves. And sharing music is one of those ways to connect that transcends anything I might say in a press interview about how our country and the rest of the world is in sympathy with Chile.

So the concert was great experience, and a unique one.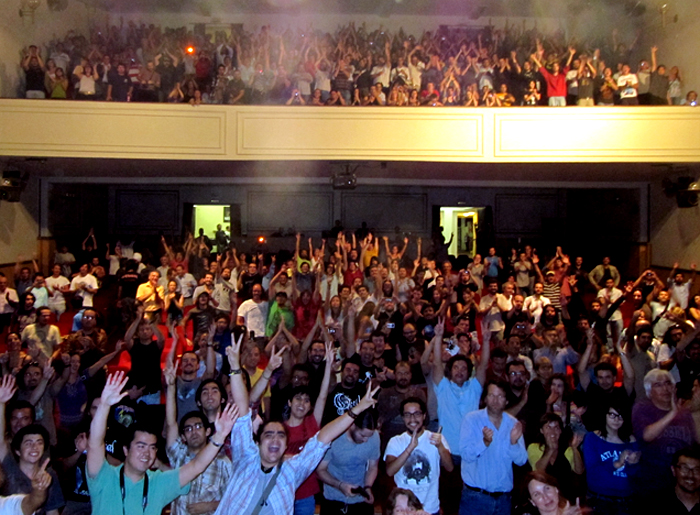 I tried to expand on my shaky Spanish and explain how I had been reading Pablo Neruda's poetry at home, in trying to learn the language, when the news of the earthquack came on tv. And those Chilean veses seemd to resonate through the week as we learned more about the tragedy.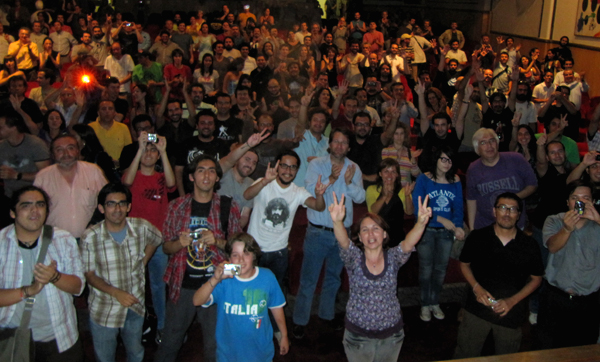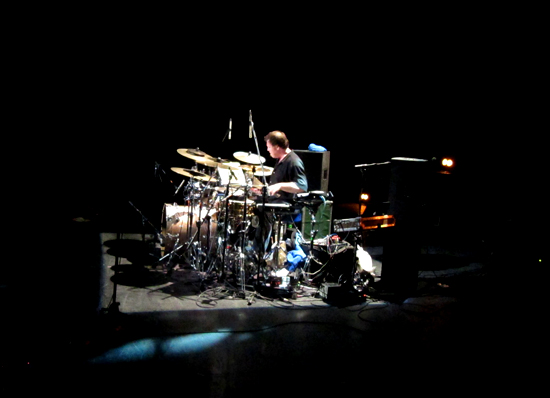 After the show we got to meet Fernando Gomez from Un techo para Chile, one of the great organizations that's helping recovery from the earthquake.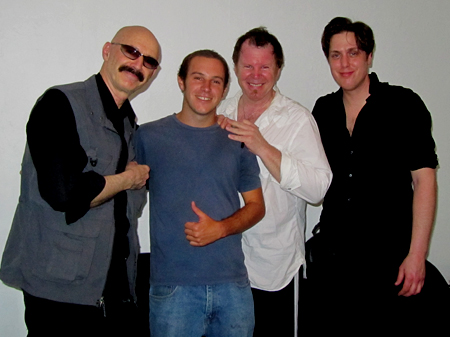 and he told us of the thousands of houses they're planning to build in the next few weeks.

Then, a lot of signing cd's and saying hi... the people we've met here are very warm and appreciative that we've come.
It all makes me hope we can get back to Chile before long.

After an hour or so signing, we packed the gear up and ended a long and memorable day.



March 5 - Leaving Chile for Cordoba, Argentina:

Flying out of an airport under reconstruction isn't as simple as coming into it!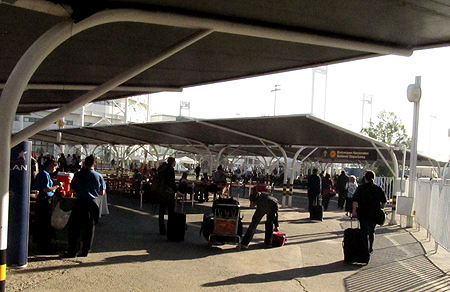 Tents have been set up for ticketing and somewhat for moving luggage around.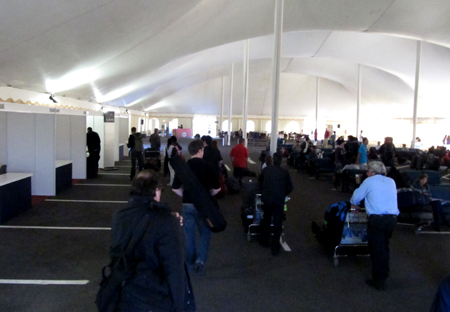 It's Summer here, and even in the morning, the sun is cooking these tents pretty well!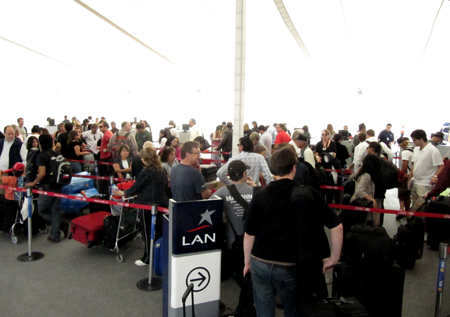 Let's move on to a new page for after the flight to Argentina, and the Cordoba concert.