Day 6: Oct. 10 - press day in Rome

The trip here yesterday, directly from Split, was really easy. (The alternative, driving 4 hrs to Zagreb, flying to Milano, couple hours layover and flight to Rome, would have got me in late this afternoon. As it is, I'll have done a couple of interviews by then, and be sure of being on time for a radio appearance, at 6pm.)

Getting ready for the shows here, I'm trying to bone up on my Italian.
I picked up quite a bit back in 1990, when I toured with Claudio Baglioni, but I forget some when I don't use it (and I never did get the verb tenses right.) Anyway, I'll try to do the talking in the show in Italian, and I'll be doing one song, L'abito della Sposa, in Italian. (Used to do that one sometimes in the States, but, hey, when I got the words wrong, nobody knew! That won't be the case here.)

I'm told that Jerry (Marotta) and Robert Frazza, our sound engineer, are settled in Napoli now. They came in yesterday, as did Tom Greisgraber - the Stick player who, with Jerry, will be the opening band for our shows.
Arriving today are Larry (Fast) and Jesse (Gress)... leaving only my brother Pete arriving tomorrow (the only guy brave enough to try flying overnight and playing the show same day as arrival. That jetlag can hit you like a truck when you're onstage.)

7pm
Okay, I've just finished the last interview (I think it's the last!) Interviews were fun - two on the phone, and then off to the "RAI" complex, where both radio and tv are located.
It's a bit of an adjustment for me, being better known here than I am at home (where I can get some radio interviews, but surely not national tv.) They had lined up both national radio and the tv Rai News for me... pretty lucky.
It's a bizarre thought, but at the local pizza place back home, the Italian workers always have Rai Due on tv - I wonder how they get that channel in Kingston, New York. I also wonder what they would think if they saw the local guy with the Patriots hat, who always gets eggplant parmigiano, on the screen from Italy!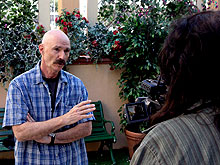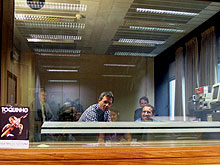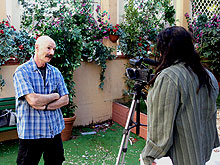 Driving to Napoli now, a couple more phone interviews from the car. Tons of traffic - okay, I'm ready to call it a day (and get some of that great pizza in Napoli.)



Day 7: Oct. 11 - Napoli show

Where to start the story of today... how about last night. We arrived later than we'd planned, near midnight. Garages were closed and you can't leave a clean new van just parked anywhere on the streets of Napoli. So, with the hotel's permission, Marco, our promotor, tour mgr, and van driver (!) parked the van right in front, squeezed in by plants, and visible from the lobby.
I came down in late morning to find Marco trying to extricate the van - it had been parked in by two cars, 6 motorscooters and a couple of vending booths.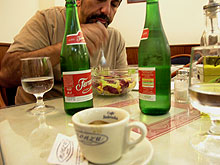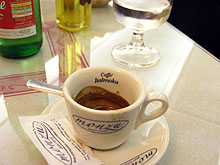 Leaving him to work that out, I wandered around a bit, finding the whole city alive with the same: scooters, vending stalls, and lots of people. I found the same internet place I'd been to before, when in Napoli with Peter Gabriel, and was able to upload and check on mail - then before long it was time for soundcheck.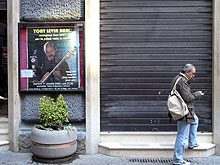 I had seen most band members last night and again in the morning. But Pete arrived right from the airport in the afternoon - the thing that a lot of Italians have said about him is that "Lui sembra Peter Gabriel." - with his white beard, he seems to resemble the other Peter I work with - that should make things interesting on stage.

Just a thing or two to do during the soundcheck (I was a bit concerned about this one, the first with rented equipment and all - you can never assume that you'll get the amps, drums, and power that you want, and it can take some adjusting for the first show.) An appearance had been set up for me, actually went to it during soundcheck, at a book store. A new book about John Lennon was just coming out, and since I was in town, it seemed a good idea for me to join the press conference for a bit.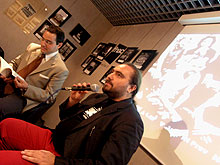 (notice that picture in the back of the press conference, I've seen it a lot - the only band photo from the Double Fantasy sessions.)

Back to soundcheck - lots of issues to deal with, and we had to "hold the doors" for a bit, until we got everything working.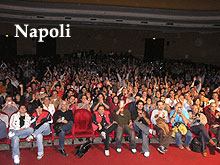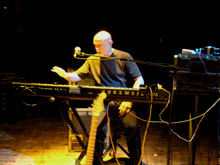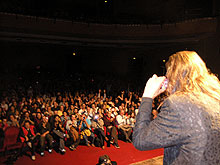 The show was very special - I've wanted for so long to come to Italy with my own band - a dream come true.
Afterwards there were lots of people backstage, lots of fun - Jerry bravely went out to the lobby to sign cd's. I met up with Lino, a great violinist I'd toured with back in 1992 with Claudio Baglioni.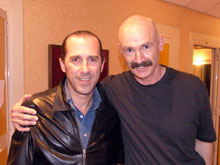 And, of course, there was a late dinner, celebrating the night - it took a while for the guys to stop photographing our food, and eat!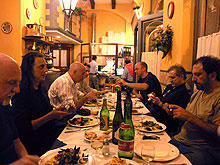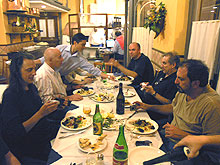 Okay, we're tired, but well fed, and happy - the tour is underway!