Day 8: Oct. 12 - Rome show day

Had to leave the Napoli hotel at 8am. There is an interview in Rome, and, hey it's Napoli, we've got to expect some traffic jams.
Indeed we got them, and also in Rome. But the trip wasn't bad, really. Marco, driving us, and promoting the whole tour, is doing a great job - he's going to be exhausted, though, by the end of the tour. We may be too - this press appearance for me was a good one, but I had to have an espresso just before it, to somewhat focus my sleepy brain - must've had two hours sleep last night.


A very nice radio show at Radio Rock in Rome, where the d.j, Margus, had... well, my kind of hairdo!


Beautiful hotel, outside of Rome. I didn't have any time in my room, but we had a nice lunch outside - the main thing to us was, finally, wireless internet, so the waiters were astounded that we all had our laptops on the table through the meal, and even when it started raining.
Okay, we're not classy diners, but we know our priorities!

The 15 minute drive to soundcheck took over an hour, so we're running late at soundcheck again. Seems to be a tour theme.
Also, with an interview at the venue, before or during soundcheck, I'm feeling the effects of so little free time - yeah, I know, being the bass player is a lot easier than fronting the band!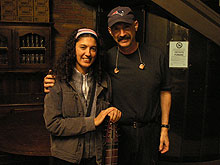 Also met with a Roman Stick player and friend, Virna Splendore, who'd brought the red Stick I once played at Emmet Chapman's.

The venue in Rome is a brewery. Yay, we're right at home here - started the tour at our home town brewery.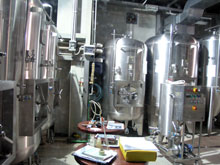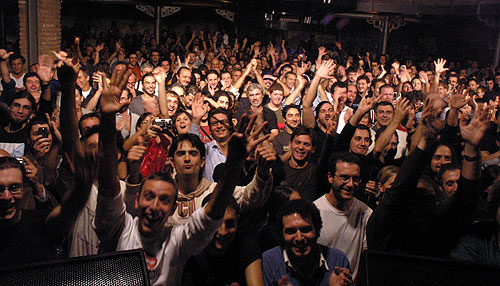 The show went great - we're in the groove now, getting used to the monitors, and to the new music we're playing.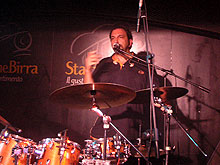 I always try to get photos of audiences, but now it's become part of the show. (I was keeping quiet about the start of our show because I wanted at least a few people to be surprised - it's hard to keep secrets about the show with the internet there!)
Anyway, we now start the show with a barbershop quartet(!) in which there is a line, "... you may take photos", and after singing it, we all pause to take photos of the audiences. So you'll see in these photos, even more enthusiasm than usual.

Lots more to write, but I think I should upload now, and write more later.