October 11th - Los Angeles House of Blues
and our first show opening for Porcupine Tree

A few hours driving north on The Five takes us to Los Angeles. The House of Blues is pretty unique looking, for those of you who haven't seen it.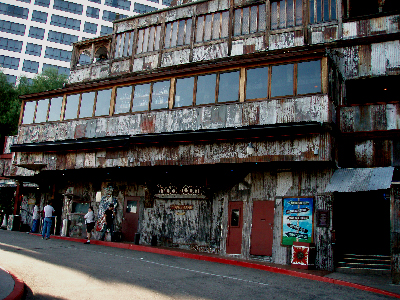 This is a big show for us - we're playing a bigger venue than usual, because we're opening up for the popular band Porcupine Tree - our booking agent, Val, is here, as well as Marc Silag, our band's manager.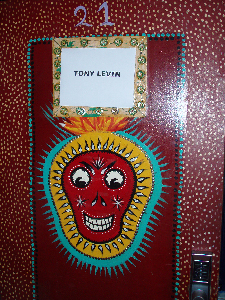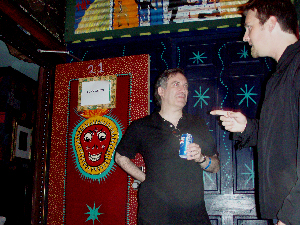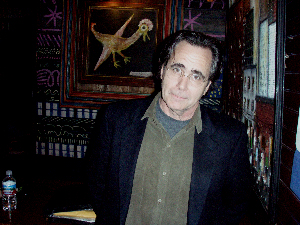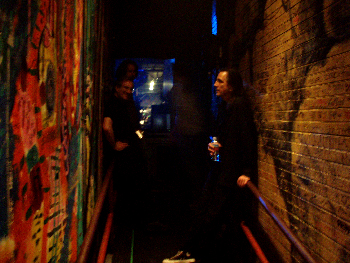 Best part, for me, is playing for people who don't know our band. It's really fun, of course, to see our own audience each night, but you always wonder how your music will go down with people who didn't come to hear you specifically.
That's really the case in these shows, since there not only wasn't advertising for us, but barely any mention at the venue of our being there - so I met some people who came, and did know our band, but hadn't realized we'd be there.

Anyway, despite our needing to play a set quite a bit shorter than we usually do, it was a great show, and the audience enjoyed it indeed!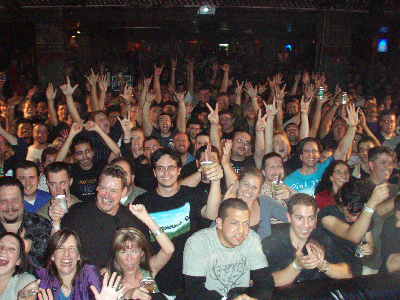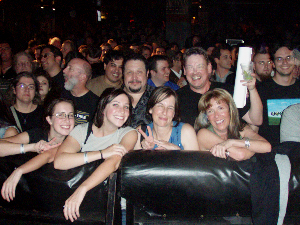 October 12th - Headed North
Time to get serious about this Route Five thing. We got up early and headed toward Santa Cruz and tonight's gig. It's quite a way north, and there are traffic issues at both ends, as well as possiblilites of the highway being closed in sections if there are fires!

But the only disaster was one we listened about on the radio - a small plane hitting an apartment building in New York City.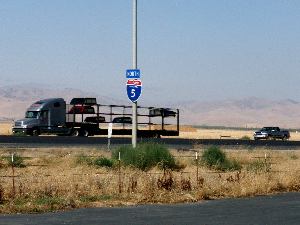 Gas stop... pretty bleak.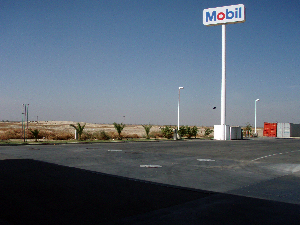 And Jesse's come down with a bad virus - he's huddled in the back of the van, not enjoying the travel at all.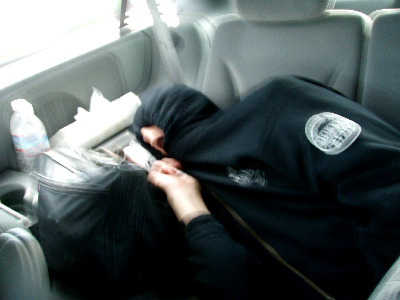 We arrived just in time for a 5pm soundcheck - found that our motel seems to be location of a Ford convention.

Old Fords, that is!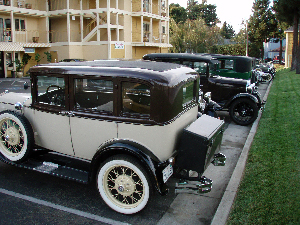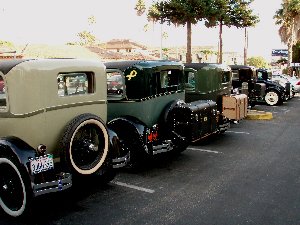 Cool show at Moe's Alley.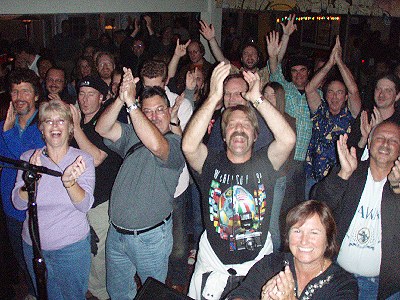 And, lest you think we're wasting our late nights doing nothing, let me assure you we're still chipping away at that pepper vodka...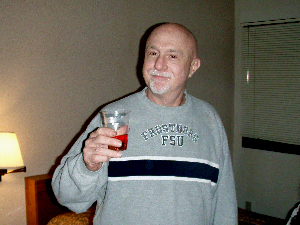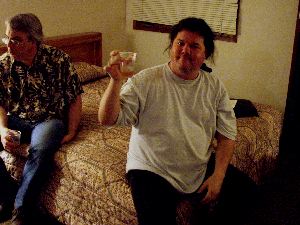 Morning in Santa Cruz presented us with a shorter drive than usual ... just up to San Francisco. So we hooked up with our longtime local friend Dave Morrison, and headed for breakfast.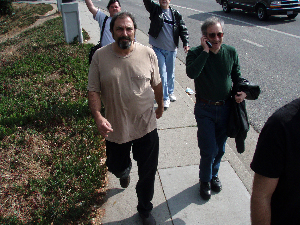 And there, at Zacchary's, we indulged in a local specialty - not poutine (though there is a curious resemblance) but a creation called Mike's Mess.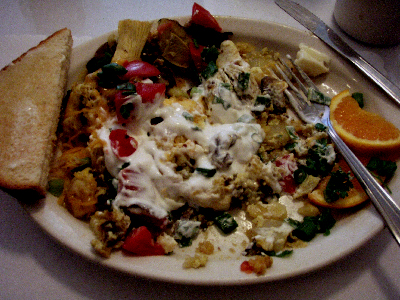 I'd say this ranks with Pittsburgh's Primanti's sandwich and Quebec's poutine as more food I probably should not show on the website!

A quick group photo with Dave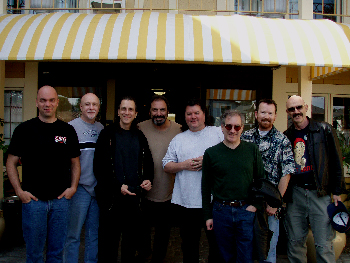 and with Kevin Raymond my friend who works at Apple


then we were off for a short visit to the Apple campus itself, and afterwards to San Francisco for tonight's gig opening again for Porcupine Tree.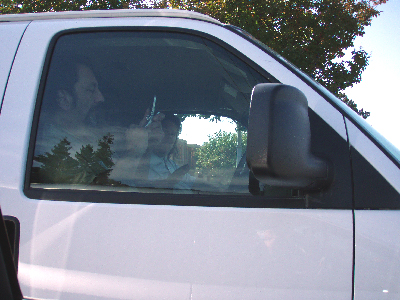 The Filmore - it's an old friend to travelling musicians - good to be back.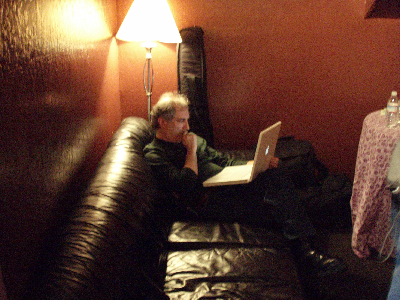 Great audience.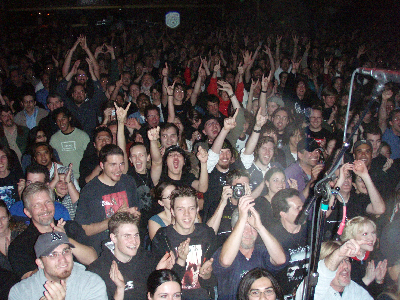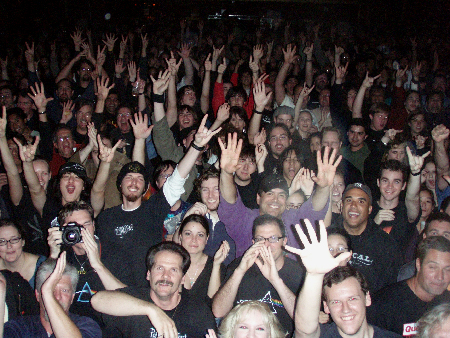 And this time I had a chance to grab a photo of Porcupine Tree in concert.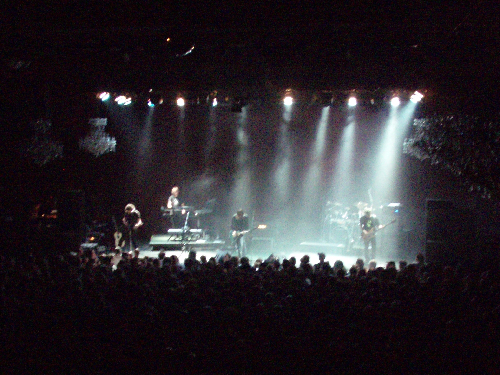 We didn't stay in San Francisco at all - drove a couple hours after the show, back down good old Route Five - to a place that... well, it's a roadside motel that's next to a roadside restaurant that's know for its... for it's... pea soup!

Yes, we arrived in the middle of the night, much too late for pea soup - got some sleep, and in the morning, some of us stumbled over to Andersen's Restaurant.

Only Jerry was brave enough to try the pea soup with breakfast, and I was too tired to even photograph it -- but I did take the napkin and it says a lot about the place.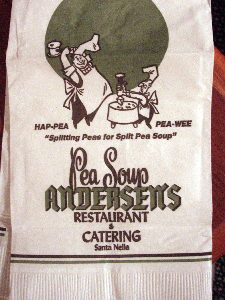 Alas, couldn't spend the day dallying over our soup... it's a long drive to San Juan Capistrano (south of L.A.) and the final show of our little tour.

Pile into the van...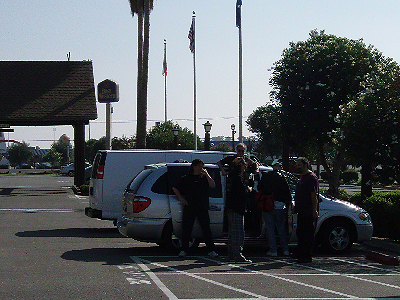 Tom Griesgraber and Jerry Marotta, I should have mentioned before, are, as a duo, the opening act for us, on the nights we're not the opening act.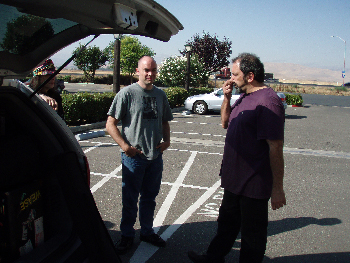 a stop for coffee...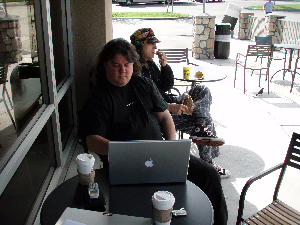 More route five...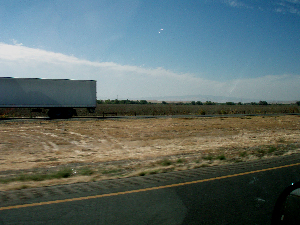 And we're finally at the Coach House for our last show of this tour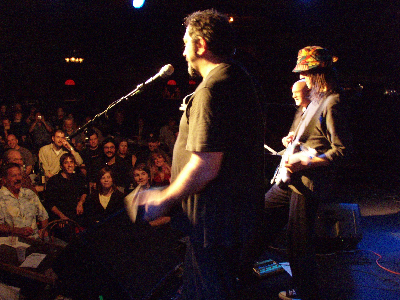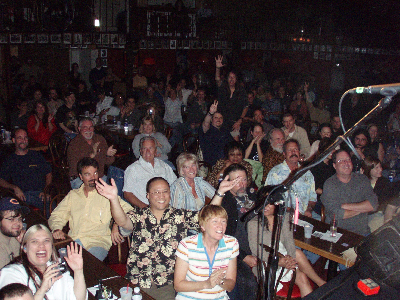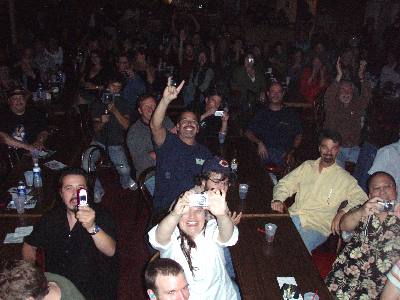 And so ends our short tour of California. Quite a bit of driving around, but not so hard, really.

But, lest you kind visitors be lulled into thinking that life on the road is just glass of vodka and a bowl of pea soup... let me continue a bit, with the next 24 hours or so.

I'd mentioned that after the San Francisco gig we drove a few hours south, then slept in a motel just off the highway. Then drove all day, past L.A, to get to soundcheck in San Juan Capistrano, and the late night show there. The day was not quite over... after the show we had to divide the equipment into different vans, some going to L.A, some to Tom's house, and some on to San Diego with a few of us, who would leave the following day.

Then we drove off, most of us an hour and a half down good old route five to San Diego. There at the motel, I did not bother to check into a room, since I had a 6am flight (4am checkin!) for Detroit - where I would play that night with the California Guitar Trio. And, of course, plans to follow that with some sharing of the pepper vodka I'd picked up way back in ... well, right back near San Diego - seems like weeks ago.

Not surprisingly, I'd picked up that virus that Jesse had in the van, so my partying in Detroit ended up being pretty lame. But the show, at Magic Bag, was plenty of fun.

Here are a few photos from it: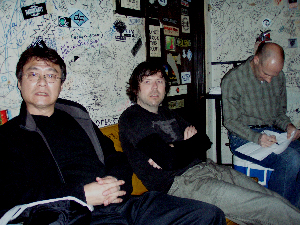 Hey, why do they look tired?

Well, not when it was time to play.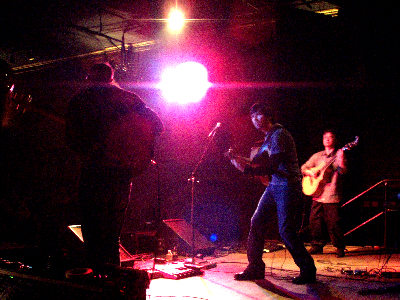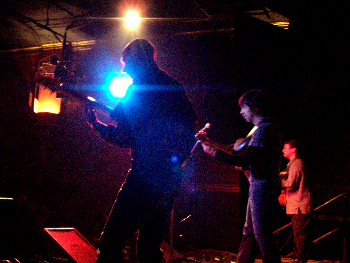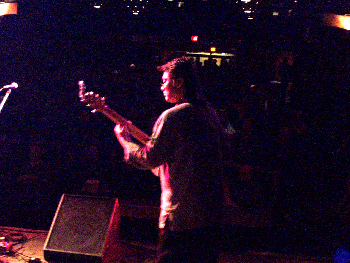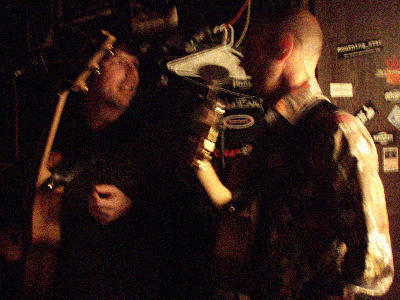 And, I'd say we all did our noble best when it came time to try out that vodka.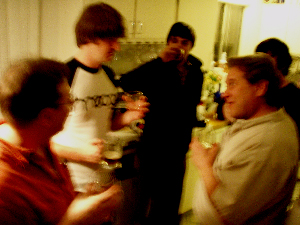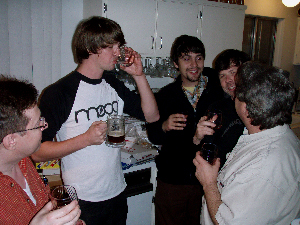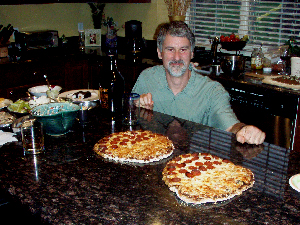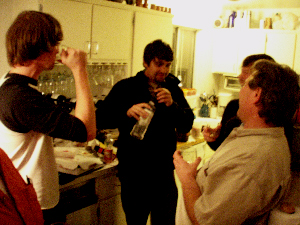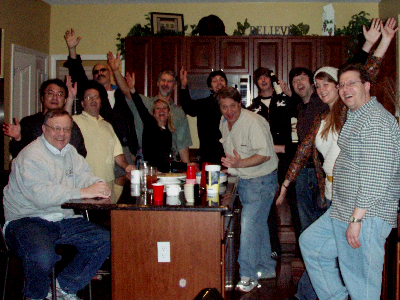 Bye now, until the next tour!