Okay, the tour's underway and there have already been some changes!

Shortly before we left the U.S, we were told that the Kiev show is being re-scheduled to next July, in hopes that things will be more settled then.

Not a big surprise, since the situation in Ukraine changes quickly these days. I do hope the show happens, I greatly enjoy my trips there.
I should re-consider calling this tour Coffee in Kiev - but I'll stick with it for now... we'll still be making flight connections in Kiev, and maybe a coffee in Boryspil airport will justify the name.

Tues, March 4th, we arrived in Tel Aviv, where our first show will be.

Connected at the hotel (since band members had flown in from Calif, Texas, Nashville, NY and Munich) and grabbed a sleepy dinner before (at least for me) heading to bed to try to recover from the long flight and begin to tackle jet-lag.

Wednesday, it must be 60 degrees warmer here than it was in NY when I left - pretty nice! With the morning free, I walked to the beach and watched some surfers




(yes, on this tour diary, I'll be continuing my usual photographic habit of making nice sunny places look dark and forbidding!)

Then, to the venue for soundcheck. Always a stressed one on the first show of a tour.
Some of your equipment is rented, maybe you forgot to pack a cable or two... (in my case, I couldn't find my 220v power adaptors, so had to bring the 110 ones, and will need a transformer from the venue.)

Things much more complex for Adrian, who has a complicated rig and is without his guitar tech this first week. Our sound engineer, Robert Frazza, is helping him set up, which involved some phone calls back to the tech in the U.S.




Adrian is praying the problems will be worked out. Or does he think Robert is on the phone to a higher power??




(Hey, from here, maybe it's just a local call!)

Good time to re-introduce you to who's on the tour. Above are Adrian Belew, our guitar maestro and singer, and Robert Frazza, who's again doing the front of house sound for us (and anything else we can rope him into!)

Here's Julie Slick, the amazing bassist of Adrian's Power Trio, and always our entertainment and fun director on tour:




Markus Reuter, touch guitarist extroardinaire of Stick Men and more:




Tobias Ralph, drummer with Adrian's group, and one of our powerful double drumming team in the band:




Pat Mastelotto, the King Crimson and Stick Men drummer, here talking drums with a friend: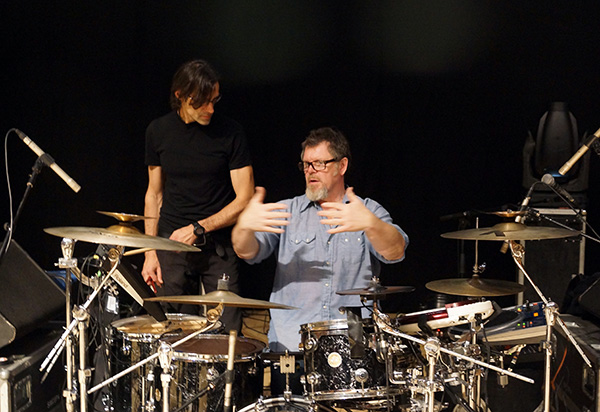 The venue, Heichal Hatarbut, seems designed for Classical concerts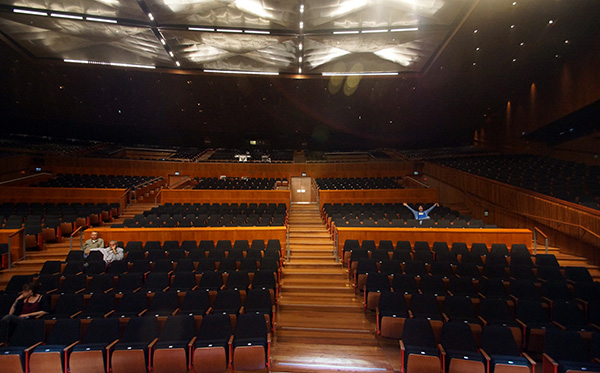 I'm impressed that the house lights will be much better than in the average rock venue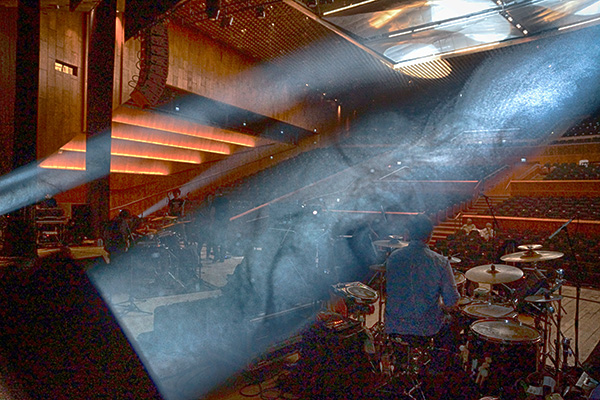 and Adrian now has his rig working, so we're good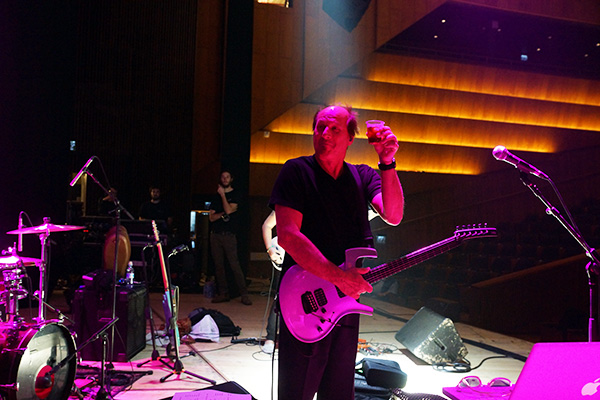 Backstage, more evidence of the orchestra that plays here...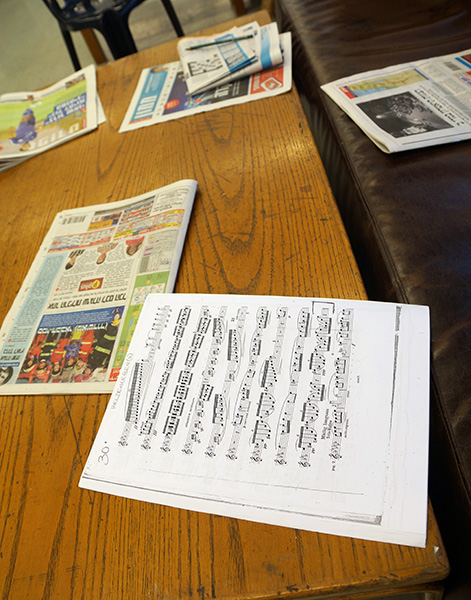 Whoa...seeing that 'Heldenleben' part, I will now stop complaining about the Stick parts I thought were too many notes!

We've got some posters and cd's to sign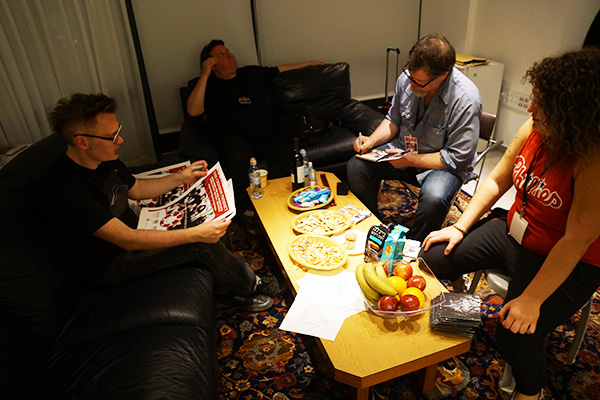 the poster: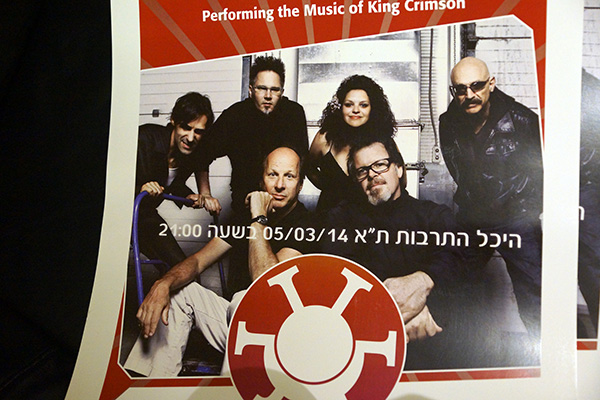 It's good to be back together out on the road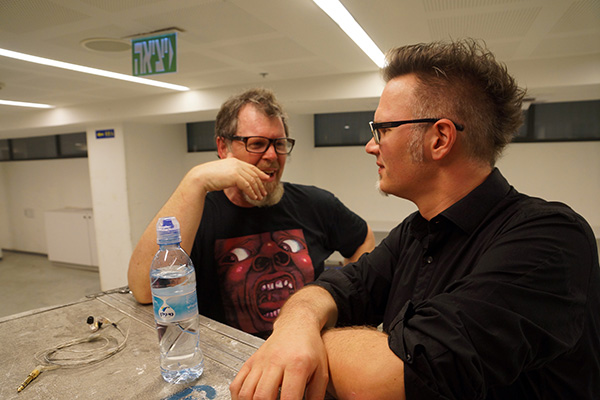 Adrian is looking very spiffy for the show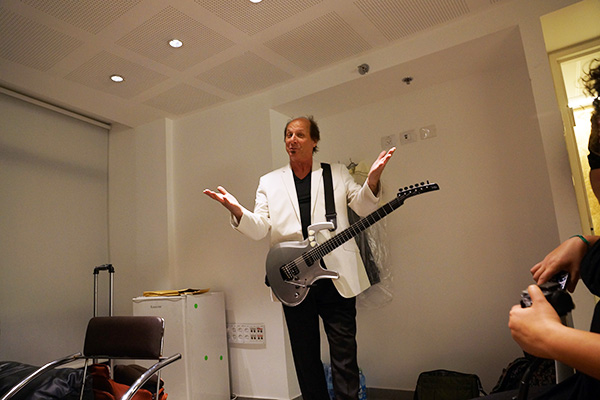 A mirror.. chance to get myself into one of the pictures...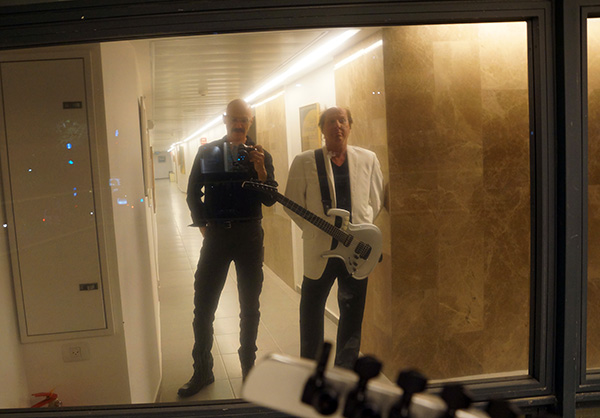 Okay, perhaps we could have co-ordinated our shoes a bit better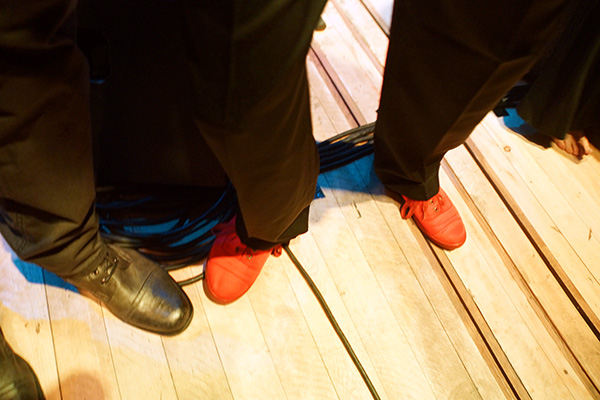 Our promoter, Yuri, has the door ready for us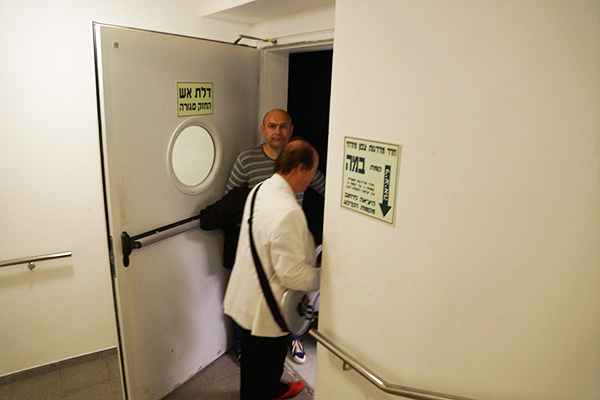 we can see from the side-stage monitor that people are still coming in...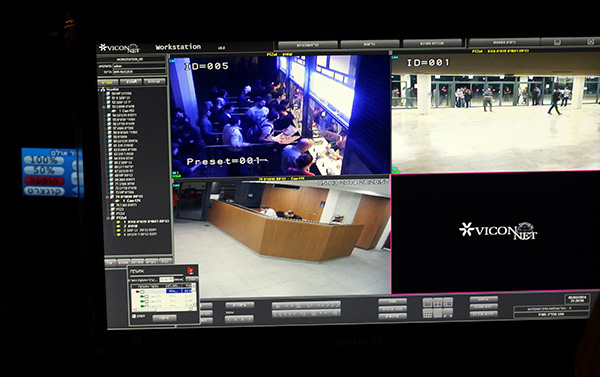 But, in true Crimson style, we're going to try to start on time anyway... there's a curfew on how long this show can go, and we want to play as much music as we can.

The show starts out with a Markus soundscape, and the two drummers doing an extended piece on their own
(best time for me to get photos, of course.)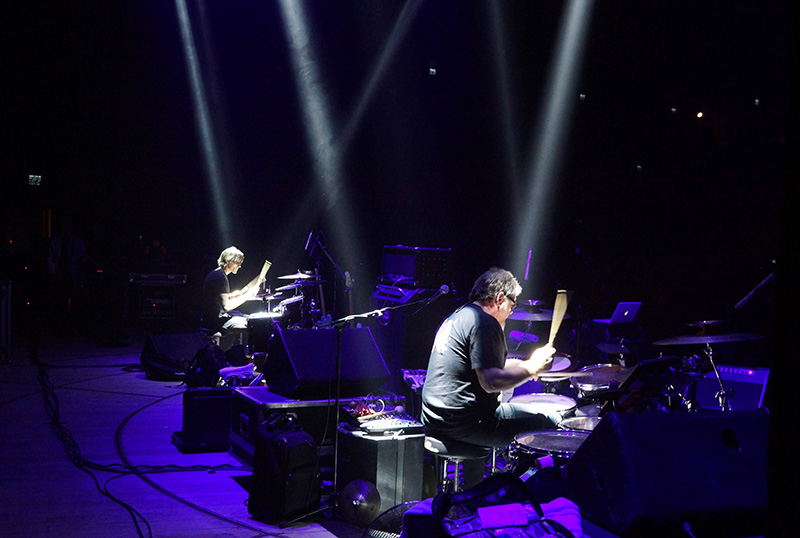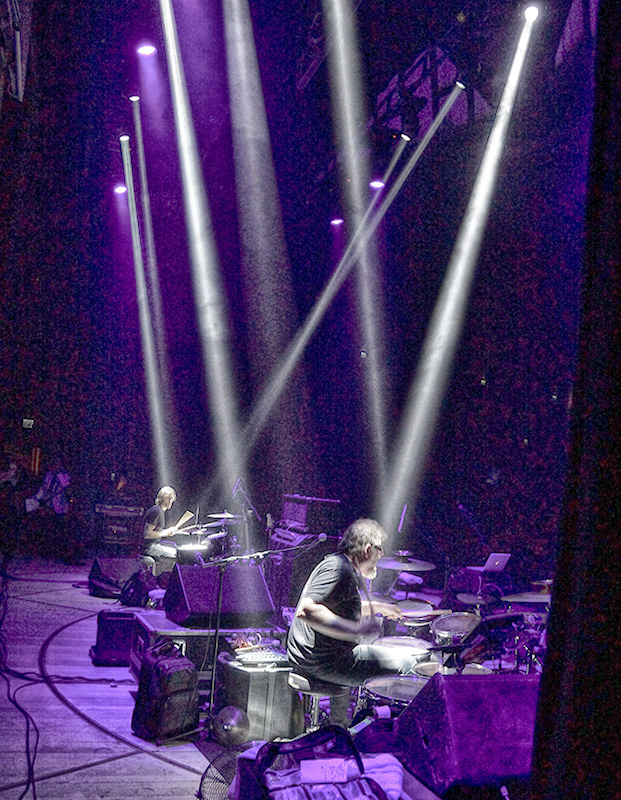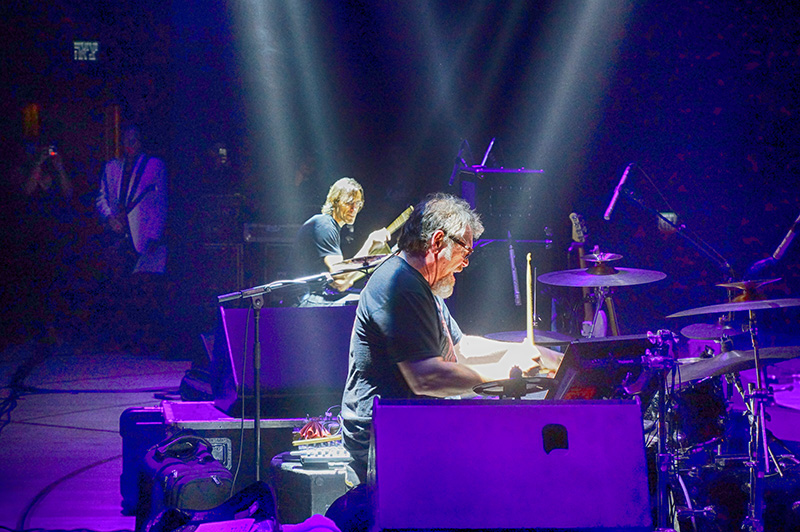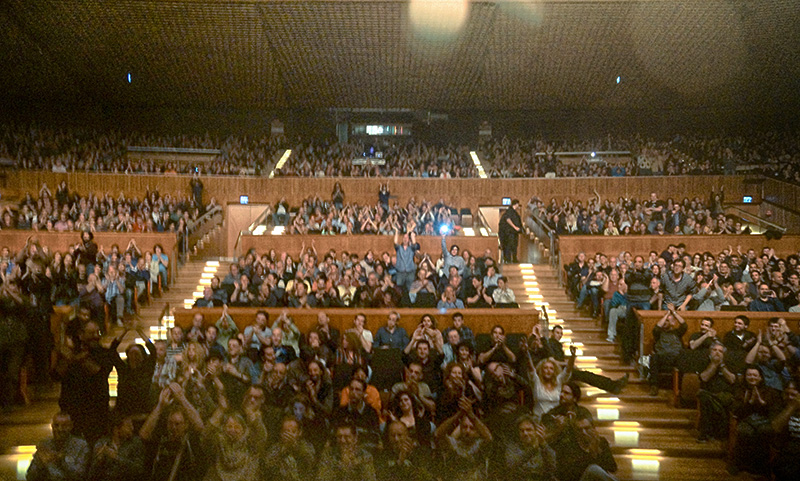 Less time to take pictures during the show... here's Markus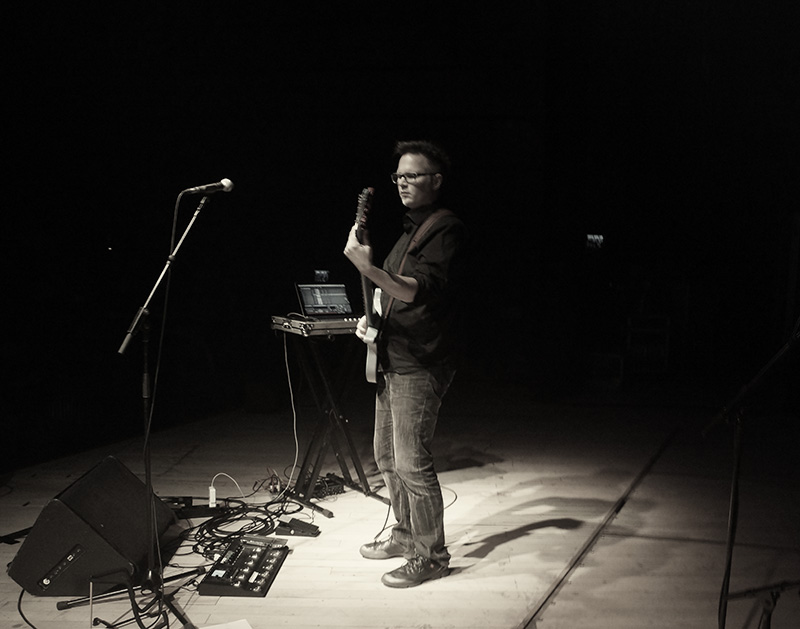 And Pat, delivering his vocal section of Soup in the Stick Men segment of the show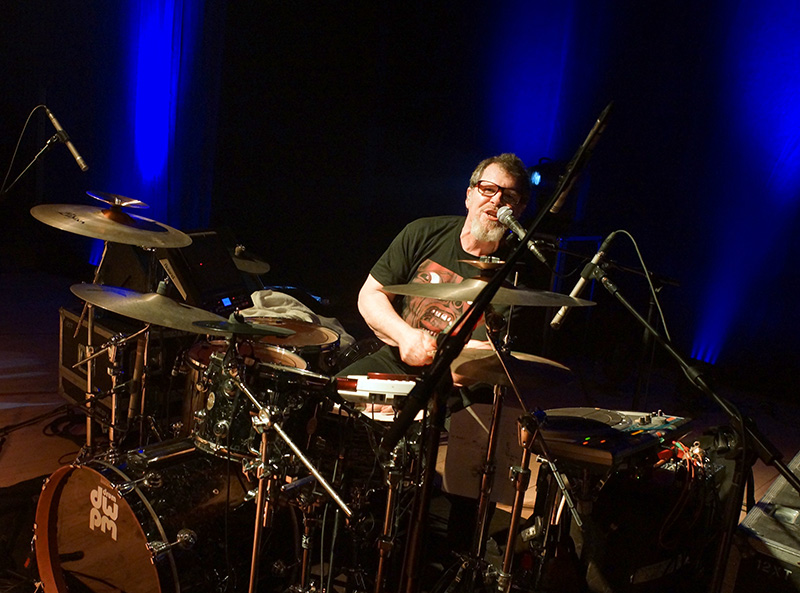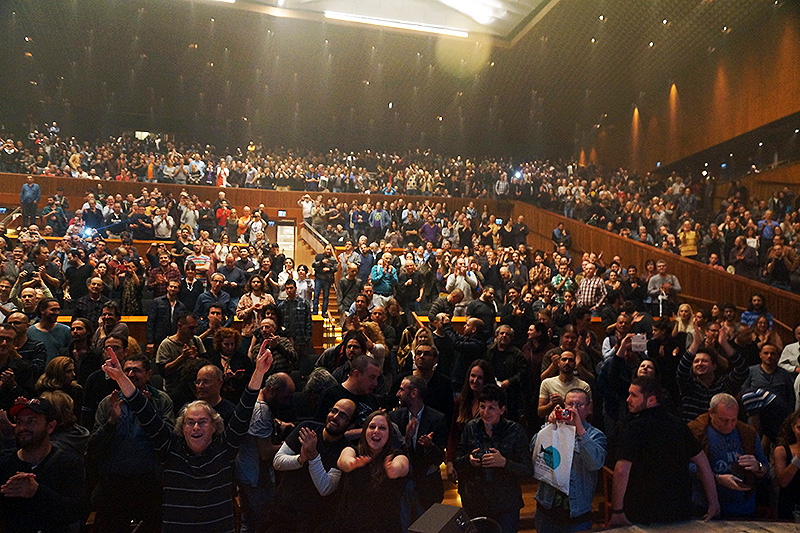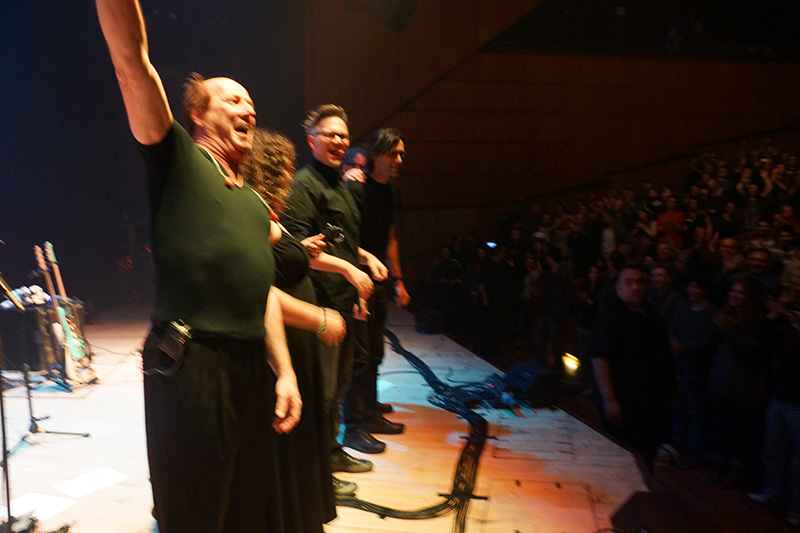 I'll finish off the page with a picture our promoter, Yuri, took.

Let's continue with a new page.