Münster Oct 31st.

Yesterday we flew Kiev to Frankfurt, and then drove to Dortmund, only an hour from the Münster gig.

Today, at the venue - it's called the Hot Jazz Club, and this is the 3rd time I've played at it. Quite nice. The first show I ever did here was indeed very hot - in a temperature way! Maybe because that was a summertime show, but the next time it was pretty moderate, so we've no worries about this time.




We're happy to welcome a new face on the tour. Mirko has toured with us before, and for a few weeks he's filling in for Francesco.
Covering the driving, parking, loading, merch, and accounting, it's not an easy job for either of them... but Francesco wasn't worn out from it, he just had another tour booked for this period. We hadn't toured with Mirko in a few years, and it's great to see him again.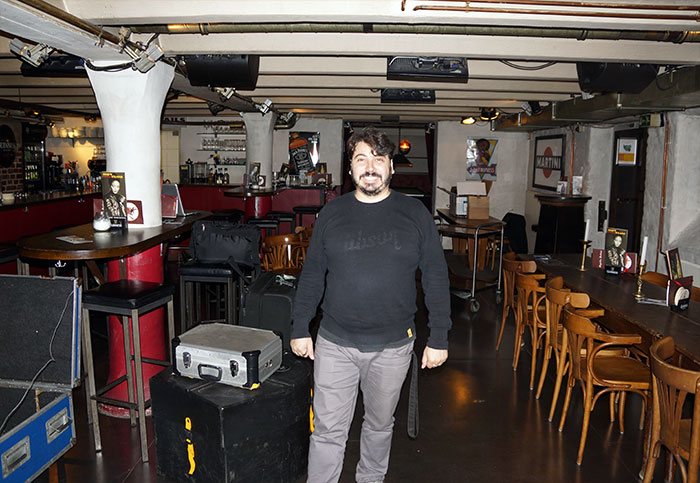 Lately I'm enjoying photos in black & white, like the old days... here is pretty much how the soundcheck and show went down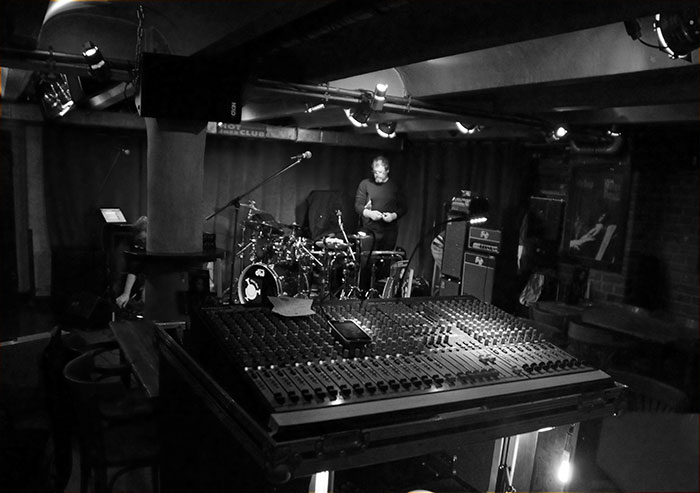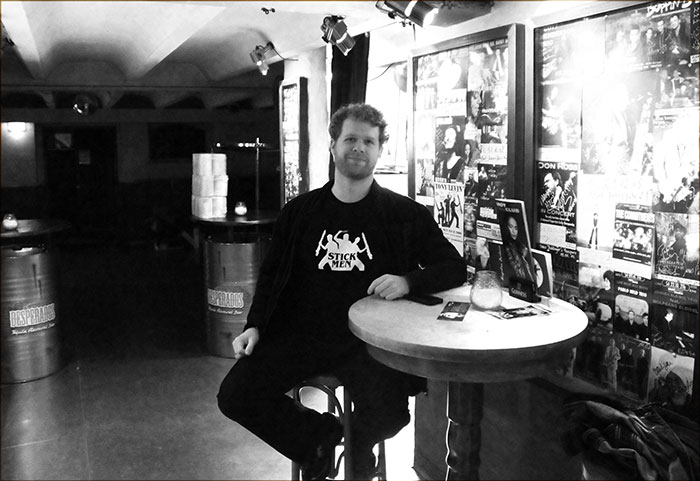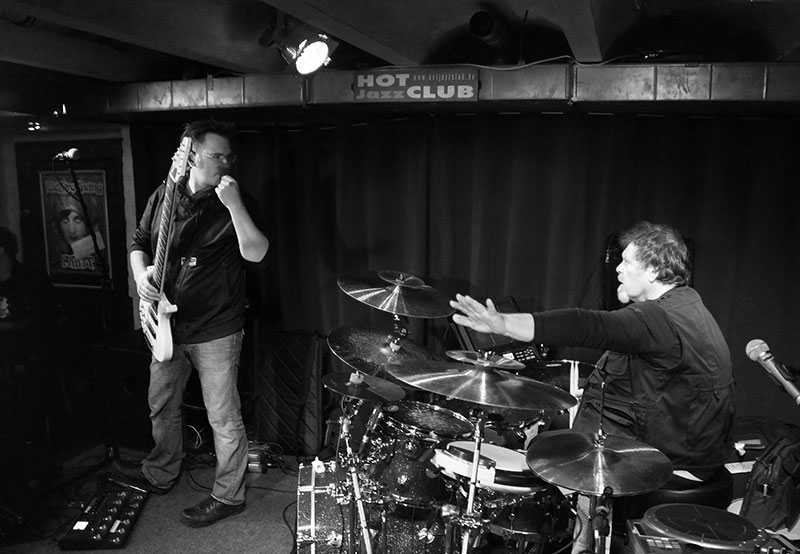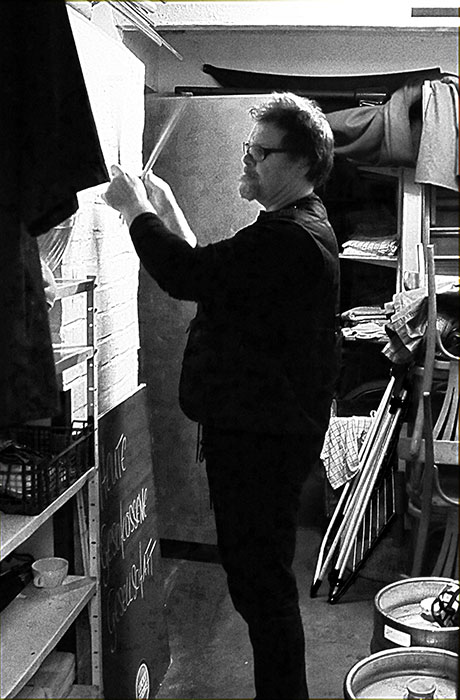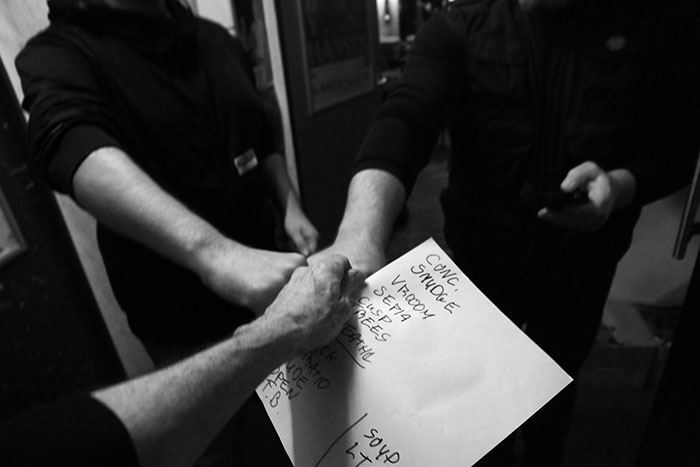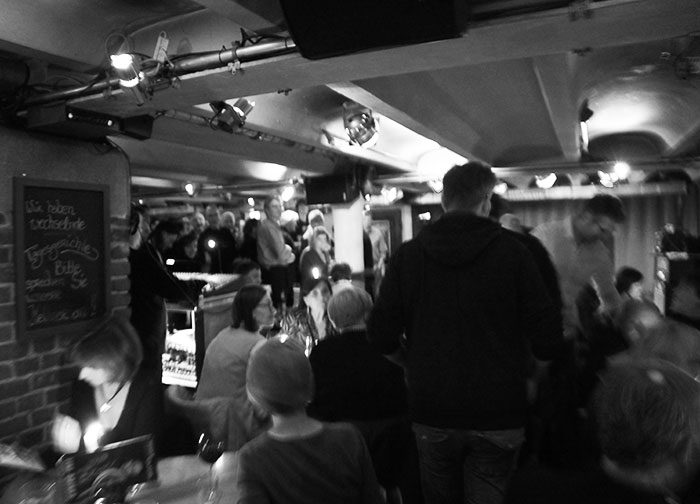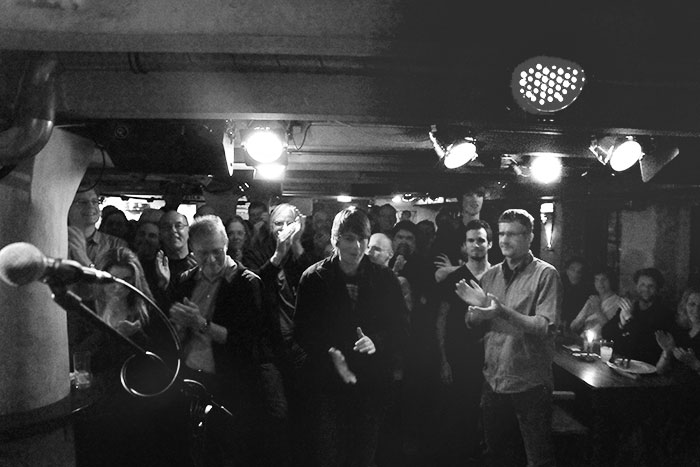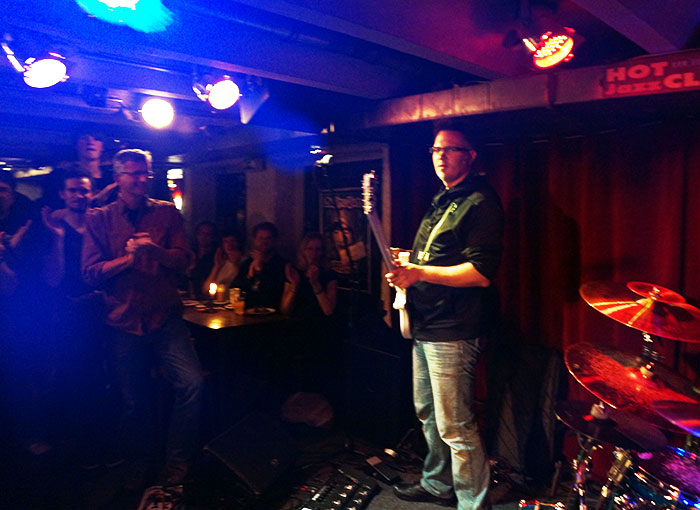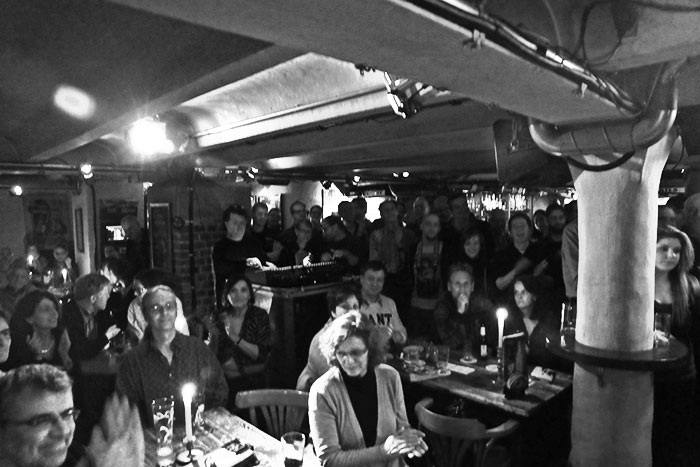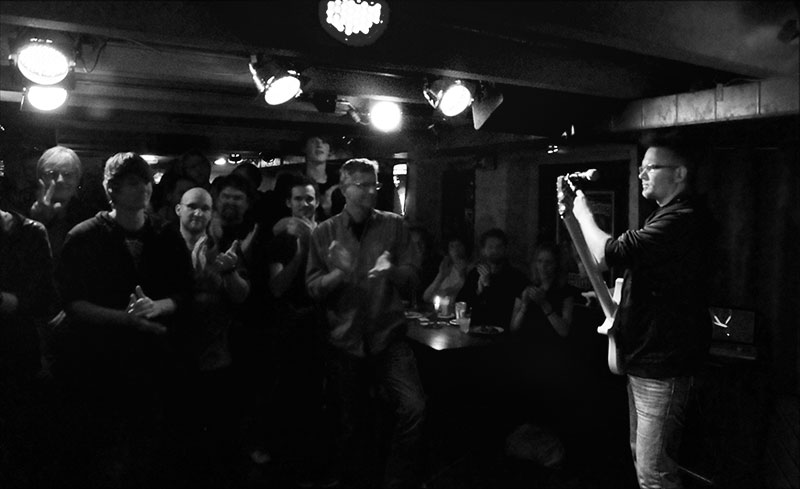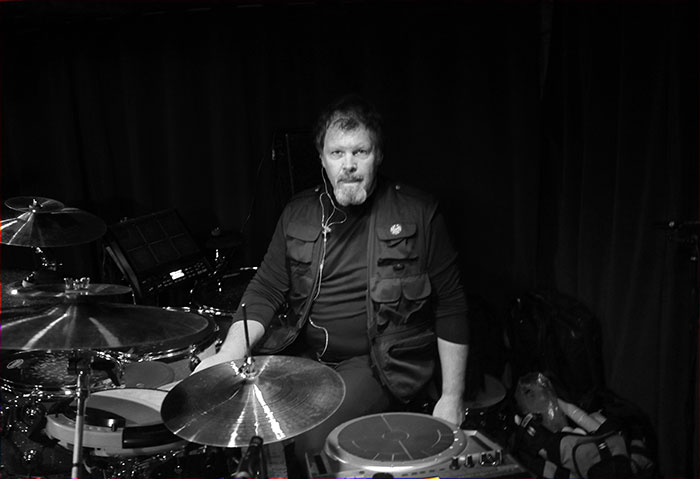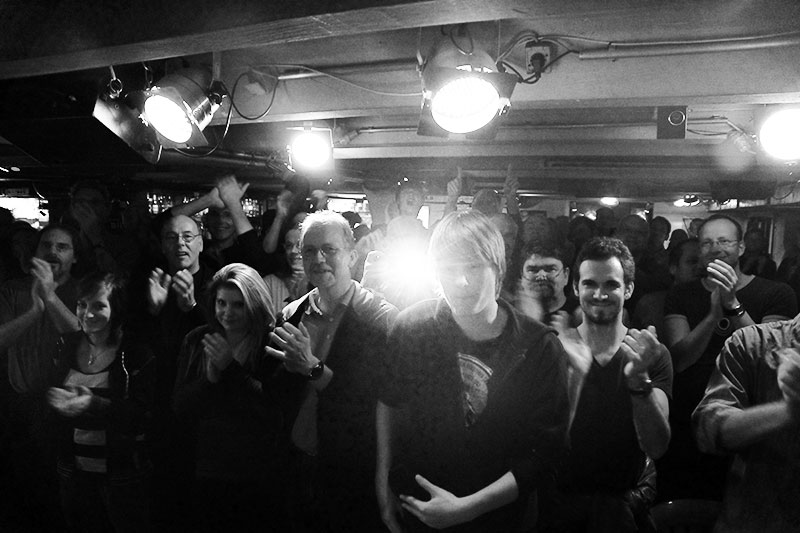 After the show, at our hotel bar, we watch images from the flooding and damage back in the U.S. - pretty close to home for a couple of us, but our families were lucky. Feels like we're a long way from home tonight.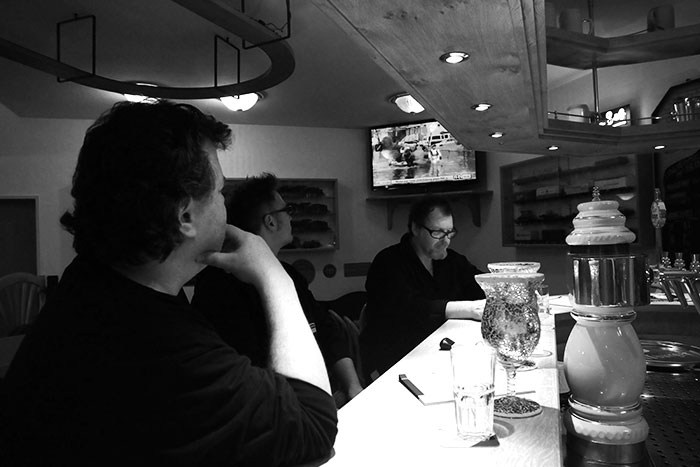 Dresden, Nov 2nd.

This is one of those days that encapsulates what being on the road is like.

First, from yesterday's drive to Dresden, where we arrived at night to stay in a hotel outside the city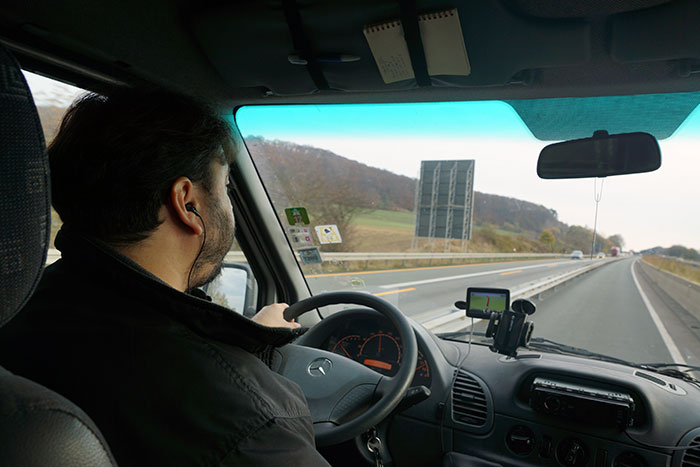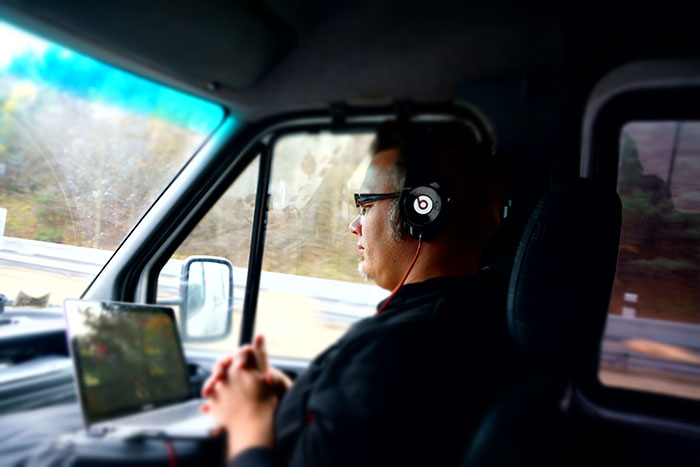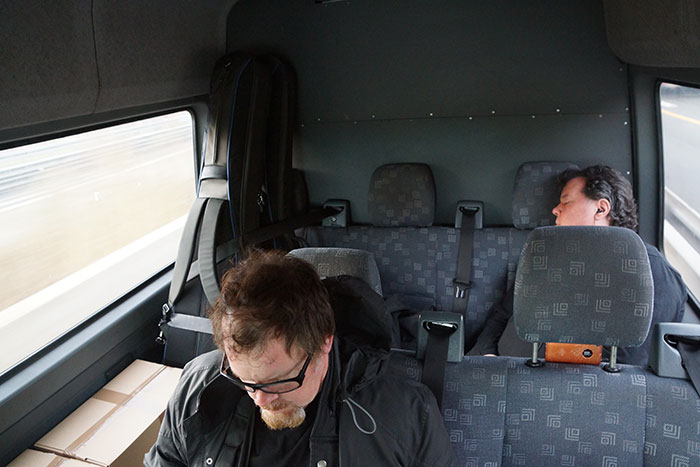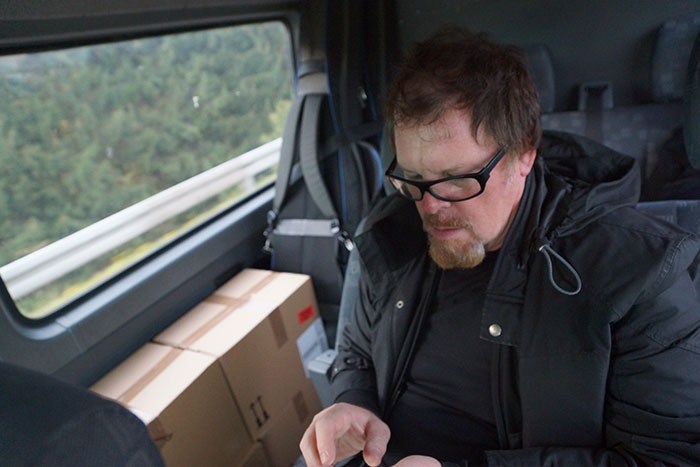 So today's drive to the venue wasn't bad - but it was in the outskirts of the city, and not well marked -- took us awhile to find.

The main issue, though, was that it's not the club we'd been booked into. That club had a fire some months ago, couldn't be repaired in time, so our show was moved to this one at the last minute.

Must admit it doesn't look like our kind of place...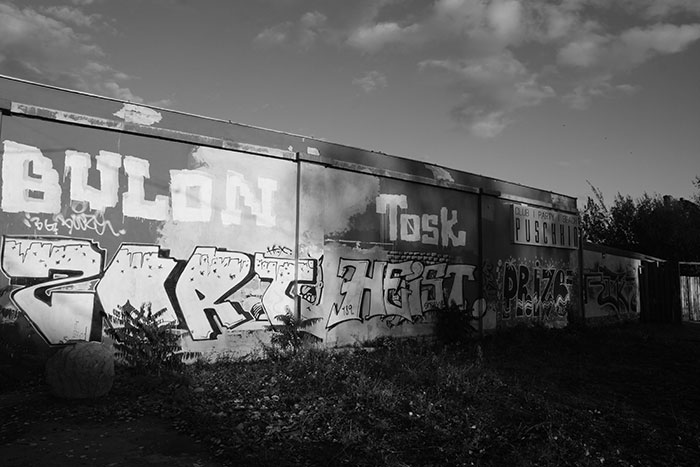 It's called Puschkin, and as you can see, features beach parties (i.e. there's sand out back.)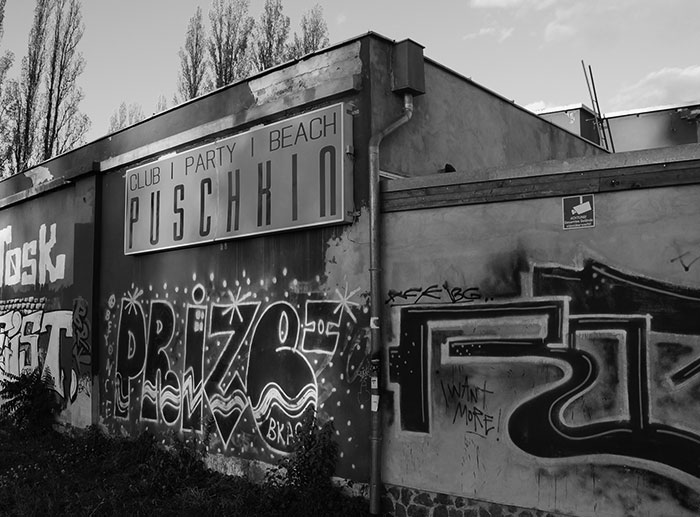 Loading in, we see another band's van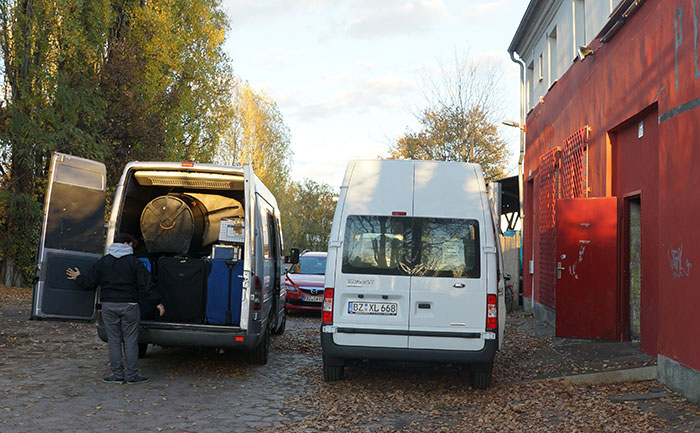 The stage seems small...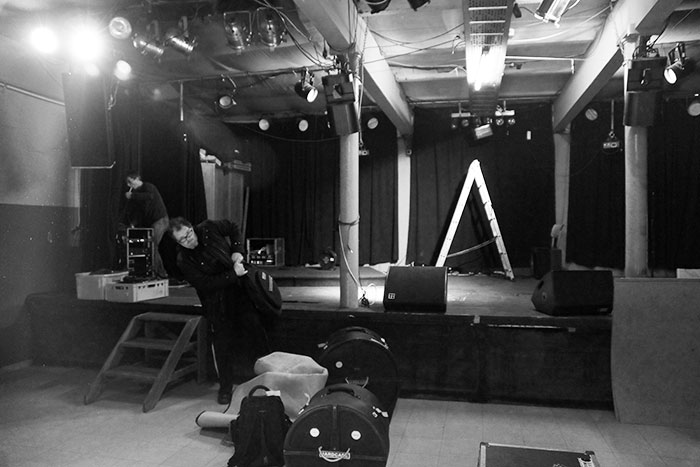 But, from what the workers tell us, we're not playing in this room, but in another room, though that door...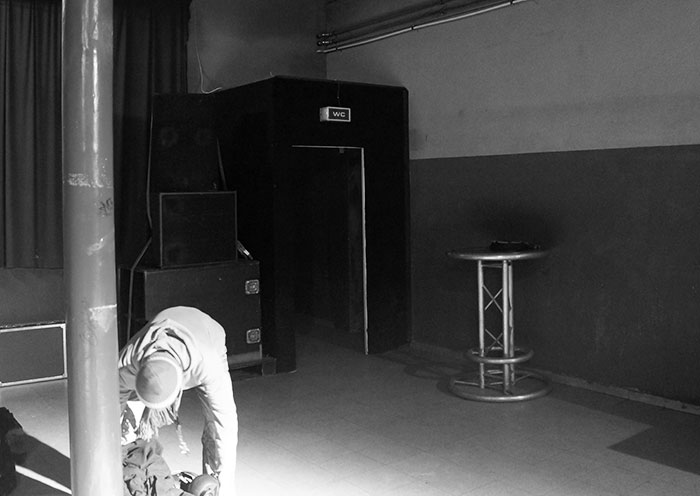 Indeed, through the door to the rest rooms, down a dark corridor, and we find a room that's much smaller...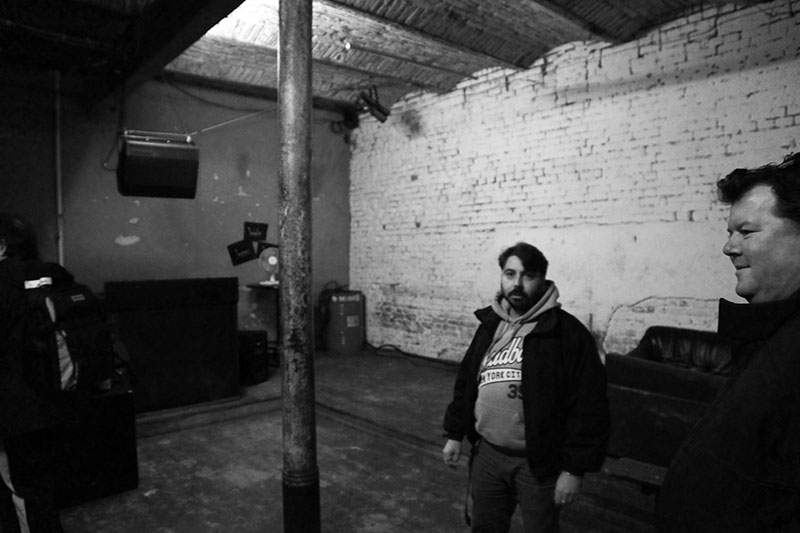 and has no stage at all... but it seems to be the one we're meant to play in. Nobody here seems sure of anything, and this room doesn't look fit for much... just a d.j. booth, pieces of a p.a, and some couches, or pieces of couches, and some oil tanks lying around...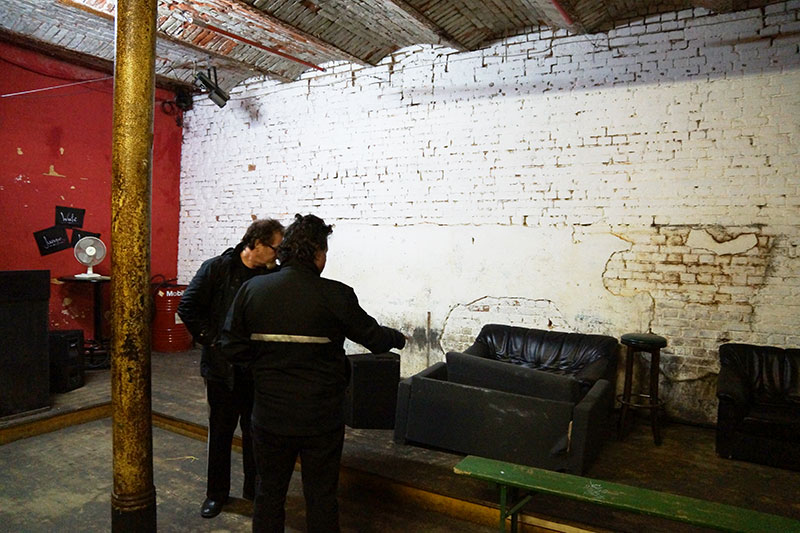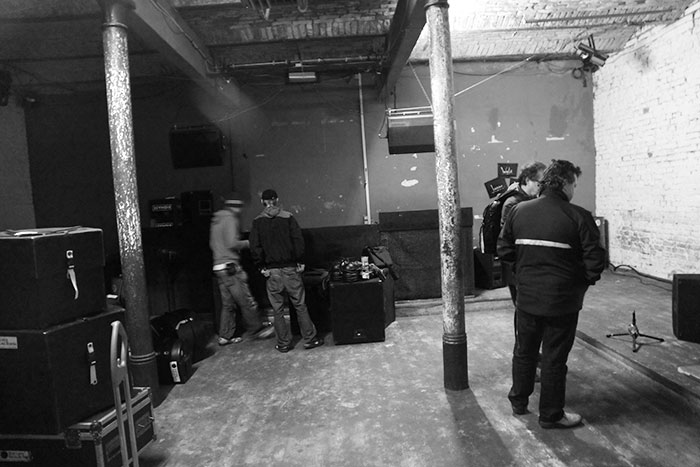 But now there's another band setting up in the first room, so, cold as it is here, (the only heat seems to be in the main room), we pick a wall, move some stuff away and start setting up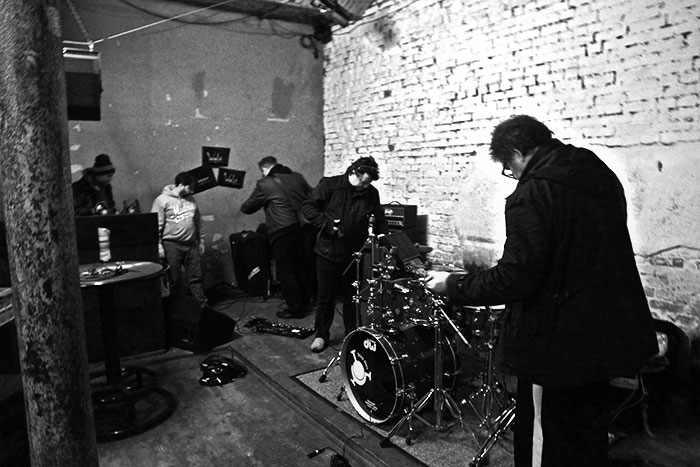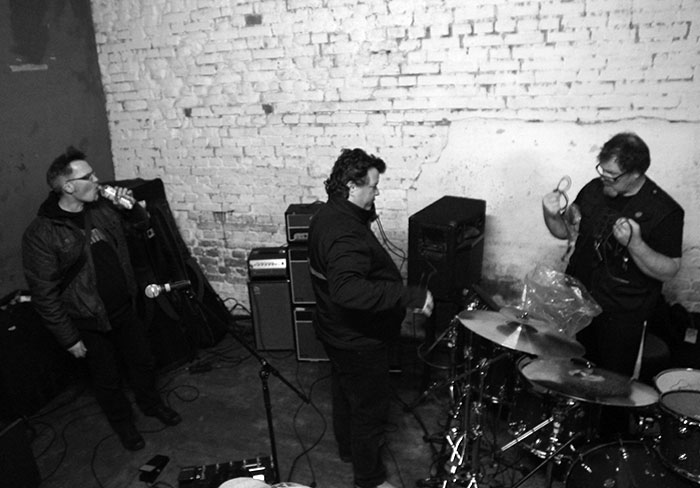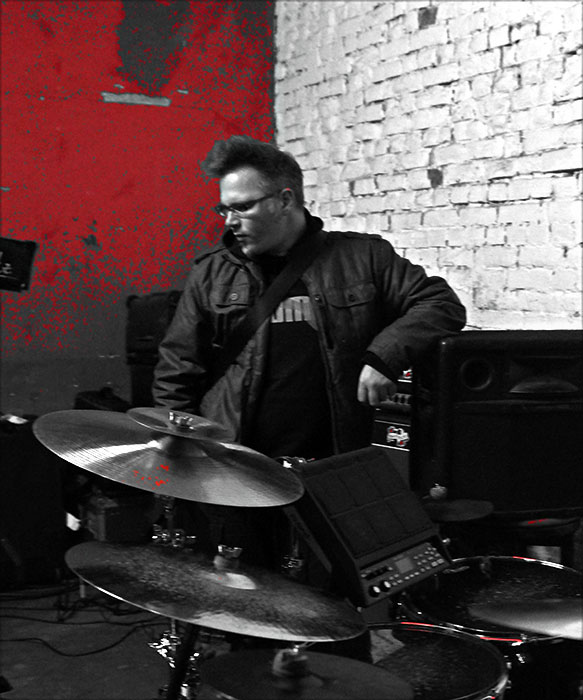 I'm sure not on the Peter Gabriel tour anymore!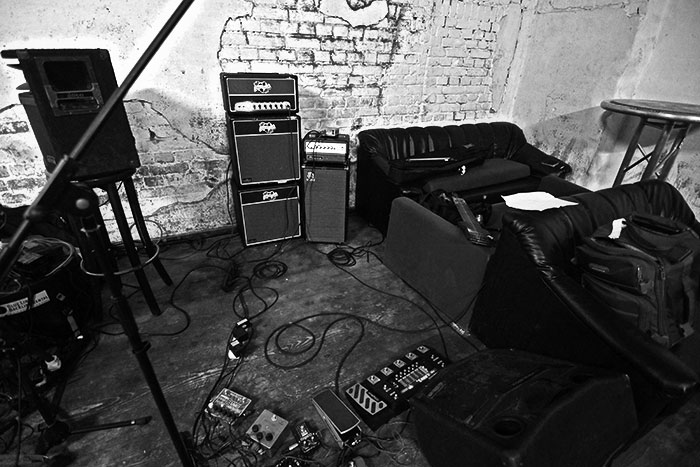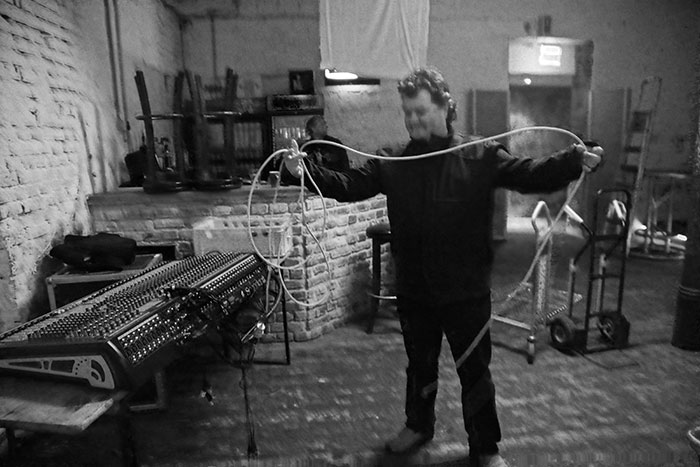 Somebody brings in a space heater, and things start to seem at least possible!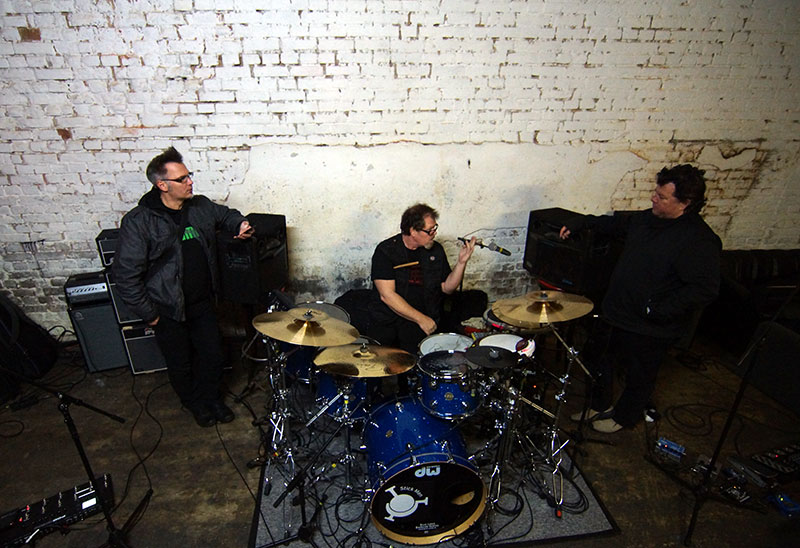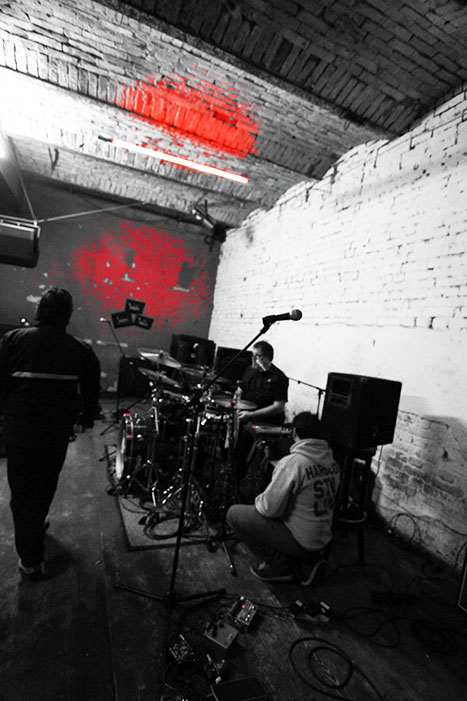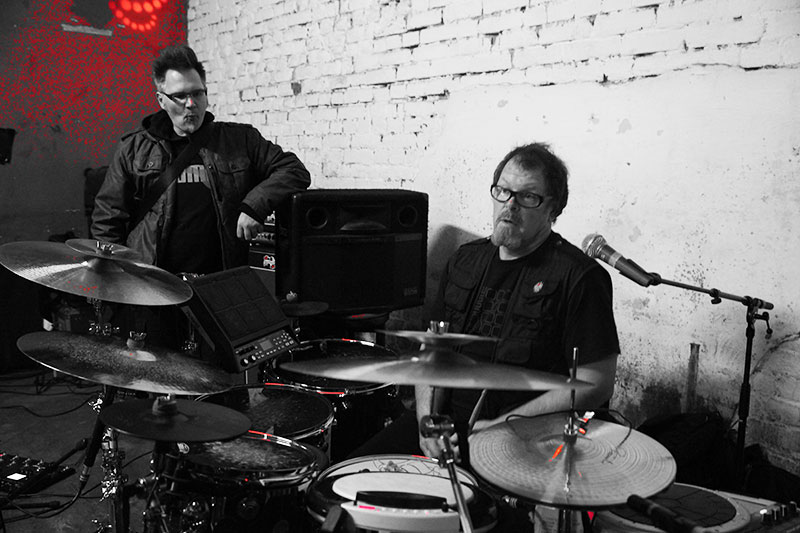 The tour t-shirts have shown up. Mirko makes an arrow to show people where tonight's gig is listed, though the venue is not longer right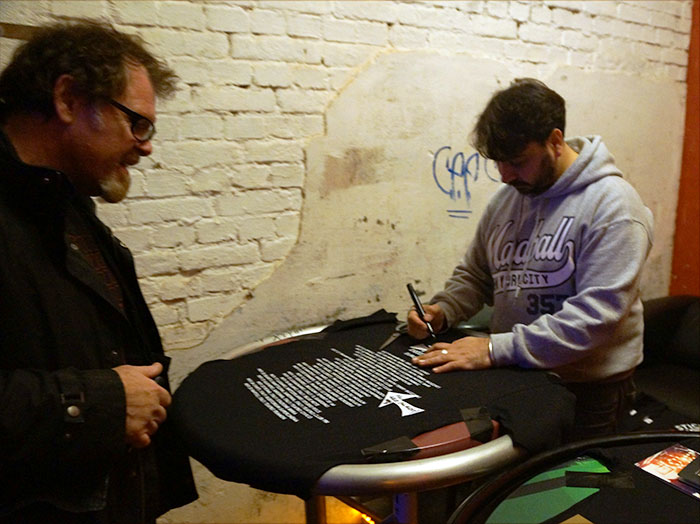 After setting up and getting monitors and p.a. going, we head off for dinner, and we try to fight off the feeling we aren't wanted at this show and perhaps nobody will find this club to hear us.

The food is good, and warm - it helps.

Coming back to the club, since there's no dressing room or anything like that, we're brought in through a side door right at our 'stage'

and we're greeted by a warm, wonderful room of people who indeed do want to hear us make our music.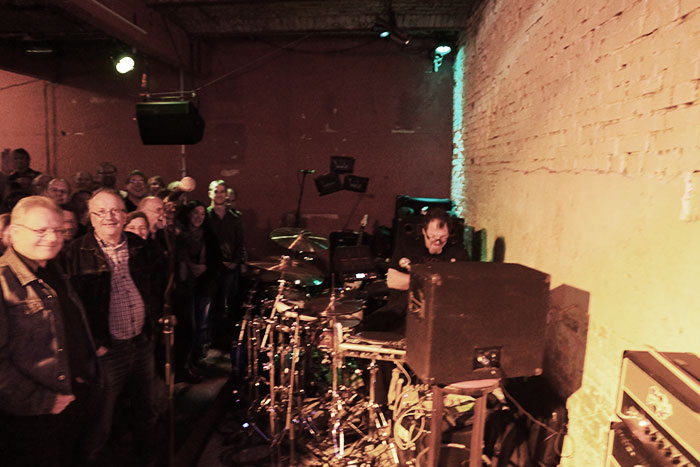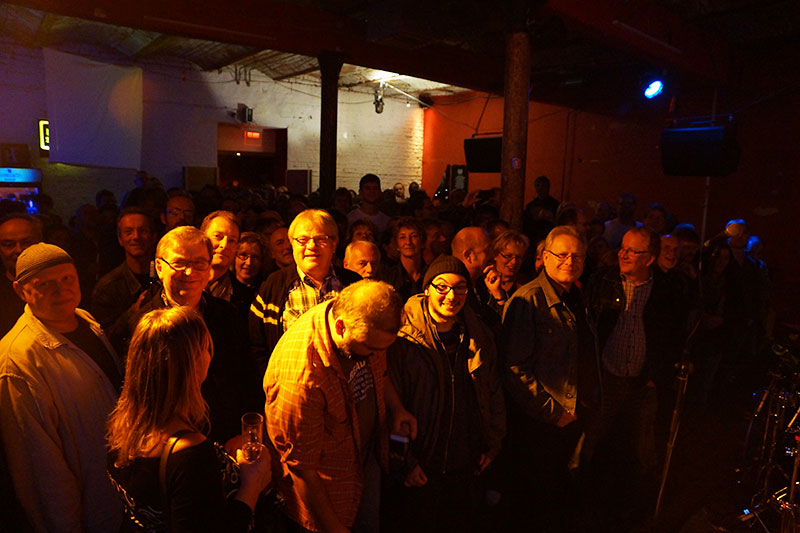 They watch us as, onstage, we take our coats off, dig out the instruments and re-tune... by the time we start playing, I feel like we're all friends here already!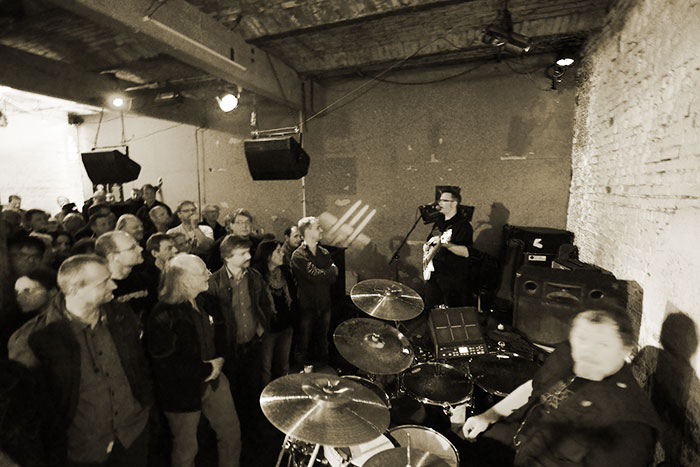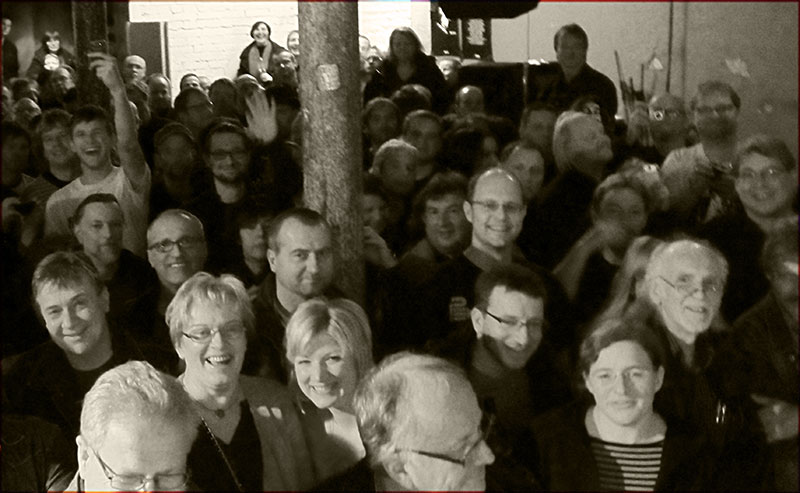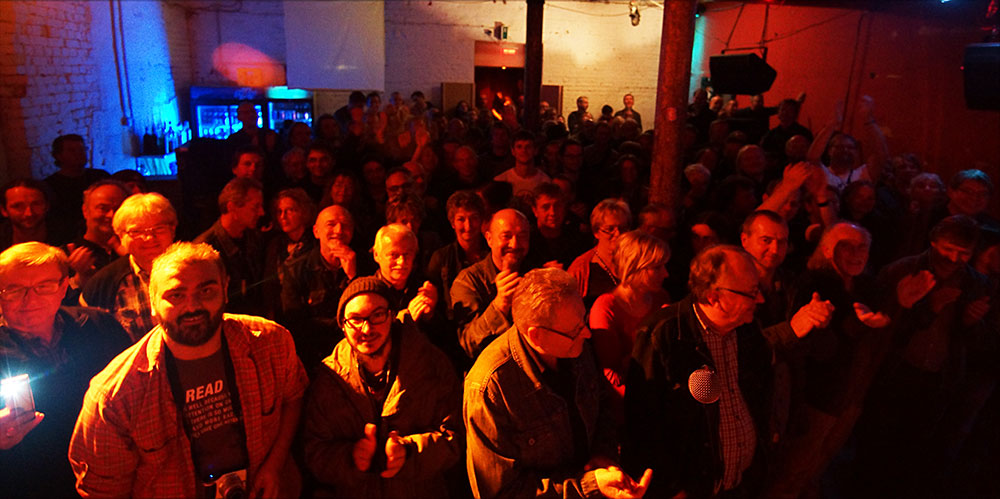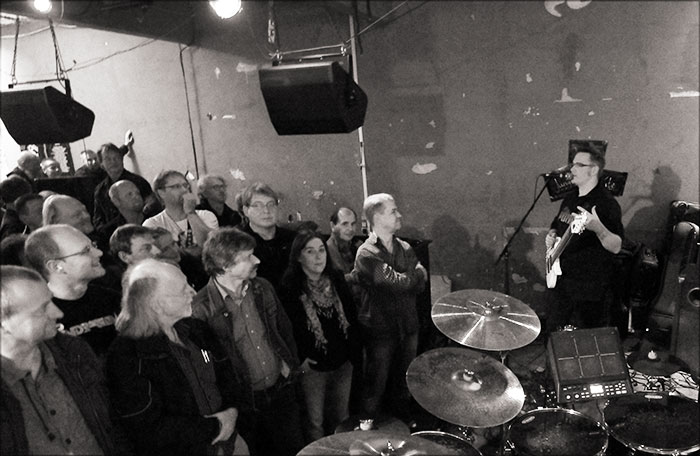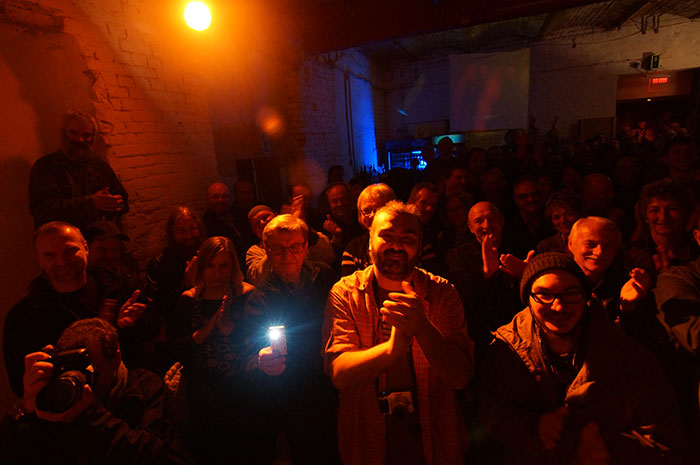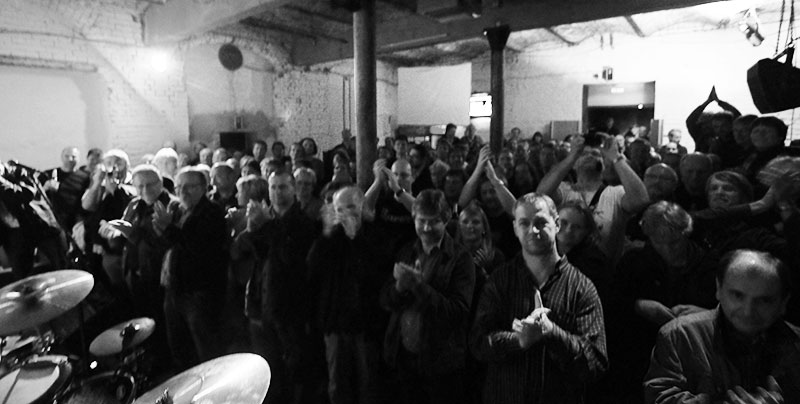 So, it turned out to be a very worthwhile gig, in spite of how things started out.

And what did we learn from this day of ups and downs? Well, nothing we didn't know before - road life has its difficult moments, its difficult days... but the chance of having music lovers come out just to hear your music, and being in a band that's able to play just the music it wants, without having to compromise or try to fit into popular molds... that makes it worth it, and keeps us out here year after year.

I'm grateful to the audience, and even to the club Puschkin, for making it possible today.