July 28
Rehearsal week has taken its usual path. After a few days to remember what we were up to on each piece, the music is sounding very good.

We've added and subtracted some pieces in each rehearsal period, so not sure yet what we'll be doing on tour, but hopefully the best of it.

For me, it's about 5 days into rehearsing that my musical brain finally arrives back in Crimson land. It's kind of a way of thinking, and somewhat different ways of playing. I can try to jump into it right away, but some parts of me lag behind.
For example, I'm digging in much harder to the bass notes than I do in the other tours I've been doing - so there's a finger strength issue, especially to play fast lines loud. But that's the sound I like best for this music.
Typically, after a week or two of shows, I'll switch to the heaviest gauge bass strings, so I won't be over playing the medium heavy ones I am playing now.
Also, after a few days playing this music, 4/4 time signature seems as foreign as a language you studied back in school. 7/4 or more complex, becomes the norm. You even start to dream in it.
And, on any of the bass parts, a creative looseness is welcome -- so there's a mix of trying to be precise in some sections, and anything goes in others. (In fact, the wilder the 'anything' the more it seems to suit the music.)

Anyway that's largely what's been going on with me this week.

I've seen a few FB comments by people not knowing the lineup of the band, so, again, here's the lineup - at this weeks rehearsing and on the September October U.S. tour that's coming:

The 'front line' of drummers:

Pat Mastelotto on acoustic and electronic percussion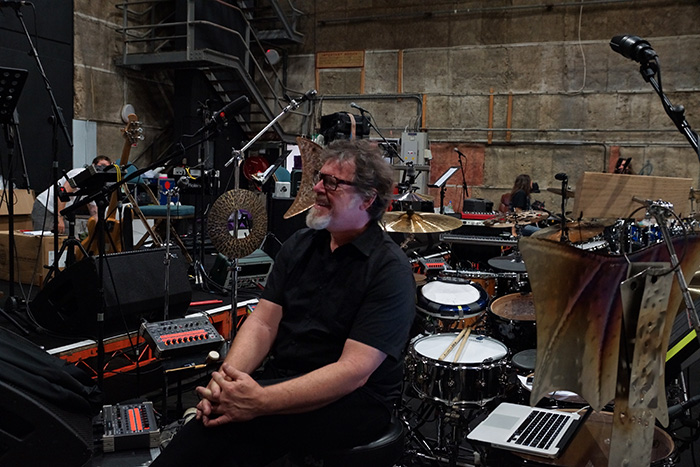 Bill Rieflin on drums and mellotron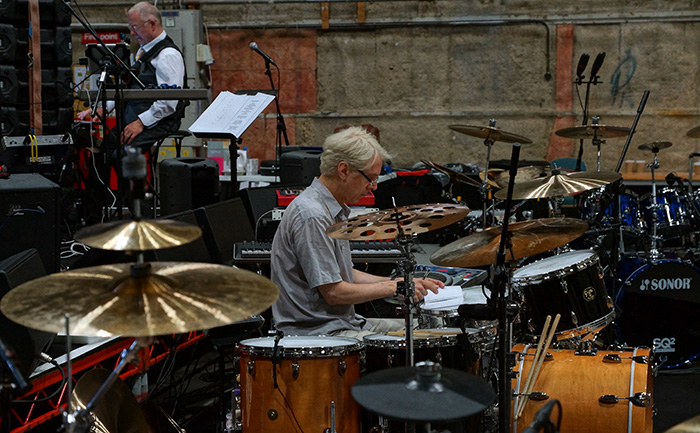 Gavin Harrison on drums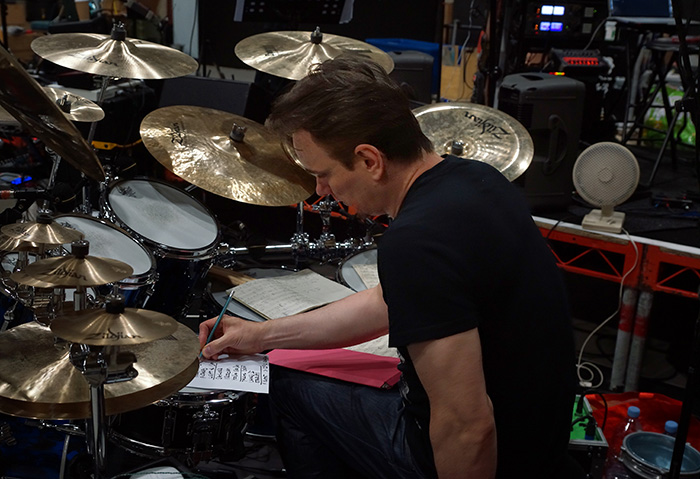 Our 'back row', left to right:

Mel Collins on saxes and flutes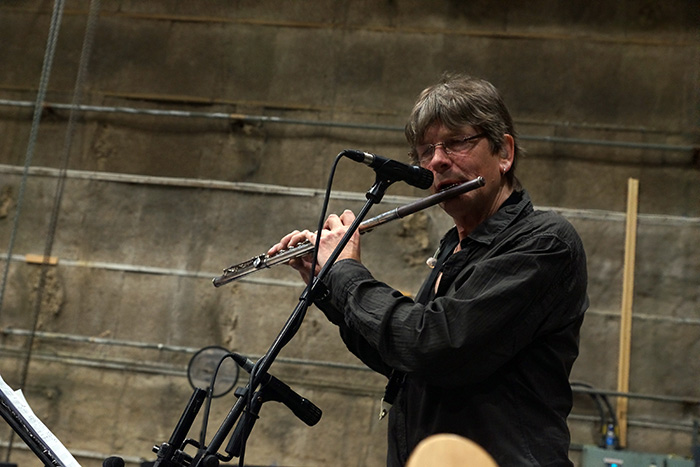 Me, on Stick, bass, and some bvox (no selfie pictures handy!)

Jakko Jakszyk on lead vocal and guitar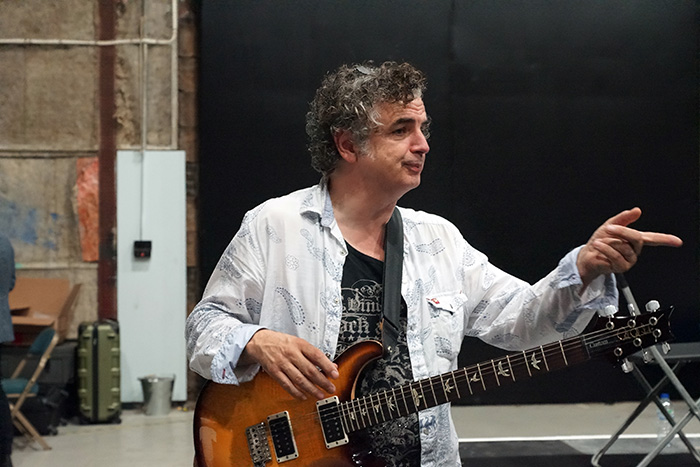 Robert Fripp on guitar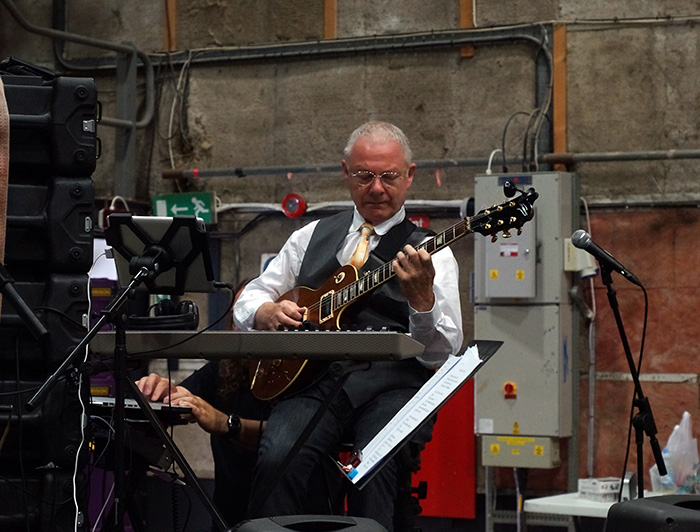 Today, Monday the 28th, we're going to run through most of our material in order, for the first time, and have invited some 'friends & family' to come by and listen.

The seats look kind of small in this big room...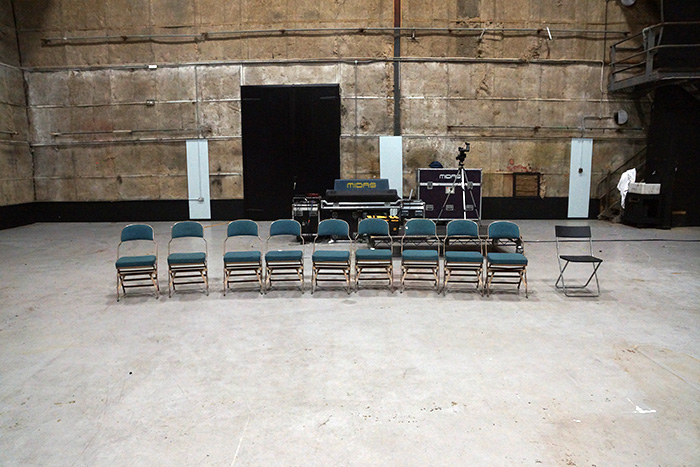 There, that's better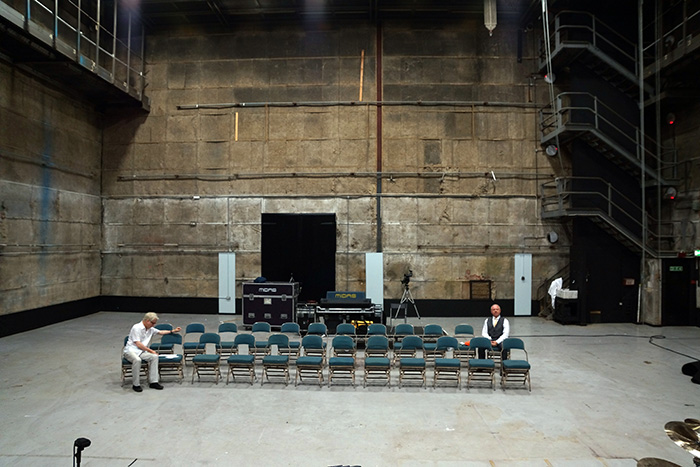 Some going through our charts to be sure they're okay -- playing the pieces through in order is very different from focusing on them one at a time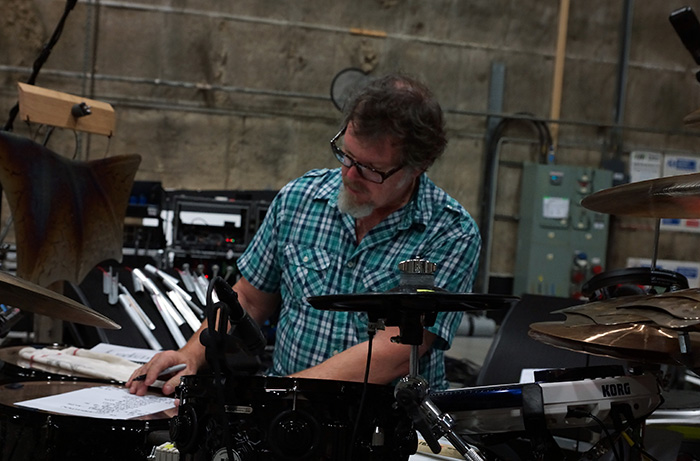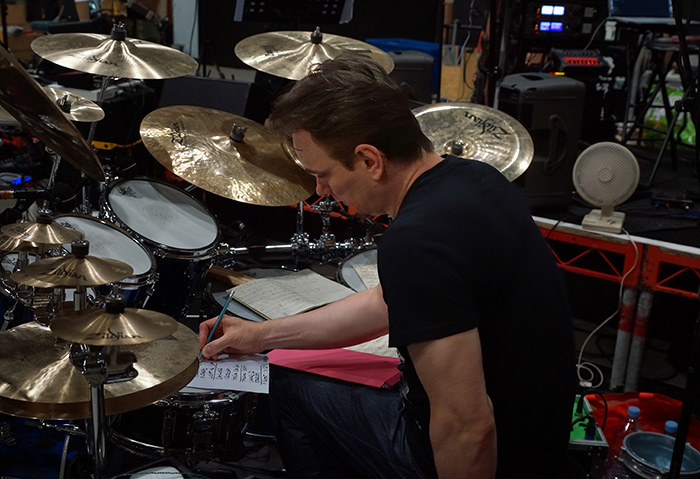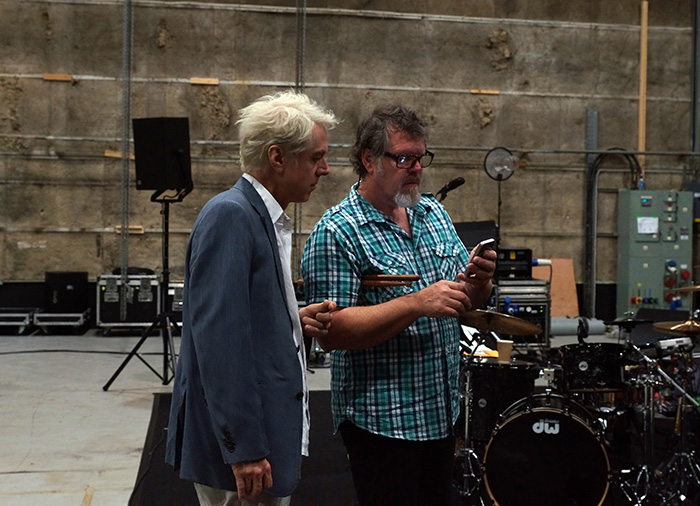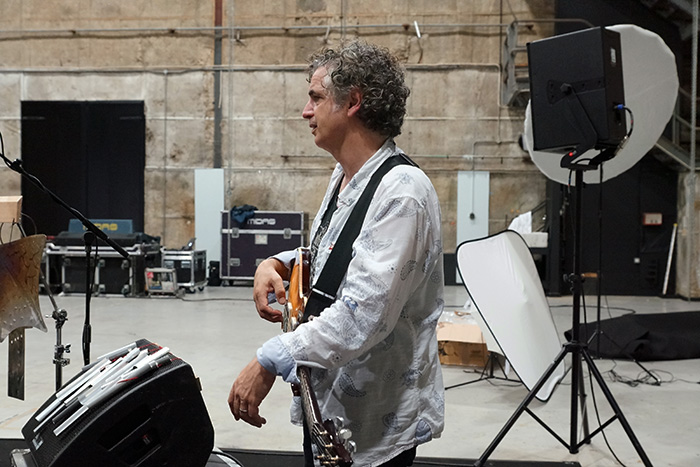 Robert says a few words to the people who've come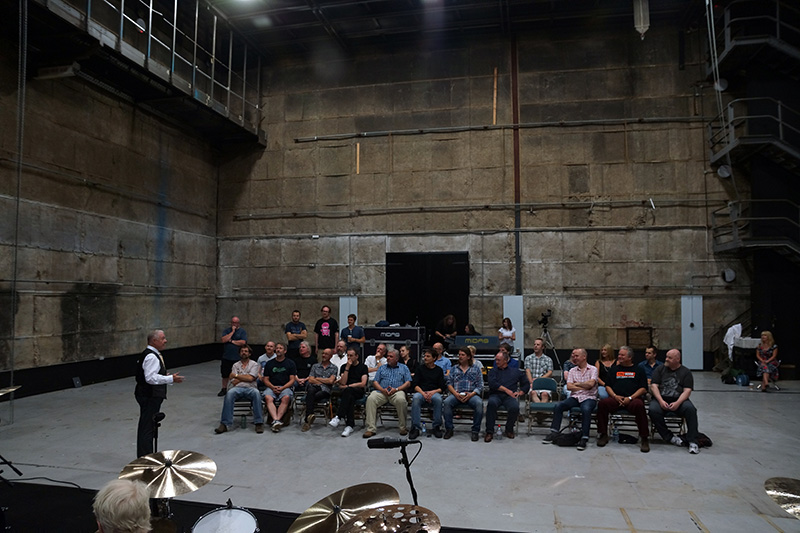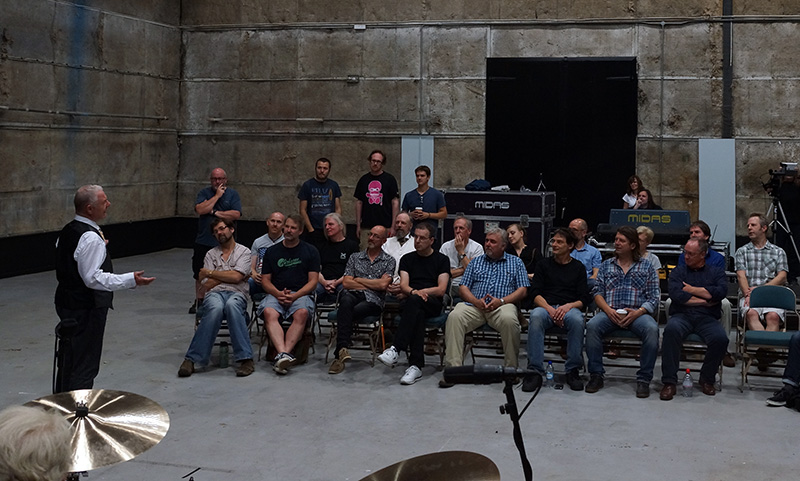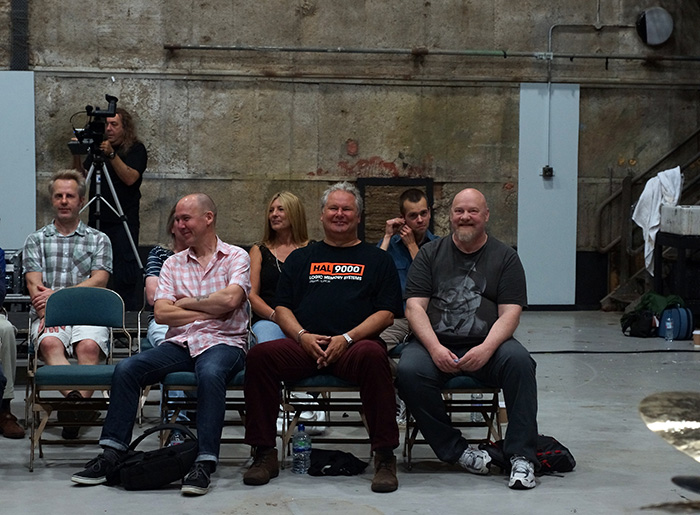 No time for me to take pictures while we played, of course, but there was a drumming section where I could wander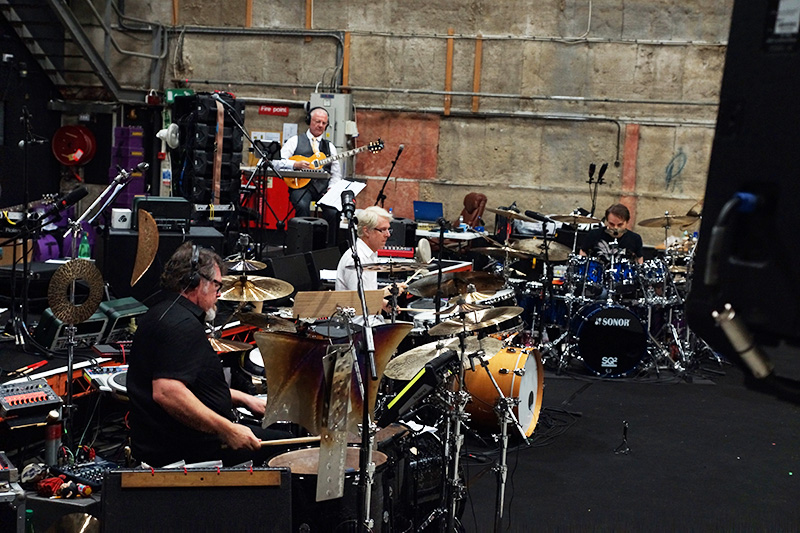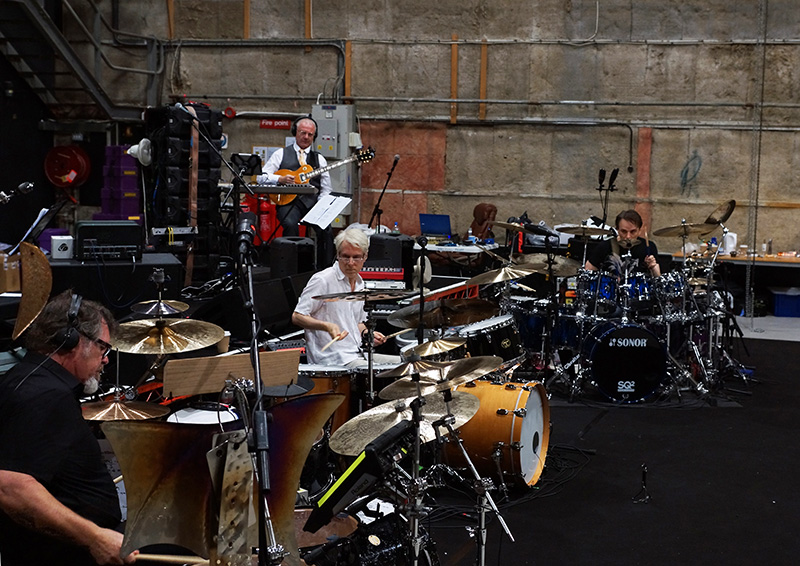 Afterwards, some relief at having made it though, and of course a long list of things to work on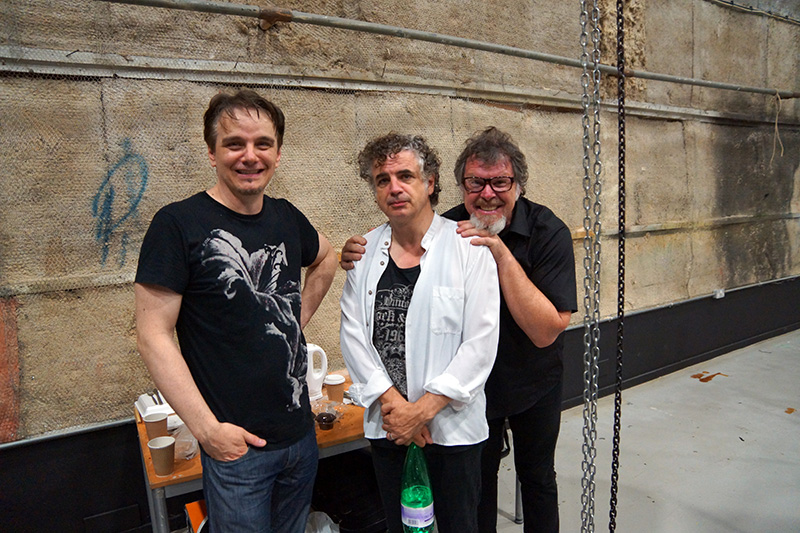 We have another day here (listening to the run-through and working on the parts that need it) but I don't think I'll be taking more pictures, so this will be it for the July Crimson rehearsal pages.

We will re-convene not too long from now, in my home part of the world, near Woodstock NY, and there will be lots more from those pre-tour rehearsals.

Lots going on before that, though - two days from now, Pat and I will fly to Bratislava for our Stick Men show there, and the Summer tour has another week to go. Then, the Three of a Perfect Pair music camp in the Catskill Mtns of New York where the campers, I am sure, will want to know all about the Crimson plans.