Some Previous Diaries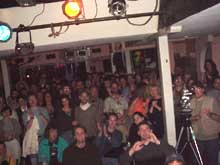 An off balance shot of the crowd at our first gig: Woodstock, on May 12.

May 16 / New York Thruway

On the road again, this time heading back east, Rochester to Albany. The day in Rochester was wonderful. I'll give a complete rundown.
9am breakfast meeting at my hotel with Pete Morticelli, director of Magna Carta Records (who conceived and released Liquid Tension Experiment and Bozzio Levin Stevens) to talk about the upcoming BLS release, and just to hang out. At 9:01 I called my wife Andi, and mentioned that I had a 10am radio appearance at Rochester's WCMF. Being wise to all things, she informed me that that show, the Brother Weaze show, ENDS at 10am. I called the station immediately and found that they were indeed waiting for me. So our breakfast and meeting ended about 1 minute after we arrived, and I coerced Pete into driving me to the radio station.
9:20 we finally had manouvered through the massive parking lots of downtown Rochester, and arrived at the station where the show was under way. Not the type I usually appear on - it was a talk show, with a panel of contributers, that gets pretty raunchy. Very raunchy, in fact, and they're famous for being sued a lot. Brother Weaze himself was very polite to me, and knew a lot of my work. He asked lots of questions about albums I'd played on, and used clips from Waters of Eden for segues to and from commercials. The show went very long - far past it's scheduled end time, and the producer would come in every 20 minutes or so, with a sign for "the Weaze" to see, saying things like "This show sucks - break for commercials." (They told me the language of these signs used to be stronger, but there were complaints from guests.) Though the show is known for being rough on people, I deflected any questions that tried to draw me into some controversy (what did I think of Kiss.... how did I like Yoko's singing, etc.) and soon there were calls from listeners complaining that the show was dull. Brother Weaze would then get tough with the callers, saying he was trying to expose them to some good music (one said that, hearing some clip from Waters, they thought they had the wrong station on.
The show went so long I had to run to make my book signing appointment, so with thanks to all, I left, taking as a souvenier a copy of the list of "FCC defined indecent words" that they keep in front of the Weaze at all times.
On the short drive back to the hotel, I did find from Pete Morticelli that the Bozzio Levin Stevens cd will be out in the last week of July, and we'll use the title I suggested, "Situation Dangerous".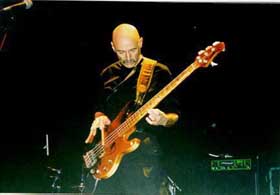 Noon - just in time for the book signing scheduled at the small book store of my alma mater, the Eastman School of Music. It was pretty quiet, as I'd expected, but some very nice people came by, as well as some old friends. A photographer asked that I pose afterwards, at Java Joe's coffee shop across the street - what could be better - I'd spent most of my four years in school sitting in that very shop (then called "the Coffee Break") drinking coffee with Steve Gadd between classes. (I think we were supposed to be practicing!)
1pm another business meeting, this one with David Hedlam from the Eastman School, about some very interesting ideas he has about bringing together the music software needs of the acedemic world and those of us out touring and playing. (David had organized the symposium I spoke at a few years, exploring the connections between Classical music and other popular types.) This meeting went longer than the 1 minute one of the morning, but not very long, since I had an important phone interview shortly after. (The Boston Globe, where I'm trying to publicize Wednesday's show.)
5pm duo clinic (with Jerry Marotta) at the House of Guitars - a huge, well run music store that's been the mecca for guitars since way back when I lived in Rochester. On the drive there, Jerry and I finally discussed what we would play at the clinic! The night before, I'd called my friend Steve Gadd, who has done lots of clinics, to ask what to do at them. Steve said, "well, I play a groove for a minute, and then..... open it up for questions!" We did something like that, but played Elephant Talk - the duo(!) first.
Soundcheck at the Milestones club was understandably late, since Jerry and I had been busy elsewhere. People started arriving at the club while we were still working out the sound - it was clearly going to be a packed night. I met some more Rochester friends before the show (Gap Mangione, who's band I played in for years here, and who gave me my first professional record date, came by with his now-grown-up kids, and had come across my first weekly paycheck from the 6 night a week gig I did in 1969 - it was for $148.76. That's pretty interesting, but not as interesting as that he could find it after all these years!)
Gap also reminded me that I first played the Stick on one of his albums - in fact it was the day after I'd bought it!
8pm - finally, the reason we're here - the show! It was great. Wonderful crowd, packed in so tight we couldn't squeeze through from the back (where we'd entered, playing drums along with Larry Fast's onstage drone.) What a thrill it was for me to be back in the city I'd spent many years in, seeing friends and feeling so welcome by the fans.
Now, another van drive, to Albany NY, where we'll play tonight. I have a 2pm scheduled on air interview at WAMC public radio in Albany, and highway construction has slowed us down so much that as I write this it looks like I'll be late for my own appearance on the air. I'm going to have to start camping outside these stations the night before to make sure I'm there on time for the shows.
More tomorrow, with show reports, and whether we made it to the station on time (for those of you who don't just link over to the web stream of the show itself.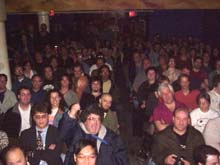 NY - the Knitting Factory.
This page is getting too loaded with graphics! The tour diary will continue on Waters Tour Page 2.