June 17 / San Francisco

The day started out with a trip to San Jose, where an instore appearance had been scheduled for me. The store, Streetlight Records, had a great turnout (including the largest Tony Levin poster I ever want to see!) and there was lots of response to my being there. (I played a few pieces, including unaccompanied Elephant Talk - but mostly fielded questions.)
Back to San Francisco for a show at the wonderful theater, Great American Music Hall.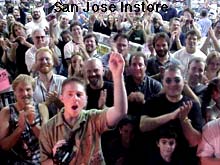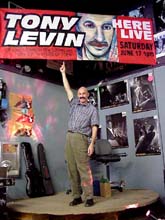 The show was beautiful - what a lovely venue. Lots of friends attended, and there was good passion in the show. Afterward - the overnite drive to Los Angeles where, as I write this sentence, our hotel doesn't have rooms ready yet! Some pretty grungy rock guys scrambling off the bus this morning, not pleased on hearing that the few hours we've got in a hotel may be spent ... here on the bus!
Of course, as I'm uploading this info, I must have gotten into that hotel room at last!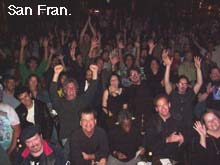 June 19 / Phoenix


I'm always saying how much fun the shows were (and it's true.) It might be interesting to give a sense of the other side of touring - the times we're not playing shows.
Here's an example of a couple of days activities:
Saturday night: 8am show in San Francisco. Great fun.
Midnight: finish signing autographs and chatting. Time to pack up the equipment from stage and load up the bus. Tonight there is nobody from the venue to help. We enlist the aid of some friends who had hung around. Mike and Robert do most of the work, but all are involved.
2am: Back to a nice hotel room? No way. Tom, our driver, has had his nap during the show. We now head off for L.A.
Sunday, 7am. Arrive at the hotel - trouble parking the bus. It's a hotel the L.A. venue had booked for us - they have no bus parking here, and, worse, there are no rooms available for early checkin. We park across the busy street, (not legal space) and the very bedraggled band members take turns crossing the street to go into the hotel and pester the desk to give us some rooms.
10:30am: They finally come up with some rooms. Tom has to move the bus after we're out - he takes it over to the venue, gets a taxi back to the hotel. We hit the rooms. I've slept little enough on the bus trip that I'm quite tired, but enough that I can't sleep. Looking out my window I see others from the band at the pool - I guess I'm not the only one.
3:30 pm: Check out of the hotel (yes!) The bus isn't there, so we call taxis to take us over to the venue. I'm already running late for my 5pm clinic at a Sam Ash music store in Hollywood. I grab the first taxi and when reaching the venue and bus, I have him wait while I find my bass and pedals for the clinic.
5pm: I do my clinic while the others unload the bus into the club. (It's called the Baked Potatoe.) Again there is no help, so it's a rough job for the guys. Jerry and Mike come over to join me at the clinic, and Jerry plays a jam with me. We also try Elephant Talk (without guitars!)
8pm: early show. Lots of people attend, and lots of friends. Afterward, lots of cd signing and chat. I hadn't had time to eat yet, but got a baked potato from the venue (that's what they serve!) to eat later.
10:30pm: Second show at the club. Good crowd, though less than we had at the jammed first show. We're, understandably, a bit less energetic than at the early show, but it's still a good one.
2am: Afterward, some cd signing - less than before, and frankly I'm not disappointed - that baked potato on the bus is beckoning me. I help pack up the bass gear from stage, and as the others move to loading the bus (again with friends helping,) I bail out, get in the bus and eat my dinner. When the bus is packed, we leave for the drive to Phoenix.
Monday, 10am: We arrive at the Phoenix hotel. It's 104 degrees here. We find that the venue is outdoors, and load-in and soundcheck are at 2pm. Normally we'd have to check out before then, to leave after the show. But tonights trip is so long (to Omaha, Nebraska - over 1,000 miles) that Tom will be sleeping till late, so we keep our rooms to come back to after soundcheck - a rare luxury.
Well, that's a bit of the... real life... of touring. As I write this, some of the band party (including myself) are considering staying over in Phoenix, flying to Omaha with their own money, rather than broiling on the bus for that long drive (we reckon it to be about 28 hours of driving time, with stops for Tom to sleep in addition.) Whatever happens with that trip, my immediate concern is hoping the weather cools down some for our outdoor show tonight!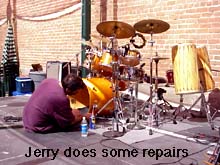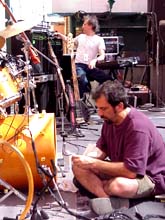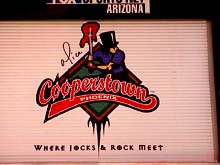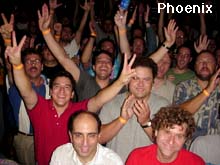 June 22 / Omaha


O.k, I flew from Phoenix. Deserted the bus like a traitor! (So did Larry and Jerry - the heros who stayed were Mike, Robert, and Jesse.) The show in Phoenix went well, though very hot. My day off in Omaha - heavenly. I got flowers for the bus guys when they arrived.
Today, an appearance at a music store, Russo's Music, where I played a bit, talked a bit. The crowd was very nice. The show, at The Music Box, was very nice - this club has a great sound system, and even better, the cook, Mike, stuck around to make us some dinner at midnight, after we'd played.
Notable events at the show: a couple dancing a foxtrot to Elephant Talk, and then another couple dancing to Back in New York City. Now I've seen everything!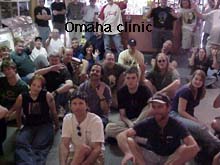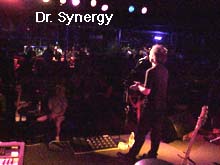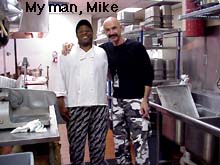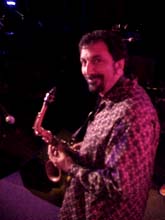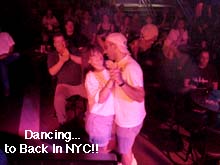 Not much left of this June tour leg. We're getting a little sad, seeing the end in sight. Heading now for Chicago, then Detroit and Buffalo and we'll be on a big break for the band.
I'm hoping to do a September run through the NorthWest, but still haven't heard from the agent whether it'll be possible. I'm pretty sure, we'll be doing another swing through the NorthEast in October/November.


Moving on... to the last few dates of this leg,
and to the fifth and final Waters Tour Page