June 23 / Chicago


Double show, at Martyr's club - a treat for us on the tour, with the expected very enthusiastic Chicago audience. I spent the afternoon with friends from Trace Elliot / Gibson, looking at amps and guitars. Then at the soundcheck, I had some photos taken for promo for Shure Microphones, which we've been using on the tour.
We recorded the night's shows to ADAT, for possible future live album use. So, of course, there were technical problems!
In the introduction to the first piece, the power to the P.A. cut out, leaving the club silent except for three of us, mid-audience, banging on insignificant hand drums. Took about 5 minutes getting things worked out and power back, during which I did the usual thing I've learned from doing bass clinics, when there's nothing to play: ask for questions.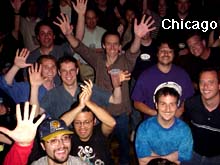 The club manager said this had only happened to him once before, seven years ago - amazingly that show was Adrian Belew's.
There was an opening act for the second set - Teye - a Flamenco group. Very nice. I'm told they will also be playing before us tomorrow, in Detroit.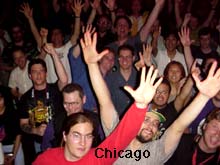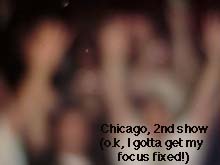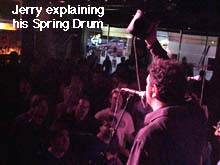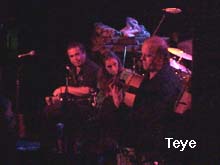 June 24 / Detroit


Soundcheck problems here at 7th House (outside Detroit, in Pontiac, MI.) The club took quite a while getting wired up for our soundcheck - it ended up making the audience wait some time to get in (fortunately, the heavy rain didn't start till later at night!)
I've got friends in Detroit, whom I've been meeting before and after shows here for years - so the band got supplied with nori rolls and morell mushrooms (!) for our next bus trip. The show went well, and, with my friend Mark getting some photos with my camera, I finally have some live shots of the band for the web page. (Not easy to get them myself while playing.)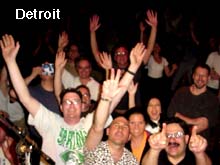 We again had an opening act, Teye and Viva Flamenco, which did a great job of livening up things with their music. Jerry was particularly funny, on mic, tonight - telling long stories to the audience, and kidding them about some of his wierder drums (the 'spring drum' and garden weasel.)
After the show, at the usual signing, one pair of guys had so many items (mostly vinyl) for me to sign, I insisted on shooting their picture for a memento. Must have been 50 or more records there!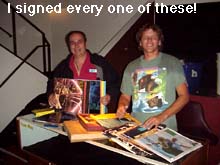 I've neglected showing visitors a shot of my Saeco espresso machine in the back lounge of our bus. As I look at the photo, I must comment that it makes the lounge seem quite a bit airier and... well, nicer than it actually is. The New York skyline wallpaper looks kind of neat in the photo, but is a bit dark and .... rock 'n roll bus-like, in actuallity.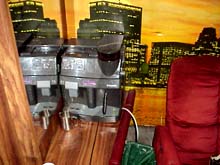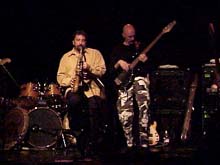 June 26 / Buffalo


The day off meant we could travel by day - have the evening off in Buffalo. Actually we'd tried hard to get a booking in Cleveland for that date, and the band and I were disappointed not to be able to play there. I guess at this stage of the tour, a day off isn't very important to us.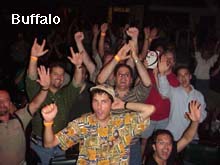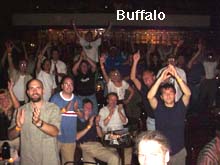 The Tralf, in Buffalo, had advertised the show quite well, and there was a large crowd even though it was a Monday night. I saw a few friends (during our entrance/drum walk through the audience) and knew it'd be a lively show. Marked by extensive talks by Jerry, Jesse and Larry, this was a very good performance. Most notable; just before Back in New York City Larry called his wife Phyllis on his cell phone, and left it open so she could listen to what was one of her all time favorite songs.I, of course, announced this to the audience, who gave her a tremendous round of applause. The piece went so well that Larry forgot about the phone, and she got two more songs for her private phone concert before he said goodbye (audience watching) and put the phone away.


Overnight bus trip home to Woodstock wasn't bad, though we knew that a large unloading job awaited us in the early morning.



June 27 / Woodstock



7am - unloaded the equipment from the bus into vans, cars, and Jerry's ancient pickup truck. All pretty worn out from this last drive and early arrival at home (and Larry and Mike have further to travel.)
I guess I've pretty much said everything about the tour that can be said. September dates in Seattle/Portland area are looking good - we'll know soon, and post them on the site.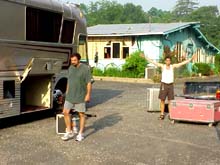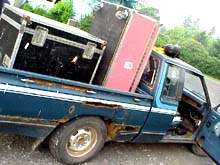 Now, I've got the full day at home before flying to the midwest for some record sessions. But for these few hours, gee it's good to be home!